IMFORMED was delighted and honoured to have its Refractory Raw Material World Sources Map® reproduced in the feature articles section of the August 2022 issue of the American Ceramic Society Bulletin (map details here).
The section focused on mineral supply for the ceramics and glass industry, including critical mineral supply chains and refractory raw materials.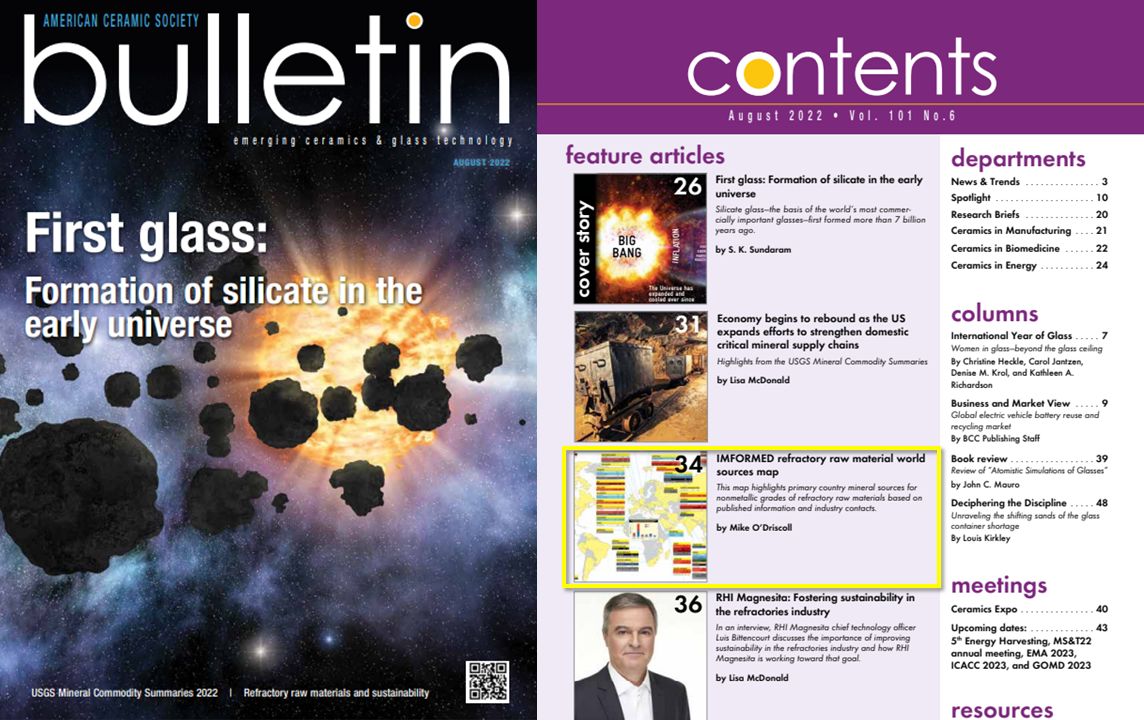 Also featured was an interesting interview with Luis Bittencourt, Chief Technology Officer, RHI Magnesita. Luis is also President of ALAFAR, which is holding its 42nd ALAFAR Congress in Foz do Iguaçu, Brazil, 7-12 November – which as well as a stimulating programme, includes a visit to the famous Iguazu Falls.
Mike O'Driscoll, Director, IMFORMED has been invited as a Keynote Speaker and will be presenting "Testing times as new era of mineral supply dawns: Global refractory mineral supply trends & outlook"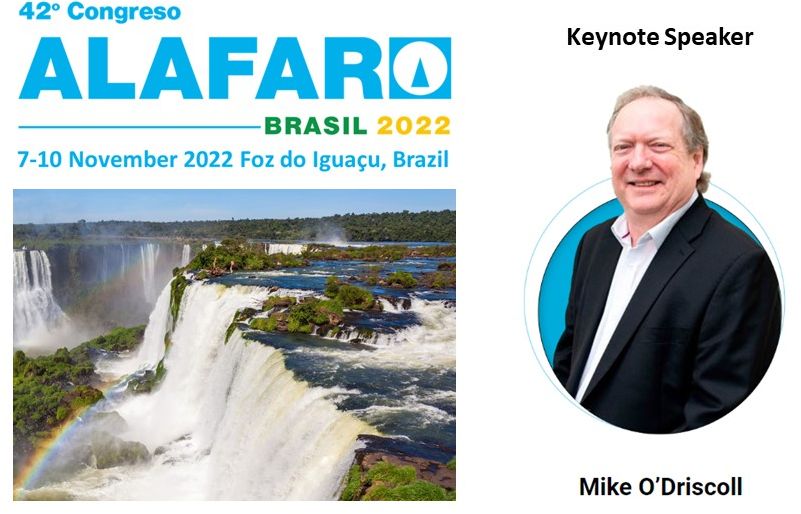 Other recent refractory mineral presentations by Mike O'Driscoll are now available for FREE DOWNLOAD:

The Heat is On: Refractory raw material supply outlook
XI European Congress of Refractory Raw Materials, Machinery & Installation, Barcelona, 11-12 May 2022, co-organised by ANFRE & IMFORMED

Riding the Tiger: Refractory raw material supply outlook
UNITECR 2022, Chicago, 15-18 March 2022
China's refractory minerals: latest developments & outlook
Meanwhile, we have our upcoming China Refractory Minerals Forum 2022 ONLINE, Wednesday 14 September.
See which companies are attending here.

Programme starts at 10:00 BST, and we have an excellent panel of speakers:
China refractories outlook
Dr Richard Flook, Managing Director, Mosman Resources, Australia
Current status & outlook for Chinese magnesia production & exports
Hellen Du, Sales Manager, Fupeng International Group Ltd, China
Graphite trading trends in transition
Jack Gao, Managing Director, Refmin China Co. Ltd, China
India's refractory market future & the influence of Chinese raw material supply
Parmod Sagar, Managing Director & CEO, RHI Magnesita India Ltd, India
Sustainability in the refractory market
Chen Feng, Sales Director, Imerys China Refractory Producers, China
Shipping market outlook from China
Eddie Boo Koh, Regional General Manager – Greater China Area, Access World, Singapore
Reliance on China: is it strategically advisable? Knowns & Unknowns
James Devlin, Managing Director, China Mineral Processing Sales Europe, UK
Following the presentations will be our ROUNDTABLE BREAKOUT SESSION for informal networking and discussion, as well as private messaging.