The importance of logistics in transporting industrial minerals from mine to market came under the spotlight last week at IMFORMED's Mineral Logistics Forum 2017, 10-11 April 2017, held at The College Hotel, Amsterdam.
This is the third Mineral Logistics Forum by IMFORMED which uniquely brings together leading players in the mineral logistics supply chain to discuss the latest trends, challenges, and innovations influencing this most critical, and at times costly stage in getting the mineral from its source to the customer.
"Good programme, broad range of topics, diverse; good opportunities for networking"

Hugo du Mez, Advisor Business Intelligence, Port of Rotterdam, the Netherlands

"It is very interesting to meet people from different businesses and see how it fits together to develop new projects and improve current ones."

Alex Aizpurua, General Manager, Midegasa, Spain

"Good programme, venue, and organisation; keep up the good work"

Michael Tsoukatos, Director of Business Development, Grecian Magnesite SA, Greece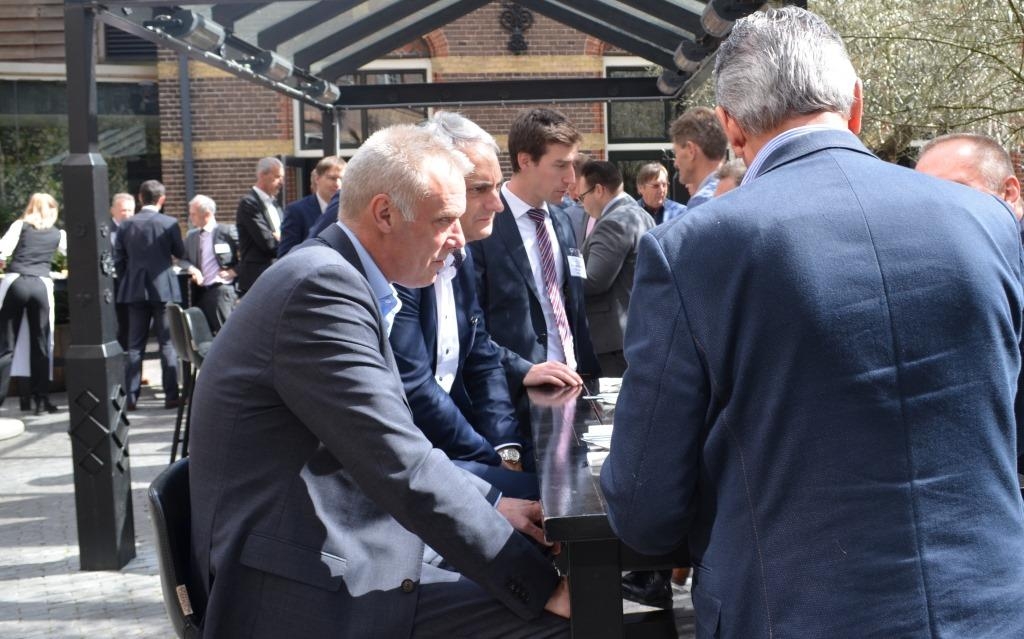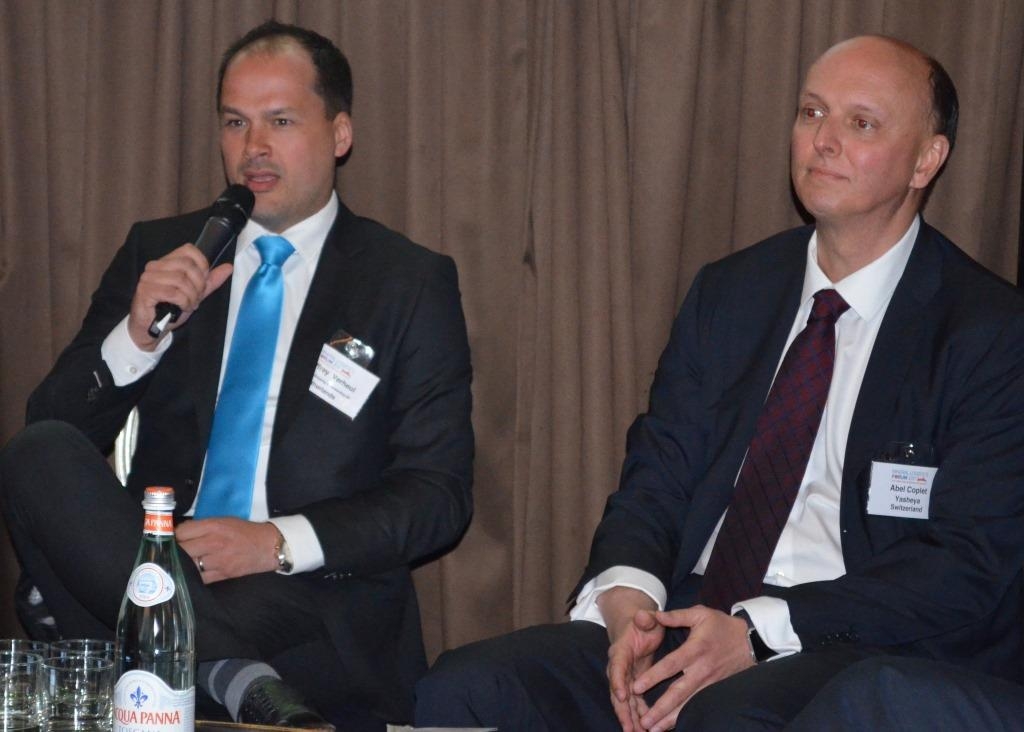 For programme, feedback, attendees, and picture gallery, please go to:
Dry bulk demand to outpace supply
In "Dry Bulk sub-Panamax Outlook" presented by Marc Pauchet, Senior Dry Analyst, Maersk Broker, delegates were provided with an excellent and most comprehensive review and outlook of the dry bulk shipping market, focusing mostly on the smaller vessels used for mineral freight.
Pauchet started with a recap of the trend in dry bulk freight rates through the boom and bust cycle before explaining how construction in China firmed up, demand for steel and coal increased, and a warm summer prompted coal demand and soaring prices during 2016.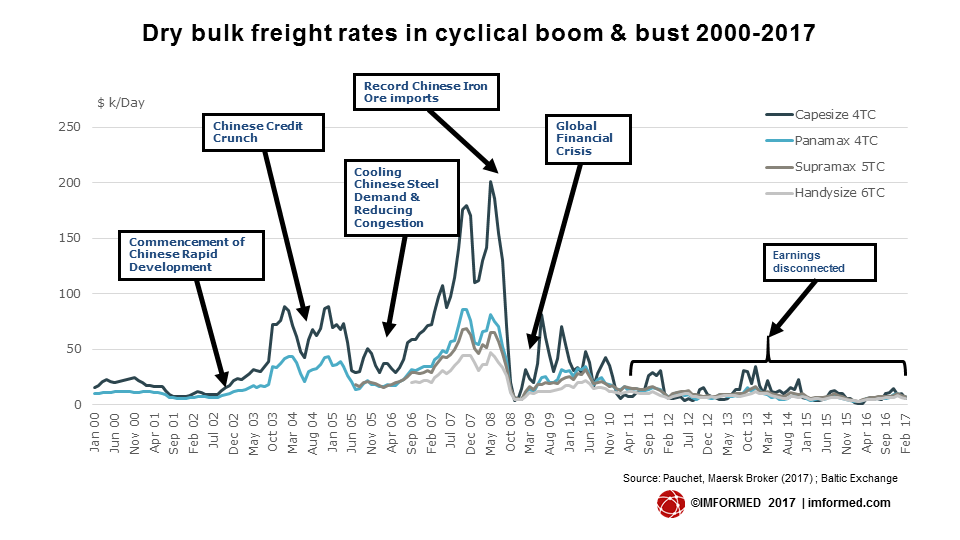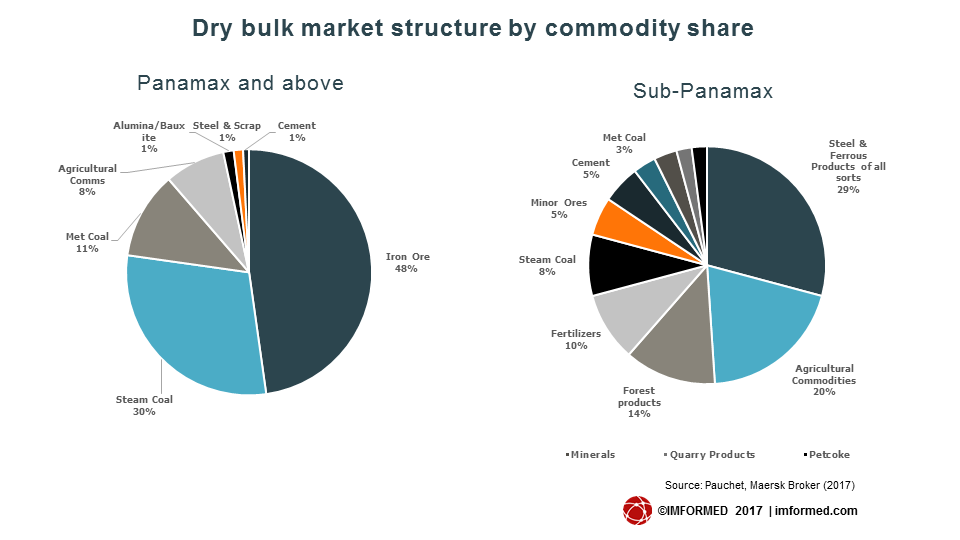 Pauchet described overall demand outlook as one of "contained enthusiasm"; long gone are the boom years, and smaller commodities will grow faster than the larger ones.
Among the highlighted key influencing factors were the growth in urbanisation, especially in Asia, with more growth to come from China, described as the "main engine" for the dry bulk market.
The "New Silk Road", now termed "One Belt, One Road" was touched upon, which boasts a budget of about $100bn to invest in rail, highways, ports and power generating infrastructures.
Pauchet likened the venture "as equivalent to the Marshall plan in today's money", and would likely spur economic growth and local demand for steel.
Other factors included the "Trump card" and how that may or may not affect the US steel market with ramifications for shipping, plus the influence of coal, biomass, and agribulk trades.
The dry bulk industry is in the midst of an unprecedented crisis. The excessive ordering of new ships has led to a situation of severe oversupply.
"While we expect supply growth to be almost neutral over the next couple of years and demand to outpace supply towards 2020, the excess supply will take time to be absorbed." said Pauchet.
Pauchet concluded that dry bulk freight demand will outpace supply for the next three years: "…but oversupply is still consequent. We will have to wait until 2019/20 for dry bulk freight rates to be negotiated near the 2014 levels. Sub-Panamax assets will benefit more due to an older fleet and better growth outlook for smaller commodities."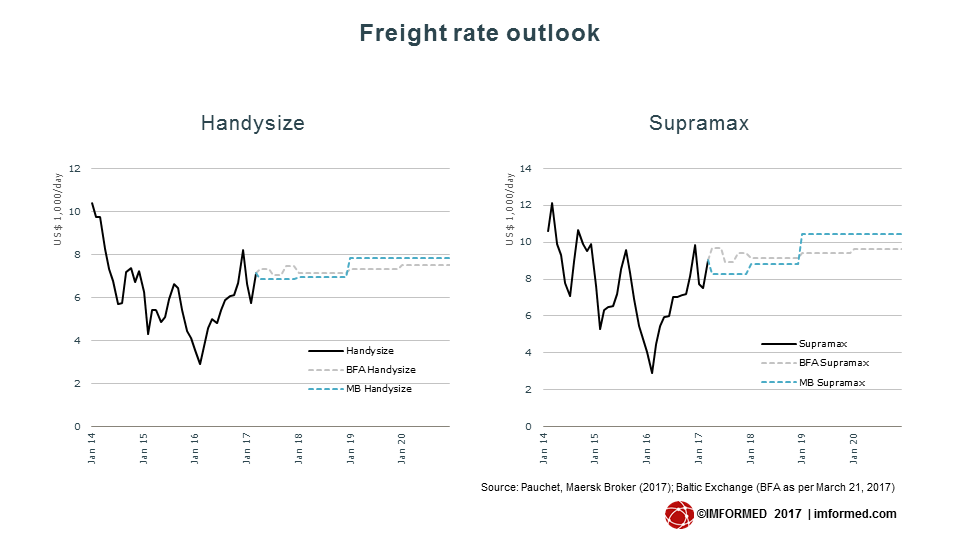 Transparent global supply chain
Nik Delmeire, Secretary General, European Shippers' Council, highlighted CORE project research: developing and maintaining an optimised and transparent supply chain.
CORE, supported by a consortium of partners including shippers and the European Commission, demonstrates how a powerful and innovative Consistently Optimised REsilient ecosystem implementation, integrating interoperability, security, resilience and real-time optimisation can produce cost effective, fast and robust solutions that will guarantee the efficient and secure transit of goods through the worldwide Global Supply Chain system.
Delmiere explained how CORE research had found trade barriers for less efficient containerised shipping in global supply chains, namely: international trade cost, uncertainty in lead time, and security concerns.
The proposal was for an IT solution, a "Shipping Information Pipeline", to enable transparent global supply chains.
Mineral shipment diversity in Ghent
Danny Vancoppenolle, Commercial Manager, Port of Ghent took the audience through the main attributes of the Port of Ghent and underlined the diversity of minerals handled there in "Specifics of mineral handling in the Port of Ghent."
The port annually manages 2,891 seagoing vessels and 14,073 inland vessels, and is working on building a new lock at Terneuzen by 2022 and a new, upgraded, canal for inland traffic between Ghent and Paris.
Nautical access to the port is through the Terneuzen lock complex and the 32km Ghent-Terneuzen Canal, with no tides and accessible to Panamax vessels up to 92,000dwt.
Dry bulk shipments make up about 60% of total cargoes handled at Ghent, and around 22m tonnes is expected to be handled in 2017.
"We focus on bulk owing to the neighbours of Antwerp and Rotterdam being so big on containers" said Vancoppenolle.
Just over 1m tonnes of minerals is shipped through Ghent, including marble, granite and other natural stones, limestone, chalk, perlite, kaolin, magnesite, phosphate, dunite, talc, soapstone, olivine, rutile, salt, sand, and borax.
Leading world industrial minerals group Imerys, has a talc plant at Ghent which producing 55,000 tpa, of which 90% of feedstock ore is imported.
New Silk Way Logistics: an alternative route to/from Asia
Hanno Reeser, BU Manager East Region, H. Essers, talked about the venture "New Silk Way Logistics" as the new Eurasian Intermodal Network.
Described as a "multi-industry railway corridor", with special temperature controlled equipment, 24/7 monitoring by control tower, and Intervention & Contingency plan on E-2-E route, the rail route takes just 15 days as opposed to 35-50 days by ocean freight.
Khorgas was highlighted as a multimodal gateway to and from China and surrounding countries.
Reeser said that although ocean prices are at all time low, congestion is a current issue and rail is most cost efficient if cost of capital is included.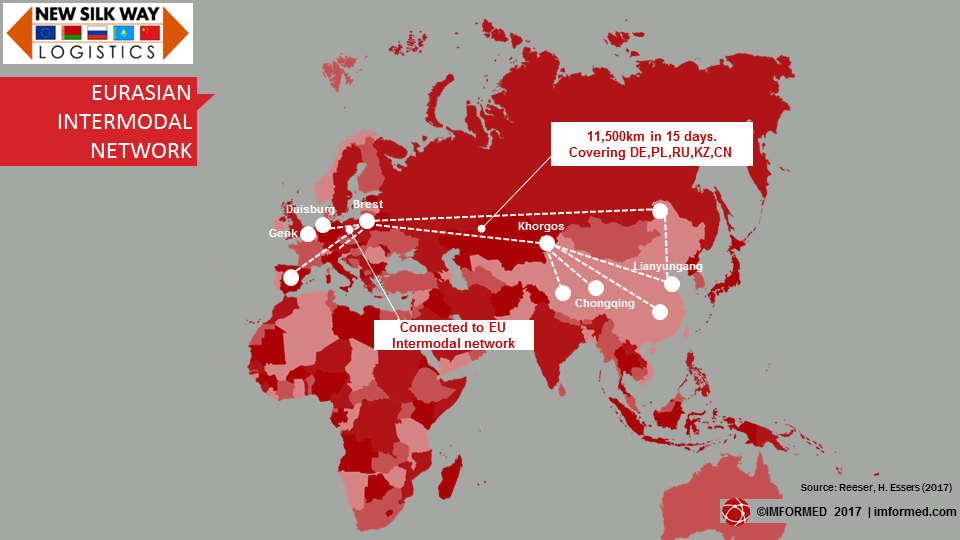 Tanzania graphite project: logistical challenges
Just how important it is to secure the optimum logistics route for a mineral project development was ably demonstrated by Steve Tambanis, Managing Director, Black Rock Mining Ltd, in his presentation of the Mahenge Graphite Project in Tanzania.
Tanzania claims to have the highest quality graphite in the world. The Mahenge Graphite Project has a JORC Compliant Mineral Resource Estimate of 210m tonnes at 7.8% Total Graphitic Carbon (TGC) with Ulanzi and Cascades holding 172m tonnes at 8.2% TGC (14.1m tonnes of contained graphite).
Concentrate grades of over 99% have been produced via simple flotation circuit, spherical graphite has been produced and battery cell testing is returning excellent results, providing opportunities to target the growing battery market.
The project is at the PreFeasibility Study stage for a mine expected to deliver an initial 80,000 tpa with US$90m capital expenditure (rising to 280,000 tpa in three phases), delivered to port at US$458/tonne.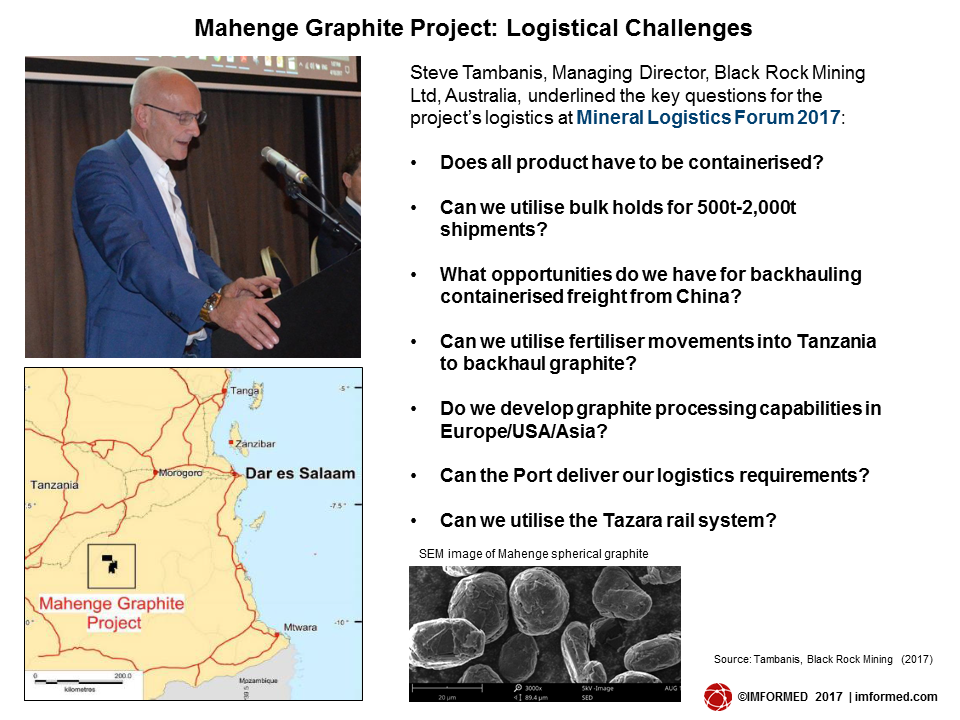 Tambanis envisages basic logistic requirements as utilising 1 tonne polyethylene lined bulk bags, and trucking the graphite 450km to the port of Dar es Salaam. However, he offered to the audience a range of key questions for the project's logistics (see figure).
Although the project site is only 60km from the Tazara rail line (Zambia to the port of Dar es Salaam), Black Rock's initial plan is to utilise an established logistics company in Tanzania to manage trucking and port logistics.
Expected export markets are 60% of product to China, Japan, South Korea; 20% to the USA; and 20% to Europe.
ICL fertiliser minerals: handling 8.8m tpa of EU shipping
When discussing mineral supply chain logistics, it is always instructive to have an understanding of the end user's viewpoint. Manfred Stolk, European Supply Chain Manager, ICL Fertilizer Europe CV provided delegates with a fine review of "Supply chain logistics for fertilizer minerals".
Stolk explained in detail ICL's integrated value chains, including the sourcing of potash from Israel, the UK, and Spain, and phosphate from Israel and China shipped to ICL's plant in Amsterdam.
Typically, for its overall annual EU supply chain movements, ICL utilises 1,600 trains, 105,115 trucks, 1,115 barges, 525 coasters/vessels, and 1,520 sea-going vessels. During 2016, for its EU shipping routes alone ICL handled some 8.8m tonnes of goods.
ICL's 600,000 tpa fertiliser plant in Amsterdam was founded in 1907, and became part of ICL in 1982. The plant is also an important distribution point for phosphoric acid.
Typical annual distribution volumes from the plant are 750,000 tonnes by barge, 320,000 tonnes by coaster vessel, and 80,000 tonnes by sea-going vessel.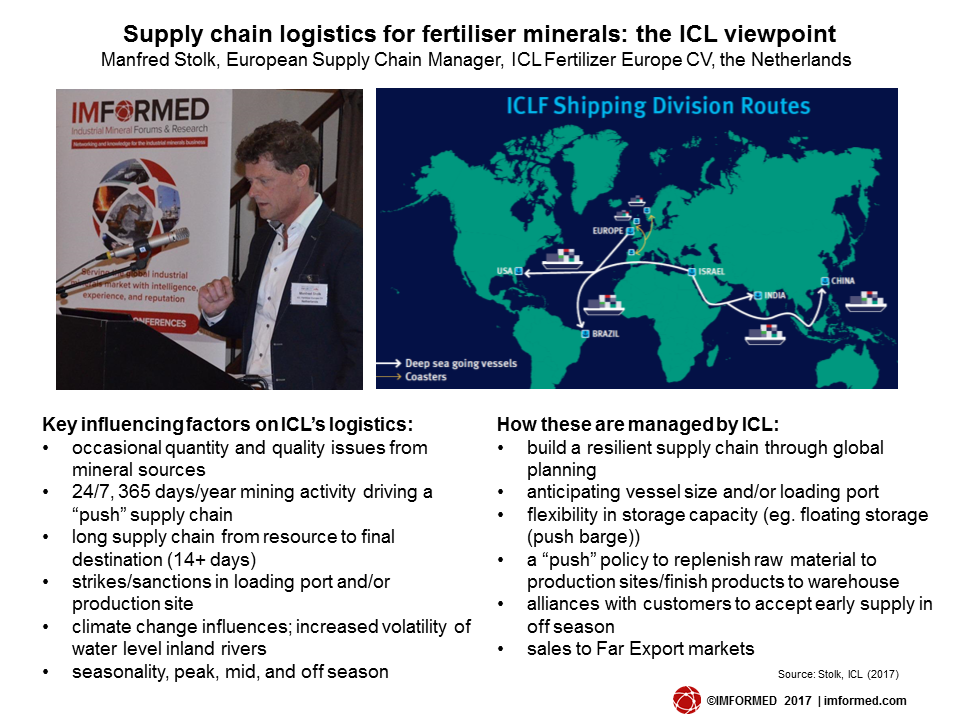 Stolk outlined a range of typical influencing factors on logistics and how ICL has managed these (see figure). He also underlined some more recent factors which are expected to add more complexity to EU logistics and the supply chain, including:
the disappearance of smaller coaster vessels (1,200 -2,000t)
the disappearance of smaller "Peniche" barges (200-300t)
the transition towards a Circular Economy: the use of secondary phosphates, eg. struvite from sewage sludge; RecoPhos – promising innovation that enables regaining phosphorus and phosphates out of bone meal and sewage sludge ash
environmental restrictions: new fertilizer regulation; traceability will become a requirement
Mineral inspection: necessary and innovative
In "Inspection on minerals", David Chanet, Operations Manager, Control Union, explained the risks, role and importance of inspection in the supply chain of minerals.
Chanet provided an insight into the main functions of a mineral inspector including supervision of loading and discharge; physical sampling as per ISO, IFA, EEC standards; weight control – draft surveys – barge gauging; hold cleanliness inspections; stock control, temperature monitoring; tally control; and analytical services.
An innovative method of stockpile measurement was introduced using camera-bearing drones. "Our stock monitoring reports include a photographic overview map which serves as a visual snapshot of the situation on the storage area." said Chanet.
"Volume calculations are much more precise. The measurement of volumes is faster and volume calculation is complete within a day after the image recording."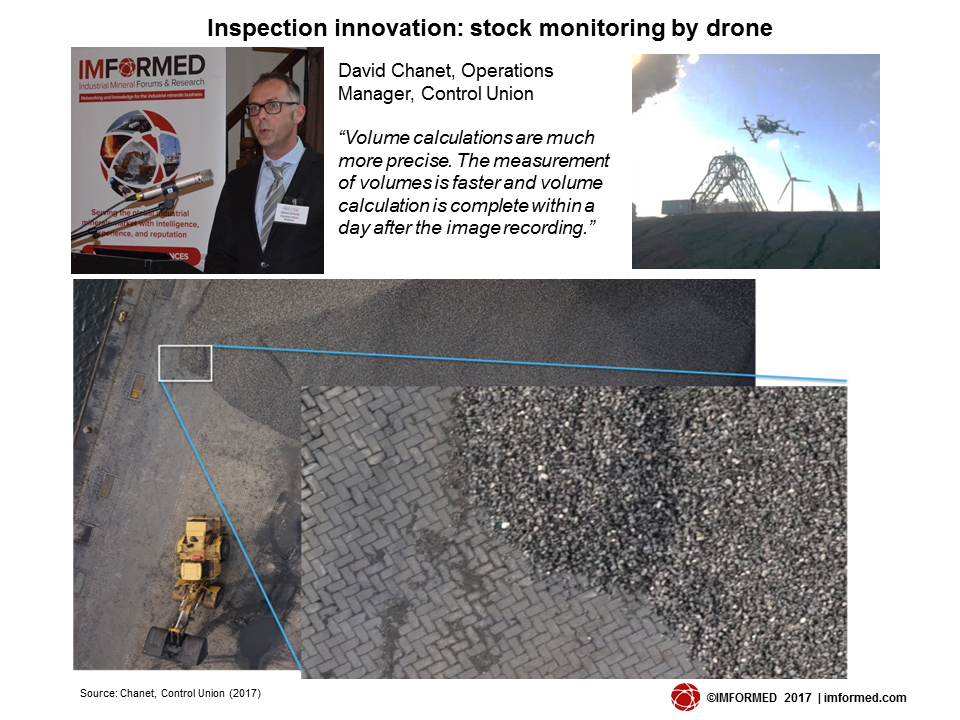 The day's proceedings were rounded off with a discussion on total supply chain management involving the audience and the following panellists: Geoffrey Verheul , CEO, Wide Scope Shipping & Forwarding BV; Lub Kramer, Sales Manager, OBA Bulk Terminal Amsterdam; Manfred Stolk, European Supply Chain Manager, ICL Fertilizer Europe CV; and Abel Coplet, CEO, Yasheya Ltd.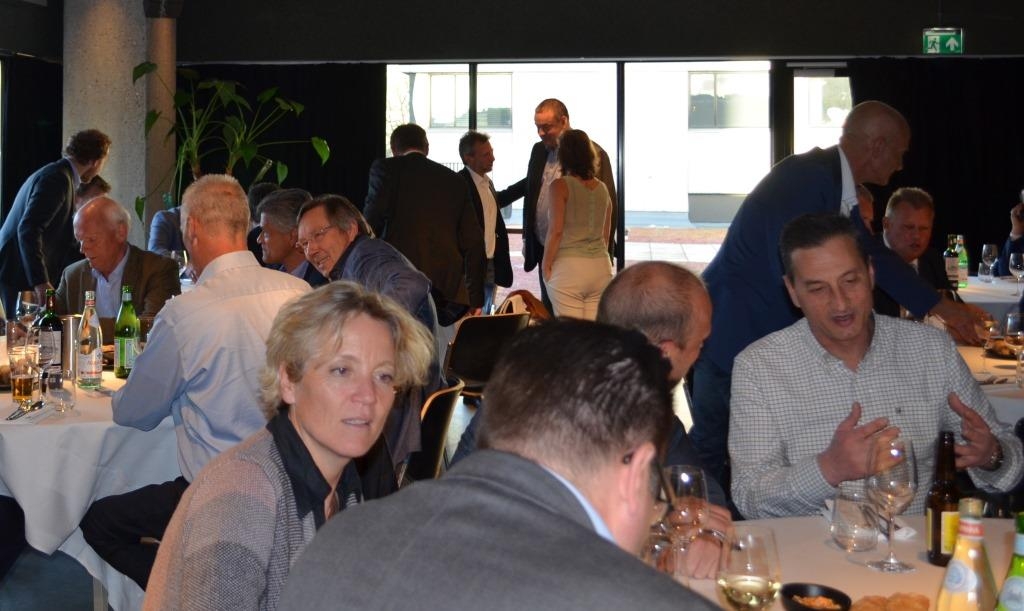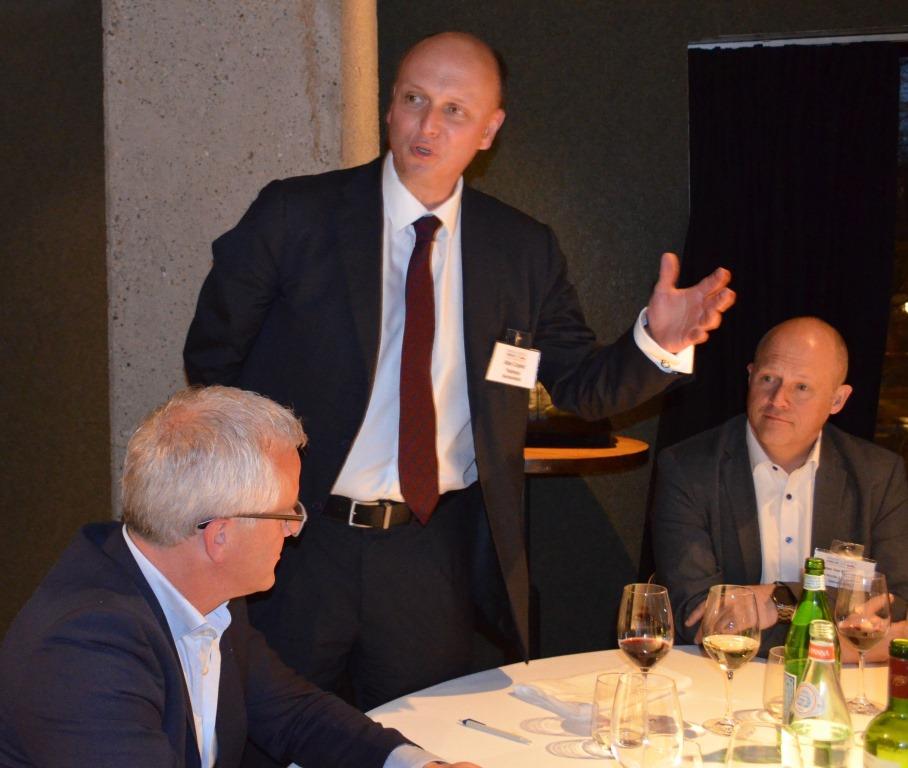 A most convivial dinner was enjoyed by all at the impressive Restaurant C, kindly sponsored by Yasheya.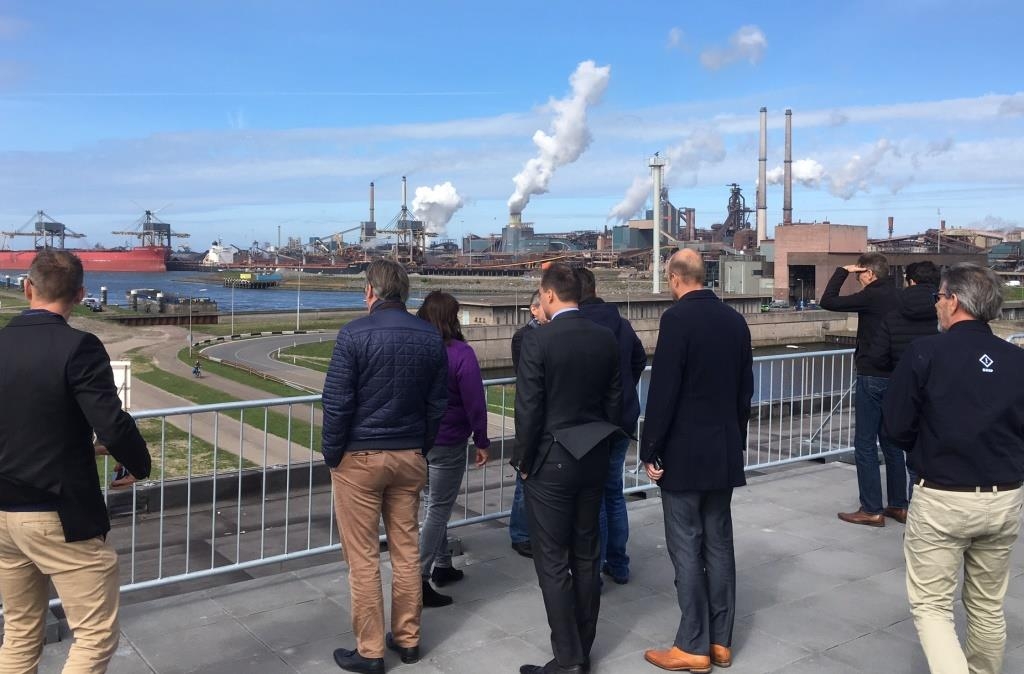 The following morning, courtesy of the Port of Amsterdam, a party of delegates visited the world famous Rijksmuseum, and then inspected the recently opened information centre (Sluis- en Haven Informatie Punt (Lock and Port Information Point/SHIP)) and site of the new IJmuiden sea lock (above), which is expected to greatly enhance cargo handling for the Port of Amsterdam.
The new lock will be 500 metres long, 70 metres wide and 18 metres deep, making it the world's largest sea lock. Construction began in January 2016 and the new lock will be available for shipping at the end of 2019.
Industrial minerals also have a role to play in this major engineering feat. A bentonite mixing plant is to be built on the western corner (seaward side) of the Middle Lock Island. The bentonite will be used for the construction of the diaphragm walls, required in the deep trench excavations.
See you next time!
As ever we are indebted to the support and participation of all of our sponsors, speakers, and delegates for making Mineral Logistics Forum 2017 such a success.
We very much appreciate all the completed feedback forms and please continue to provide us with your thoughts and suggestions.
Sponsor & exhibit enquiries: Ismene Clarke T: +44 (0)7905 771 494 ismene@imformed.com
Presentation & programme enquiries: Mike O'Driscoll T: +44 (0)7985 986255 mike@imformed.com
We shall keep you abreast with developments for the next Mineral Logistics Forum and look forward to meeting you again soon.
For programme, feedback, attendees, and picture gallery, please go to:
---
Register now for