PLEASE NOTE: Fluorine Forum 2021 is now

ONLINE

 on

20 October 2021

– see below

NEXT YEAR: Fluorine Forum 2022 Hanoi will be 17-19 October 2022

For 2022 we are delighted to retain lead sponsor Masan High-Tech Materials, which will be hosting a Field Trip to its Nui Phao operation on 20 October 2022.

COVID-19 Virus: Ensuring the health and safety of our attendees, exhibitors, partners & staff is our top priority. Fluorine Forum 2021 was planned to be in-person, though circumstances dictate an online version prevails.
CALL FOR PAPERS
Interested in presenting? Please contact Mike O'Driscoll mike@imformed.com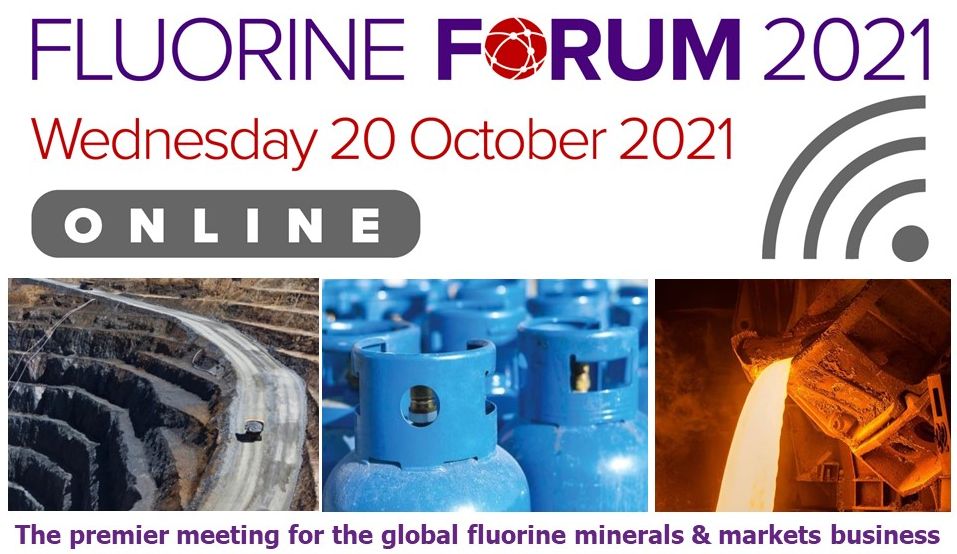 Intelligently programmed | Expertly moderated
The only conference you'll need to attend if you're in the fluorine raw materials business
Supporting Partners
Although we share our delegates' disappointment that we are unable to run our usual high quality in-person event in Hanoi this year, as we were in 2020, we remain determined to provide an alternative platform for knowledge sharing, discussion, and networking.
Therefore, IMFORMED is announcing Fluorine Forum 2021 ONLINE, Wednesday 20 October 2021. Book now to secure Early Bird Rates!
You can join us from wherever you are working, network with fellow attendees, have access to presentations, as well as a full audio and video recording of the Forum which you can peruse at your leisure. See what our attendees thought of last year's online Forum below.
The conference will be essential to all those active or with an interest in the fluorine mineral supply chain, from developing and mining sources, through logistics and processing, to end use applications. Don't miss out, book now.
Confirmed speakers
European HFC refrigerants market and F-gas alternatives
Barbara Gschrey, General Manager, Öko-Recherche, Germany
Hydrofluoric acid and downstream market outlook
Samantha Wietlisbach, Director Minerals Research & Analysis, IHSMarkit, Switzerland
Supply chain resilience in the Acidspar-HF-Lithium Ion Battery chain
Kerry Satterthwaite, Division Manager Strategic Minerals, Roskill, UK
Fluorocarbon products as critical enablers in the production of semiconductor materials and IC devices
Dr Robert Syvret, Principal, Fluorine Chemistry and Technology, LLC, USA
New source of AlF3: processing from bauxite and aluminium smelter waste
Dr Mark Cooksey, CEO, ALCORE Ltd, Australia
Programme to include
Themed sessions structured mine to market
Supply
Regional production; exploration; emerging new sources; safety & sustainable development
Processing
New technology/equipment; grade developments; challenges in processing; case studies
Logistics
Innovations in handling; shipping trends; storage solutions; routes
Markets
Demand outlook by sector; market trends; new applications; influencing factors; competitive materials
What delegates said about Fluorine Forum 2020 ONLINE:
"Thank you for organising and animating the Fluorine Forum, in spite of the challenging conditions. It was Itafos' first attendance, and was very insightful on the fluorine markets, projects, and technologies."
Alex Benedetti, Commercial Director, Itafos, USA

"Thank you for your wonderful job! FF2020 was beautifully organised: interesting presentations and discussions. It was very convenient and compact with no technical problems."
Evgeniy Torochkov, Head of Industrial Ecology, NIUIF (PhosAgro), Russia

"The online conference was very good. However, I prefer the old style and I'm already looking forward to Hanoi!"
Oliver Rhode, CEO, Xenops Chemicals GmbH & Co KG, Germany
Assure yourself of the real fluorine conference experience

Invaluable networking | Topical discussion | Memorable moments