Oilfield Minerals & Markets Forum 2017 Review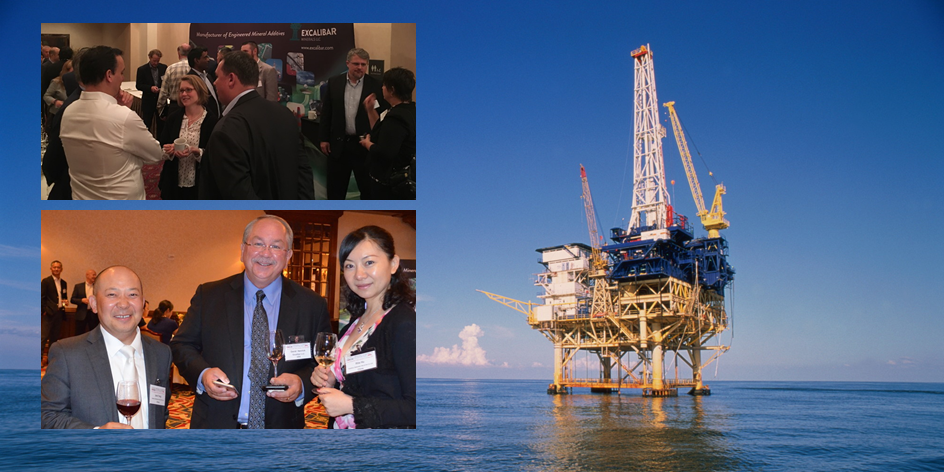 This year there was definitely something to smile about, and we are not just referring those intrepid delegates braving the "bucking bronco" at the Monday reception (more on that later).
The oilfield minerals industry is feeling its way out of the doldrums of 2015/16, as drilling activity recovers, hydraulic fracturing of shale gas resources intensifies, and oil prices are looking just a little bit more healthy.
Certainly, the 130 attendees at IMFORMED's Oilfield Minerals & Markets Forum Houston 2017, 21-23 May, were in fine spirit and all contributed to a distinct fizz about the conference which engendered busy networking and discussion on the topics of the day.
"Another fantastic and well attended Forum – great work guys! Looking forward to the Middle East meeting"
Andres Marquez, Commercial Manager, CPC/CSM, USA

"Very well organised and had opportunity to meet everyone, excellent networking opportunity"
Vikram Akepati, CEO, Emprada Mines & Minerals, India

"Good cross-section of presenters, therefore a wealth of information provided; a good representation of participants from different countries seeking to do business"
Denise Tait, Market Development Consultant-Limestone, Jamaica Promotions Corp., Jamaica
Outlook: oil and gas demand, minerals in drilling fluids
Uday Turaga, CEO, of ADI Analytics LLC, kicked off the Forum with his excellent "Outlook for oil and gas supply and demand". He wanted the audience to get four messages which are shaping the outlook for oil and gas demand:
1. Unconventional oil and gas resources have expanded supply significantly while demand continues to struggle impacting oil prices in the near to medium term.
2. Similarly, gas supply has expanded and some production is independent of gas prices and nearly 1,500 Tcf can be produced economically at prices less than $4.
3. Shale gas drilling and completion improvements have cut breakeven costs in North American oil and gas plays, and are expected to further cut costs going forward.
4. North American demand for both oil and natural gas will, however, struggle to grow and exports will account for most growth in demand.
Turaga considered that oil prices will likely stay in the fifties through the next year or two while natural gas prices are anticipated to grow moderately, noting that a significant fraction of natural gas production growth is now coming from associated gas and is linked to oil economics.
On fracking, Turaga reported that rising costs have forced unconventional players to adopt numerous cost reducing initiatives across the value chain. "Going forward, the best opportunities for cost reduction are in completions across most plays" said Turaga.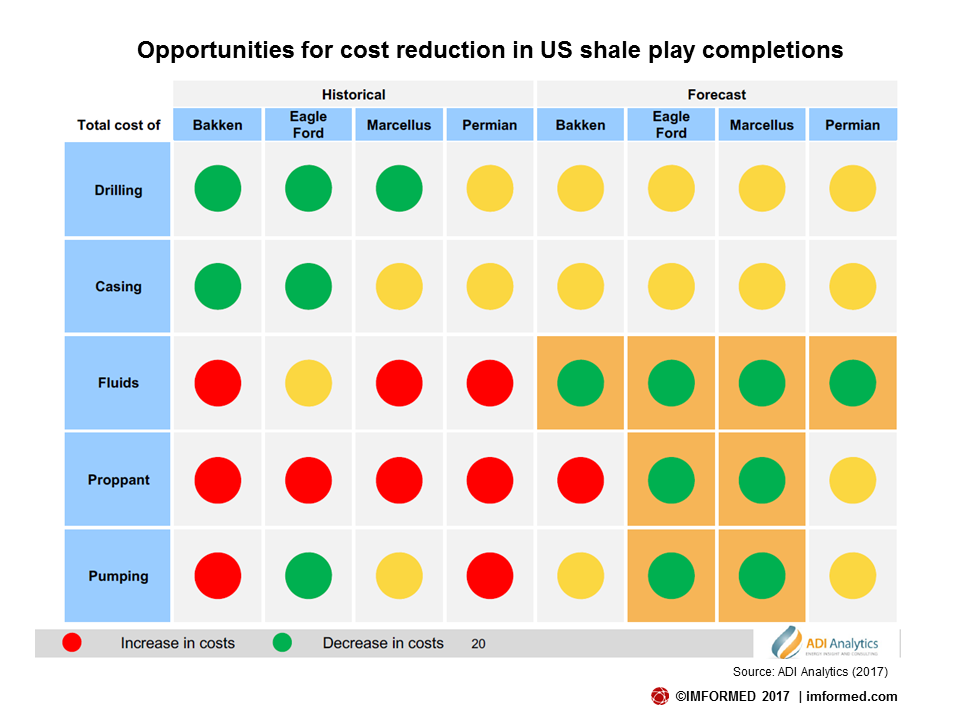 Acknowledgement was also made to the advent of electric vehicles (EV) with is a global push toward reducing the carbon footprint of vehicles and transportation options. "Gasoline demand will fall by 1.8 to 2.9 million bpd by 2030". said Turaga.
In "Boom, bust and beyond: oilfield chemicals & minerals", Ray Will, Director, IHS Markit Specialty and Inorganic Chemical Consulting, reviewed the geography and applications of minerals and chemicals in the oilfield sector.
Will highlighted that conventional oil and gas production has a much lower intensity of demand for oilfield minerals and chemicals compared to hydraulic fracturing.
Also, that the extra expenses for minerals and chemicals plus additional specialised equipment and contract services typically makes hydraulic fracturing more expensive than conventional oil production.
"Hydraulic fracturing operations are more likely to suspend drilling when the price of oil and gas falls toward their higher cost of production. So expect the highest consumption of minerals and chemicals with a high oil/gas price." said Will.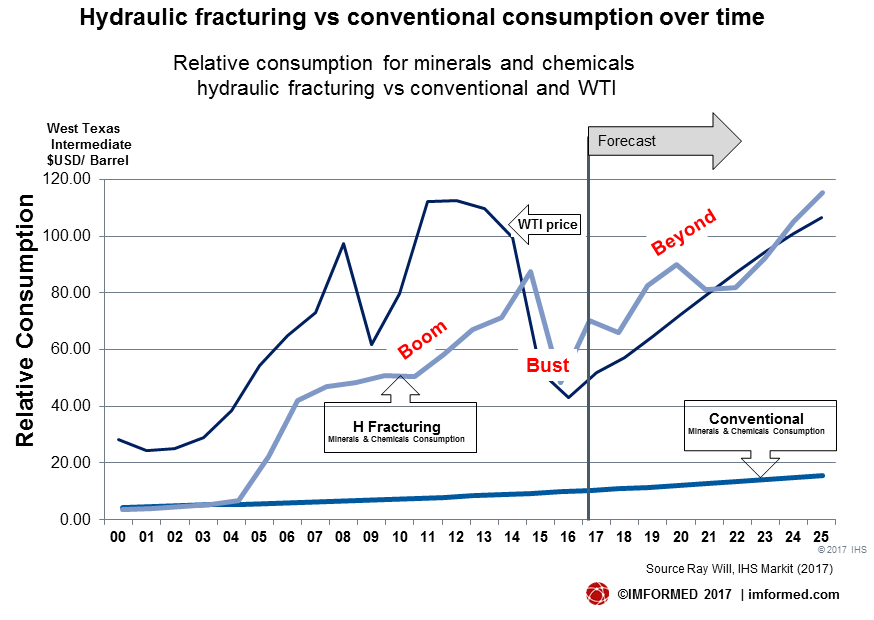 JJ Miller, Snr. Global Product Manager, Baroid Global Technical Services, Halliburton, provided a fine insight into the "Essential minerals for drilling fluids" commenting on trends in mineral consumption, drilling fluid formulas, and design.
Drilling fluids account for about 10% of the cost of drilling a well. Approximately half as much bentonite is required as barite, and calcium carbonate about 10% of barite volume.
Challenges in design were down to demand for faster drilling, higher density fluids, and operating at higher temperatures.
Barite is expected to remain long in use, with less bentonite used in fluids beyond surface intervals. Miller noted that increasing environmental restrictions for waste and other fluid additives would also play a significant part in the future.
Bentonite & calcium carbonate
Bill Miles, Miles Industrial Mineral Research, presented "US bentonite production and its supply to the drilling market".
Miles explained the composition, properties and use of bentonite before outlining the oilfield industry's specifications for the clay and application in drilling fluids.
Although the American Petroleum Institute (API) is due to review oilfield mineral specifications in 2018, on a five-year cycle, Miles does not expect any major change for bentonite.
Jarrod Massam, Manager Innovation & Technical Marketing Water & Energy, Omya International AG, gave a comprehensive review of the use of calcium carbonate in "Calcium carbonate for oilfield applications", estimating the global market to be around 400-800,000 tpa.
Massam covered the requirements and applications of calcium carbonate, with a particularly detailed but clear review of the mineral functioning as a bridging agent in drilling fluids.
"Calcium carbonate is used in a large range of particle sizes as a key additive of drilling and completions fluids, to minimise risk and prevent formation damage, wellbore instability and non-productive time." concluded Massam.
Jamaica is well known for its calcium carbonate resources, and Dr Oral Rainford, Principal Director, Ministry of Transport & Mining, gave a well illustrated talk on "Calcium carbonate resources of Jamaica: supply and investment possibilities."
"Limestone deposits in general are at the surface, easy and fairly inexpensive to mine, with favourable geographical locations and close proximity and timely logistical access to Caribbean, North and South American markets." said Rainford.
Rainford mentioned that Jamaican calcium carbonate was already finding use in oil well cements, developed by Lhoist.
Proppants: the "new normal"
Dave Frattaroli, ex-Chief Commercial Officer, Unimin, now consultant, prefaced his questions to Taylor Robinson, President, PLG Consulting and Joel Schneyer, Managing Director, Minerals Capital & Advisory Practice, Headwaters MB, with the words: "In my 30 years of working in the frac sand industry, that was the best presentation I have heard."
He was referring to the duet's quite brilliant 40-minute dissection of the frac sand industry: "The frac sand industry new normal: supply chain challenges and opportunities".
Robinson and Schneyer together covered industry drivers, market expectations, and implications, with no stone (or frac grain!) unturned: including demand factors, grain sizes, logistics, economic margins, proppant volumes, frac sand resources, and concluding with winners and losers of the future.
Although acknowledging buoyant demand at present for frac sand, Robinson cautioned: "US proppant demand is set for a rebound, but the proppant forecasts seem too optimistic and do not appear to reflect the oil price, supply-demand feedback loop."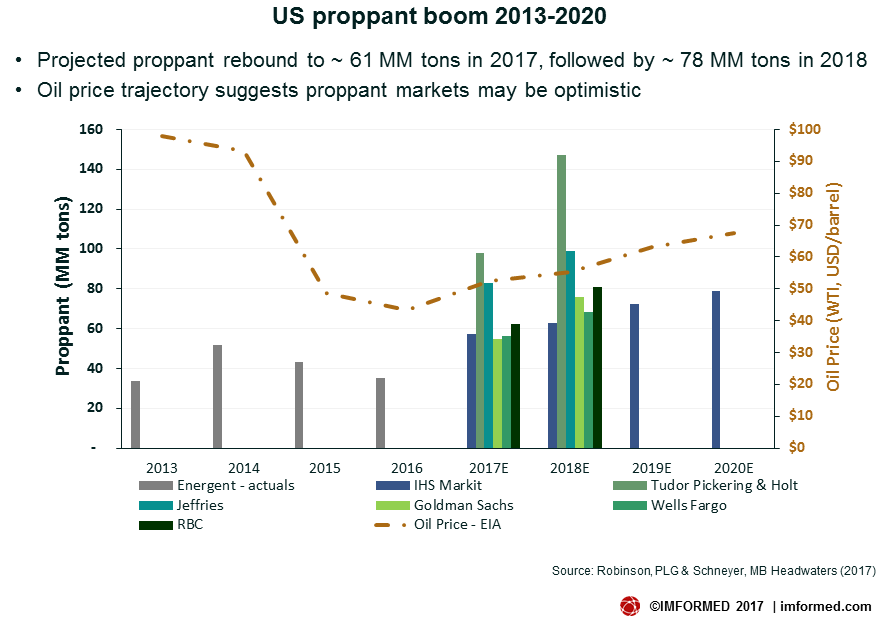 It was therefore no surprise that the following Q&A session was bright, busy, and acceptably lengthy. Among the many discussion points was debate over merits of the "one-box" system of shipping frac sand, innovated by several companies.
A growing trend in the US proppant business has been the increased use of large volumes of frac sand at the expense of ceramic proppants. This was examined by Pickard Trepess, Managing Director, FRAC PT FZE in "Why silica sand successfully substitutes bauxite in some shale fracs."
Trepess took us through fracturing history, principles, conductivity, and proppant selection, explaining how even though frac sand crushed under high pressure (unlike the superior crush resistant ceramic proppants): "Crushed proppant helps keep slipped fractures open and embeds into the rock face, maybe more than a half grain each side of the fracture."
In "Screening the facts: the 40/70 & 100 mesh frac sand boom and its impact on silica sand supply and markets", David Frattaroli, Executive Advisor, focused on the trend to finer mesh sizes and how this may affect the balance of industrial sand supply.
Frattaroli highlighted the competing markets for industrial sand, underlining the importance of grain sizing, the changing perceptions, marketing strategies, and requirements of frac sand colour, and logistics.
"Fine Northern White industrial grades can be converted to frac sand, but not always the reverse. 2017/2018 will see significant capacity improvements in Northern White, and in-basin sands – a more balanced negotiation ahead." said Frattaroli.
He also warned that should ground silica demand take off for evolving completions technology, the fibre glass market needs to be beware.
Joe Roettle, Global Sales Manager, Ecutec Barcelona SL, gamely rounded off the day with "Unlocking diverse market opportunities through mineral processing."
In essence, Roettle demonstrated how with good use and selection of appropriate grinding systems, oilfield mineral producers can supply a wider range of grades of their mineral in order to penetrate other markets, in other words, to diversify their outlets.
However, as delegates were to discover within the hour following his presentation, there is more to Joe Roettle than an advanced understanding of grinding technology – involving impact and friction of an altogether different variety! (see panel).
Congratulations to Joe Roettle, Global Sales Manager, Ecutec Barcelona SL, for winning the "Buckin' Bronco" prize, presented by Tammy Oglesby, Logistics Analyst, Excalibar Minerals

 
Barite: global supply, demand, and shipping
"World barite supply and demand", written by Peter Huxtable, Director, The Barytes Association, and presented by Chris Bosch, Category Manager, Halliburton, was a comprehensive overview of the global situation for barite, supply, demand, and trade.
With the contraction of drilling activity in 2016, it was seen that barite consumption in drilling last year had dropped to just under 70% (previously at levels of 85% or more).
Supply from China, Mexico, Morocco and the USA slipped, as India recovered and Europe remained steady. Also detected was a lesser reliance on China, with growing supply from Thailand, Laos, Bolivia, and new outputs from Malaysia, Mexico, N. Korea, and Bulgaria.
John Newcaster, Director Southwest Region, The Cumberland Group Inc., USA looked at "North American barite consumption trends and outlook" with his motto "understanding the past to better predict the future."
Interestingly, Newcaster debated the best indicator of barite consumption: Was feet drilled per well better than simply the rig count? Actually, he concluded that oil price was perhaps the best: "Oil price is actually a more stable predictor than rigs or feet since the early 2000s. Oil price drives location and type of drilling, which drives barite demand." opined Newcaster.
Newcaster underlined the historical dependency of eastern hemisphere barite supply to the west, which looks set to continue through 2017.
However, he also highlighted increasing low cost powder barite from northern Mexico processors supplying the Permian basin exploration in Texas and New Mexico. Newcaster concluded: "Any EH [eastern hemisphere] based barite import recovery will be driven by oil price. But trends of cheap local barite and lower barite per bbl. produced, make 2 million tonnes [imports for North American consumption] from the EH much less likely in any future year."
In what is almost their now-customary appearance at the Oilfield Minerals Forum in Houston, Jesper Hoppe, Managing Director, Viking Shipping Co. A/S, and Morten Petersen, Managing Director, Viking Shipping Co. (Hong Kong) Ltd, again provided a lively review of the all-important shipping market.
Key trends covered included fleet supply versus cargo demand, deliveries versus scrapping, fleet owners, the BDI, key commodities, and new shipbuilding.
Global seaborne cargo volumes have doubled over the last seven years, a huge wave of new buildings were contracted, although deliveries are expected to be low from 2018 onwards.
Barite: China's industry, exploration, and processing
The leading producer and export of barite is China, and a fine overview of the industry in China was provided in "China barite industry status in big data era" by Liao Ying, Managing Director, Baribright Co. Ltd.
Liao explained the diverse distribution and types of barite resources in China, pinpointing the main production centres and outlining the pattern of barite domestic consumption and export trade from China.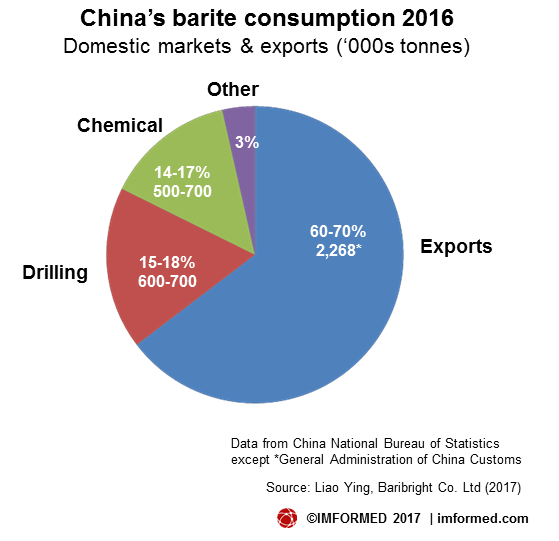 Since 2012, Baribright has been investigating and recording 253 barite mines in five south-west provinces. Some 93 mines delivered 1.95m tonnes of barite from 2012-2016.
It is clear that China's barite industry has undergone a period of upgrading and modernisation: "Manpower input has decreased by 40% since 2012 due to more machines and equipment used in mining and processing. Many more processing production lines have been set up. In 2016, 85% of Guangxi production was processed." said Liao.
Liao explained the use of using ferroalloy industry trucks bringing in iron ore from the southern ports as a backhaul option to take out barite for export.
Liao concluded: "Chinese barite has advantages in the world market, and will continue to lead global barite supply. China's diverse reserves, small mines, short mining cycles, and various qualities mean that big data management must play a key role in industry operations."
In an almost back-to-grad. school approach, "Using gravity geophysics for barite exploration and production" by Heath Inskip, Global Sales Manager, Guizhou Saboman Imp. & Exp. Co. Ltd was warmly welcomed by the audience.
Inskip explained the rudiments of gravity surveying in exploration, outlining the usage in reserve calculations and the cost savings in using this method. He also showed how it was applied to delineate the substantial barite reserves of Guizhou Saboman in China.
"When used in conjunction with existing data, gravity surveys can be accurately modelled into volumetric bodies with a high degree of confidence. Gravity surveys when used in this fashion are much more cost effective than traditional delineation drilling for ore body modelling." said Inskip.
Frank Hrach, Vice President, Process Engineering, ST Equipment & Technology LLC, presented "Tribo-electric separation of barite for the oilfield drilling market."
With conventional wet processing (ie. jigging, flotation) of barite being costly and unsuitable for arid regions, Hrach introduced a new approach – dry beneficiation by tribo-electrostatic separation.
In summary, when dry, discrete particles repeatedly collide, barite charges strongly positive and low-density silicates charge negative. After charging, particles can be separated using a strong electric field.
Hrach went on to extol the benefits of the process by demonstrating the recent installation of an STET M24 separator at Ramadas Minerals Pvt. Ltd's barite grinding plant near Kodur, India.
Facility construction was completed in September 2016, the system checked out in October 2016, optimising took place November 2016-January 2017, and became fully operational in February 2017.
"The plant is now routinely producing 4.1 SG product barite from low grade 3.8 to 3.9 SG feed ore from APMDC's Mangampet mine. There has also been successful testing for production for 4.4 SG chemical grade product." said Hrach.
See you next time!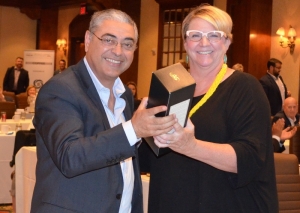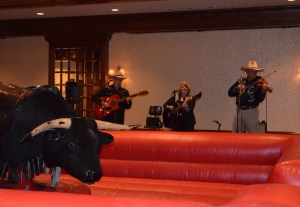 As ever we are indebted to the support and participation of all of our sponsors, speakers, and delegates for making Oilfield Minerals & Markets Forum Houston 2017 such a success.
We very much appreciate all the completed feedback forms and please continue to provide us with your thoughts and suggestions.
Sponsor & exhibit enquiries: Ismene Clarke T: +44 (0)7905 771 494 ismene@imformed.com
Presentation & programme enquiries: Mike O'Driscoll T: +44 (0)7985 986255 mike@imformed.com
We shall keep you abreast with developments for the next Oilfield Minerals Forum and look forward to meeting you again soon.
For programme, feedback, attendees, and picture gallery, please go to:

Missed attending Oilfield Minerals & Markets Forum Houston 2017?

A set of presentations (as PDF) maybe purchased: Price £500 – please contact:

Ismene Clarke, T: +44 (0)208 224 0425; M: +44 (0)7905 771 494; E: ismene@imformed.com
---
Register now for