IMFORMED's first event a success
IMFORMED's inaugural event, Mineral Logistics Forum 2015, took place last Friday, 24 April 2015, in Rotterdam, and by common consent of the attendees was an unqualified success.
A total of 92 international delegates representing the full range of operations across the industrial minerals supply chain gathered at the impressive Inntel Hotels Rotterdam Centre, the top floor conference room of which provided breathtaking views of Rotterdam.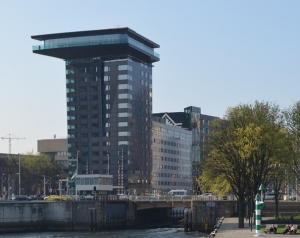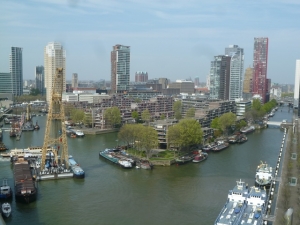 But the bird's-eye panorama of Rotterdam in the sunshine could not distract the audience's attention from an "inspiring" panel of twelve experts presenting on trends and developments in industrial minerals logistics.
"A good combination of topics with some very inspiring speakers" Marian Middelhuis, Buyer Transportation, Nedmag Industries (more Forum feedback)
Proceedings commenced on Thursday, 23 April 2015, with a delightful boat ride in the evening sun to the famous Wereldmuseum for a most convivial Welcome Reception sponsored by Rotterdam Port Promotion Council and the Port of Rotterdam.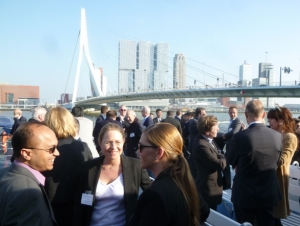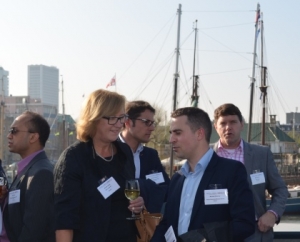 On behalf of the sponsors, Kees Groeneveld, Managing Director, Euro Nordic Logistics BV, welcomed delegates to the Port of Rotterdam, extolling the benefits of Europe's largest deep-sea port and proud to host IMFORMED's inaugural Mineral Logistics Forum.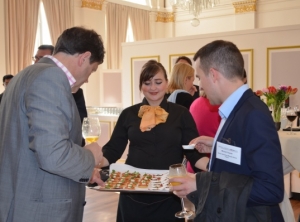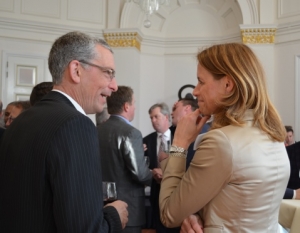 Minerals of tomorrow: recyclable, hi-tech, logistics improved
Following an overview introduction by Forum Chair and IMFORMED Director, Mike O'Driscoll, on the importance and role of logistics in the industrial minerals supply chain, Thierry Salmona, Chief Technical Officer, Imerys, presented on "Industrial minerals today & tomorrow".
Salmona illustrated the breadth and depth of industrial mineral applications in diverse markets by showing Imerys' extensive portfolio of mineral markets.
In part answer to his own question, "Where are industrial minerals going?", Salmona highlighted some new mineral innovation areas developed by Imerys such as mineral formulations enabling plastics recycling, a mineral solution for protein extraction in blood plasma fractionation for the pharmaceutical industry, carbon and graphite additives for new generation battery electrodes, high purity talc-based additives for automotive polymers, and pure diatomite-based additives for US animal feed.
Sustainable minerals with a low carbon footprint are expected to be very much part of the industry's future. "Roadmap plans are to further increase recyclability of minerals, through the promotion of recycling of their application. A 20% increase of recycling of minerals is foreseen for 2050." observed Salmona.
Recycling levels of certain minerals include lime at 68%, feldspar, 67%, talc, 60%, calcium carbonate, 58%, bentonite, 50%, kaolin and clay, 49%, and silica, 73%.
Salmona concluded: "In the future minerals will be safer, improved in their carbon footprint, recycled more. They will be more adequately available through better permitting and improved logistics, and will participate in the development of high tech products such as smart phones and electric cars."
Laurence Lamy, Marketing & Communication Manager, Imerys Refractory Minerals, France, will be talking about Imerys' foundry minerals supply in her presentation "Supplying the foundry market: trends & challenges" at IMFORMED's Foundry Minerals & Markets Forum 2015, Rotterdam, 15 June 2015 – at the start of GIFA week.
Mineral supply chain dissected
In his presentation "Supply chain market trends", Geert Lagae, Group Supply Chain Manager, The Vlassenroot Group, looked at the big picture and provided some historical perspective on the growth of certain market trends in logistics such as globalisation, volatility, and the impact of e-commerce.
Lagae drew attention to the need to optimise transport capacity. "On average, over 40% of cargo vehicle capacity is empty. Either improve planning of future capacity, or adjust pricing to attract more orders." he said.
On industrial minerals, with the logistics cost-to-sales ratio "easily being 27%", Lagae discussed the different viewpoints of the supplier and customer, the diversity of mineral supply chains, use of remote warehouses for long distance supply, and highlighted issues from a case study in truck transport of silica sand.
Lagae concluded with a forensic examination of the all-important issue of inventory management, nicely illustrated by his "Sea of Inventory", beneath which lurked a range of hidden hazards such as equipment breakdown, poor scheduling, change over time, and poor material quality.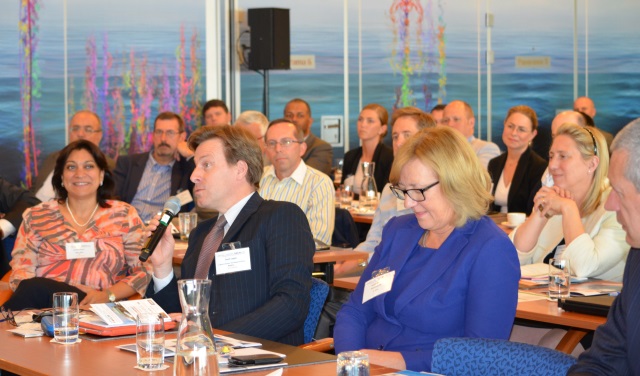 Port of Rotterdam
Hugo du Mez, Advisor Dry Bulk & Energy, Port of Rotterdam Authority, reviewed the relevant activities and functions of the Port of Rotterdam.
In 2014, the port handled 88.6m tonnes of dry bulk , of which 13m tonnes were minerals. Industrial mineral cargoes included bauxite, alumina, chromite, silica, olivine, ilmenite, rutile, zircon, kaolin, bentonite, borate, calcium carbonate, graphite, feldspar, fluorspar, magnesite, salt, talc, perlite, vermiculite, and pumice.
The majority of Rotterdam's cargo flow into the hinterland is by barge (94%), with the remainder going by truck and rail.
During the discussion with the audience there was debate over the issue of adequate storage capacity at Port of Rotterdam, raised by du Mez in his presentation. Robert van Muiden, Managing Director, RoBuLog, commented that improvements were required.
The dynamics of shipping
Frank Solberg, Head of Shipping, Sibelco, provided much food for thought with his presentation "Supply Chain Management, Maritime Logistics, Shipping: Are they all the same or is Shipping different?".
Solberg examined an alternative view of the supply chain, involving primary and secondary stocking and transport between these and the customer, and the impact of the key factors of strategic planning freight management, cargo volume per shipment, ports, product quality issues, and efficiency of organisation and processes.
Solberg explained how shipping companies observe the mineral supply chain and emphasised that shipping was a transparent market where mineral companies are often small players in the global freight market.
In conclusion, Solberg answered the question title of his presentation: "All are inter-linked, but shipping has different dynamics."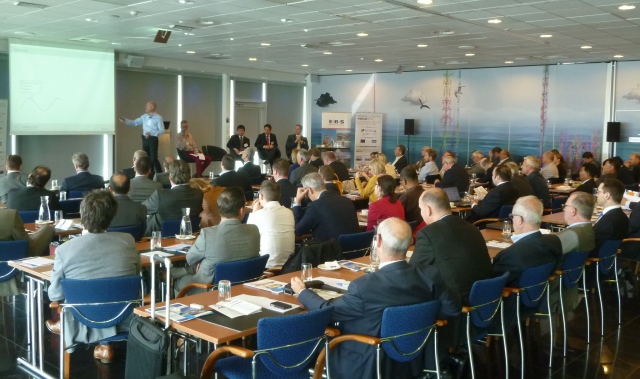 Mineral sands logistics
Moving to more specific mineral examples, Andreas Stylidiadis, Manager Logistics Europe, Rio Tinto Iron & Titanium (RTIT), provided "An insight into the supply chain for mineral sands and iron products".
RTIT has two main suppliers serving world markets which use all modes of transport: Quebec Fer et Titane (RTFT) supplying steel billets, iron and steel powders, and ilmenite; and Richards Bay Minerals (RBM) supplying rutile and zircon. Both supply titanium slag and Sorelmetal.
RTIT supplies >400,000 tpa of Sorel metal, zircon, and metal powders into Europe. A network of over 25 '3PL' stockpiles and warehouses, located at sea and inland ports, is used for the distribution of the products to the customers.
Stylidiadis explained that the different distribution points are not only for handling, storing and redelivering product, but also perform tolling activities where required.
"RTIT has historically adopted the development of partnerships with logistics providers versus its own assets. This allows for flexibility to follow customer's footprint." said Stylidiadis.
Stylidiadis commented on the very low levels of the freight market for bulk carriers while the low oil price further contributes to lowering sea transport costs. "The parcel/part cargo market is also experiencing a significant drop in freight rates, and as working capital reduction strategies dominate supplier and customers' shipping decisions, working with a reliable parcel operator is necessary." added Stylidiadis.
For the future, Stylidiadis expects consolidation in the transport industry will further limit options, especially in barging and container /sea freight; use of technology will continue gaining in importance; and logistics providers should be "smarter" and take on administrative tasks from the suppliers that focus on key processes.
The trader's role: "Be water"
And so to the middle man of the logistics sector: the trader. Exhibiting passion and athleticism well received by the audience (in particular the mimicking of a typical shimmy by FC Barcelona and Spain football star Andrés Iniesta, in demonstration of the required flexibility for traders), Alex Aizpurua, Marketing Manager, Midegasa, presented "The Mineral Trader's Viewpoint".
The role of the trader has evolved from the original preserve of a wall of secrecy between supplier and customer to today's transparency in relations, globalisation, and added-value focus.
Aizpurua took the audience through the trader's input by analysing the supply chain from source to final destination. He emphasised the importance of nurturing the relationship between the customer and the supplier, such as helping the supplier understand the needs of the customer.
Adding value was also important, offering additional services such as milling, drying, sieving, warehousing, packaging, container loading, and slurry dispersion.
Flexibility and creativity appeared to be the two watchwords for traders. "Make life easy for your customers and suppliers. Make the costs as variable as possible – in order to be flexible. Be creative." expounded Aizpurua.
Or, to put it more succinctly, Aizpurua borrowed a quote from martial arts and philosophy guru Bruce Lee: "Be water".
New Chinese source of barytes and bauxite
From Bruce Lee to bauxite and barytes: the Chinese connection continued with Michael Dai, Manager Trade & Finance Dept., PJYT Logistics Co. Ltd presenting "Industrial minerals supply chain management from Chinese mines to European markets".
Part of state-owned Guizhou Panjiang Investment Holdings Group Co. Ltd, the largest coal producer in south-west China, PJYT Logistics provides integrated supply chain management services and in June 2015 is to start exporting barytes and bauxite.
Dai outlined the mineral-rich region of south-west China as host to 66% of China's barytes reserves and 17% of the country's bauxite reserves, in addition to important phosphate and coal reserves.
Earlier government controls to reduce mineral production in the region are now being reversed. "The supply of minerals from south-west China is increasing. Now, some of our partners are returning to the market, and half of the barytes from south-west China is for export." Dai said.
While there is optimism, there are also challenges, such as the remote mountain areas hosting mineral deposits, poor infrastructure, and inefficient local logistics services. "The logistics cost accounts for half of the mineral price. The mines need cost management to increase their profit margin." Dai said.
However, there is growing interest in competitive development of container freight from China to the West. This is supported by policies from China Railway Co., such as discount of freight and recycling fees for domestic containers and incremental volume, and the "One Belt and One Road" policy promoted by the Chinese government.
While early days, and bulk transport costs remain slightly lower, PJYT Logistics is confident that its development of mineral container logistics, using tailor-made containers, will bear fruit with its concurrent development of Guizhou barytes and bauxite.
John Allen, Managing Director, Anglo Pacific Minerals Ltd, UK, will present "Barytes sourcing & marketing" at IMFORMED's Oilfield Minerals & Markets Forum Houston 2015, 27-29 May 2015, alongside barytes presentations from The Barytes Association, Baker Hughes, and Baramin.
Refractory minerals: diversity in minerals and logistics
In his presentation "Refractory Raw Material Logistics", Sujoy Sen, Director Supply Chain & Procurement, Magnesita Refractories, gave a well-illustrated review of the diversity of minerals and modes of transport required for one of the world's leading refractory producers.
Sen proceeded through the mine to market route by starting with the characteristics of some of the main minerals handled, such as calcined magnesite and dolomite, and graphite, their packaging, bulk versus container freight, and issues and solutions over their on-board stowage.
Sen warned of a variety of factors that might arise at the port, such as congestion, draught, vessel may not call, and overall costs.
Good management in warehousing of inventory is a priority, particularly with awkward to handle materials such as graphite, as well as maintaining safe logistics of fine powder combustible material such as aluminium powder.
In the discussion, on questioned about the use of third parties to source material, Sen said that Magnesita used both direct sourcing and third parties as appropriate for certain raw materials (in contrast to NSG, see below).
Glass minerals logistics: consistent supply & contaminant free
Another major consuming market for minerals is glass, and a very comprehensive summary of a leading glassmaker's mineral logistic needs was provided by Tim Smith, Technical Raw Materials Manager for Glass Batch Materials, NSG in "NSG Logistics for Glass Raw Materials: Safe Delivery from Mine to Float Line."
Smith offered an overview of the float glass process, and explained NSG's basic raw material needs, typically requiring 400 tpd silica sand, 130 tpd soda ash, 100 tpd dolomite, 30 tpd limestone, and 5 tpd sodium sulphate.
Some unique risks that apply to glass raw materials were highlighted, and it was demonstrated that consistent steady supply without interruption combined with stringent chemical and physical property control of the raw material must be adhered to.
"If a risk [of nickel sulphide contamination from steel] is detected, the supplier is asked to modify the process, or may be rejected if modifications cannot be implemented." said Smith.
Smith highlighted the different modes of transport for the different raw materials, sourced domestically and from overseas, noting varying practices: "There are differences in the way the materials are supplied. Clear glass materials are sourced 'just in time', but low iron sand and low iron dolomite must be sourced and stocked in advance." explained Smith.
NSG generally deals directly with suppliers and does not use independent agents. Indeed, in 2012 NSG made a strategic decision to control the supply and logistics of low iron sand to ensure high quality and uninterrupted supply.
Smith described as a case study in securing raw material supply the joint venture between NSG and Minerali Industriali Srl, which reopened the Lochaline silica sand mine in central-west Scotland (closed in 2008), and invested in modern storage and handling facilities at the mine site and at Runcorn Docks, near the glass plant.
Containers and silo-trucks: trends and innovations
In his presentation "Trend or innovation", Robert van Muiden, Managing Director, RoBuLog Rotterdam Bulk Logistics, looked at the growth of container use in shipping minerals.
"There are more mineral shipments moving away from dry bulk shipping to container shipments. With increased container capacities there has been more interest by carriers to accept loose bulk and big bags, and also smaller lot sizes owing to lower mineral demand in Europe. More graphite and lithium will be shipped by container." Van Muiden said.
As a result, there are more systems being developed for loading loose bulk into containers from trucks, and vice versa. Key issues include appropriate equipment for debagging into silo-trucks and how to deal with dust – van Muiden highlighted some examples.
One particular development described by van Muiden, new to Europe and certainly, until this presentation, unknown to the audience upon asking, was Arrows Up Inc.'s Jumbo Bin System.
The Jumbo Bin is a steel and fibre glass square container holding a maximum of 27.4 tonnes of raw material which sits on a 20ft modified chassis and can be loaded through the top and discharged from its floor.
Key features of the Jumbo Bin include it being integrated, intermodal, and universally transportable; transport of product from source to destination in one contained unit; and savings on transloading and demurrage. To date they have been used for shipments of frac sand, cement, and clay.
Neal Levine, Business Development Manager, Arrows Up Inc., USA will be explaining all about the Jumbo Bin System in his presentation "Bulk handling systems for minerals" at IMFORMED's Oilfield Minerals & Markets Forum Houston 2015, 27-29 May 2015.
IMFORMED is delighted with the success and positive feedback from delegates on Mineral Logistics Forum 2015 and is already looking forward to planning Mineral Logistics Forum 2016 with delegates' comments and suggestions in mind.
A special thank you again to all of our speakers, co-chair Clive Kessell of Coastalwise Ltd, sponsors, and attendees for making the event such a success. We hope to see you again soon.
 For more pictures of Mineral Logistics Forum 2015 please go to

Gallery
Missed attending Mineral Logistics Forum 2015?
For programme, attendees, pictures, and feedback please go to Past Forums.
A set of presentations (as PDF) maybe purchased: Price £500 – please contact:
Ismene Clarke, T: +44 (0)208 224 0425; M: +44 (0)7905 771 494; E: ismene@imformed.com
Don't miss these upcoming Forums