Review of China Refractory & Abrasive Minerals Forum 2018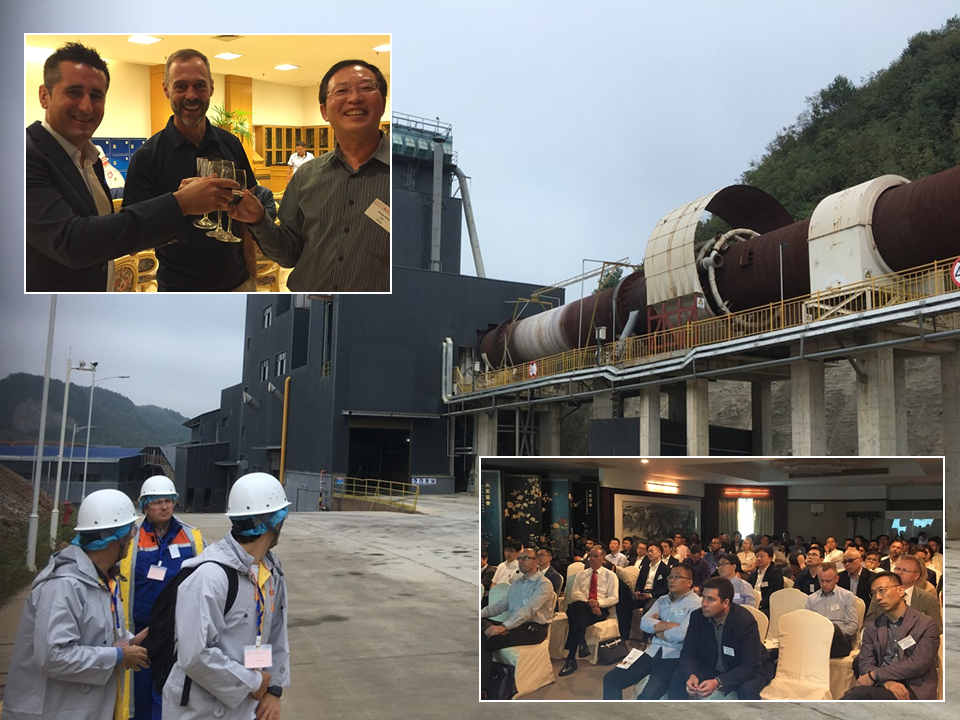 Well, the Chinese Year of the Dog has certainly lived up to its name as suppliers, traders, and consumers of Chinese refractory and abrasive minerals strive to secure supply contracts under challenging circumstances for 2019 as we head into Q4 2018.
The continuing tightness in supply and uncertainty over future availabilities and prices for most Chinese export minerals served to add a certain frisson to IMFORMED's well timed inaugural China Refractory & Abrasive Minerals Forum 2018 at the Regal International East Asia Hotel, in Shanghai, 10-12 September.
Some 130 attendees used the opportunity to network with key players in the industry while acquiring the latest information from an excellent panel of speakers.
Good reports and presentations, excellent analysis and discussion
Binay Krishna, Head of Refractories, ArcelorMittal Europe, Luxembourg

Excellent content, excellent organisation, great venue
Will Walker, Sourcing Manager, Lincoln Electric Co., USA

Very good, covered a good overview of what's happening in China. Easy to register online
Matthew Bailey , Procurement Manager, Shinagawa Refractories Australasia, Australia

Very interesting with short and complete presentations, good rhythm of programme sessions, reasonable price
Isabelle Florens, Purchasing Manager, SEPR, France

Nicely organised, very good programme to cover all the interesting topics in the industry
Felix Wang, Commercial Director China & SEA, Almatis, China

For more feedback, pictures, and summary slide deck please go to: China Minerals Forum 2018
Despite the lure of the World Snooker Shanghai Masters 2018 tournament, held concurrently in the same hotel, the Forum enjoyed a full house from start to finish – perhaps underlining the market's urgent and ongoing need for accurate news and updates on the supply situation.
Indeed, the Forum provided its own sporting entertainment with the Bowling Icebreaker Reception, kindly sponsored by new bauxite supplier Sky Metallurgy Mineral Co. Ltd. The well attended opening night proved to be a fun and useful exercise in mixing and mingling amid strikes, spares, and an occasional alarming slam dunk.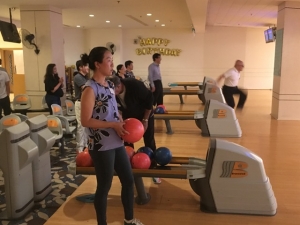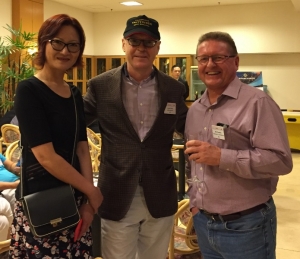 Overviews: supply chain and economic outlook
Following introductions by Ismene Clarke, Director & Mike O'Driscoll, Director, of IMFORMED, two fine keynote overview set the scene for the conference.
"Which of your China operations or suppliers will not make it beyond 2020?" by Johnny Browaeys, Director of International Operations, Greenment, immediately caught everyone's attention with his opening line: "I will illustrate two tools that can help you evaluate and manage the vulnerability of your business and your supply chain during the New Environmental Era in China."
Browaeys proceeded to outline China's journey to "Eco-Civilisation" and its (continuing) impact on industry, with some strategies and practical measures in response to China's "Environmental Storm".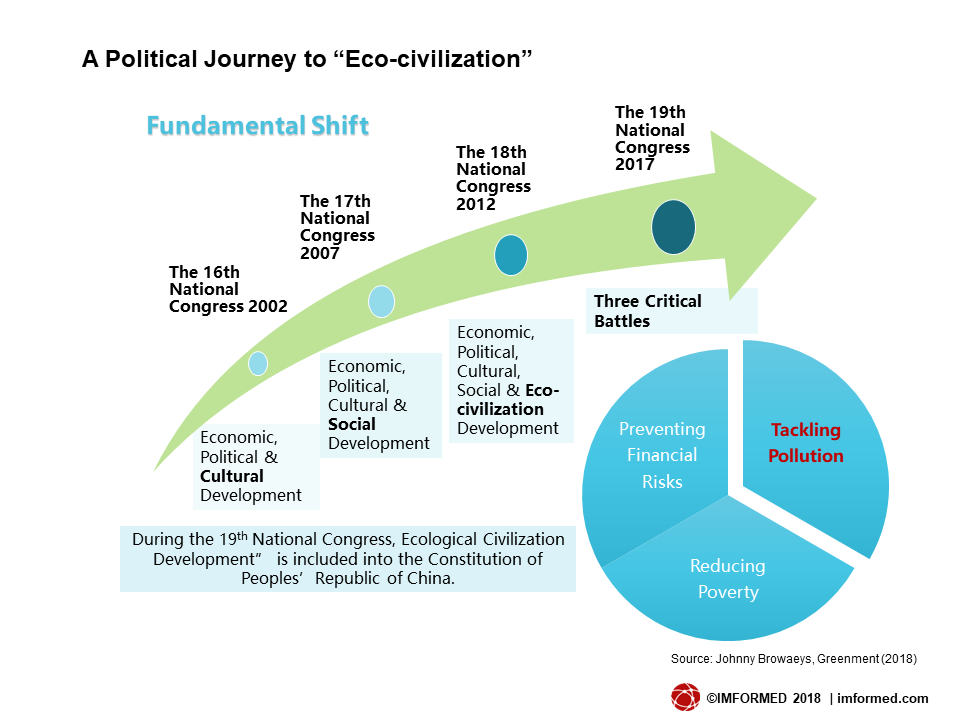 He urged corporations to respond by pro-active screening of the vulnerability of their sites and supply chains; partnerships with suppliers and value chain cooperation; and to use big data for cost-effective compliance management.
In "Overview of China & global refractory downstream markets", Adam Gao, Associate Director Specialty Chemicals, IHS Markit, provided a review and outlook for China's overall economy before drilling down to specific market sectors driving the refractories market.
China's economy has witnessed a significant reduction since 2012. In 2018, GDP growth is expected to be 6.58%, and this will continue to slow down over the next five years to around 6%, according to IHS Markit.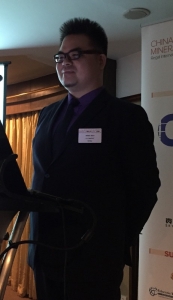 China's production of refractories has been decreasing since the plateau of 2010-2013, most significantly in dense shaped refractories. In 2017, Chinese total output of refractories decreased by approximately 25% compared with 2013.
However, with China's large and world leading production in, steel, cement, glass, and non-ferrous metals, there is expected continued demand for refractories in China.
Gao explained that China's construction industry consumed 45% of the total output of steel, glass, and nonferrous metals. Excluding cement, Chinese demand of refractory downstream products in the construction industry is expected to increase at annually 4.5% during 2018-2023.
China's automotive industry consumed 8% of the total output of steel, glass, and nonferrous metals.
Chinese demand of refractory downstream products in the automotive industry is expected to increase at annually 2.2% during 2018-2023.
China's refractories market
Zhanmin Wang, VP Marketing & Sales Overseas, Sinosteel Luoyang Institute of Refractories Research Co. Ltd, presented "Status and development of China's refractories industry".
Although output of refractories in 2017 in China was 22.93Mt, down 4.13% compared with 2016, the first half of 2018 saw an increase of 4.8% with that of 2017.
Henan, Liaoning, and Shandong were the leading refractory producing provinces accounting for 48%, 15%, and 13% of production, respectively. Notably, both Liaoning, Shandong, and Shanxi provinces underwent significant declines in production activity in 2017.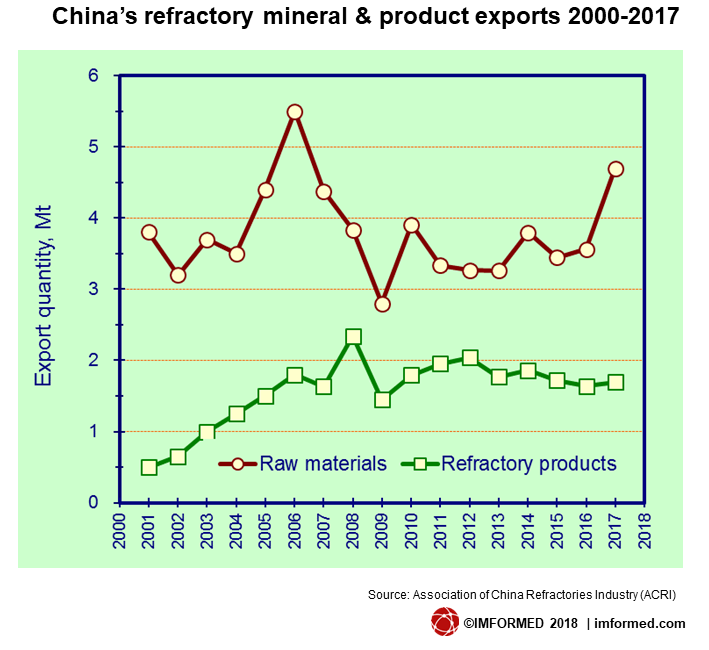 Looking forward regarding raw materials, Zhanmin envisaged a tougher situation of domestic supply for high quality bauxite and that a large proportion of fused alumina will be replaced by sintered alumina.
On magnesia supply, Zhanmin considered that there was "not too much of a problem in the long term".
Overall he pointed to more and more pressure from the environment, health, safety and salary levels.
"Refractory raw material developments in China" by Dr Zhou Ningsheng, Professor and Director, High Temperature Materials Institute, Henan University of Science and Technology, reminded that more than 40 varieties of refractory raw materials, natural and synthetic, are available in China, with a total capacity of over 30m tpa, among which 2-3m tpa are exported.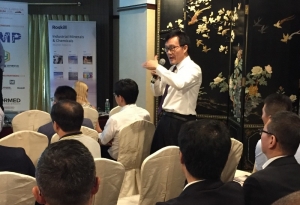 Dr Zhou outlined challenges facing China's refractory raw materials:
• Disordered exploration leading to destruction and waste of resources
• Overcapacity leading to market chaos and disorderly competition
• Low profit
• Ever strict environmental protection measures imposed by central government and local government, leading to crackdown of some minerals, in particular magnesite, bauxite
• Insufficient diversification for economic applications
• Increased costs for environmental protection and labour
All the above have contributed to rising prices and shortages in supply.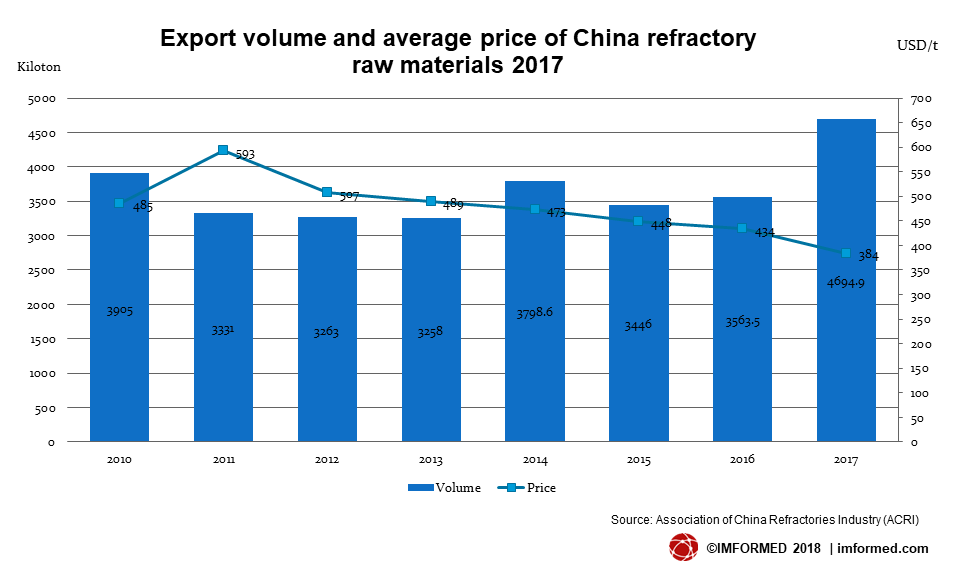 Termed as "countermeasures", Dr Zhou encouraged the industry to make the best and reasonable use of presently available bauxite and magnesite resources. In particular, in improving resource utilisation and to minimise waste.
Zhou also urged improvements are necessary in standards of refractory formulations, citing bauxite grogs as an example with too wide a range of "required" alumina contents of 50-80%, as well as looking at engineered aggregates, developing new synthetic and lightweight raw materials with micron- or nano-sized pores, and improving recyclability of refractories.
Aluminas & bauxite
Dr Richard Flook, Managing Director, Mosman Resources, presented a most comprehensive "Global scene for non-metallurgical aluminas" which covered applications of bauxite and alumina, chemical grade alumina (CGA), the refractory market, market growth prospects, Australian projects, and recent regional CGA developments.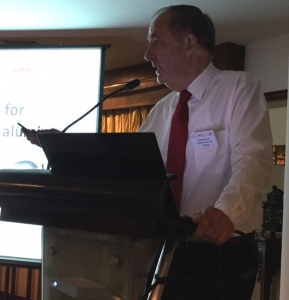 Flook highlighted predominant trends in increasing monolithics use in China while the country's specific consumption of refractories continued to decline to 10-12 kg/tonne steel. Meanwhile, government initiatives are expected to result in a greater use of EAF in steelmaking.
Flook acknowledged that world refractory consumption is declining, but emphasised that higher quality steels in China will require higher performance refractories.
Alumina products are mainly used in steel (73%) and cement (13%) production. Developing steel producers (eg. China and India) use about 0.5kg of Al2O3 per tonne of steel compared to 1.2-1.5kg in Japan, EU & the USA. Thus Flook postulated that the potential decline in overall refractory consumption could be offset by an increase in alumina specific consumption.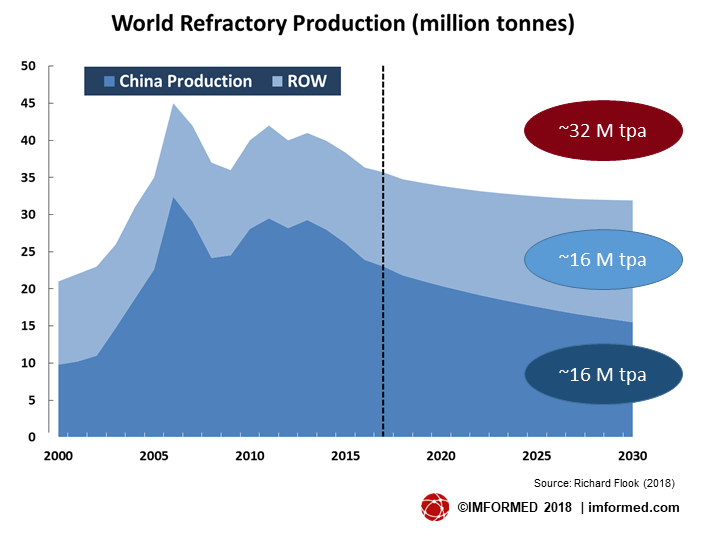 In "Chinese calcined bauxite production and its outlook", David Haoran, Deputy General Manager, FX Minerals Pte Ltd, presented a very detailed and frank review of the current situation with regard to China's refractory bauxite supply.
China's bauxite resources, mining, calcination, environmental protection controls, and outlook were summarised before ending with a brief profile of FX Minerals Group.
Perhaps key among Haoran's commentary was the stark fact that raw bauxite production in Xiaoyi, Shanxi had dropped alarmingly from around 10-20m tpa in 2016 to just 3m tpa in 2018. Moreover, little if any progress has been made since 2012 in implementing new mining licences in the key bauxite producing province.
Haoran also reported that some 75% of Xiaoyi's bauxite calcination capacity is inoperative.
Haoran said that the Shanxi provincial government is addressing the situation by releasing new mining licences for 2019, allocating some 25m tonnes in reserves for refractory grade, and establishing a "refractory industrial park, with bauxite supply exclusively for refractories".
Magnesia
"Magnesia industry of Liaoning Province under strict environmental policy" by Guangqi Han, Secretary General, Liaoning Provincial Industrial Special Resources Protection Office summarised the resources and production of Liaoning's magnesite industry before underlining the challenges facing the industry.
"Although we have paid attention to energy conservation, emission reduction, and environmental management over the years, and achieved certain results, the level of technical equipment is backward, and problems such as single products and homogenisation still exist. Environmental protection and safety in production are still a challenge for the development of the magnesite industry in our province." said Han.
Han reported that all magnesite mines in Anshan City remain suspended due to environmental protection and safety rectification, and so far no production has resumed. The supply of magnesite ore in the domestic market, especially the special grades and primary ore is seriously insufficient, and the output of magnesia has dropped significantly year on year.
Han then explained that the implementation of the new Air Pollutant Emission Standard released on 9 August 2018 will inevitably increase the environmental protection costs of enterprises, eliminate backward production equipment with heavy pollution, and compress some production capacity, concluding that the price of magnesia will remain at a certain high level.
"I sincerely invite domestic and foreign companies to invest in Liaoning, and actively participate in industry integration and restructuring, environmental protection, technological transformation and equipment upgrades, and create a win-win situation." said Han.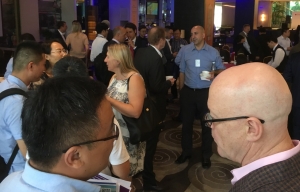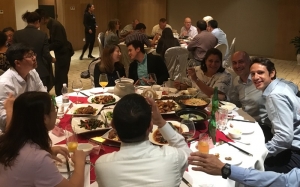 Delegates enjoyed networking at CMP's sponsored conference reception and Field Trip banquet in Guiyang
The consumers' viewpoint
"Challenges of a mid-size refractory company facing recent events in China" by James (Seung Seok) Choi, General Manager International Business, Wonjin Worldwide, was an honest appreciation of how to deal with the current shortage of raw material supply from China from a consumer viewpoint.
Choi lamented: "There is no perfect answer or solution to overcome this situation. Big companies have abilities to study, research, challenge, and change by themselves. But, small to mid-size companies are struggling with financial weakness, lack of manpower, less purchasing power, and limited access to information to make their situation harder."
After describing the nature of mid-size companies, Chinese raw material issues, the differences of refractory markets, and Wonjin Worldwide, Choi summarised three phases of challenges:
Phase 1: Instant reaction which can be done as soon as possible
• Information study
• Information share to customer and related companies
• Secure supply chain
Phase 2: Necessary actions to cover short term cost shock
• Increase of selling prices
• Modify formulations
• Keep supply security to customer
Phase 3: Mid-Long term strategy
• Quality modification for cost effectiveness
• Early adoption of new development
• Utilise recycled material
• Non-Chinese raw material sourcing ("North Korean? Hopefully, but not yet!")
• Develop game changer for future (eg. 99.5% purity fused MgO developed by Wonjin)
"India in the face of the uncertain situation in refractory materials supply" by Manan Shah, President, Orient Abrasives Ltd, looked at the headwinds, tailwinds and challenges facing the Indian refractory raw materials industry.
In 2018, India is expected to be the world's second largest producer of steel overtaking Japan by 104.7m tpa crude steel production.
Domestic refractory production is about 1m tpa, of which 75% is consumed by the steel industry, and 60% magnesia based, 35% alumina, and 5% silica. There are >400 large and small refractory manufacturers in India.
Severe challenges are impacting the Indian industry: costly raw material; low iron bauxite unavailability (20% against demand of over 50% availability by the refractory industry); no new allocation of bauxite and magnesia mines; increasing prices of petcoke and coal having direct impact on input costs; low cost refractory used in the market; and stringent pollution control norms.
Shah considered the industry should respond with increased recycling, development of synthetic materials, a focus on application-based refractory specifications rather than chemical specifications, and more consolidation.
Raw material trends and developments
"BFA & SiC supply and price trends" saw Vincent Wong, Business Manager, Refractories Window, provide a much anticipated review of how prices have trended in recent years and going forward.
Average export prices of China refractory raw material have shown a continuous downward trend since 2012. In 2017, the average price dropped by 11.64%.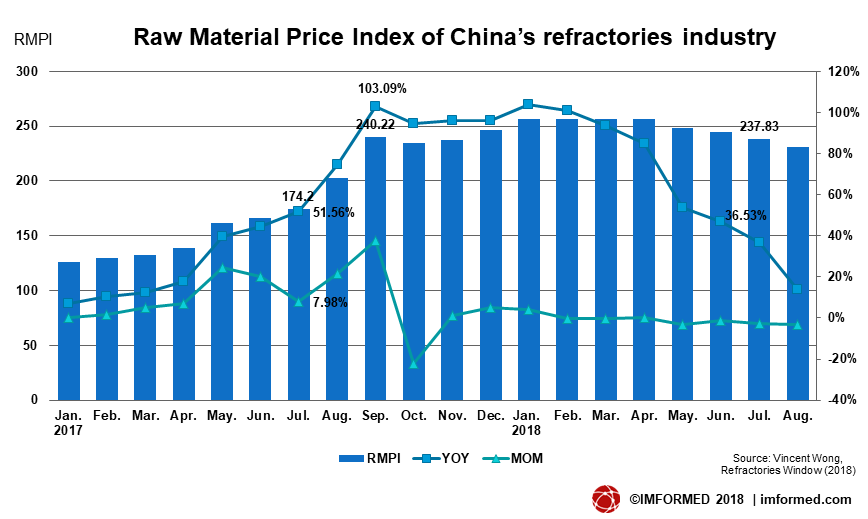 "In 2017, most refractory raw materials showed lower prices than the previous year, except calcined bauxite and fused magnesia. " said Wong.
Wong also pointed out that certain raw materials deserve extra attention, because their export prices are much lower than their domestic market price, eg. fused magnesia exported at RMB3,585, domestic price at RMB5,047; BFA RMB3,853 and RMB4,754, respectively.
Wong then summarised the supply and price situation for brown fused alumina (BFA) and silicon carbide (SiC) before concluding: "The anti-pollution situation and other factors are predicted to be the same or even more severe compared with the previous year. Our Raw Material Price Index is expected to run at same high level for at least next two years."
Dr Yuan Wenjie, Professor, Wuhan University of Science & Technology, presented "Trends and developments in refractory raw materials required for castables". Yuan focused on the hot topics of castable development – lightweight, long life, and functionalisation – then outlined novel raw materials such as microporous corundum, spinel-calcium aluminate, and CA2 based aggregates.
"Refinement and customisation of synthetic raw materials for advanced refractories" by Lyu Xusheng, Director of High Temperature Material Laboratory, Jiangsu Jingxin New Materials Co. Ltd introduced the company as China's first producer of synthetic refractory raw materials involved in the formulation of industrial standards for sintered alumina, mullite and spinel.
Lyu said: "Customisation of synthetic materials are very necessary for advanced refractories to meet the challenges in terms of longevity, high reliability, specific function, multi-purpose and low carbon economy, which have become the development direction and research hotspot".
Using sintered alumina grades as examples, Lyu explained how through careful design and improvement in variety, composition, grain size, grain shape and microstructure, a diversified synthesized material system has been established by Jiangsu Jingxin New Materials and is still expanding.
Garnet – world's natural abrasive giant in supply change
"Chinese garnet to reshape the world as Indian supply challenged?" by Raymond Ding, Managing Director, Sinogarnet-Wuxi Ding Long Minerals Co. Ltd was a fine summary of the garnet market as it now stands.
Ding reviewed garnet world supply and markets before focusing on the significant development of India stopping its exports of garnet in late 2016 in order to control illegal mining, thereby changing world supply patterns, prompting consumers to consider alternative abrasives and/or alternative sources.
This has thus given Chinese garnet producers, such as Sinogarnet, JH Mining, and YG Garnet, a recent boost to serve world garnet markets.
However, it might be a case of making hay while the sun shines, since there is a risk that Indian garnet supply may come back on stream in the future. Although, that said, Ding reported that "According to the latest rules, all India beach mines' export business must go through [state owned company] India Rare Earths."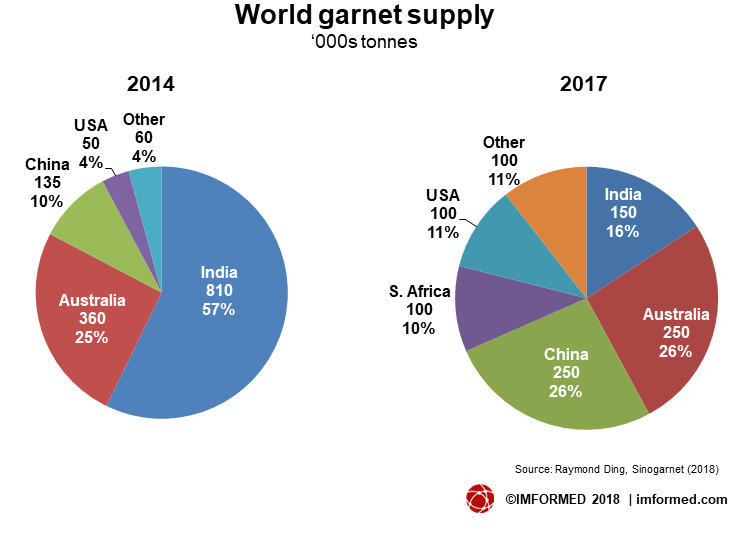 Field Trip to CMP, Guizhou
After the conference, 25 intrepid delegates flew to Guiyang to enjoy a late but most welcome and convivial banquet hosted by CMP.
The following day saw the party partake in an excellent tour of CMP's bauxite mine and new gas-fired calcination plant near Xiuwen, Guizhou province.
With the ongoing clampdown on bauxite mining and calcination in Shanxi and Henan, there is a feeling that bauxite players in Guizhou sense an opportunity to seize the initiative and strengthen their supply position.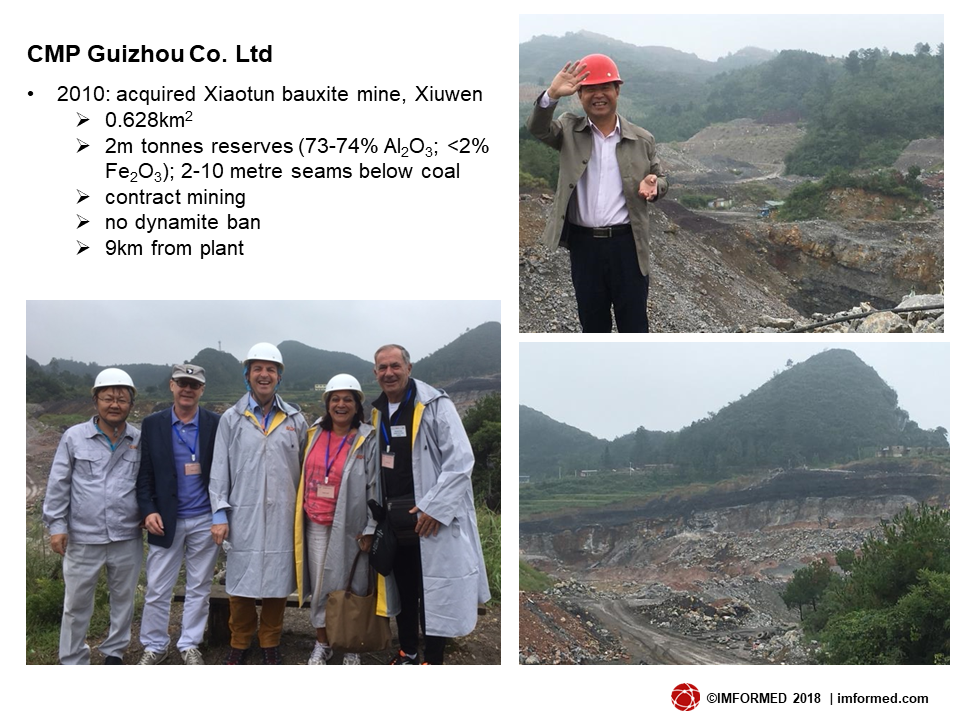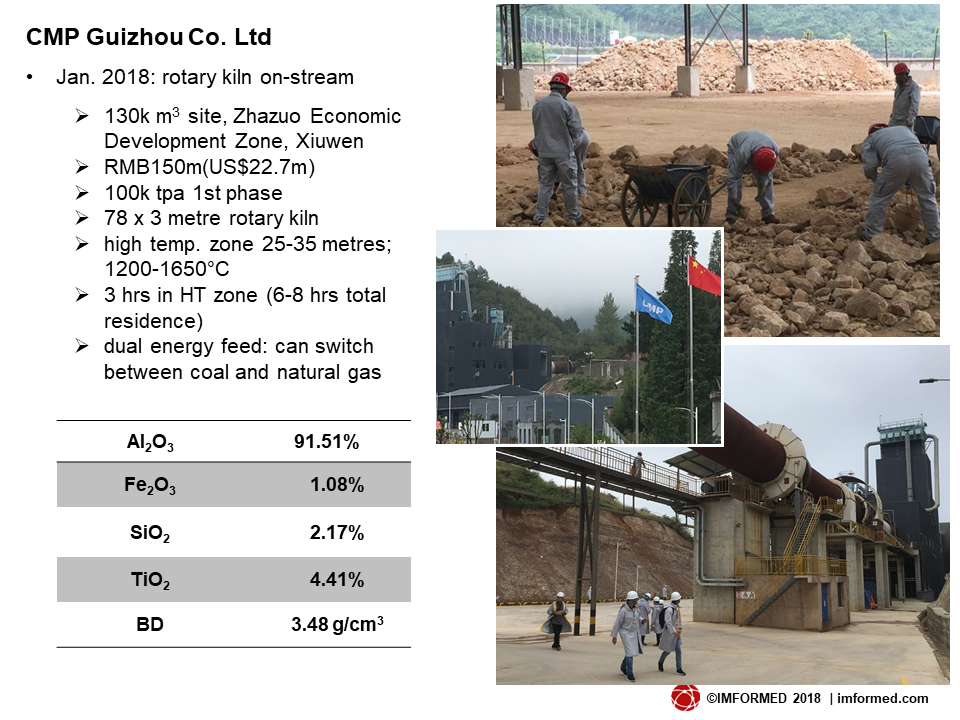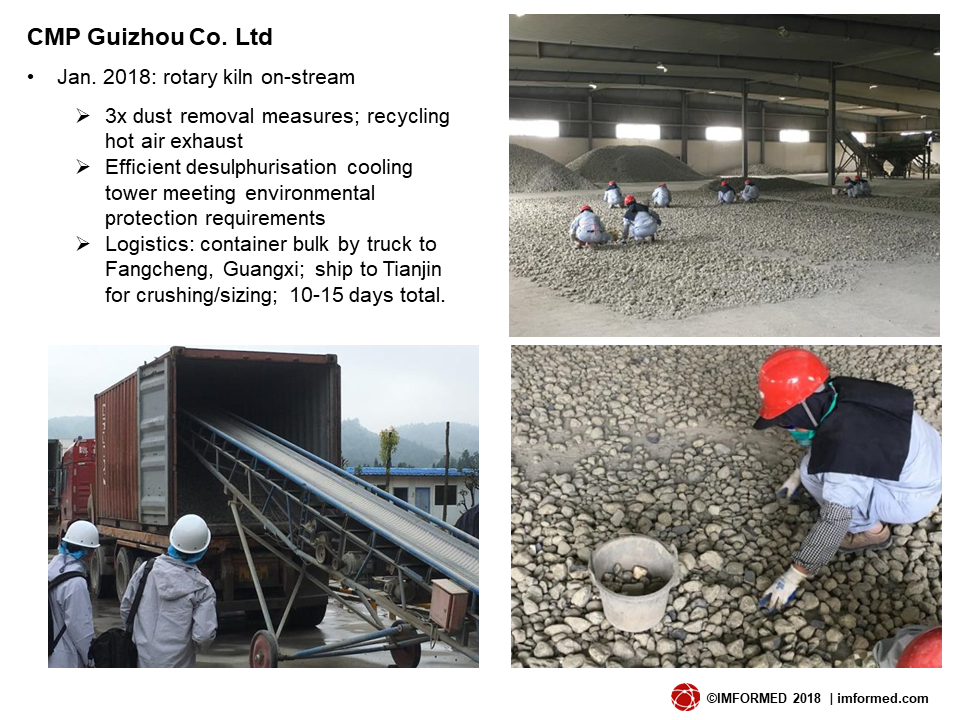 Thank you and see you again soon!
China Refractory & Abrasive Minerals Forum 2018 was a most timely event and great success.
As ever we are indebted to the support and participation of all of our sponsors, exhibitors, speakers, and delegates for making China Refractory & Abrasive Minerals Forum 2018 such a success.
We very much appreciate all the completed feedback forms and please continue to provide us with your thoughts and suggestions – watch this space for announcement of future dates and venue!
For programme, feedback, attendees, and picture gallery, please go to:

Missed attending the conference?

A set of presentations (as PDF) maybe purchased – please contact:

Ismene Clarke, T: +44 (0)208 224 0425; M: +44 (0)7905 771 494; E: ismene@imformed.com