First Chinese MgO-C refractory plant in US: PRCO America to use high purity Tibet magnesia source
Liaoning magnesia supply hit by new dynamite ban
The US refractories market is to have its first Chinese-owned magnesia-carbon brick plant, possibly operational by the end of 2020, and consuming recently developed high purity magnesia from Tibet.
PRCO America Inc., a wholly owned subsidiary of Puyang Refractories Group Co., China, is a manufacturer of speciality refractory bricks for the steel industry, and is to invest $5.5m in its first US production facility at Hickory, Graves county, Kentucky. The project will be financed through PRCO America's import and resale of refractory products. There is no direct foreign investment.
PRCO plans to establish a state-of-the-art refractory plant in an approx. 35,000 sq ft building in Hickory, and will also use three other buildings on site.
In Phase 1, with installation of the latest hydraulic pressing and automation technology, the plant will produce 22,000 tpa custom-sized resin-bonded magnesia-carbon refractory bricks, which steel mills use to line their furnaces and transfer ladles. Eventually, it is envisaged that four pressing lines will be operational.
West Kentucky stood out as the ideal location owing to its proximity to the Mississippi River for cost-effective delivery of raw materials, as well its central location to US steel producers. PRCO's customers include mini-mill and integrated steel producers in the USA, Canada, and Mexico.
PRCO America will source its raw material requirements directly from China, controlling all processing from mine to plant. Dead burned magnesia (DBM) and graphite will be transported via New Orleans, up the Mississippi River and discharged at Hickman, Kentucky, about 75km from Hickory.
The enterprise was welcomed by the governor of Kentucky as the state reopens businesses and attempts to kick-start its economy after the Covid-19 lockdown.
US steel mills are only just restarting after cutting output to align with a steep drop in demand as the pandemic hit the country in mid-March 2020. Recent good news for US steel is that automotive companies, which account for about 25% of demand, are starting to reopen as well, although recovery is likely to be slow.
US industries rely heavily on a wide range of industrial mineral imports from China (>50% net import reliance), including magnesia (52%) and graphite (100%; for analysis and comment see China's mineral supply to global markets: dominance, diversity & disruption).
Crucially, for US refractory manufacturers, thanks to industry lobbying in 2018 most of the key refractory minerals imported from China were not included on the US Tariff lists of Chinese commodity imports. However, finished refractory products such as bricks were included.
This may have influenced PRCO's thinking when evaluating brick supply to its US customers in the future, thus favouring the export of refractory raw materials to be used by a PRCO plant within the US market rather than the export of end products manufactured in China.
Interested in China, refractory minerals, & magnesia? Then don't miss:

CLICK ON FORUM TITLE FOR FULL DETAILS
PRCO a growing "transnational" force
Puyang County Refractories Factory was founded in 1988, before becoming in 2002 Puyang Refractories Group Co. Ltd (PRCO; also referred to in English as "Punai"), and claims to be the largest refractories supplier to China's steel industry.
The group is based in Puyang, Henan province, with a staff of almost 3,000, has 25 refractory product, research, and raw material subsidiaries, including overseas companies in Russia, Ukraine, South Korea, and the USA.
PRCO states that its goal in 2020 is "…to become a transnational group based on high technology and refractories as a major within the global top three. PRCO will accelerate mergers, and in combination through cooperation with domestic and overseas refractories companies improve our comprehensive strength and build our own high alumina and magnesia raw materials base."
Last year PRCO acquired a 60% stake in Tangshan Guoliang Special Refractory Material Co. Ltd, and in recent years has been most active in developing magnesia raw material sources in Tibet and Qinghai (see below).
According to the National Bureau of Statistics (NBS), China's crude steel output picked up again in May 2020, posting 1.9% y-o-y growth for the January-May period, at 411.8m. tonnes. May 2020 also set a historical production record of 92.3m. tonnes, while China's overall industrial production rose 4.4% y-o-y, up from 3.9% y-o-y in April.
Recovery of Chinese steel demand is expected to become more apparent in the second half of 2020, with the benefits of new infrastructure projects launched in 2020 continuing into 2021. It is expected that China's steel demand will grow by 1.0% in 2020.
Listen to Mike O'Driscoll, Director, IMFORMED discuss "The supply situation of the overseas magnesia market" at Northeast Asia Magnesia Exchange's 2020 Global Magnesia Refractory Conference/Webinar

9 July 2020 14:00-18:00 Beijing Time

Please note, all other presentations in Chinese.
High purity magnesia from the "Roof of the World"
Like many Chinese refractory producers, PRCO is vertically integrated with its own domestic raw material sources, including mines and processing plants for dead burned and fused magnesia, tabular alumina, and bauxite.
Of great interest over the last 15 years or so has been the slow but steady development of a high purity cryptocrystalline (microcrystalline) magnesite deposit in Tibet (claimed as one of a kind in China; Liaoning's magnesite deposits are macrocrystalline), which started to come to fruition in 2019 and will be the source of DBM used in the new PRCO plant in Kentucky.
The Kamaduo magnesite deposit is located in Riwoche county, near Chamdo (also referred to in Chinese as "Changdu"), in northeastern Tibet, at 4,200 metres altitude, hosting >50m tonnes reserves of magnesite grading 47.6% MgO with low iron and silica. PRCO has an exclusive 99 year lease on the Tibetan deposit.
Kamaduo was first looked at in the early 2000s by Haicheng Huayin Group, which started development in 2008 and founded Tibet Xiangchen Magnesium Co.
PRCO acquired a controlling stake (55%) in Tibet Xiangchen Magnesium (45% Huayin Group), and the JV company was renamed Tibet Changdu Xiangchen Magnesium Industry Co. Ltd.
In 2011, PRCO established PRCO Tibet High Purity Magnesia Refractories Co. Ltd for sourcing, calcining and fusing the Kamaduo magnesite, and this became a subsidiary of the JV in 2015.
In 2012, Qinghai Punai High-Tech Materials Co. (also known as Qinghai Punai Magnesite Material Co.) was formed by PRCO "in order to improve the raw material business in west areas" and set up production plants for magnesia grades in the Minhe Industrial Zone, Haidong Industrial Park, Haidong, Qinghai (about 1,300km north-east of Kamaduo; note the vast Chinese province of Qinghai borders the north-east part of Tibet, an autonomous region of China – see map).
The purity of magnesite in Kamaduo is such that CCM, DBM, and FM at 98%min. MgO can be produced. The Kamaduo magnesite yields a unique high purity magnesia >98.5% MgO when fused; 10:1 lime:silica, and zero detectable boron; crystal sizes can measure 20-30mm.
High purity DBM has also been produced typically exhibiting: 98.69% MgO, 0.82% CaO, 0.04% SiO2, 0.14% Fe2O3, with 3.48 g/cm3 bulk density; periclase crystal size ranges 80-150 μm.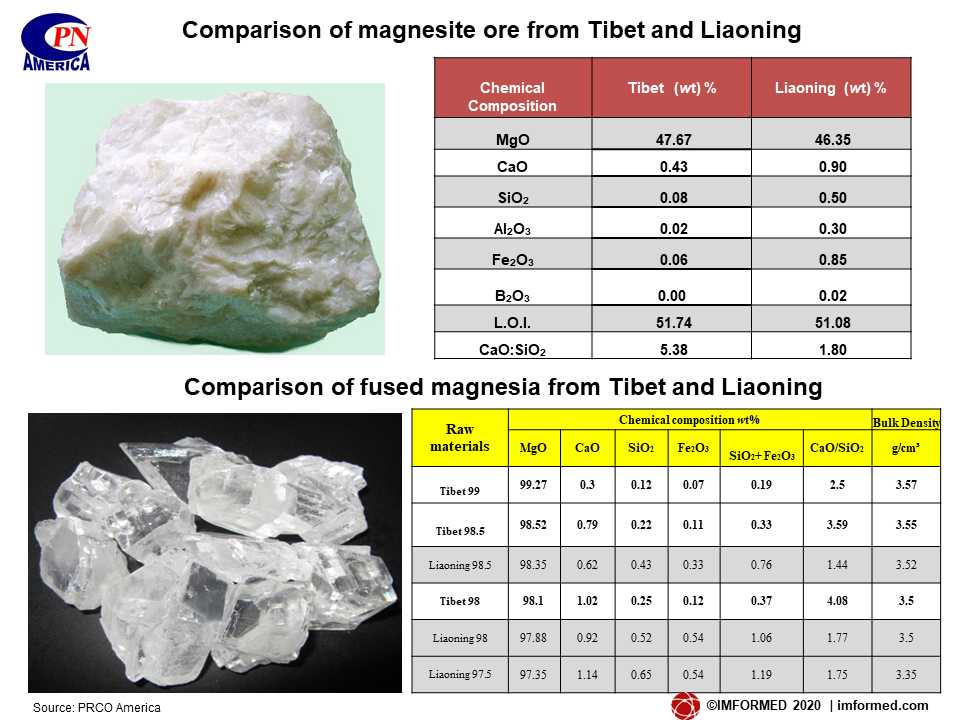 Owing to its high purity, and thus commanding high value, PRCO can afford to transport the CCM produced in Tibet the 1,300km to the plant site at Haidong, Qinghai (see map).
In August 2017, the first phase of the CCM project came to fruition with an initial design 150,000 tpa CCM rotary kiln plant operated by Qinghai Punai Magnesite Material Co. Ltd at Haidong, using magnesite sourced from Kamaduo – 30,000 tpa production was attained in 2019; a CCM shaft kiln was also built near Kamaduo.
In 2019, PRCO Tibet High Purity Magnesia Refractories started to open its new 1m. tpa magnesite mine at the Kamaduo deposit, while Qinghai Punai Magnesite Material commenced pilot plant production of FM and high purity DBM using the Kamaduo material.
By August 2019, a new FM production line of 60,000 tpa capacity utilising six electric arc furnaces was completed at Haidong, initial output was reported as being held at 20,000 tpa until end-2019 when full production was to commence.
PRCO announced in November 2019 an increase in capital of US$7m in its subsidiary Tibet Changdu Xiangchen Magnesium Industry Co. Ltd. while the remaining shareholders of Xiangchen Magnesium Industry, Dongchang Dushi Investment Co. Ltd, and Leiwu Qixian Huixin Asset Management Co. Ltd, increased their capital by US$3m in proportion to equity stakes.
The initial 2017 CCM capacity was augmented by the completion in February 2020 of three sleeve (or annular shaft) kilns each for 60,000 tpa CCM capacity located at a plant site (with the original shaft kiln) about 31km from the Kamaduo mine, Tibet.
PRCO's combined CCM capacity appears to be 240,000 tpa (1x rotary, Qinghai; 1x shaft, 3x sleeve kilns, Tibet; although 300,000 tpa total capacity CCM has been reported).
In May 2020, construction and commissioning of two DBM shaft kilns in Haidong, Qinghai was completed, and PRCO approved plans for Qinghai Punai High-Tech Materials Co., Ltd.'s output of 100,000 tpa of high-density high-purity DBM.
A further fused magnesia development at Haidong is aiming to produce 100,000 tpa of low-silicon low-iron fused magnesia.
Bill Porter, National Sales Manager, PRCO America told IMFORMED: "This source of magnesia is unique in that it has very low silica and zero detectable boron and zero detectable chlorine. MgO-C made using this new magnesia does not deform in a Reheat Under Load test up to the maximum furnace testing temperature of 3,800°F, whereas the same recipe made using Liaoning fused 97.5% MgO fails the RUL deformation test at 3,270°F."
In a company statement, Ricky Wang, president of PRCO America said: "We expect to fill this plant to full capacity quickly. Refractories made using this new raw material are already showing a 15% to 25%, or greater, improvement in performance for our customers in [refractory]products we imported into the USA to qualify for the new formulations in American steel-producing operations."
Regarding speciality markets (ie. non-refractory), PRCO uses its Tibetan magnesite to produce high-end magnesium oxide products for petrochemical catalysts, rubber and plastics, papermaking and dying, hydrometallurgy, acetate fibre, cell phone glass, and other industries.
Elsewhere, PRCO recently announced plans to sell a 49% stake in subsidiary Haicheng Linli Mining Co. Ltd (acquired in 2011) to Haicheng Huayu High Temperature Refractory Furnace Charge Co. Ltd for RMB51.45(US$7.3m.) in a move to "introduce powerful strategic investors in Liaoning Haicheng area, working with the company to integrate local mines, expanding the annual mining scale of Linli Mining". PRCO retains a 51% controlling share of the 30,000 tpa magnesia producer.
Liaoning: Six month dynamite ban | More inspections
China's main magnesia producing districts in Liaoning province are heading for another 6-month ban on the use of explosives in mining from 1 July 2020 to the end of the year.
Reports from China indicate that Anshan, Yingkou, and Liaoyang districts will ban the use of dynamite. However, owing to the current decline in demand from domestic (slightly recovering) and overseas (no recovery yet) refractory manufacturers, little or no impact is expected to be felt by suppliers in July and August – indeed a state of suspension of production is already underway.
It is also understood that the explosives ban does not relate to underground mining; thus the likes of Haicheng Haiming Mining Co. Ltd's 1mtpa magnesite mine would not be affected.
Ostensibly introduced as an environmental measure, there is thought that the measure has been implemented to encourage erosion of the large stockpiles of magnesia and to assist firmer pricing as these stocks dwindle.
During June, magnesia prices continued to be weak; Liaoning ex-works prices were reported as DBM97 at RMB1900-2150/tonne(US$268-304/t) and DBM 96.5 RMB1800-2050/tonne(US$254-290/t); FM96 at RMB2600/tonne(US$367/t); and CCM90 at RMB700-850/tonne(US$100-120/t).
One observer commented that DBM prices were now at the same level as 15 years ago, and that certain suppliers were even selling below their production costs of around US$170-180/t.
Meanwhile, provincial environmental protection inspection teams have been visiting the Dashiqiao and Haicheng areas during April-June conducting spot checks. A variety of anti-pollution and management plans and policies have been enacted and monitoring teams have expressed success by the industry in meeting emissions standards.
Some 116 magnesia processing companies in Haicheng have installed dust removal, flue gas desulphurisation, and other environmental protection facilities. The 1,246 operating kilns have installed online monitoring equipment with real-time monitoring of kiln pollutant emission indicators.
However, there is little time for complacency. In early June, the Environmental Protection Group of Liaoning Province launched the year's strictest enforcement to date with a new round of inspections throughout June-July monitoring Anshan, Dashiqiao, Liaoyang, Xiuyan and other major magnesia production areas.
Liaoning's magnesia industry has come a long way from the dark days of early 2017 when China's uncompromising initiation of environmental controls shook the industry with widespread closures in response to central government inspections (see Magnesia maelstrom in China; China minerals meltdown).
The survivors of that (ongoing) antipollution crusade may have passed the environment test but now face a painful and slow recovery from the impact of the Covid-19 pandemic. A reviving domestic steel industry offers some solace, but until overseas refractory markets recover, Chinese magnesia suppliers will have little to cheer about.
High quality magnesia investment necessary
Key to coming out on top of the pile and in demand from overseas buyers will be Chinese companies which have invested in modern technology production of high quality magnesias.
In April, leading the industry out of lockdown, Haimag Group was in final commissioning stage of its new RMB190m(US$27m) flash calciner project. The plant will utilise low-quality tailings as raw material to achieve an annual output of 200,000 tpa of highly active CCM (on 1 February 2020, Haicheng Magnesite & Refractory General Plant changed its name to Haicheng Magnesite Group Co. Ltd – Haimag, and will be hosting a visit to its operations, including the new flash calciner, at IMFORMED's China Refractory Minerals Forum 2021, Dalian, 15-17 March 2021 – FULL DETAILS HERE).
In June, Yingkou Kaining Industrial Co. Ltd commenced trial production of large crystal FM at its new RMB20m(US$2.8m), 8 x 2,200 tpa FM furnace fully automated, environmentally friendly plant.
Qinghai West Magnesium Co. Ltd claims to be China's first producer of magnesium oxide single crystals with unique characteristics, derived from the magnesium-rich salts of Chaerhan (Qarhan) Salt Lake, near Golmud, Qinghai.
A high-tech enterprise jointly established by Western Mining Group Co. Ltd and Central South University, using the brine-ammonia-lime joint method Qinghai West Magnesium has now built production facilities for 150,000 tpa high purity magnesium hydroxide, 120,000 tpa high purity magnesium oxide, 30,000 tpa high purity FM, and 50,000 tpa high purity DBM.
PRCO's patient investment and long ramp-up to production of high purity magnesia grades from Tibet now looks like a smart move, as does the start-up of a MgO-C brick plant in the USA.
---
A NEW EDITION IS BEING PREPARED FOR PUBLICATION 2020 – NEW MINERALS ADDED

Alumina | Fused Alumina | Andalusite | Kyanite | Sillimanite | Bauxite | Chromite | Graphite | Dead Burned Magnesia | Fused Magnesia | Dolomite | Pyrophyllite | Silicon Carbide | Zircon

Is

your

company on the map?

Ensure your refractory mineral supply profile is visible with an advertisement. Spaces limited (see below).

Enquiries to Ismene Clarke ismene@imformed.com | T: +44 (0)7905 771 494