Revised barytes tender outcome uncertain
India's vast stockpile of low grade barytes material will be the feedstock for a new upgrading initiative planned between the country's largest barytes producer, Andhra Pradesh Mineral Development Corp. Ltd (APMDC), and leading barytes consumer, national oil and gas explorer and producer, Oil & Natural Gas Corp. Ltd (ONGC).
Meanwhile, the bid deadline for APMDC's postponed and revised tender for its sale of crude barytes passed on 4 May and the market awaits the e-auction this Friday 8 May.
APMDC and ONGC have recently entered into a memorandum of understanding to set up a plant to upgrade the quality of barytes from the Mangampet mines of Kadapa district, Andhra Pradesh, India's primary source of barytes.
The MoU was signed during an industry mission on 29 April 2015 held at Visakhapatnam in the presence of Andhra Pradesh Chief Minister N. Chandrababu Naidu.
There is about 5m tonnes of lower grade barytes stockpiled at Mangampet and a proposed new facility to be developed by the joint venture is targeting production of some 500-700,000 tonnes of upgraded barytes.
While ONGC would consume some of the upgraded material for its own drilling fluid requirements, the remainder would be exported by APMDC. ONGC is reportedly the single largest consumer for barytes mined in Andhra Pradesh.
This latest venture is one of several Indian barytes processing plant projects which have surfaced in recent years – such as IBC Ltd, Gimpex Ltd, and Rock Fin Minerals – with the common aim of beneficiating lower grade barytes ore. It is not altogether clear if any of the these plants have yet developed to full scale production.
Various issues centre on the ramifications of using flotation methods in these plants, such as questions over the finer filter cake produced, and increased cost of production with the enhanced complexity of handling potentially hazardous chemicals used for flotation.
The Mangampet deposit in Kadapa district of Andhra Pradesh, central south India, is the single largest barytes deposit in the world, with estimated reserves of about 31m tonnes (total resources around 68m tonnes).
The deposit is exploited by APMDC which has a mining lease over 223.3 hectares and accounted for 98% of India's 1.7m tonnes total barytes production during 2012-13. Nominal barytes production (<5,000 tpa) takes place in Rajasthan. India is the world's second largest producer after China.
APMDC produces three sets of barytes grades: "A Grade" (4.2 SG), "B Grade" (4.1), and "C+D+Waste Grade". It is the latter grades which require beneficiation for upgrading, the objective of the APMDC/ONGC joint venture.
Aside from APMDC, India's main producer, there are about 13 privately owned small-scale mines, according to the Indian Bureau of Mines' latest data.
Learn about the latest trends and developments in barytes supply and demand by listening to Peter Huxtable, Director, The Barytes Association, UK present "Global barytes industry overview" at IMFORMED's Oilfield Minerals & Markets Forum Houston 2015, 27-29 May 2015. Book Now!
Mining leases scrapped, but privatisation on the cards?
Of the total production of barytes, APMDC exports about 60% and allots 40% to local processing plants. Every three years APMDC invites bids to tender for buying and processing its crude barite.
The Indian processing sector is mainly dominated by Trimex, Gimpex, and IBC among a growing number of small to medium scale processors. Indeed, in 2008 APMDC formed a processing joint venture with IBC Ltd and built a 100,000 tpa processing plant.
However, the Indian barytes sector has been plagued by various issues in recent years: A Grade deposits are difficult to exploit since they are below the water table; the price increases every time the 3-year tender is announced (up 40% in 2008, up 70% in 2011); exports of crude barite have been discouraged; and the multiplying of Indian processors to beneficiate barytes prior to export has contributed to price rises.
In 2014, amid confusion over the delay in awarding contracts to mine barytes reserves as well as the delay in the tender to buy ore, the state government announced an investigation into certain APMDC officials charged with conspiring to lease the barytes mines to a select few.
There had also been allegations of illegal barytes mining, which prompted the government to scrap some 32 barytes mining leases. However, from reports in the Indian press earlier this year, there remains some speculation over a continued strategy by the state government for privatisation of barytes mines in the Mangampet district.
The government's plan is to mine a minimum of 3m tpa barytes, with APMDC active in the mining and also administering an auction of mining leases to private companies, including overseas parties.
Meanwhile, to help curb illegal barytes mining the government has recommended a total modernisation of the sector by introducing GPS-tagged trucks and the installation of cameras and modern weighing machines at mines, as well as electric fences.
APMDC tender revised, minimum prices high
But perhaps of most concern is the poor response from the market to the 3-year APMDC tender of crude barytes – already delayed from its originally scheduled mid-2014 timing.
Apparently few, if any, parties have pledged to buy any material, citing too high prices and unfavourable terms and conditions.
A first tender document was released by APMDC on its website on 15 February 2015, for the sale of 500,000 tonnes A Grade barytes and 200,000 tonnes of B Grade barytes for export and captive consumption of oil well drilling in India, for a period of six months from the date of entering into contract.
The deadline for submission of technical bids was 9 March 2015 with the "e-auction" scheduled for 13 March 2015. Bidders were required to submit bids for a minimum 100,000 tonnes of A Grade at a minimum price of INR6,750(US$107)/tonne, and 40,000 tonnes of B Grade barytes at a minimum price of INR5,360(US$85)/tonne.
The set minimum prices are on ex-Mangampet mine/stockyard basis and exclusive of statutory levies, taxes, royalties, loading, and any other costs.
However, many potential buyers and interested parties complained to APMDC that these prices were not realistic to the market (in particular, more expensive than Chinese and Moroccan material which is in abundant supply), and moreover, represent an increase in A Grade prices by 66% and B Grade prices by 63% from 2014.
In response, APMDC issued a second tender document on 15 April 2015, for the sale of 300,000 tonnes A Grade, with bids at a minimum volume of 100,000 tonnes and minimum price of INR6,000(US$95)/tonne; and 100,000 tonnes B Grade with a minimum volume of 35,000 tonnes at INR4,700(US$75)/tonne.
The deadline for technical bids was pushed back to 4 May 2015, and the e-auction to this Friday 8 May 2015.
The second tender appears to have incorporated a major reduction in volume by a combined 300,000 tonnes, and a decline in minimum prices for A Grade and B Grade by US$12 and US10, respectively.
How the market reacts to this remains to be seen, but the overall feeling is that the Indian barytes situation has not been well received overseas, and has perhaps helped push large volume buyers to seek alternative sources in Morocco, Mexico, and China.
With a new UK barytes mine due in 2017 from M-I Swaco effectively negating the future requirement of Moroccan barytes imports to the UK, the North African barytes producers will no doubt be looking to new buyers for their material at competitive prices. The Indian scenario, as it stands now, may well play into their hands.
Want to know about barytes sourcing & marketing, new suppliers, and the buyer's viewpoint? Listen to the following at IMFORMED's Oilfield Minerals & Markets Forum Houston 2015, 27-29 May 2015. Book Now!

Barytes sourcing & marketing
John Allen, Managing Director, Anglo Pacific Minerals Ltd, UK
Mexico as a reliable source of barytes
Mario Treviño Saldívar, Vice President Marketing, Baramin SA de CV, Mexico
Application of barytes in drilling fluids – the recent past and most likely future
John Newcaster, Vice President, Distribution and Logistics, Baker Hughes Inc., USA
Indian barytes market
During April 2015, 311,414 tonnes of barytes was mined, a record in the past four years. Most of the barytes mined in India is for drilling and chemicals, there are few grades available for the higher value filler applications.
According to the Indian Bureau of Mines, India's barytes market declined to 186,000 tonnes in 2012-13, from 194,000 tonnes in 2011-12.
Oil well drilling is the main consumer of barytes, accounting for 77% of consumption. A drop in 8,200 tonnes demand in this sector was responsible for the recent overall barytes market decline in India.
The next largest Indian barytes market sector is chemicals at 18%. The remaining 5% barytes was used in markets such as paint, asbestos products, glass, rubber, paper, and cement.
Exports of Indian barytes increased considerably during 2012-13 to 1.7m tonnes from 1m tonnes the previous year. The main export markets were the USA (46%), Saudi Arabia (22%), and Malaysia (4%).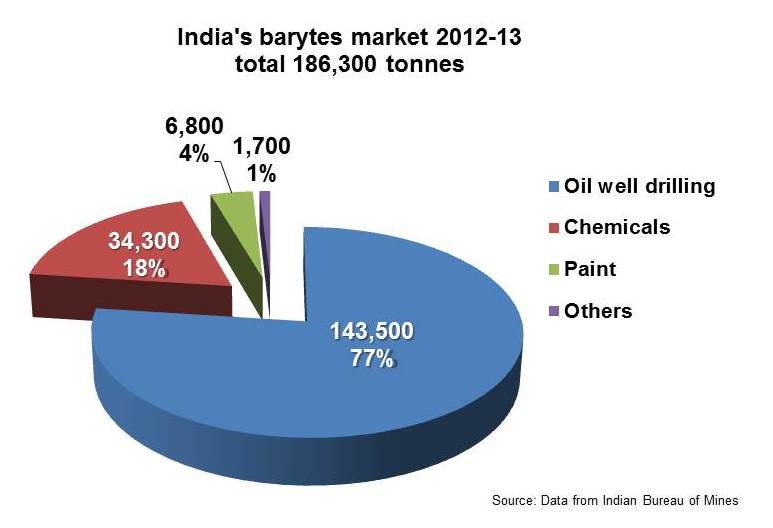 Key players in the oilfield mineral supply chain will be meeting at IMFORMED's
Book Now!