Refractories and chemicals show bright spots
The overall situation for non-metallurgical chromite supply is one of weak demand and oversupply, particularly for foundry grade, although there are some signs of improvement in refractory and chemical markets.
World chromite production declined slightly in 2014 over the previous year, but South African output increased markedly, including activity from emerging players in non-met. production.
Chromite supply in 2014
Global chromite and concentrate production totalled 29.4m tonnes in 2014, down 3% from 2013 (30.2m tonnes), according to recent data from the International Chromium Development Association (ICDA).
Regional trends included a decrease in production in Asia 1.4m tonnes, down 38%, mainly owing to mining lease renewal problems in India, and an 8.7% decline in western Europe and Turkey combined.
In contrast, chrome ore production increased in Eastern Europe and the Middle East rising 5.8% form 2013, in the Americas up by 4.2%, and an all time high in Africa, up 2.5%.
Focusing on South Africa, the world's primary source of chromite, production increased to 12m tonnes in 2014, up 10.6% over 2013.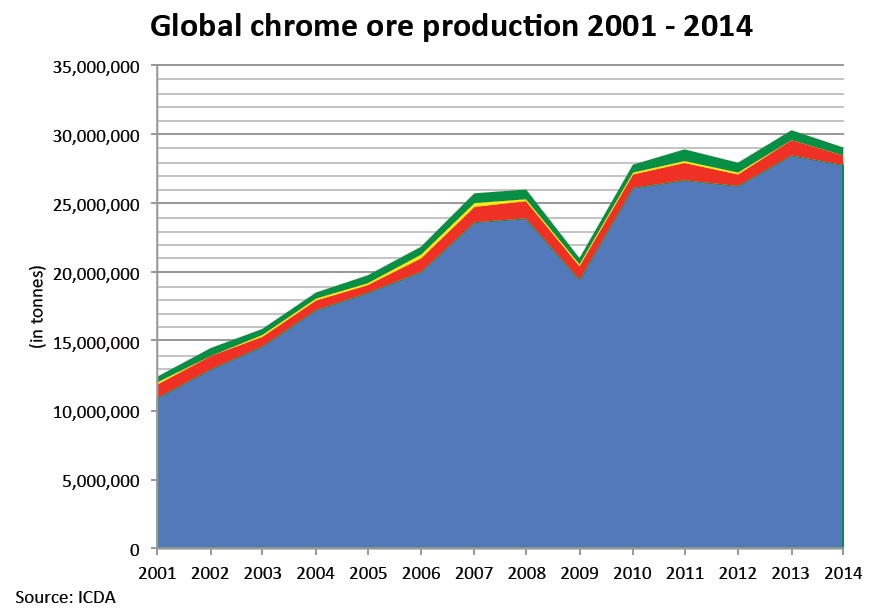 June 2014 saw the end of South Africa's longest and most damaging strike in the country's history. The five-month strike hit 40% of global production platinum and cost Lonmin, Anglo American Platinum, and Impala Platinum a combined $2.25bn in lost revenue.
This impacted chromite supply since the companies were mining the UG2 seam, and UG2 chromite concentrate production was seen to decline by some 1.4m tonnes. South Africa's UG2 material accounts for about 40% of South Africa's total exports of chromite, which in 2014 were around 7 million tonnes.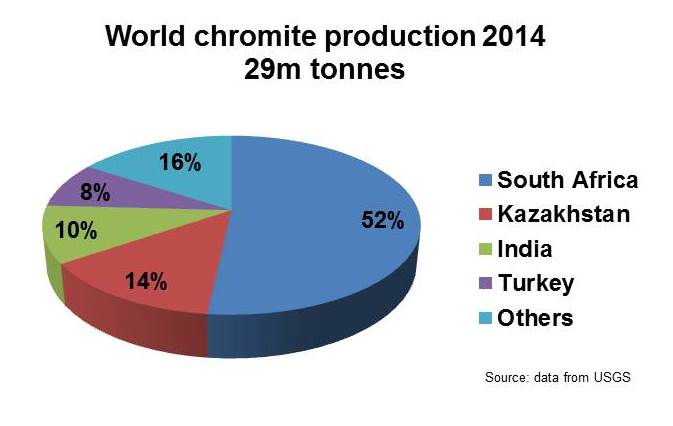 Data from the US Geological Survey pegged world production in 2014 at 29m tonnes, with South Africa at 15m tonnes, followed by Kazakhstan, 4m tonnes, India, 3m tonnes, and Turkey, 2.4m tonnes (see chart).
Other producing countries include Albania, Australia, Brazil, Finland, Iran, Madagascar, Oman, Pakistan, Philippines, Russia, and Zimbabwe.
Regarding non-met. grades, these are mostly supplied by South Africa, although smaller volumes have been available from Brazil, Oman, Turkey, and the Philippines, but their overall production usually takes second place to metallurgical chromite demand for ferrochrome.
World chromite supply, demand, and logistics will be discussed at IMFORMED's Foundry Minerals & Markets Forum 2015, 15 June 2015, Essen – the day before GIFA 2015 in neighbouring Dusseldorf.
Overview of chromite and foundry markets Loïc Racon, Market Research Analyst, International Chromium Development Association, France
Chromite: from mine to market
Robin Steger, Cofermin Chrome GmbH + Co KG, Germany
Book Now!!
Emerging non-met. grade producers in South Africa
With the exception of Mineral Technologies Inc. (formerly Amcol International Corp.) supplying foundry grade, and Lanxess Chrome Mining (Pty) Ltd, (formerly Bayer), supplying mainly chemical grade, virtually all other South African producers are primarily in the ferrochrome business producing metallurgical grade, with non-met. grades being produced as a by-product.
However, the recent activities of Tharisa and Glencore have brought on stream more foundry grade material to an already oversupplied market.
New producer Cyprus-based Tharisa Plc got into its stride during 2014, exploiting one of the world's largest single chrome resources at 835m tonnes, and yielding non-metallurgical grades, on the south-western limb of South Africa's Bushveld Igneous Complex.
Tharisa's Challenger Plant near Marikana, Rustenberg, North West Province, was commissioned in July 2013 for foundry and chemical grades, producing a minimum of 8,000 tpm. The company listed on the Johannesburg Stock Exchange in April 2014 and has a foundry and chemical grade concentrate off-take agreement with leading chromite processor and distributor Rand York Minerals (Pty) Ltd.
Through mining subsidiary Tharisa Minerals and processing subsidiary Arxo Metals, production at the end of FY 2014 (30 Sept. 2014) totalled just over 1m tonnes chromite concentrate, of which 148,200 tonnes was foundry and chemical grade.
Production for FY H1 2015 (31 March 2015) was 515,900 tonnes 42% Cr2O3 metallurgical grade and 47,400 tonnes of foundry and chemical grade – the latter almost 32% down on H1 2014.
In April the company reported that "Given continued depressed commodity prices, the focus has been on maximising PGM recoveries and higher value add chemical and foundry grade chrome concentrates."
US-based bentonite and chromite producer Amcol International Corp. was acquired by Mineral Technologies Inc. (MTI) of the USA in 2014. In 2011, Amcol had brought on stream a new $50m. chromite processing facility at its Ruighoek Chrome project in South Africa to supply a 47.5% Cr2O3 foundry sand sourced from LG6 (Amcol purchased the mine from Chrome Corp. Ltd in 2010).
In January 2015, MTI formed a new division called Performance Materials, and entered into an agreement with Glencore in South Africa for Glencore to supply foundry grade chromite from its Glencore-Merafe joint venture that will be exclusively distributed by MTI in "certain territories, including the Americas".
This signals a move by Glencore to produce more non-metallurgical grades, with industry observers speculating the future idling of MTI's own mine at Ruighoek, which might provide some relief to the current foundry grade oversupply situation.
Elsewhere, in the USA, Oregon Resources Corp. Ltd. (ORC)'s Coos Bay chromite ore processing facility (commissioned in 2011 to produce chromite foundry sand reaching a capacity of 70,000 tpa in 2012) remains on a care and maintenance basis, and in April 2015 was sold by IDM International Ltd, Australia to Sentient Group, headquartered in the Cayman Islands.
Market outlook
Regarding the foundry grade market, 2014 witnessed weak demand and massive oversupply, which has continued into 2015. Reasons include weak commodity prices and the scaling back globally of mining, with the knock-on effect of foundries not making as many casting for the mining sector.
The chemicals market may start to face some difficulty with the implementation of the new European Commission (EC) REACH Regulation to establish restrictions on the undesirable (proved to cause allergies) Chromium VI (hexavalent chromium) in leather articles which came into effect on 1 May 2015.
In the chemicals market, chrome sulphate and its compounds are used in 80% of the world's tanning of animal hides to make leather goods. Chrome-based chemicals increase the heat and wear resistance of the tanned hides and skins allowing production of a wide range of finished leather.
Chromium VI itself is not used in the leather tanning process, but can be formed from the use of Chromium III salts via a chemical reaction, which occurs after the tanning process
The regulation stipulates that leather articles coming into contact with the skin shall not be placed on the market where they contain chromium VI in concentrations equal to or greater than 3 mg/kg (0.0003% by weight). The upshot is that chrome-free tanning processes will have to be employed by leather suppliers to the EU.
Similarly, in the refractory market, the use of chrome-bearing refractories has declined considerably over the years owing to the environmental hazard of hexavalent chrome formation in chrome refractory brick waste.
It is forecast that there will be a strong and stable growth in the stainless steel industry over the next 20 years and the demand for stainless steel, which ultimately drives demand in the chrome ore market, will increase primarily from and expected rise in demand from China and India.
While overall steel demand is expected to be down 0.5% for 2015, thus impacting chromite in steel refractories, leading refractories producer RHI AG reported a positive Q1 2015 performance from the non-ferrous metal refractories market, which uses chrome refractories.
Elementis Specialties, which mainly supplies the chemicals market but also serves refractory customers, also expects the refractory market for chrome products to improve, driven by coal gasification projects and fibreglass insulation.
Elementis is upbeat on the chrome chemicals market outlook, expecting stability in pigments and coatings, wood treatment in the USA showing modest growth, leather tanning improving in the USA but increasing with the auto market in Mexico, and a potential upside in petrochemical applications due to low natural gas prices.
Market backgrounder: non-met. grades bow to FeCr
The availability of chromite for non-met. uses is in essence hostage to the fortunes of the ferrochrome and stainless steel industries. These are the two primary drivers of chromite demand, being the intermediate product and end product, respectively, consuming some 96% of chromite production, and mainly metallurgical grade chromite (40-42% Cr2O3).
Ferrochrome, as High Charge FeCr and Charge Cr, is consumed in steelmaking: 77% stainless steel, 19% alloyed steels.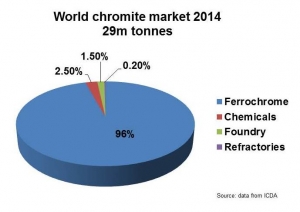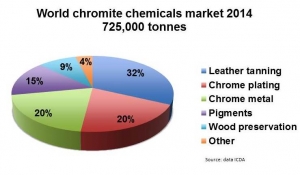 The remaining 4% of world chromite production is composed of higher grade chromite (45-47% Cr2O3), the so-called "special grades", consumed by three main non-metallurgical markets: chemical, 2.5% (of total chromite output), foundry, 1.5%, and refractories, 0.2% (ICDA; see chart).
The largest non-metallurgical market, chemicals, maybe further sub-divided into: leather tanning, 32%, chrome plating, 20%, chrome metal, 20%, pigments, 15%, and wood treatment, 9%.
South Africa is the world's dominant producer and exporter of chromite, and its large resources of chromite are located in the western and predominantly in the eastern limbs of the Bushveld Igneous Complex (BIC).
The country hosts 70% of the world's total chromite reserves, which total 7,600 million tonnes. Chromite is mined primarily from the UG2, MG and LG chromite seams.
Learn all about the latest in foundry minerals supply and demand issues at IMFORMED's Foundry Minerals & Markets Forum 2015, 15 June 2015, Essen – the day before GIFA 2015 in neighbouring Dusseldorf.
Topics include chromite, zircon, graphite, bentonite, andalusite, cenospheres, silica sand, dunite.
Book Now!!