India sparks healthy prospects for refractories
On 20-22 January 2016, the 11th India International Refractories Congress (IREFCON16), organised by the Indian Refractory Makers Association (IRMA), took place in Hyderabad. This well run and well attended biennial event is ideal for taking the pulse of the Indian and Asian refractories industry. As one of the official media partners, IMFORMED was there to do just that.
Some 45 presentations covered a wide variety of topics tied to the overall conference theme of "Value enhancement through refractories".
Among the presentations were some very interesting indicators on trends in refractory mineral demand and application which are shared here.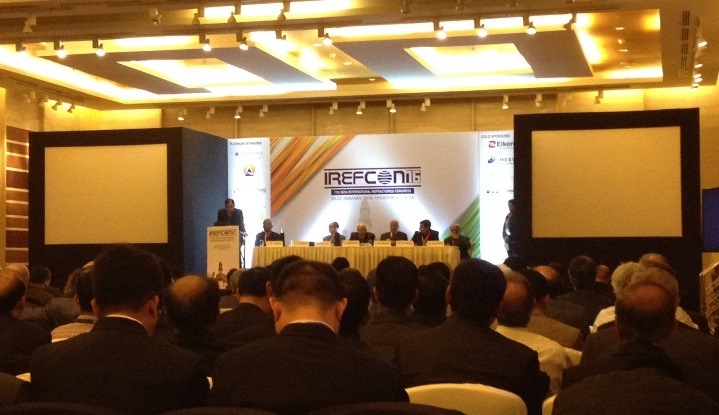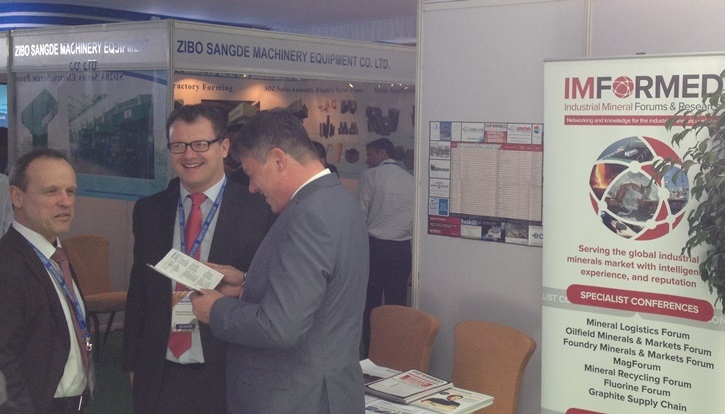 Indian steel outlook positive
The outlook for India's steel industry, certainly within India, is pretty bullish. Compared with the gloom elsewhere in the world regarding steel growth, outlook prospects for refractories demand in India are not bad.
Sure, some of the projected steel capacity claims for India in the next decade may seem a bit ambitious, but there are clear signs that steel production and demand will increase in the country.
Despite world steel production experiencing a continued low growth rate (a forecast 0.7% growth by the World Steel Association (WSA) in its latest Short Range Outlook 2015-2016), India's crude steel production for 2015 reached 89.6m tonnes, up by 2.6% on 2014. India has now overtaken the USA into the world no.3 slot, accounting for 5.5% of world steel production
The WSA expects India to be one of the fastest growing areas in steel use. With the GDP/capita in India of around US$5,815, coupled with urbanisation that is below 35% of the total population, and a steel use per person of less than 100kg/person/year, these are signs for a potential rapid acceleration of the economy.
The Indian government plans to step up infrastructure spending from 5% of GDP to 10% by 2017, and the country is committed to investing US$1 trillion in infrastructure during the 12th Five Year Plan (2012-17). The initiative has the potential to generate an additional demand for steel of 18.75m. tpa.
At the time of its release, India's National Steel Policy 2005 had envisaged steel production to reach 110m. tonnes by 2019-20. However, the Working Group on Steel for the 12th Five Year Plan has projected that domestic crude steel capacity in the county is likely to be 140m tonnes by 2016-17, and has the potential to reach 149m. tonnes.
The long term perspective of the National Steel Policy is to achieve a capacity of 300m. tpa by 2025.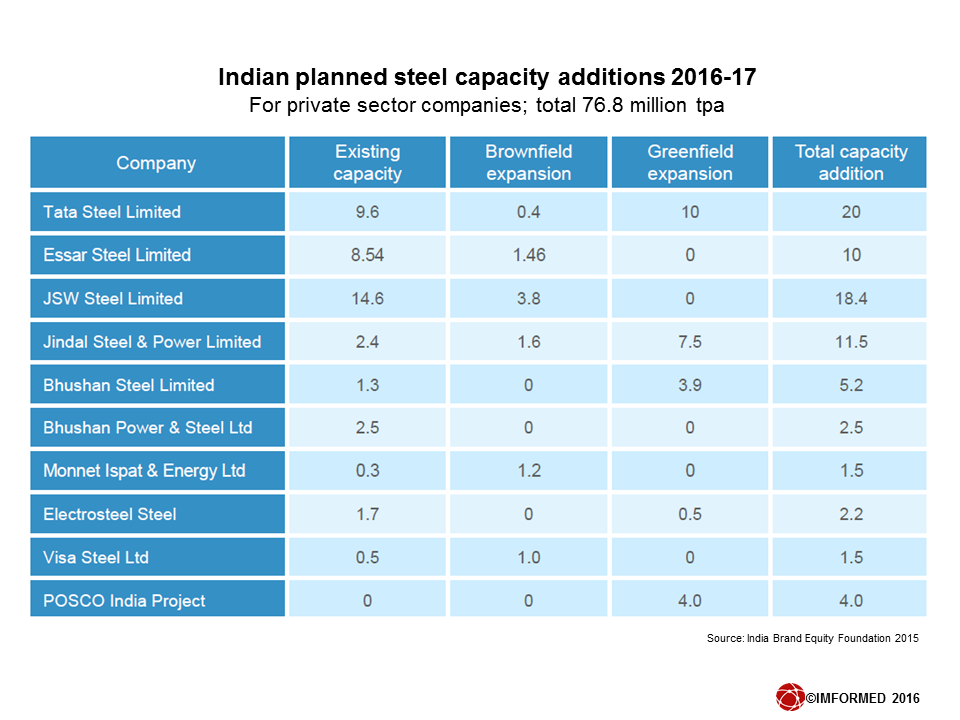 The Indian refractories industry has an annual production capacity of about 2m. tpa, although only about 60-70% is utilised at present. However, with such an optimistic steel outlook, the future appears bright, if not at least promising.
The steel sector, which accounts for about 70% of Indian refractories output, has already boosted refractories growth. Estimates for the market sector's growth were reported at 9.85% over the period 2013-2018 in a report by TechNavio. For 2013-14, the Indian Refractory Makers Association reported the industry grew 10.5%.
Prospects for the future of Indian refractories are also perhaps indicated by the recent commitment to the country by the likes of Calderys and Kerneos.
In September 2015, Calderys inaugurated its third plant in India at Wankaner, Gujarat, with a production capacity of 50,000 tpa.
Kerneos India Aluminate Pvt Ltd, the Indian subsidiary of the French calcium aluminates producer, is establishing its first plant in India at Pudi village in Visakhapatnam district, with an annual capacity of 30,000 tonnes.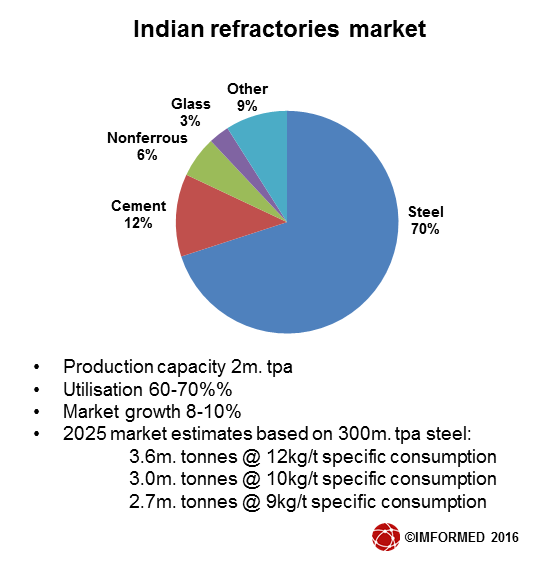 Indian refractory outlook: using more domestic minerals
Dr J.N. Tiwari, Chairman of the Indian Refractory Makers Association, said: "The Indian refractory industry has a promising future for those that have technology, have potential to change, and can offer a total package to customers, especially steelmakers."1.
He reminded that the two key factors influencing the future were the performance of India's steel industry (growing at around 3% against a projected 6.5% p.a.) and the gradual decline in specific consumption of refractories.
However, another integral factor in helping to improve India's refractory industry is to enhance the development and use of domestic refractory raw materials.
Steps to be taken to facilitate this include:
• Correction in the trade duty structure of raw material and finished products.
• Domestic procurement of products required in turn-key package
• Focus on making domestic products cost competitive
• Increase in export customer base for products made with domestic raw materials
For many years, it has been known that the majority of raw materials for manufacturing magnesia-based refractories have had to be imported. Likewise, there is limited domestic availability of high purity clays, and aluminosilicate minerals (excepting some diaspore in central India and sillimanite beach sand which is undergoing evaluation for refractory use – see later).
Tiwari urged that the focus of the industry should be on utilisation of available raw materials – such as bauxite and magnesite – with advanced beneficiation and processing.
Also the manufacturing of composites, plasma fusion materials, and utilisation of graphene and exfoliated carbon for example, are major research areas to be worked upon.
"With all conservative estimates, if India adds an additional 30-30 million tonnes steel in the next 5-7 years by overcoming all mining and infrastructural restrictions, it will give a great boost to the refractory industry" concluded Tiwari.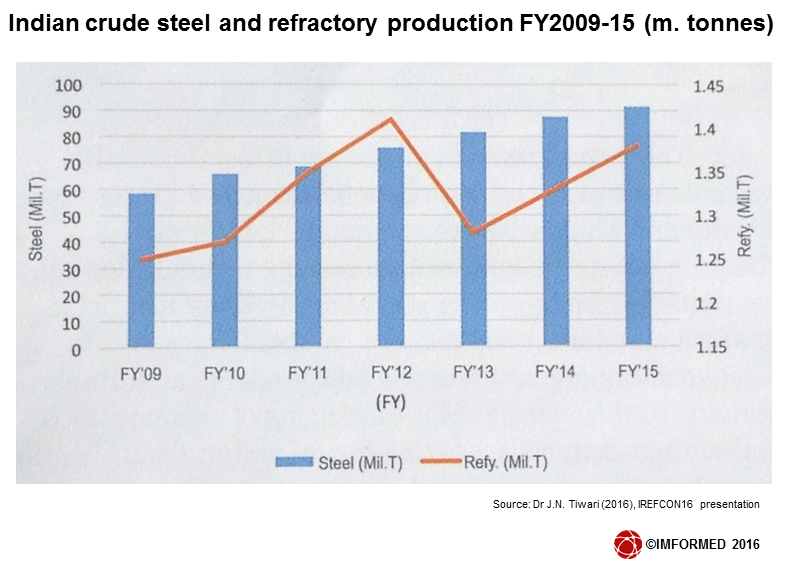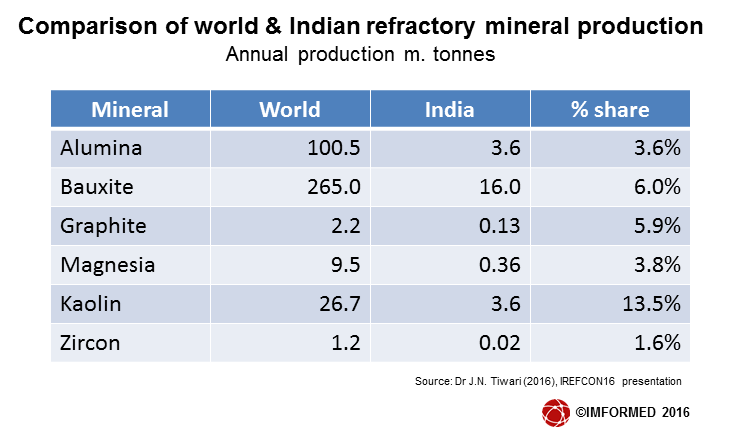 Cleaner steels using MgO & higher C refractories
Demand for cleaner steels will require more aggressive metallurgical slags which in turn will require higher wear resistant and higher carbon content containing refractories2.
This is expected to lead to the replacement of alumina-based andalusite and bauxite grades by magnesia-carbon (fired and fused), alumino-magnesia-carbon, and dolomite grades.
There is a clear future market demand in the steel industry for use of thinner steel vessel linings to increase the value in use by higher steel tap-weight and lower specific refractory installation in operations.
In general, the long term total refractory consumption for steelmaking is expected to be in the range of 5-10kg/t on average, which essentially follows the trend in Japan.
Current regional rates of specific refractory consumption (kg refractories/tonne steel) are China 20kg/t; Europe and Americas 10kg/t; and Japan 8 kg/t.
Jurgen Cappel, RHI AG, said: "Refractory producers worldwide have to consolidate their growth expectations to these market conditions and forecast and develop their mid- and longer term strategies accordingly. Global growth of steel production (driven by China in the last two decades) has come to stagnation and will not recover in foreseeable future.
Mag-spinel, SiC, nano-silica for cement kilns
Regarding cement kiln refractories, R. von der Heyde, RHI AG et al concluded that as chemical attack, particularly from the intense use of alternative fuel is steadily increasing, standard refractory concepts are reaching their limits and need to be reviewed and adapted3.
Several solutions have been put forward including the impregnation of alumina bricks with nano-sized silica; more flexible magnesia-spinel bricks based on rotary kiln sintered synthetic magnesia; and the use of silicon carbide in both fired alumina bricks and castables.
Increasing use of microsilica in castables
Microsilica has become a key component in modern refractory castables4. Microsilica, also known as silica fume, has become the generic name for condensed silica fumes produced as by-products of silicon and ferrosilicon production.
Silica fume may also be produced as a by-product of fused zirconia. Imerys Fused Minerals, for example, produces silica fume which is used in concrete for civil engineering applications and refractory monolithics.
Key attributes of using microsilica include: reducing setting times in castables, green strength is increased while yielding good flow with low water addition without influencing the high temperature properties.
Mullite from sillimanite in castable linings
Synthetic mullite has traditionally been produced from sintering (or fusing) bauxite or kaolin, or blends of each. Occasionally other aluminosilicate minerals have been used as feedstock, such as kyanite. There are very few producers of mullite worldwide.
Sillimanite sand sourced from Trimex Industries on the coast of Andhra Pradesh, has been used to produce two types of dense mullite aggregate: one with a residual silica glassy phase from sillimanite dissociation, and the other completely converted to mullite with additional alumina5.
The sillimanite sand was milled, pressed, and heated for two hours at 1,600°C in the presence of ZnO additive to obtain dense mullite in the laboratory. Particle size was d50 5microns, which is achievable in industrial scale.
The process was scaled up to semi-industrial level with roll briquetting and nodulising, and dense mullite aggregate was produced successfully. These mullite aggregates were used to produce low cement castables which showed good placing, hardening, and drying properties.
Mullite aggregate manufactured from sillimanite with extra alumina showed better thermal shock resistance than those without additional alumina, owing to the presence of a glassy phase from sillimanite.
Nano-additives & 3D printed refractories
New developments for refractories of the future included observations on the effect of nanomaterial additives and 3D printing6.
In MgO-C refractories, the use of nanomaterials added to the bulk matrix help in absorbing and relieving stresses developed by thermal expansion and shrinkage of refractory particles, and increasing the corrosion resistance of the refractory at high temperatures owing to its high surface to volume ratio.
For example, nano-zirconia added in small amounts (around 2wt%) to dolomite refractories showed improvement in densification, thermal shock resistance, slaking resistance, and slag corrosion resistance.
Also addition of nano-iron oxide in magnesia-chrome refractories dramatically improves brick performance.
Other developments included chrome-free bricks for secondary refining process, silica bricks with high density with high SiC and TiO2 contents, cordierite-based refractory coating, monolithic lining for steelmaking ladles and transfer ladles, and alumina-silicate fibre insulating materials.
Some of these innovations have been applied in Japanese steel plants, such as Nippon Steel & Sumitomo Metal Corp., but Atanu Ranjan Pal, Tata Steel, acknowledged that there is still work to be done before their widespread use.
3D printing of refractories has been utilised for the printing of complex shaped ceramics. So called "additive manufacturing", is defined as the formation of objects, by a layer by layer joining process where the design is fed through 3D model data, contrary to subtractive manufacturing methods.
Benefits in using 3D printing include design complexity, speed to market, and waste reduction. Both silica and alumina have been used as feed material.
Fused magnesia bricks for lime kilns
With India on the threshold of a rapid growth in steel production to 300m. tpa by 2025, there is consequently anticipated high demand for all steel raw material inputs.
Lime is an integral part of the steelmaking process and is added as a fluxing agent. The volumes required vary according steelmaking processes: Lhoist advises that every tonne of steel manufactured requires 30-70kg of lime, and 100-200kg of limestone; the World Steel Association notes that for BOF steelmaking, 300kg of limestone is required per tonne of steel.
According to Debarati Nandy, MECON Ltd, this projected increase in Indian steel production will require enhancement of India's production capacity of lime with the installation of additional and new lime kilns7.
However there are widespread problems of hydration of magnesia bricks, owing to exposure to moisture creating cracks in bricks, leading to damage of the refractory lining.
To address this, the use of fused magnesia of high density, low porosity, and large crystal size is recommended owing to its high hydration resistance property.
Other recommendations include: impurity control – MgO refractories with a high CaO/SiO2 ratio are more sensitive to hydration, and Al2O3 content should not be more than 4wt%; since longer exposure to a humid hot climate results in a higher hydration rate, care should be taken in transportation and storage of refractories; external coating after installation; and minimise time of kiln idling after brick installation.
High purity aluminas for cleaner steels
Andus Buhr, Almatis, expounded on the merits of high purity alumina aggregates being suitable for clean steel production8.
Alumina-spinel refractories have high wear resistance and enable extraordinarily thin wear linings, but still providing the required safety and achieving low specific material consumption. Spinel forming refractories such as alumina-magnesia castables and alumina-magnesia-carbon bricks have a "self-healing" property by closing joints in the refractory lining.
The low thermal conductivity of alumina refractories compared to carbon and graphite containing basic materials leads to significantly lower heat losses in steel ladles. Costs for such heat losses can represent >50% of ladle refractory costs.
Sintered alumina aggregates show advantages over fused aggregates such as lower weight and lower thermal conductivity caused by higher amounts of closed internal porosity in the sintered aggregates.
References (IREFCON16 presentations)
1. Dr J.N. Tiwari, Indian Refractory Makers Association: Refractory Industry in India: Present Scenario & Future Outlook.
2. Jürgen Cappel, RHI AG, et al: High Value added Refractories for High Quality Steelmaking.
3. R. von der Heyde, RHI AG et al: Refractories for the Cement Industry with Special Focus on Alternative Fuel Impact
4. Bjorn Myhre, Elkem Silicon Materials: Microsilica – Use and Value in Refractory Castables.
5. G. Bhattacharya, Kerneos et al: Synthetic Mullite Aggregate from Sillimanite Beach Sand for Improved Castable Linings.
6. Atanu Ranjan Pal, Tata Steel et al: Global Steel Scenario and Future of Refractory Technology.
7. Debarati Nandy, MECON Ltd et al: Effect of Hydration in Magnesia based Refractories for Lime Kiln Industry.
8. Andus Buhr, Almatis Alumina: Value Enhancement Through Engineered Alumina Products for Monolithic And Brick Applications.