FINAL WEEK EARLY BIRD RATE SAVING US$500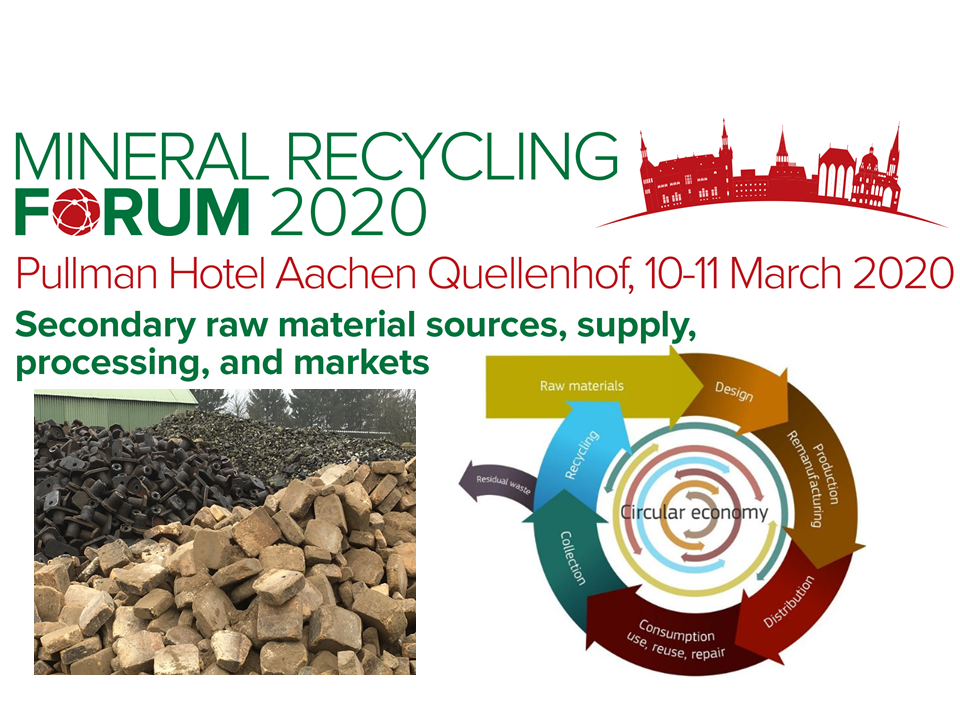 ENVIRONMENTAL SOLUTIONS | MINERAL SUPPLY OPPORTUNITIES 
The strive towards the Circular Economy has boosted the evolution of recycling industrial waste. In turn, this has increased the potential of recycling industrial minerals from certain waste streams as technical and economic challenges in their sourcing, processing, cost, and distribution are overcome.
In this article we outline the key drivers and takeaways for an outlook perspective.
All these will be examined and discussed at IMFORMED's upcoming Mineral Recycling Forum 2020, Aachen, 10-11 March 2020; bringing together an expert panel to discuss the latest trends and developments in recycled mineral sourcing, supply, processing, quality control, logistics, and crucially, their market applications (full details here).
This year our location is the historic city of Aachen, close to Germany's steel and refractories centre, and home to some of Europe's leading recycling and mineral technological learning and research centres (we have Forschungsgemeinschaft Feuerfest eV, Fraunhofer Institute for Laser Technology, and RWTH Aachen on the programme).
"Well thought and linked programme, relevant topics covered, smooth and well organised."
Naman Patel, Partner, Global Recycling, India

"Excellent programme; time to connect between sessions is really valuable, the longer breaks are good!"
Susanne Hiden, Recycling Specialist, RHI Magnesita, Austria
Mineral Recycling Forum 2020 will be of interest to all those active in the sourcing, processing, distribution and use of recycled minerals, and especially those established industrial mineral suppliers and buyers keen to assess the outlook for competitive and substitute materials, and diversify into mineral recycling.
An example of the latter is LKAB, established in refractory recycling and now forging ahead with a portfolio of mineral recycling projects: David Högnelid, Chief Marketing & Communications Officer, Special Products Division, will be presenting on LKAB's approach to mineral recycling and its outlook (see below for latest confirmed speakers).
What's going on in minerals recycling?
There are a number of drivers for recycling minerals, such as environmental conservation, resource sustainability, overreliance on limited sources of critical minerals, new and developing sorting and processing technology, and increasing challenges and costs in opening new mines, especially in Europe.
Leading waste sources include slags, refractories, mine tailings, sludge, sewage, ashes, kiln dust, glass, electronic and construction waste to name but a few.
"Secondary Raw Materials" (SRM) is the term sometimes used to denote these evolving material sources. Yet in reality, they should be regarded, and increasingly so, as merely alternative raw material sources to those yielded from traditional mining operations.
In response, a new supply chain of recycled industrial minerals is now fast evolving to meet both market demand and our environmental expectations.
The main players include both newcomers and established mineral producers, processors, and traders expanding into the recycling sector.
At the same time, the trend has encouraged growth in companies developing and supplying technology and equipment for mineral recycling plants, as well as logistical solutions.
Although there is much interest, and indeed environmental necessity, for this movement, it still remains relatively early days, with a small but expanding group of pioneers, and with many challenges.
However, recycled industrial minerals are already edging onto the mineral consumer's menu, and soon will be a standard option competing with mined raw material sources on cost, quality, and availability.
Outlook
EU and other world regional bodies will continue to develop and expand recycling initiatives for the world's betterment of the environment and energy conservation.
The mineral and manufacturing industries' role and activity in recycling will grow rapidly, and will probably become mandatory.
There will be increased development in recycling processing and sorting technology, and in mobile plant options.
Mineral end product formulations will be increasingly geared to ease recyclability, perhaps using a blend of mined and recycled raw material
Securement of long term alliances between mineral product end users and recyclers will become a "new normal" in the mineral supply chain.
Waste sources today will be tomorrow's new mineral resources.
Latest confirmed speakers

The new Circular Economy plan & the minerals sector
Francesca Girardi, Adviser Industrial Affairs, IMA-Europe, Belgium
LKAB increases recycled mineral portfolio with innovation projects
David Högnelid, Chief Marketing & Communications Officer, Special Products Division, LKAB, Sweden
Recovery of graphite from spent lithium ion batteries
Anna Vanderbruggen, Research Geoscientist, Helmholtz Institute Freiberg, Germany
Scenarios for mineral recycling and process/operation design for sustainable performance in Brazil
Renato Ciminelli, Managing Director, Mercado Mineral Consultants, Brazil
Recycled refractory materials: challenges in making the grade & making it work
South Korea refractory mineral recycling market insight
Joo Yongdon, CEO, Korea Materials, South Korea
Dr Christian Dannert, Head of R&D & Johannes Kasper, Research Associate, Forschungsgemeinschaft Feuerfest eV, Germany
Valorisation of refractory wastes: latest developments & progress
Aintzane Soto Larzabal, R&D Process Researcher, Sidenor, Spain
CO2 uptake by steel slags and olivine and possible uses
Simon Etzold, Research Assistant, Faculty of Georesources & Materials Engineering, RWTH Aachen University, Germany, & Pol Knops, CEO, Green Minerals, the Netherlands
Processing and use of recycled alumina products from secondary aluminium smelting
ALTEK Group, UK
The use of air classification technology for recycling of minerals
Andreas Henssen, Sales New Machines/Product Manager Classifiers, Neuman & Esser Process Technology GmbH, Germany
Processing fly ash for value added applications
Herve Guicherd, Vice President, Business Development, ST Equipment & Technology, France
Reclamation & repurposing tailings as a source of low-risk supply for industrial mineral processing
J. Michael Sullivan President & CEO, BAIE Minerals Inc., Canada
Utilisation possibilities of mine tailings with geopolymer technology
Tarja Niemelin, Product Development Manager, Betolar, Finland
Automated inverse production of end-of-life electronics provides novel secondary raw materials
Dr Cord Fricke-Begemann, Head of Materials Analysis, Fraunhofer Institute for Laser Technology (ILT), Germany
EARLY BIRD RATE SAVING US$500 ENDS 27 JAN. 2020
Or, please contact Maria for registration, exhibition, & sponsorship enquiries