The Vision for Industrial Minerals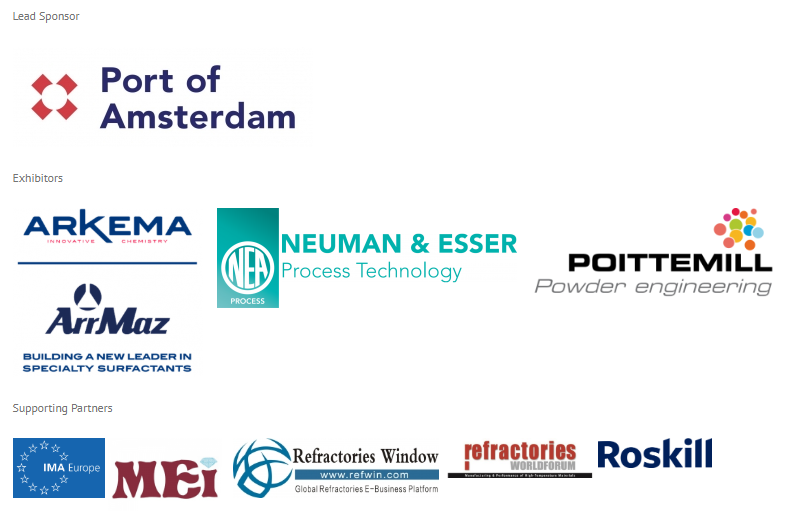 Note: This Forum was postponed from 6-8 April 2020. We intend to retain as much as possible the original excellent programme of speakers for IMFORMED Rendezvous, 12-14 April 2021, same venue Grand Hotel Huis ter Duin, Noordwijk
An exciting range of highly topical presentations by leading international experts will be invaluable for both established players seeking new horizons and also newcomers evaluating the industrial minerals space perhaps for the first time.
Critical Minerals Policy | Mineral Pricing Strategy | CO2 Reduction | Port Logistics | Bauxite | Rare Earths | Lithium | Ti-minerals & TiO2 | Graphite | Paint Pigments Market | Ceramics Market | Exploration | Africa | Processing Developments | Mineral Lab Testing
Full programme below
EARLY BIRD RATES AVAILABLE | BOOK NOW!
The supply chain from mine to market examined:
Insight and discussion on where industrial minerals markets and innovations are heading

Spotlight on primary and growth market sectors

Understanding industry fundamentals: exploration, processing, logistics, and markets
PROGRAMME*
MONDAY 12 APRIL 2021
17.00 Registration
18.00 Welcome Reception
TUESDAY 13 APRIL 2021
08.00 Registration
KEYNOTES 1: CRITICAL MINERALS | LOGISTICS
09.00 Introduction & Overview
Ismene Clarke, Director, & Mike O'Driscoll, Director, IMFORMED, UK
09.30 The security of critical mineral supply chains: the US Federal Government policy perspective
Dr Steven Fortier, Senior Policy Advisor, Executive Office of the President, Office of Science and Technology Policy, USA
10.00 Future trends & developments in port logistics for industrial minerals
Pim Steenhuis, Commercial Manager Dry Bulk, Port of Amsterdam, the Netherlands
10.30 COFFEE
PRICING: STRATEGY | LITHIUM
11.30 Transforming strategy into cash in the industrial mineral sector
Miguel Galindo, Managing Director, Strateg-On, Spain
12.00 Creating reference & benchmark pricing for lithium in the 21st Century electric vehicle supply chain
Simon Moores, Managing Director, Benchmark Mineral Intelligence, UK
12.30 LUNCH
RARE EARTHS | TI-MINERALS
14.00 Rare earths & other critical minerals: what's the score?
Roskill, UK
14.30 Titanium minerals supply & demand
Gerry Colamarino, Managing Director, TiPMC Consulting, USA
15.00 COFFEE
GEOLOGY | AFRICA | GRAPHITE
15.30 The role of geology in the industrial minerals value chain
Mike Armitage, Corporate Consultant (Resource Geology), SRK Consulting, UK
16.00 Industrial minerals in Sudan: an example of Africa's untapped potential
André Tahon, Exploration Manager, DAL Mining, & Mohammed Osman, CEO, Alara Mining, Sudan
16.30 The graphite potential of Scandinavia
Håvard Gautneb, Industrial Minerals Specialist, Geological Survey of Norway, Norway
17.00 CLOSE OF DAY 1 & DRINKS RECEPTION
WEDNESDAY 14 APRIL 2021
KEYNOTES 2: CO2 REDUCTION | INFLUENCING FACTORS
09.00 CO2 reduction challenges & opportunities: the perspective from the minerals sector
Aurela Shtiza, Policy Director & Eleni Despotou, Director Energy & Climate Change, IMA- Europe, Belgium
09.30 Primary factors influencing the industrial minerals market
Roskill, UK
10.00 COFFEE
CERAMICS | PIGMENTS | TESTING
10.30 Ceramic raw materials demand outlook
Brendan Clifford, Co-CEO, Mota Ceramic Solutions, Portugal
11.00 Pigments & fillers in paints & coatings: a market review
Stefan Schlag, Executive Director, IHSMarkit, Switzerland
11.30 Quantifying values of lab tests for industrial minerals: the perlite case
Achilleas Amanatidis, Principal Consultant, Innovative Insulating & Inorganic Materials Laboratory (in.mat-lab), Greece
12.30 LUNCH
PROCESSING 1: CHALLENGES | LITHIUM
14.00 Making the grade: mineral processing challenges & solutions
Joe Roettle, Consultant, Spain
14.30 Lithium flotation methods and collectors used worldwide
Todd Parker, Global Marketing Director Mining Chemicals, ArrMaz, USA
15.00 COFFEE
PROCESSING 2: FINE GRINDING
15.30 NEA PMX: the new dry super-fine grinding solution for industrial minerals
Andreas Henssen, Product Manager Classifiers, Neuman & Esser Process Technology, Germany
16.00 Energy conservation in ultrafine industrial mineral processing: a comparison of process solutions
Dietmar Alber, Business Development Director, Hosokawa Alpine AG, Germany
16.30 CLOSE OF CONFERENCE
*subject to change
This year's venue is the beautiful and iconic beach-side Grand Hotel Huis ter Duin at Noordwijk (just 20mins from Schiphol Airport)
EARLY BIRD RATES AVAILABLE | BOOK NOW!
For Registration & Sponsorship/Exhibits enquiries please contact: