Rio Tinto Minerals (RTM), which claims to supply almost 50% of the world's refined borates, has reported that its 2014 borates production was up 3% over 2013 to 508,000 tonnes B2O3 content.
This was owing to a combination of higher sales demand and a plant upgrade at RTM's main borates mining and processing facility in Boron, California.
With customers worldwide consuming borates in diverse markets, from fibreglass to frits to fertilisers, getting the logistics right is paramount for RTM's borates distribution.
On 24 April 2015, Andreas Stylidiadis, Manager Logistics Europe, Rio Tinto Iron & Titanium GmbH, Germany, will be highlighting RTM's mineral sands supply chain to European markets at the Mineral Logistics Forum 2015, 23-24 April 2015, Rotterdam.
New kernite plant
RTM's 2014 borates sales were assisted by a major plant upgrade last year. In September 2014, RTM commissioned a Modified Direct Dissolving of Kernite (MDDK) plant, representing an investment of US$160m.
The new plant allows for increased processing of the boron mineral kernite, resulting in an increase in the amount of sodium borate produced.
The new MDDK plant also earned the Rio Tinto 2014 CEO Safety Award for safety in design, contractor selection, worksite preparation, operations and craft management, and overall best practices.
The Boron open pit mine – measuring 2.8 x 3.2km wide, and up to 230 metres deep – yields more than 80 different minerals including the four main commercial boron-based minerals: tincal, kernite, ulexite and colemanite.
RTM also exploits trona, natural soda ash, at Owens Lake, California, which is used in the borate refining process.
RTM's processing plants produce such products as borax pentahydrate, borax decahydrate, and boric acid; and fusing plants also produce anhydrous borate products.
In 2012, RTM sold Borax Argentina SA, which historically contributed around 4% of RTM's borates production, to Orocobre Ltd.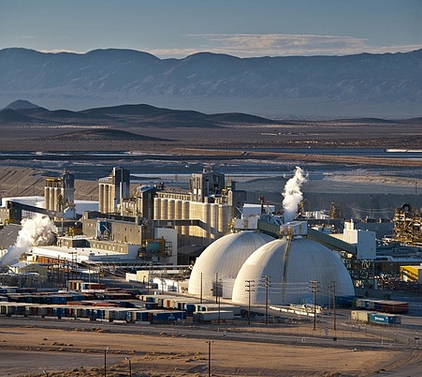 In 2014, RTM added a US$160m Modified Direct Dissolving of Kernite (MDDK) plant to its extensive borates processing site at Boron, California. Copyright © 2015 Rio Tinto.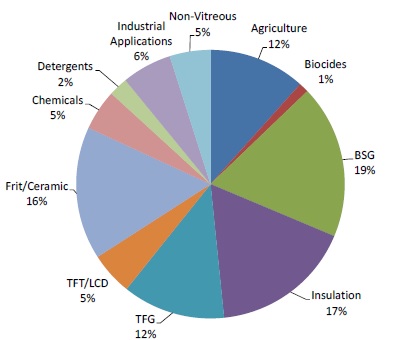 Global markets for borates. BSG – borosilicate glass; IFG –insulation fibreglass; TFG – textile fibreglass; TFT – thin film transistors. Source: RTM estimates
Borates warm to insulation market
Borates supply a number of major consuming markets, the largest of which his glass, accounting for more than 50% of borates demand. Key glass sectors for borates are insulation fibreglass, heat-resistant glass (borosilicate glass), textile fibreglass, and thin film transistors/LCD (see chart)
Other important borates markets include detergents, ceramic frits and glazes, agricultural micronutrients, wood treatments and pest control products.
The insulation market (using fibreglass made from sodium borates such as borax decahydrate and pentahydrate) in North American and Europe has been targeted as a major market, with an estimated growth forecast of 4% to 2018. RTM estimates that in Europe and North America there are some 50m under-insulated homes.
Increased demand for borates as micronutrients in fertilisers is expected in South America, India, Malaysia, and Indonesia, and could represent borate's greatest growth market with an estimated annual growth rate of 6% to 2018.
China, Thailand, Indonesia and Middle East are leading the demand for high end frit and ceramics
and an increase in new construction in South American (mainly Brazil) is also a growth driver. China is expected to account for 50% of the world ceramic tile market in 2015. Ceramic markets for borates are expected to grow 4% to 2018.
Logistics: the key to industrial mineral markets
To facilitate its supply to world markets, in addition to its primary mining and processing operations in California, RTM operates several port and distribution centres in the USA, Europe, and Asia.
Wilmington, located in the Port of Los Angeles, is RTM's primary shipping facility in North America. Speciality products and special quality grades are refined at the site, which also produces wood preservatives and flame retardants, among other products.
In Europe, RTM has three sites. Nules, Spain, is a packing and distribution facility strategically located in close proximity to the country's ceramics industry. The operation includes packing, milling and warehouse facilities.
Rotterdam is RTM's primary European distribution facility. Up to 40,000 tonnes of refined borates are shipped in bulk from California to Rotterdam, where they are distributed to customers throughout Europe.
Coudekerque, located near Dunkirk in northern France, is a speciality borate refinery and distribution centre. Refined borates are shipped from California to Coudekerque, where they undergo secondary refining processes to increase purity and produce high value specialty borates for the agriculture, nuclear and industrial sectors.
The Asian market for borates is growing swiftly, particularly for borosilicate glass in Chinese markets such as cookware, lighting, pharmaceutical glass, laboratory ware and solar water heater tubes.
To meet this demand increase, RTM opened port facilities in Changshu Xinghua Port in China, and Port Klang in Malaysia. Changshu and Port Klang operations both handle borates from the Wilmington shipping facility in California.
Andreas Stylidiadis, Manager Logistics Europe Rio Tinto Iron & Titanium GmbH, Germany will be speaking at the Mineral Logistics Forum 2015, 23-24 April 2015, Rotterdam.