As we head towards the final quarter of 2022 and look towards 2023 and beyond, the international refractory industry is readying itself for a busy period of important international refractory meetings (ICR, Aachen; ALAFAR, Foz do Iguaçu; IREFCON, Kolkata).
Kicking off the season was IMFORMED's China Refractory Minerals Forum 2022 ONLINE held on 14 September 2022 – a unique and well attended gathering for those in the industry concerned with the supply of refractory raw materials from China and market demand trends.
Title Image Change in the mountain air? The main picture is Haimag's 1.5m tpa magnesite mine near Pailou Town, Haicheng City, Liaoning province, exploiting a deposit hosting proven reserves of 590m tonnes – and venue of the Field Trip for China Refractory Minerals Forum 2023, InterContinental, Dalian, 12-15 September 2023. China's magnesite sector is undergoing a major transformation, as discussed at the recent online Forum. Courtesy Haimag.
For obvious reasons we were unable to organise this as an in-person event as originally planned (back in 2020!). However, we look forward to the prospect of returning to China next year for China Refractory Minerals Forum 2023, InterContinental, Dalian, 12-15 September 2023 (visit to Haicheng magnesite operations on 15 Sept.) – Mark your diaries now!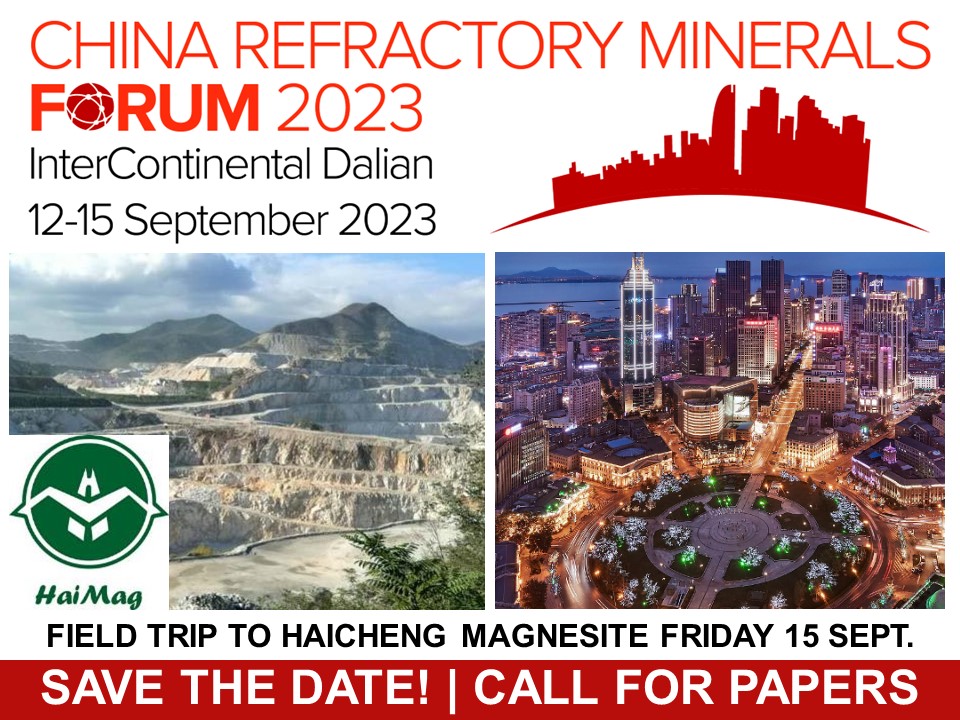 This year's online Forum had a strong programme and attracted a wide range of leading players from the global refractories market. The presentation are reviewed below.
"Very good information update and future trends"
Marcio Lario, Founder & Board Member, Bautek Minerais Industriais, Brazil

"It was a very interesting and informative session."
Alfred Vermeulen, Director Commercial APAC, Access World, Singapore

Missed attending the Forum? A full PDF set of presentations plus access to live recording available for purchase.
Please contact Ismene Clarke T: +44 (0)7905 771 494 ismene@imformed.com
Overview: China still a strong force in supply, but changes are afoot
Mike O'Driscoll, Director, IMFORMED
In his opening presentation, Mike O'Driscoll, provided an overall picture of world refractory mineral supply, indicating limited commercially developed sources for most minerals, and with China remaining a dominant supplier of key materials (especially magnesias, fused aluminas, bauxite, silicon carbide).
Moreover, leading markets such as the USA, Japan, India, and Europe remain highly dependent on Chinese imports of refractory minerals.
Chinese mineral supply remains under pressure from a range of factors including environmental controls, Covid-19 lockdowns, an energy crisis, mining sector reforms, and national events (eg. Golden Autumn holiday; 20th National Congress of the Chinese Communist Party (16 October); Annual Winter Shutdown (Oct-Mar)).
Combined with the recent global impacts of the Covid-19 pandemic, the Russia-Ukraine war, rising energy costs, and the effect on logistics, the refractory mineral supply sector has been prompted to respond in a several ways:
Existing mineral & refractory producers outside China: corporate readjustment rationalisation/consolidation; select investments/strategies; vertical integration & diversification; increase in M&A as companies restructure to survive
Consumers: revision of raw material sourcing: security, supply chain strategies; a "decoupling" from China or at the least a "counterbalance"; select innovation & investment to "be ready"; increasing awareness of potential impact of green steelmaking, glassmaking etc.
Mineral source developers: boost to new/alternative sources worldwide: eg. magnesia, graphite, bauxite, fused minerals
Diversification in mineral selection: new/alternative mineral products: modifying formulations, eg. consideration of increasing use of alternative minerals, synthetic minerals, recycled refractory minerals.
Environmental impact: to have greater and significant influence on mineral & market development; climate protection drive, CO2 footprint reduction, energy transition, "green" mining/manufacturing; more recycling eg. from refractory and mine waste.
The situation raises a number of interesting questions: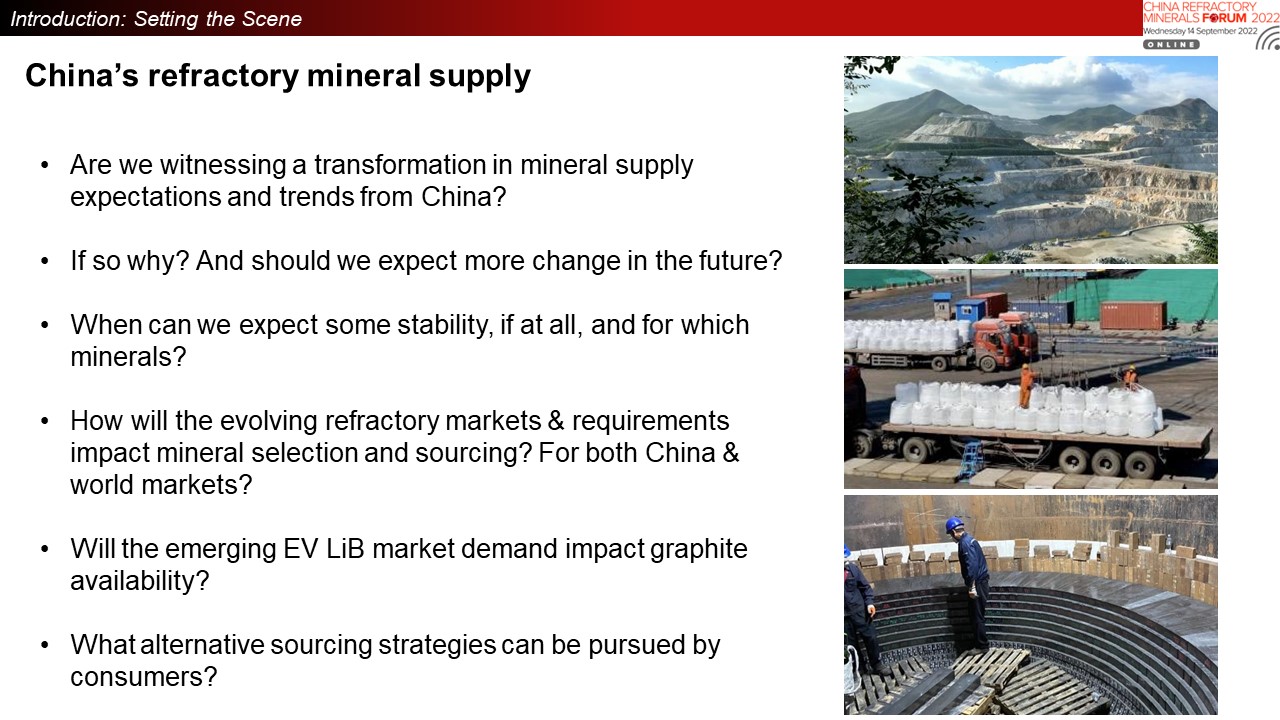 IMFORMED will be attending

      

  Please drop by our stand for a chat, would be great to catch up!
China refractories outlook
Dr Richard Flook, Managing Director, Mosman Resources, Australia
Richard Flook's presentation was a most comprehensive analysis of the impact of decarbonisation on China's refractories industry and what it might mean for refractory mineral consumption.
Beginning with framing China's aims of peak carbon emission by 2030 and carbon neutrality by 2060, Flook went on to look in more detail on the following: green steel, green cement, carbon footprints of refractory raw materials and products, and China's refractory production.
The primary refractory markets of steel, cement, plate glass, and aluminium have been highlighted as industries with excessive capacities:
Steel: electric arc furnace(EAF) production greater than 15% by 2025 and 20% by 2030
Cement: energy consumed per unit of output needs to be cut by over 3% by 2025
Aluminium: 30% of their electricity consumption from renewable energy by 2030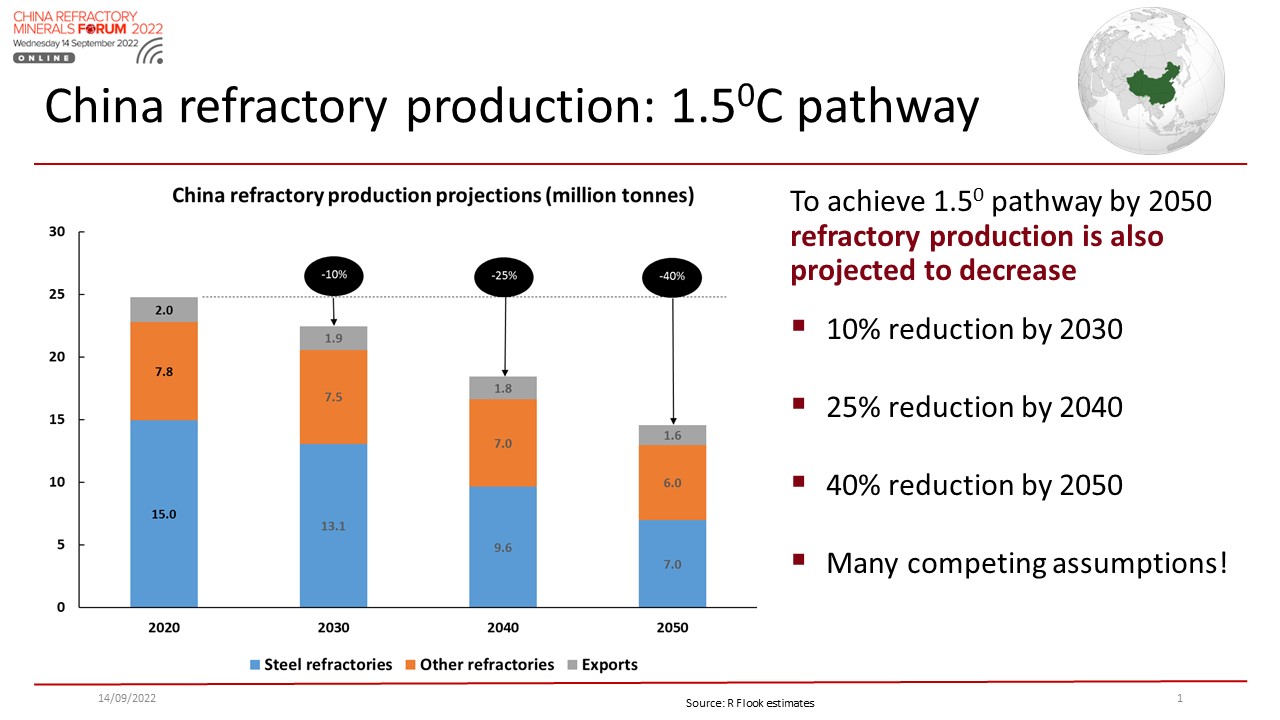 In summary, Flook considered that alternative fuels, particularly hydrogen and particularly for steel production will require refractory reformulation, which will impact refractory raw materials and refractory selection.
EAF steel production (and refractories) will be the highest growth sector from a combination of recycling, emission reduction and the potential hydrogen route.
A range of other factors will impact China refractory raw materials such as increased costs from reduction of CO2 emissions and/or potential cost of carbon and/or potential carbon border taxes.
There will also be increased emphasis by customers on local and/or multiple supply routes which will impact China export sales.
Current status & outlook for Chinese magnesia production & exports
Hellen Du, Sales Manager, Fupeng International Group Ltd, China
In her presentation Hellen Du provided an update on what was happening in China's magnesia sector which is undergoing a transition at present to a much more consolidated and efficiently planned future.
During January to May 2022, the rate of mining is was down by 5.2%, and specifically for the magnesite industry output was decreased by 10.6%.
The three main reasons for this were the pandemic reoccurrences, the Green and low-carbon policies of the central government, and the downbeat domestic market environment.
Refractory raw materials export during H1 2022 witnessed a 4.61% decline in fused magnesia, compared with H1 2021, and a 7.18% decline in dead burned magnesia.
Du considered that possible reasons for these decreases were global inflation, a complex environment in the international market, and previous inventory that has yet to be consumed.
Du highlighted China's peak carbon emission and carbon neutrality objectives that will have an impact on industrial activity, and which are being driven by China's 14th Five-Year Plan (2021-2025) and 15th Five-Year Plan (2026-2030).
When questioned about the progress of the magnesite sector reforms in Liaoning province Du replied that it was ongoing and several measures had already been announced. These included a 50% reduction in magnesite mines to 57 mines in Liaoning, with all mines producing <100,000 tpa magnesite to be closed.
Mine reductions in the Anshan and Yinkou prefectures were from 63 to 37 mines, and 22 to 9 mines, respectively.
Graphite trading trends in transition
Jack Gao, Managing Director, Refmin China Co. Ltd, China
Graphite has historically been one of China's leading refractory minerals in terms of production and export, and remains an important component in refractory formulations worldwide. But as Jack Gao explained, the times are changing.
Gao reminded of the distinct grades of graphite that are required and often misquoted, before outlining the leading world sources of amorphous and flake graphite.
The main Chinese graphite production centres were highlighted, producing a combined total of 1,097,972 tonnes in 2021, although Gao revealed that China is now changing from exporting to importing graphite.
Regarding market demand, Gao noted increasing consumption as feedstock material used in Li-ion battery (LIB) production (flake graphite processed to spherical graphite for use as anode material); consuming C90/94/95/96/98 at superfine sizes (-194, -195).
Also coarser flake graphite (+50mesh, +80mesh) saw more use to make expandable graphite in flame retardants, especially in South Korea.
And how these markets compete with refractory requirements? Gao outlined that there would be little cross-over with LIB since refractory grades were +80, +100, +150, -100 mesh, although there would be some competition with expandable graphite markets since they consume +80 mesh.
The historic benefits of using Chinese sourced graphite were now being outweighed by issues in supply and price instability, environment, labour force and costs, political factors, seasonal (rains/winter), and quality control (grade mixing).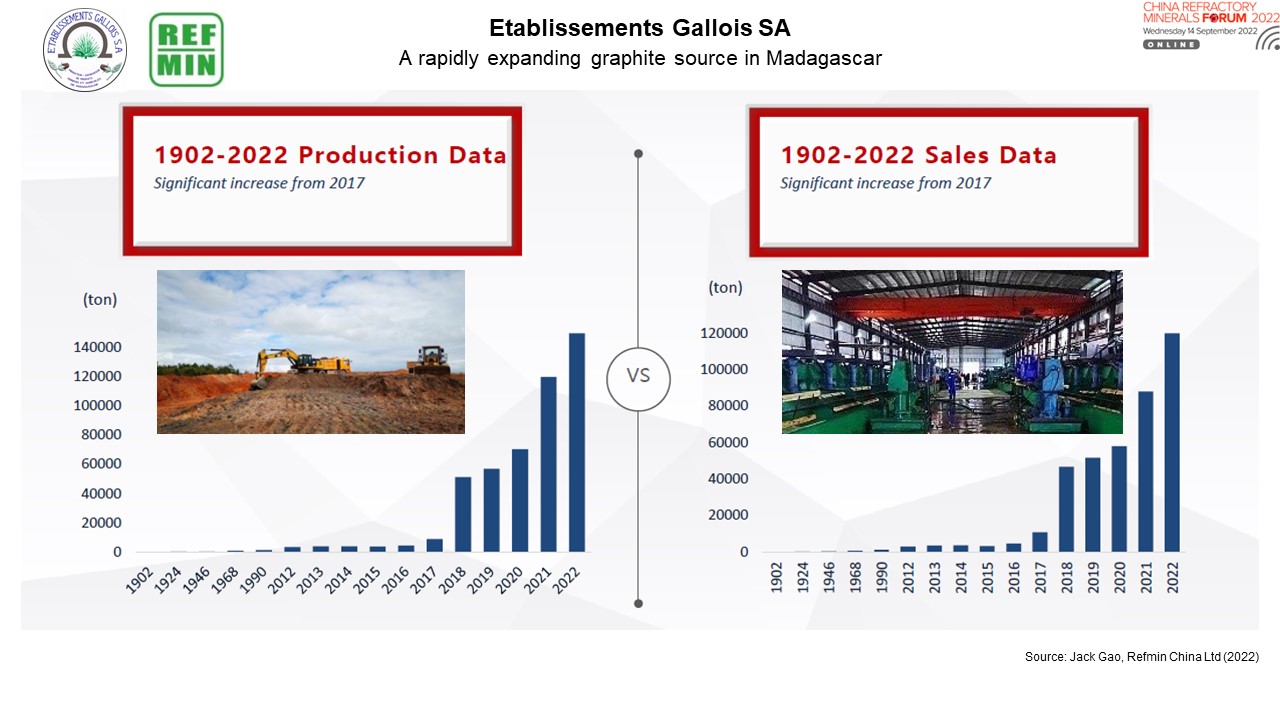 Gao considered that with China low in coarse flake and high quality grades, increased importing form new source would be the future.
Africa was described by Gao as "The New Giant for production and exporting [graphite]", serving markets in China, Europe, the USA, and India with mostly 94/95/96%C grades.
He introduced Etablissements Gallois SA, with which Refmin has been co-operating, which since 2016 has upgraded its mine and plant in north-east Madagascar to produce 120,000 tonnes flake graphite in 2021. Further work during 2022 is to increase production capacity to 500,000 tpa.
India's refractory market future & the influence of Chinese raw material supply
Parmod Sagar, Managing Director & CEO, RHI Magnesita India Ltd, India
Unable to attend in person, Parmod Sagar presented his thoughts on India's refractory outlook via a video clip.
In 2021, India's refractory industry was valued at an estimated Rs10,000 Crores (100bn.; US$1.2bn). With ambitious steelmaking targets, along with cement and glass growth, this is expected to reach US$4bn by 2030.
However, key to India's refractories growth will be security of supply of refractory raw materials, whether from domestic or overseas sources.
Sagar urged that India's refractory manufacturers should talk with their Chinese raw material suppliers to improve supply chain security and availability, and at the same time look to develop more India's domestic resources of refractory minerals – which at present is heavily reliant on Chinese imports.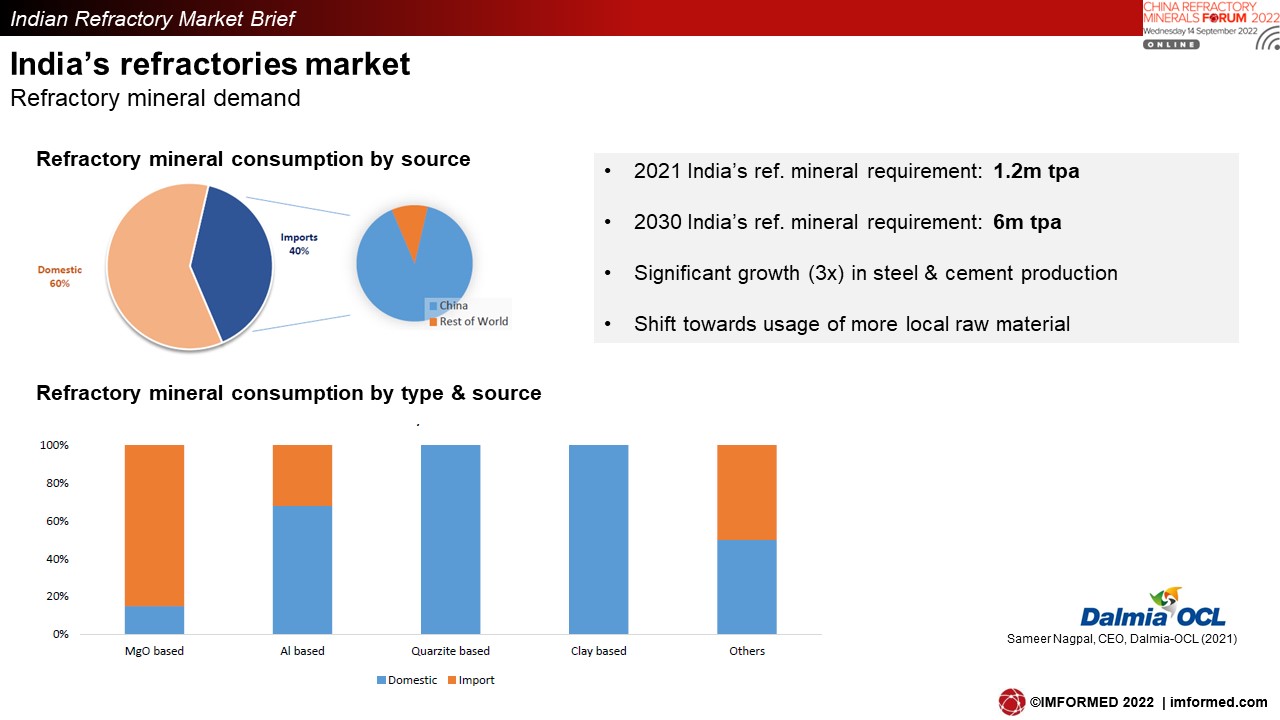 Sustainability in the refractory market
Chen Feng, Sales Director, Imerys China Refractory Producers, China
Chen Feng's presentation covered the ambitions and long term road map of China's major refractory consuming markets, current status and challenges for China's refractories, and sustainable solutions for the refractory industry.
China's steel industry, for example, is focusing on low carbon metallurgical processes such as:
Development of EAF steel making (from 10% to 30%), and near-net-shape continuous casting and rolling technologies
Hydrogen reduction metallurgy
Carbon dioxides substitute N2/Ar BOF bottom blow technology
Scaled Carbon Capture and Sequestration in long process steel making.
Chen noted that China's monolithics share of refractory products is "stagnating" at around 42%, while the rest of the world continues to grow. China exports many basic bricks and there is considerable domestic consumption, of maybe 47-48% brick production.
China's specific refractory consumption is about 14kg/tonne steel compared to the USA, 12kg/t, Europe, 10kg/t, and Japan 7kg/t. However, Chen said that "China can still progress in term of specific consumption."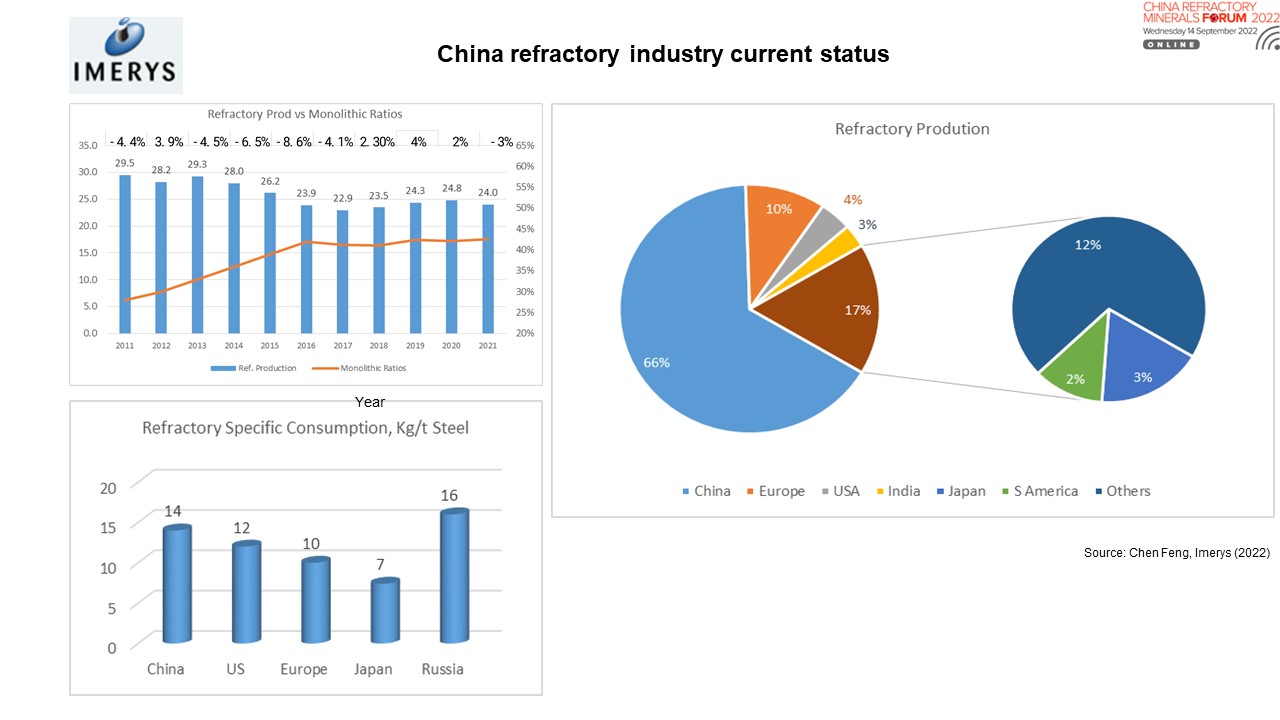 Leading challenges for China's refractories industry include:
High grade demand, diversified demand versus mixed, low grade repetition and imitation
Rising costs versus cut throat price competition in the industry
Shrinking market vs expansion, new production, new entrants
High grade raw material shortage vs high quality and higher stability demands
High cost raw material vs downstream industry capacity
The uncertainty of local environmental management vs the development strategy of enterprises
There is a strong need for accelerating legislation and implementation related to sustainable development in China's refractory sector.
Chen concluded with some examples of Imerys' sustainable development programme, "SustainAgility", which assesses products and solutions from a full life cycle assessment perspective.
Shipping market outlook from China
Eddie Boo Koh, Regional General Manager – Greater China Area, Access World, Singapore
The final two presentations focused on the all-important logistics angle of the refractory raw materials supply chain.
Eddie Boo Koh's presentation covered the current supply chain and shipping landscape, the supply chain and shipping market outlook, finishing with a look at the capabilities of Access World.
Overall, Koh considered the situation as improving compared to the start of Covid-19 with better understanding and well managed procedures, although any "Dynamic Zero" Covid-19 policy still causes disruptions with lockdowns.
However, many nations are struggling to cope with the trade and sanctions impact caused by Russia's invasion of Ukraine. Owing to global sanctions, an influx of materials is apparent, shipped via rail and north Chinese ports causing a disparity in trade flows in shipping of commodities.
Owing to recent fraud cases in trade international banks are more cautious on financing deals.
The operations of major Chinese ports (eg. Shanghai, Ningbo, Qingdao, Shenzhen, Tianjin, Dalian) are back to pre-Covid-19 efficiency levels, but Koh observed that while China's port congestion is easing, it remains still higher than pre-Covid-19 levels.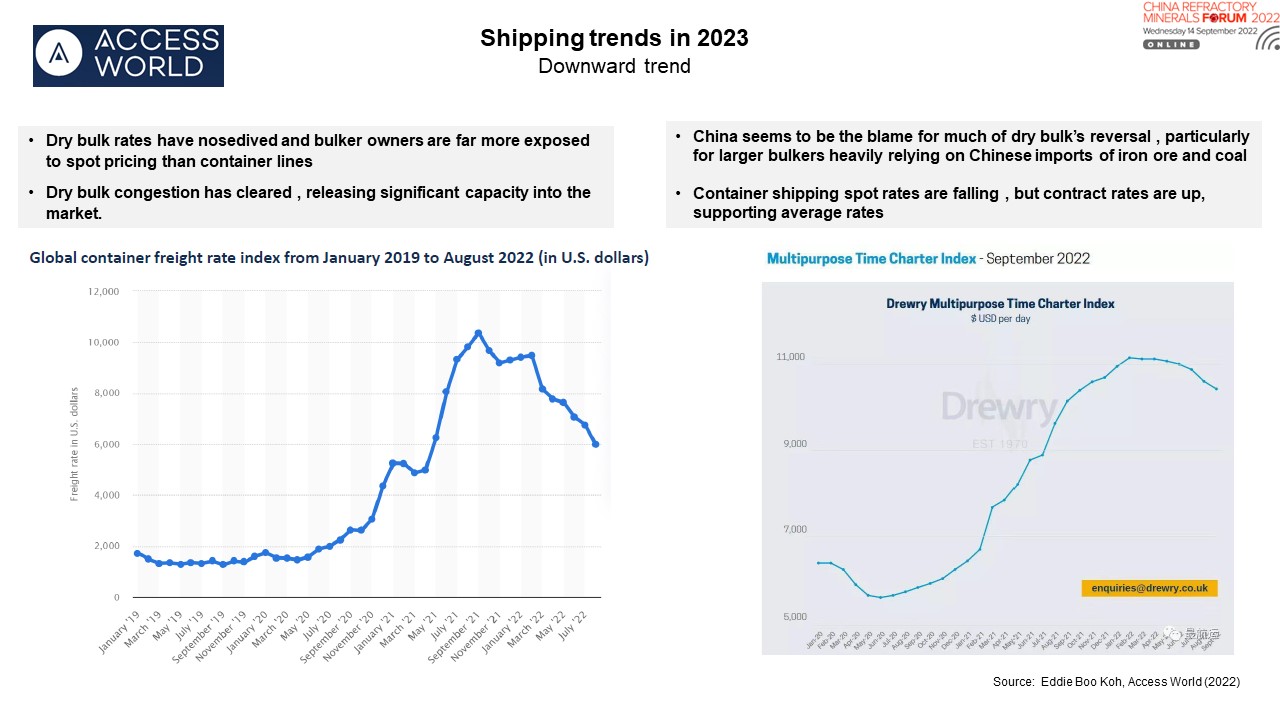 A massive imbalance in shipping container traffic is exacerbating bottlenecks in the supply chain. Demand in the Americas has rebounded strongly in recent months, amplifying trade imbalance between Asia and the Americas.
Regarding the outlook, while Koh acknowledged a trend in reducing dependency on China, eg. moving part of raw materials processing and manufacturing out of China, he regarded this as "not likely to happen on a massive scale."
Overall, supply chains have not fully recovered and there are still many challenges to overcome such as freight charges, vessel delays, connectivity, and container capacity.
Consumer demand is recovering faster than supply, with supply of raw materials hampered by cost increases.
Consumers are trending from "just in time" to "just in case" and building in resilience and ability to weather shocks and disruptions with precautionary stocks, building redundancies, and diversifying suppliers. This has also included the building of safety stock near to customers, although there is a warehouse space shortage in the USA and Europe.
Reliance on China: is it strategically advisable? Knowns & Unknowns
James Devlin, Managing Director, China Mineral Processing Sales Europe, UK
Rounding off the day's presentations and discussion was James Devlin's take on the industry's reliance on China and its future.
Devlin reminded that most world mineral markets are reliant on China as a supplier of industrial minerals to a great or some extent. This is particularly the case for the refractory industries with worldwide usage dominated by all types of Chinese magnesias, high alumina, graphite, silicon carbide and a host of other synthetic aggregates.
Devlin also noted that most of China's minerals are concentrated in north-east and central China, and shipped mainly out of the ports of Bayuquan, Yinkou, Qingdao, and Xingang. All the major export ports are north of Taiwan.
The big picture of China's "Knowns" was provided, highlighting the country's primary challenges impacting industry and growth.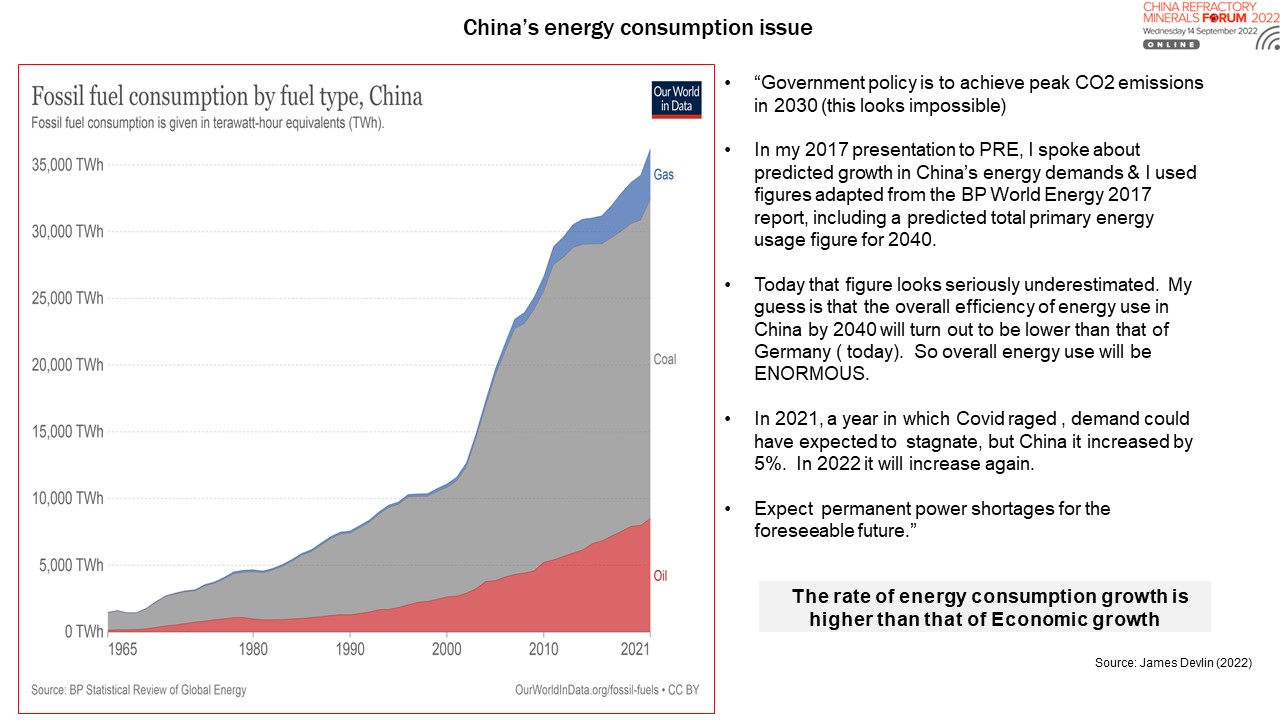 This was followed by a review of the "Known unknowns : stuff we know with unknown outcomes", ie. Covid-19, climate change, "opacity of Chinese government policy", demographic decline, Russia, and Taiwan – "We've seen the effects that the Russia-Ukraine war had…what would happen if China invaded Taiwan?" asked Devlin.
In conclusion, Devlin considered that: "The recent era of breakneck industrialisation of China since 1989 to date is ending. Domestic cost inputs are no longer cheap, nor abundant, and taxation is increasing rapidly. Domestic shortages and rising prices of energy, labour, internal freight will in time render many export minerals uncompetitive."
Other concluding points were:
Government policy and the supply demand balance of domestic power will force a significant consolidation and reduction in mining and processing capacity.
Exports of energy intensive fused mineral products from China will rapidly diminish and at the same time become ever less price competitive. Alternatives need to be found quickly.
The lessons of Covid-19 and Ukraine show that customers need to diversify supplies geographically and structurally away from multi- or single source Chinese dependence.
Customers need to near-shore a percentage of critical manufacturing components as there are ample probable and possible eventualities that could cause interruptions, or worst case a near total cessation in supply.
Thank you and hope to see you again soon & in-person!
It was a most stimulating day of discussion, albeit online, and we cannot wait to return to in-person events in China hopefully in 2023.
We are indebted to the support and participation of all our partners, speakers, and delegates for making China Refractory Minerals Forum 2022 ONLINE such a success, and ensuring a fruitful time was had by all.
We are grateful for all the completed feedback surveys and please continue to provide us with your thoughts and suggestions.
We very much look forward to meeting you again, hopefully in person next time, at one of our Forums:
Registration, Sponsor & Exhibit enquiries: Ismene Clarke T: +44 (0)7905 771 494 ismene@imformed.com
Presentation & programme enquiries: Mike O'Driscoll T: +44 (0)7985 986255 mike@imformed.com
Free China Refractory Minerals Forum 2022 ONLINE Summary Slide Deck Download

here

Missed attending the Forum? A full PDF set of presentations plus access to live recording available for purchase.
Please contact Ismene Clarke T: +44 (0)7905 771 494 ismene@imformed.com
---
ANNOUNCING

FUTURE TRENDS FOR REFRACTORY RECYCLING
CALL FOR PAPERS