Workshop at 2023 AGM of Benchmark Mineral Intelligence
Sometimes you've just gotta get back to basics to properly understand the principles of the industrial minerals business and how it functions.
IMFORMED was offered the opportunity to do just this by kind invitation to run a workshop at the 2023 Annual General Meeting of Benchmark Mineral Intelligence (BMI) – the fast expanding world leader in provision of prices, data, information, and services for the battery raw materials market, and more recently rare earth permanent magnets.
The four-day event held in the Cotswolds near Cirencester, UK, was attended by over 100 BMI staff and associates networking, listening to presentations and participating in workshops.
IMFORMED was honoured to support the event with a workshop entitled "Mike's Box of Minerals" –a title that would chime with anyone who passed through the ranks of Industrial Minerals magazine up to 2012, when as Editor, I ensured that learning about what minerals are and why we need them was an essential induction to the job – whether in editorial, events, sales or marketing. Indeed, the full workshop title was "Mike's Box of Minerals: An introduction to the world of minerals and how your world is made of them".

I am most pleased to see that Simon Moores, CEO, BMI, has recognised the need to maintain this "education", which can always be tailormade to suit, but provides a necessary high level foundation to understanding what makes the industrial minerals business tick and reminder that we cannot take things for granted – mining is necessary.
Scheduling the workshop in Cocktail Hour ensured a relaxed, wind-down period of an intensely busy day, and little encouragement was needed to have everyone poring over the mineral samples and respective end-use products sating their new-found curiosity from borax used in detergent, mica in cosmetics, to zeolite used in odour eaters and radioactive clean up!
For that full list of mineral samples on show with their respective sources, formulae, and uses click here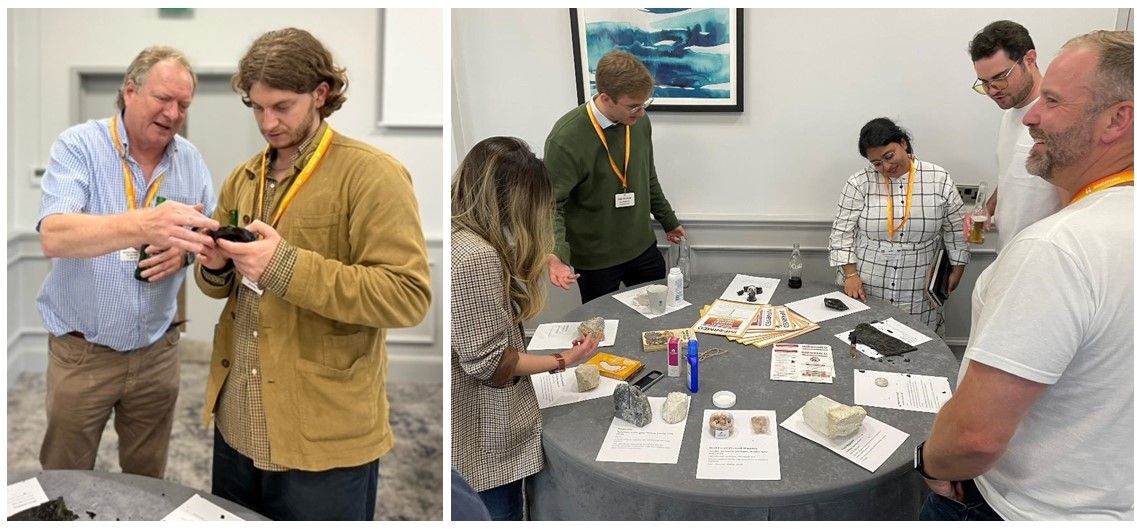 And in line with BMI's core business, we had samples of spodumene (lithium source for cathodes), Cornish granite/pegmatite (lithium), bauxite (high purity alumina for coated separators), and fluorspar (HF for graphite processing; PVDF binders; LiPF6 electrolytes).
It was a great success, and in Simon's words: "You got the new generation (and some of the old) rocking. An old school flavour with a new school twist."
Long may it continue!

Daisy Jennings-Gray, Senior Price Analyst, BMI presented "Closing the loop on the lithium-ion battery supply chain" at Mineral Recycling Forum 2023, Dubrovnik, 28-30 March 2023 – for a full review see Mineral recycling radiates in Dubrovnik.

Simon Moores, CEO, BMI will be presenting "Fluorspar's role in electric vehicles and the energy transition" at Fluorine Forum 2023, Cannes, 16-18 October – Early Bird Rates available for a limited period | Confirmed Speakers & Full Details

here