Industrial Minerals Basics: An Executive Primer
As the minerals industry hunkers down for the end of the year amid depressed markets and falling commodity prices, it's surely the time to take stock of what's what and see how we might come out of the other side better prepared.
During the first week of December, London hosted Mines & Money London 2015, the annual gathering of the good and the great of mining exploration, investment, and financing.
It was a little quieter than usual, not surprising considering the market climate, but for sure there was acute interest in new and developing opportunities for mineral investments, not to mention ideas of diversification for some.
And for the first time, the largely metal mining dominated event shone a lone spotlight on… industrial minerals!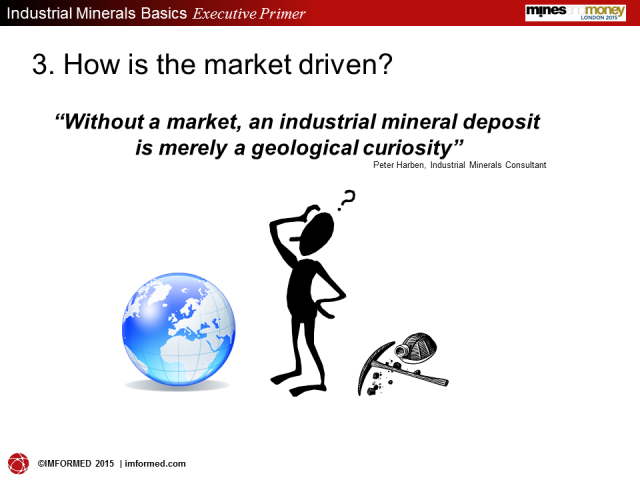 Mike O'Driscoll, Director, IMFORMED, was invited to present "Industrial Minerals Basics: An Executive Primer", on Day 1, Tuesday, 1 December at 13.50, as well as hosting an informal roundtable on battery raw materials, on the following Day 2 Wednesday, 2 December at 13.00 (Roundtable 9).
Many newcomers to the industrial minerals business, and this includes metallic miners and traders as well as a plethora of investors, have often been burned owing to a lack of understanding and appreciation of the fundamentals of the non-metallic minerals market.
The glamour and promise of high prices and rapid returns for metallic ore projects are not easily replicated, if at all, in the highly fragmented and utterly market driven world of industrial minerals.
But that should not be off-putting. In contrast, industrial minerals offer long term, consistent demand prospects, and exciting new opportunities in new and growth market applications driven by emerging demands and disruptive technology.
However, in order to get there, several market fundamentals are required to be understood together with an appreciation of the market structure and how it ticks.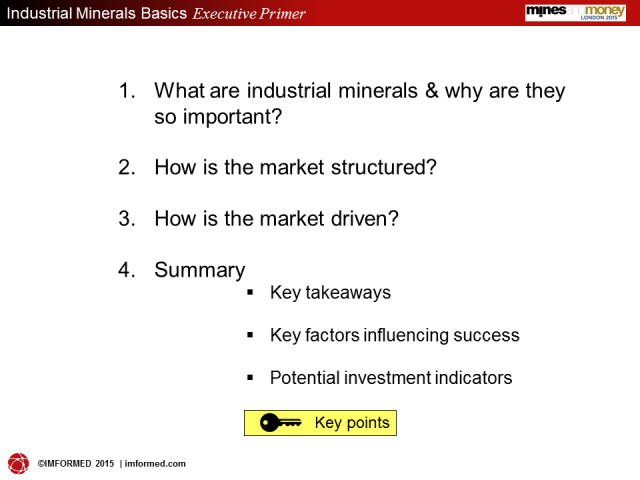 This was the essence of my presentation, concluding with some reminders of what makes a successful industrial minerals project, and some indicators for potential investment opportunities.
Good hunting!