MagForum 2017 analyses latest issues and spotlights potential newcomers and markets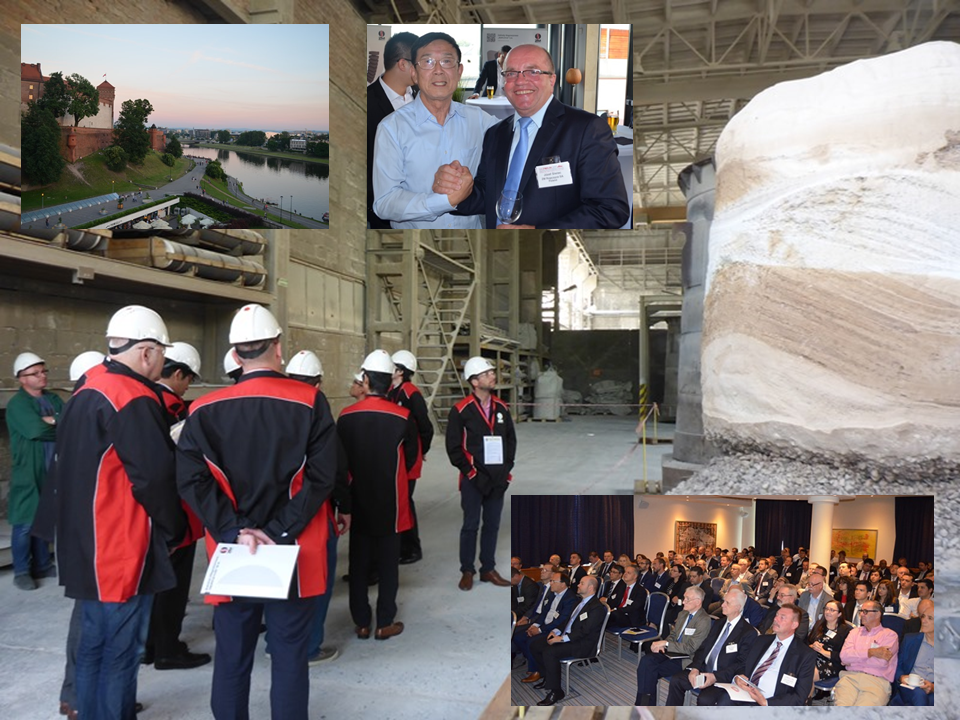 Key takeaways
China: supply impact issues to beset 2017-18; controversial trade reforms proposed

New supply sources and capacities: Saudi Arabia (DBM+CCM), Australia, Canada

Refractories: steady growth in steel demand; good cement outlook for certain regions

Market opportunities in hydrometallurgy, flame retardants, environment, cement board, welding, and pulp and paper.
Crazy about Kraków? Small wonder: the city is beautiful, the sights glorious, the food exceptional, and the people wonderful and friendly.
Thus was the venue and backdrop to IMFORMED's highly successful MagForum 2017, 11-14 June at the Radisson Blu Hotel, Kraków, Poland.
With a record-breaking 190 attendees, MagForum 2017 delivered a seriously vibrant networking platform supported by a sparkling programme of 23 high level presentations covering the full spectrum of magnesia mineral supply and demand.
The conference was very well organised and covered all sectors of the magnesia space from producers of raw materials to end users. If you are operating in the magnesia space and you can attend only one conference a year, then this is the conference you should attend. Excellent sessions and presentations, as well as an opportunity to meet key people from all major magnesia companies in one place. I highly recommend this event.
Andrej K. Karpinski, Chairman of the Board, Korab Resources Ltd, Australia

Excellent, varied, and comprehensive programme
Anthony McEneaney, Project Manager, RHI AG, Ireland

Thank you for the great organisation. We had a good experience again
Sibel Hizlan, AK ALEV, General Manager, Turkey

Overall top class, good location, and well organised
Ted Dickson, TAK Industrial Mineral Consultancy, UK

For our Summary Slide Deck of the conference with programme, attendees, feedback, and pictures Click Here.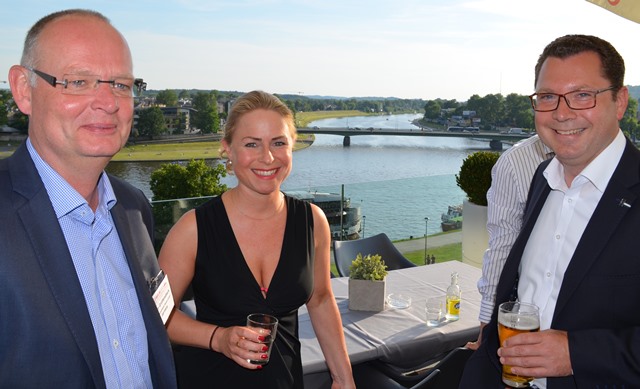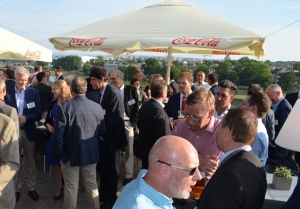 Proceedings got underway on the Sunday evening with a marvellous Welcome Reception sponsored by ZM Ropczyce at the Malecon Restaurant providing a stunning view of the picturesque Wawel Castle and River Vistula.
Keynote Discussion: China issues dominate the market
Following an introduction to the magnesia market by Mike O'Driscoll, Director, IMFORMED and Welcome Address from Jerzy Gdula, Sales Director, ZM Ropczyce, all eyes and ears were on the panel for nearly an hour of thought provoking discussion on the industry's most pressing issues.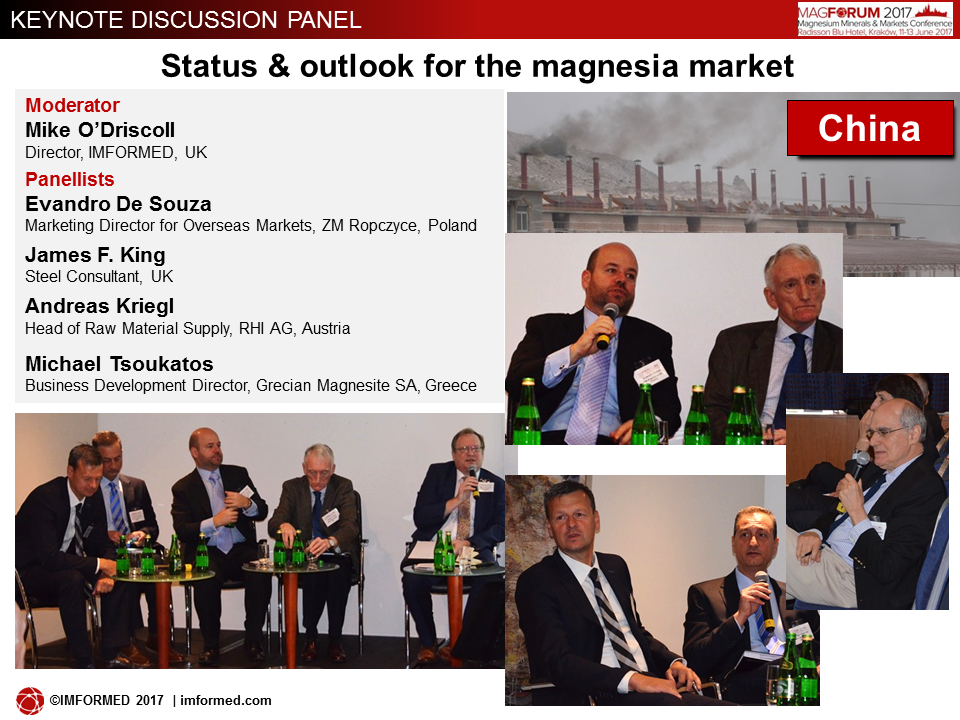 Perhaps unsurprisingly, the panel discussion, with participation from the audience, was dominated by the significant influence of China on the magnesia market and the latest issues arising there.
These included the demise of the export licence system, government controls on pollution in Liaoning and restrictions on dynamite provision negatively impacting output, China's relationship with the WTO, the structure of the domestic magnesia sector, infrastructure, and the steel industry.
"There is much anxiety and confusion. It was China then, and China now." summed up Michael Tsoukatos, Business Development Director, Grecian Magnesite SA. This was echoed by Andreas Kriegl, Head of Raw Materials Supply, RHI AG, Austria, who considered that "We are still in the middle of the game".
Evandro De Souza, Marketing Director for Overseas Markets, ZM Ropczyce, cautioned on gazing through too many crystal balls, and considered that we may need to await until the end of 2017 or even into the next Chinese New Year in early 2018 for things to settle down and take stock of the situation.
James F. King, Steel Consultant, UK, highlighted the relevance and comparisons within the steel industry, opining that while output was rising, steel prices were too low. He also reminded that refractories were still perceived as "not a critical cost, at just $5-6/tonne of steel production" – despite, of course, the use of refractories being imperative for successful steel production.
Refractory market and magnesia use evolution
In "The changing face of the global refractories industry", Dr Richard Flook, Managing Principal, Mosman Resources Ltd, Australia, entertainingly covered a wide range of factors shaping the refractories industry today and tomorrow, including mega trends, materials engineering, energy, economy, china, steel, and cement.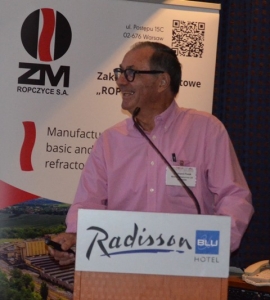 Flook considered that the industry had reached "Peak refractories" and refractory customer issues would focus on decarbonisation in steel, cement and glass; alternative fuels; pollution; china; customer competition; composites for light weighting; customer overcapacity; low profitability/automation; and decreasing specific consumption.
Refractory producer actions of the future would be centred on cost reductions; automation; recycling; consolidation (China and elsewhere); innovation; monolithics (increasing); 3D printing of shapes; clean steel; and increased flexibility and ability to identify and respond to customer's changing needs.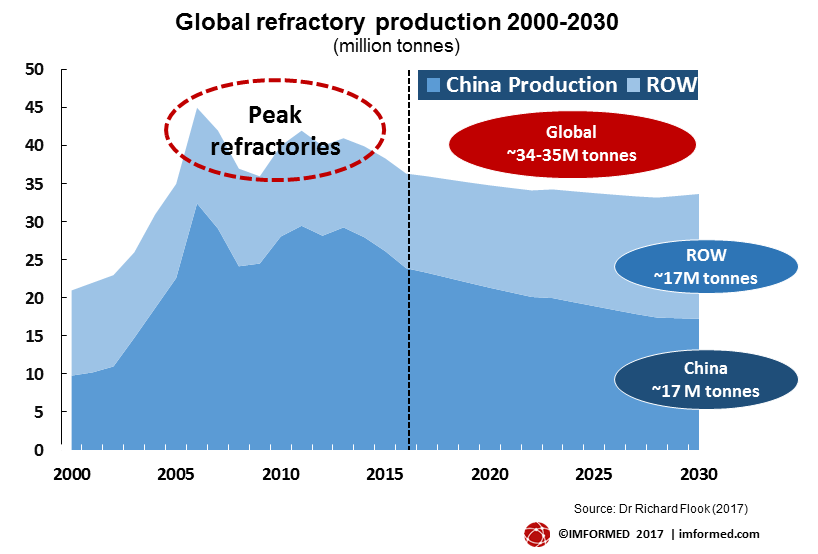 Evandro De Souza, Marketing Director for Overseas Markets, ZM Ropczyce, Poland, presented "Magnesia in refractories" and took us through how, why, and which types of magnesia were applied in refractories, noting limitations and modifications for use.
Of great interest was de Souza's review of ZMR's ongoing project, supported by the EU and Polish Ministry of Development, in evaluating the use of alternative and recycled magnesia sources as potential feedstock raw material for CCM manufacture for ZMR's in-house fused magnesia production (ZMR operates a 6,500 tpa capacity fusion plant which delegates visited as part of the post-conference Field Trip, see later).
Several sources were assessed including magnesium carbonate and magnesium hydroxide obtained from the manufacturing process of chemical fertilizers, enriched domestic magnesites, and magnesium hydroxide obtained from desalination of Polish coal mine waters.
"The most prospective technology was the manufacture of calcined MgO from coal mine waters." said de Souza. Estimated content of magnesia in the coal waters is some 300 tpd of magnesia.
Fused magnesia aggregates based on CCM derived from coal waters have been successfully tested in magnesia-carbon refractories in slag lining zones of steel ladles, electric arc furnaces, and oxygen converters.
De Souza concluded: "Next steps are the evaluation of investment needed, and feasibility study for the industrial scale production of MgO aggregates from coal mine waters in Poland, and evaluation of the positive impact of such an initiative in the environment and local economy."
Refractories and magnesia in Poland
Dr Jerzy Czechowski, Secretary, Refractory Materials Manufacturers Association of Poland, reviewed the history and current status of Poland's refractories sector in "The refractory materials industry in Poland: continuity despite change."
Czechowski said that in the last ten years Polish refractory production had stabilised at the 300,000 tpa level with a positive balance of trade (increasing exports), a high share of basic refractories, and a strong dependence on the steel industry as a major user.
In "Magnesite and dolomite resources and production in Poland", Krzysztof Galos, Asst. Prof. Deputy Director for General Affairs, Mineral and Energy Economy Research Institute of the Polish Academy of Science, gave an fine review of Poland's magnesia sources.
Magnezyty Grochów, Braszowice, in Lower Silesia south-west Poland is the country's sole magnesite producer. Various varieties of magnesite occur within a serpentinite massif and total raw magnesite output ranges 70-110,000 tpa.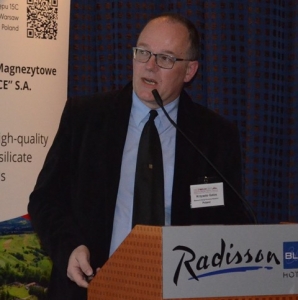 Most of the magnesite goes into fertiliser manufacture (60%), with the remainder used in compounds and fillers.
There is no CCM or DBM produced in Poland, Galos estimated total DBM and FM consumption in Poland at 90-130,000 tpa, supplied mostly by Slovakia and China.
In Poland, the favoured raw material for dead burning dolomite is Triassic dolomite from the Brudzowice deposit (almost exhausted) and some varieties of Devonian dolomite from the Winna deposit.
About 23% of total raw industrial dolomite consumption in Poland (0.8-0.9m. tpa) is calcined or dead burned, mostly domestic dolomite is used, supplementary supplies from Slovakia are up to 5-7%.
Supply trends: China, Russia, the Netherlands
Christopher Zhao, Chief Investment Officer, Hejun Capital, was not only applauded for his presentation "Current status, challenges, and solutions for China's magnesia industry" but also for his patient and thoughtful fielding of the many questions that came his way.
After reviewing Chinese magnesia production and trade, Zhao highlighted the current issues impacting the industry, including: overcapacity and fierce competition, strict environmental pressures, ecological management and restoration pressures, and mine operation costs rising.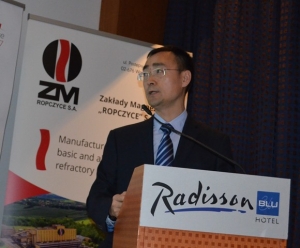 Right now in Liaoning mines are being merged by the local government, environmental protection controls are being enforced, and there is a production slowdown.
In his outlook for China's magnesia industry, Zhao envisaged the setting up of a "Stabilisation Fund and Supply Chain Fund"; the new Free Trade Zone in Yingkou to bring new hope; the organisation of a "China Magnesium Group"; and that the Northeast Asia Magnesia Materials Trading Center will play a very important role in the future.
How such a "China Magnesium Group" would go about reconciling its functions with the WTO was debated in the following Q&A session – and had somewhat familiar echoes to an earlier such syndicate (which did not last long). Perhaps this time the domestic sector will get to grips with the situation and stay the course – watch this space.
Dmitry Borzov, Managing Director, Magnezit Group Europe GmbH, Germany, presented "Russian Magnesite: New efficiency, new quality and new opportunities for your business" which focused on clarifying the vast magnesite resources and production of the Magnezit Group.
In particular, attention was drawn to the development since 2006 of the Talsk and Kirgiteisk deposits in Krasnoyarsk Territory, in Siberia, which host "more than 110 million tonnes in known reserves of especially pure crystalline magnesite."
Since early 2013, magnesite ore has been produced in Razdolinsk, Krasnoyarsk on a commercial scale and has become part of the production cycle at Lower Angara, Krasnoyarsk (2x shaft kilns 50,000 tpa CCM) and Satka, Chelyabinsk (1x MHF 100,000 tpa CCM, 1x shaft kiln 50,000 tpa DBM, 1x shaft kiln 80,000 DBM).
Borzov said that Magnezit was starting up a second multiple hearth furnace of 100,000 tpa CCM, and looking to supply markets such as pulp and paper and hydrometallurgy.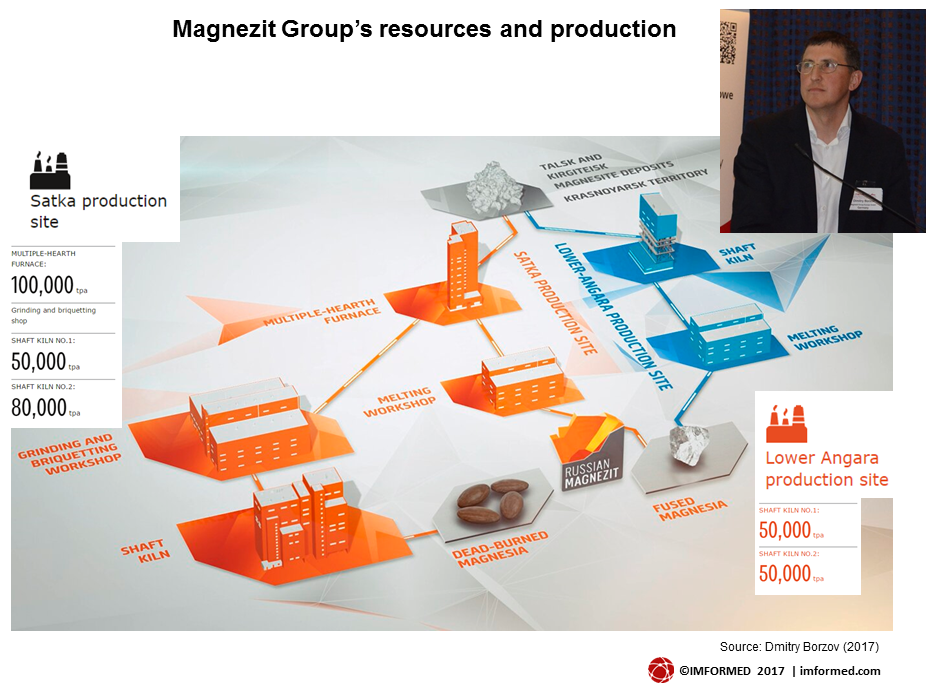 To a completely different source of magnesia in the Netherlands, Frans Goorman, Technology Director, Nedmag, the Netherlands introduced the audience to "Squeeze mining: the best solution to a solid future!".
Goorman outlined Nedmag's long term solution mining strategy for development of the magnesium chloride-rich bischofite salts of the Zechstein Basin to 2070, supported by a €120m investment.
Nedmag produces DBM, CCM and calcium chloride from its existing production site at Veendam.
Nedmag's new mining area has now been determined, and permit procedures are to start in 2018, followed by location development in 2020, and drilling and development wells in 2022.
Supply trends: non-magnesite sources
"Dolomite: supply and applications" by Ted Dickson, TAK Industrial Mineral Consultancy, UK, saw a comprehensive review of the supply sources and application of dolomite as a source of magnesia in refractories and other markets.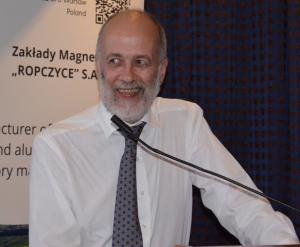 Dickson noted that the supply market is very limited and estimated sintered dolomite world production at around 850-950,000 tpa, with about 550-600,000 for burned and tempered brick and 300-400,000 tonnes for monolithics.
Dickson also underlined certain barriers to new entrants, such as: requirement of long term stable source of high quality dolomite; there is no significant open market in sintered dolomite; significant capital investment needed for sintering operations; and existing producers are long established with good technical back-up.
Topically, many of the attendees were also mindful of the pending RHI-Magnesita merger, expected to be concluded later this year, which could potentially involve the divestment of RHI's refractory dolomite asset in Italy (Dolomite Franchi).
Dr Ian Wilson, Ian Wilson Consultancy, UK highlighted other sources of magnesia minerals in "Brucite, Huntite, and Hydromagnesite: supply and markets".
Wilson estimated a world resource of around 70m tonnes of brucite hosted by limited sources in Russia, China, the USA, and North Korea.
Russian Mining Chemical Co. (RMCC), which already produces 200,000 tpa from its Kuldur brucite mine, Jewish Automonous Oblast, in Russia's Far East, acquired the nearby Savinsky deposit in January 2017, holding 22m tonnes of reserves.
The company can now ship up to 500,000 tpa brucite to its processing plant at Vyazma, Smolensk. Another processing plant is planned in Rotterdam, where RMCC's sales and distribution subsidiary, Europiren BV, is based.
Sales of brucite in 2016 by RMCC were just under 190,000 tonnes brucite. Flame retardants consumed just over 30% of total milled product in 2016 (80,000 tonnes).
Huntite and hydromagnesite is mined by Sibelco Hellas SA Mining Co. in Greece, and Likya Mining Co. (LKAB), in Turkey.
Supply trends: new sources in the pipeline
As ever, there is always high interest regarding new sources of supply coming onto the market, and particularly in light of the shortages emanating from China at present.
"Development of a magnesite company in the Middle East" by Nicolas Gangutia, Managing Director, Ganmag Magnesite Solutions, Spain, revealed the latest plans to rejuvenate the long running magnesite project of Industrial Minerals Co. – Ma'aden, exploiting the Zarghat and Jabal Rukham deposits in Saudi Arabia.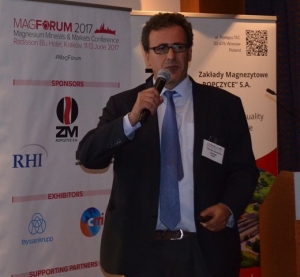 At present, 36,000 tpa of CCM is produced from the plant at Madinah, which hosts a 40,000 tpa capacity MHF with integrated milling, and until June 2017, a dormant 32,000 tpa capacity pressurised vertical shaft kiln and integrated mixing plant.
Ganmag's action plan is to increase production, develop markets and products, decrease costs, and increase reserves. This includes production of DBM starting in June 2017, leading to a planned output level of 32,000 tpa of low SiO2, 93-98% MgO, and 3.00-3.30 g/cm3 DBM.
Gangutia acknowledged delays in restarting the VSK owing to a "huge refractory problem" and confirmed that all the repairs of the original bad design in control air, fuel flows, and discharge system are now ready and in working order.
Furthermore, the new mixing plant is to be on-stream in July 2017 and producing 36,000 tpa monolithics using DBM.
Ma'aden also plans to start a small rotary kiln in June 2017 producing 90% and 83% hard burned products for animal feed and fertiliser markets using as feed out of specification material from high purity CCM and DBM production.
To Australia for two very interesting potential new producers.
Andrej Karpinski, Executive Chairman, Korab Resources Ltd, Australia presented "Development of the Winchester magnesite deposit, Northern Territory, Australia". Korab Resources subsidiary AusMag is focused on commercialising the Winchester magnesite deposit located near Darwin in the Northern Territory.
AusMag has a Heads of Agreement signed for a 1.5 million tonne offtake (300,000 tpa year over five years) and is in advanced discussions with several other parties.
Karpinski emphasised that the initial focus is on just producing raw magnesite, with a very low CAPEX required of US$3m, and the project is just 85km from Darwin port. "The mine can operate at a profit with magnesium carbonate prices as low as US$40/t." said Karpinski.
Tony Crimmins, Executive Chairman, EcoMag Ltd, Australia presented "Recovering high purity magnesium compounds from salar brines and bitterns".
With Korea Chemical Corp. and CNU, EcoMag has established a $US10m World Class 300 Project over 2017-2021 to produce 5-10 tonnes each of >99.5% pure hydrated magnesium carbonate (HMC), hard burned magnesia (HBM) and magnesium hydroxide (MDH) recovered from waste bitterns discharged from salt works and potash mining (each in Western Australia), and salar brines (in South America).
Crimmins highlighted the intense interest in developing South American salars for lithium production, but which also includes the removal of magnesium in order to improve lithium recovery, thus exposing a potentially new source of magnesia as lithium exploitation gains momentum.
Favourable magnesium concentrations were compared between South American salars and Australian potash deposits already in production.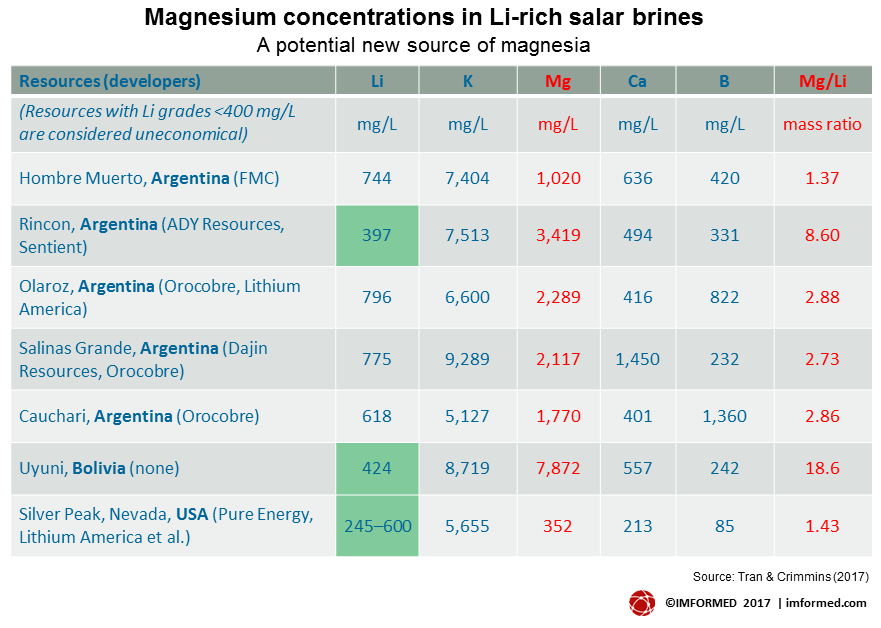 In "Synthesising low carbon footprint, high quality magnesia", Paul Boudreault, Business Development, ECO2Magnesia, Canada, explained how from carbon capture and storage technology Sigma Devtech had derived a method of producing high quality magnesium carbonate from serpentinite tailings in Quebec, from which high purity CCM and DBM has been successfully manufactured, and that Eco2Magnesia had been formed to commercialise this.
At present, a feasibility study has been completed envisaging preliminary engineering for 60,000-120,000 tonnes magnesia production.
The project is ready for DEMO Plant implementation during 2017-2018, along with technology showcase, R&D platform, and commencement of market development. A full scale plant is scheduled for 2018-2019.
Boudreault emphasised that ECO2 technology uses CO2 from industrial emissions instead of producing new CO2 from calcination of natural magnesite.
Eco2Magnesia has a claim on 35m tonnes of crushed serpentinite feedstock raw material, representing 6m tonnes of MgO. (The tailings are from the now closed Jeffrey Mine in Quebec, which produced chrysotile asbestos from 1879-2011.)
Boudreault said: "We are now seeking strategic partners to complete the value chain, MgO production, market development, and want to develop the market with Brand Owners conscious of value coming from Sustainable Development Technology."
Market trends: steel, cement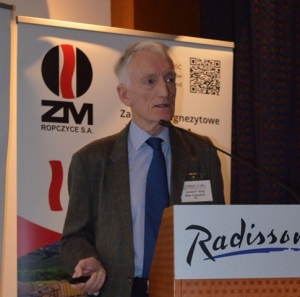 "The prospects for steel production" by James F. King, Steel Consultant, UK, covered the types of steel products and the structure of the industry, recent trends in production, costs and prices, the factors determining steel consumption, total crude steel production and production by steelmaking process to 2035, requirements for metallic materials by type of process to 2035, and the importance of refractories as a cost factor for steel producers.
King said: "Refractories are a minor cost for a steel producer. When profit margins are only a few dollars per tonne, every dollar counts, so there will be continued interest in reducing the consumption of refractories and using cheaper materials wherever technically possible."
In "Cement and concrete markets: global outlook", Koen Coppenholle, Chief Executive, CEMBUREAU, Belgium, reminded the audience of the main drivers and markets for cement, as well as future challenges.
Other factors for consideration include geopolitical instability, consolidation, cyclical recovery stalling, and a slowdown in China.
While little or no growth in cement demand is forecast in Russia, China, South America, and the Middle East, modest growth is expected in Europe and strong growth in India, Africa, and North America.
Market trends: industrial and speciality applications
Many magnesia producers are looking to diversify into the broader world of industrial and speciality markets, mainly for CCM but also certain DBM grades.
Asım Bilge, Production Chief, Raw Materials, Kumas, Turkey, provided an excellent overview of this in "Turkey's magnesite for non-refractory magnesia markets".
Bilge covered applications of magnesia in heating elements, welding, agriculture, construction, hydrometallurgy, environmental, and polymers.
He concluded that in such markets there are growth opportunities and less price fluctuations, and highlighted that Kümaş is running R&D projects for magnesium acetate, magnesium stearate and magnesium sulphate.
"Magnesia cement boards: the next generation" by Sibel Hizlan, General Manager, AK ALEV, Turkey, outlined the introduction of Modelpan, a world-class magnesite insulation board born out of an innovation between the R&D teams of AK ALEV and Kumas, subsidiaries of Yıldız Holding.
Hizlan highlighted the properties of such cement boards manufactured from CCM, notably their fire resistance and lightweight in construction.
Global consumption of magnesium fireproof boards has been estimated at 77.7m sq. metres in 2016, with China, USA, and Europe as the main markets. Market demand is expected to increase to 98m sq. metres by 2021.
Samantha Wietlisbach, Principal Analyst Chemical, IHS Markit, Switzerland, presented "Overview of the magnesium chemicals market: focusing on magnesium hydroxide and flame retardants".
After a review of the main sources and markets for magnesia chemicals, Wietlisbach homed in on magnesium hydroxide (MDH) and flame retardants, highlighting Japan as the largest producer and that environmental applications account for two-thirds of total MDH consumption.
Flame retardants account for about 10% of the MDH market, with opportunities as a replacement for halogenated flame retardants, but there is also the possible substitution by other Mg-containing flame retardants.
In "The use of magnesium products in the pulp and paper industry", Rudolph März, Managing Director, Kürzeder & März Bleichhilfsmittel, Germany described his company's ongoing development since 2014 of a "new generation" of magnesium hydroxide suspensions with focus on the European Commission Industrial Emissions Directive 2010/75/EU (Integrated Pollution Prevention and Control).
According to 2014/687/EU, magnesium hydroxide will be considered as BAT (best available technique) for hydrogen peroxide bleaching alkalis in mechanical and chemomechanical pulping systems.
März concluded that: "The highest potential for Mg-products within the paper industry resides in the fields of CCM/MDH as the alkali source in peroxide bleaching and MDH for process water treatment". März also acknowledged magnesia's major competition with caustic soda.
"CCM in hydrometallurgy: outlook for the nickel market" by Thomas Höhne-Sparborth, Director, Economics & Analytics, Roskill Information Services Ltd, UK, reviewed how CCM has found increased use in the hydrometallurgical processing of Ni-Co laterite ores.
One of the three high pressure acid leaching (HPAL) processes in use relies on CCM as a neutralisation agent and for metal precipitation, producing a mixed metal hydroxide precipitate (MHP).
Höhne-Sparborth showed how the Ravensthorpe nickel plant, Australia could have consumed 40,000 tpa CCM at capacity (shut down, now restarted); the Ramu plant, Papua New Guinea, 25,000 tpa CCM at capacity (but reduced production now); and Goro plant, New Caledonia, just 3-4,000 tpa CCM.
This wave of Ni projects during 2007-12 was supported by high prices from 2006-2008 and 2010-2011, but these have since collapsed owing to a slowdown in Chinese demand growth and overcapacity in supply.
There has been some growth in the use of pressure acid leaching but most plants have struggled reaching capacity, remain high cost, and have struggled to recover their capital expenditure.
As of 2016, production of MHP was estimated at around 66,900 tonnes Ni, which may be estimated to have required just 53,000 tonnes of CCM.
However, Höhne-Sparborth stressed it was not all doom and gloom: "The future for nickel looks positive, and there is potential for new demand for MHP and magnesia, but with caveats."
Nickel use is expected to grow at 4.1%py to 2026, driven by a recovery in stainless steel demand and batteries. To 2026, demand for higher-purity feedstocks, including MHP, will increase, but there are a number of substitutes that could replace MHP.
Several MHP projects remain in the pipeline which could consume significant quantities of magnesia, however Höhne-Sparborth warned that nickel prices may not support their development in the near term.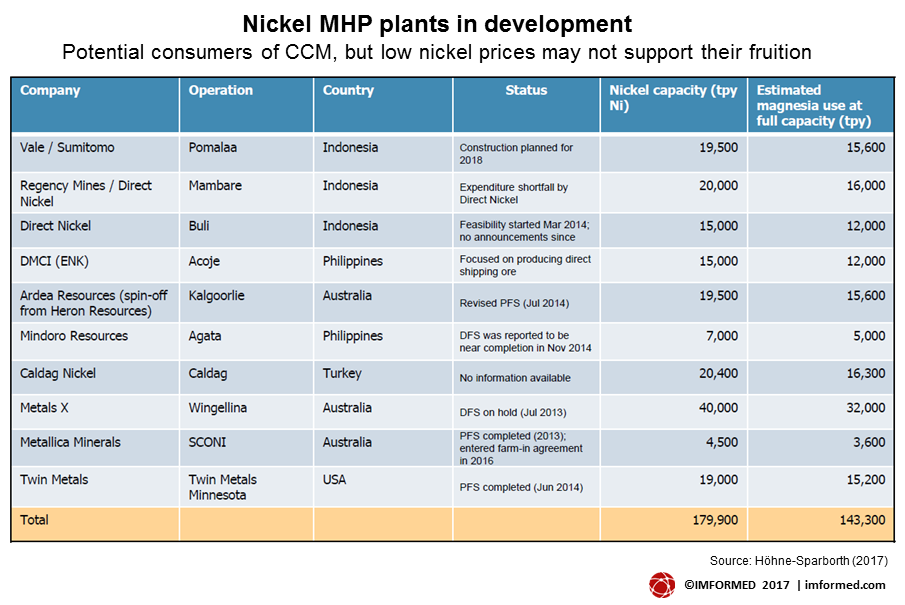 Opportunities for magnesia in environmental applications was most entertainingly presented by Akio Ishida, Senior Managing Director, Yusuke Saito, Magnesia Division, and Yoshihiro Nishimura, Fine Material Division, of Ube Material Industries Ltd, Japan in "New horizons in environmental applications & use of magnesia seeds."
After the Fukushima earthquake in 2010, the proportion of coal-fired power stations has been increasing in Japan. Domestic and Chinese magnesia for FGD in coal-fired power generation is around a 10% share of total power generation.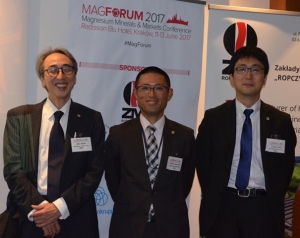 Compared to FY 2015, Ube's MDH slurry shipments are expected to increase in Japan to a peak of some 250,000 tonnes of CCM in FY 2020.
It was noted that the FGD markets of Japan (30% reliance on Chinese CCM imports), South Korea (50%), and Taiwan (100%) would be affected by any shortage in supply of CCM from China.
Driven by environmental controls there is now an increased FGD market in China. Owing to the problem of gypsum disposal in using limestone in FGD, there is a possibility that wet desulphurisation using CCM in China could increase.
However, from a medium to long term perspective, the overall FGD field is declining from the viewpoint of CO2 emissions. In looking ahead, Ube has been developing magnesia applications in
water, soil, industrial waste recycling, biomass electricity, preserving sea ecological systems, water front restoration, and sewage.
Another new area being investigated by Ube is that of high-purity and ultra-fine magnesia, or VM-MgO, ie. MgO powder manufactured by vapour-phase oxidation. Key market applications include filler in insulating resin, semiconductor materials, electronic materials, and sintering aids.
In "Dead burned magnesia qualities for the welding industry", Sonja Larissegger, Technical Marketing Manager, RHI AG, Austria explained the different welding processes and how DBM maybe used in fluxes and electrodes.
RHI offers two grades of DBM for welding, sourced from Turkey and Austria, based on cryptocrystalline and macrocrystalline magnesites, respectively.
See you next time!
As ever we are indebted to the support and participation of all of our sponsors, speakers, and delegates for making MagForum 2017 such a success.
We very much appreciate all the completed feedback forms and please continue to provide us with your thoughts and suggestions.
We shall keep you abreast with developments for the next MagForum and look forward to meeting you again soon.
Sponsor & exhibit enquiries: Ismene Clarke T: +44 (0)7905 771 494 ismene@imformed.com
Presentation & programme enquiries: Mike O'Driscoll T: +44 (0)7985 986255 mike@imformed.com
For programme, feedback, attendees, and picture gallery, please go to:

Missed attending MagForum 2017?

A set of presentations (as PDF) maybe purchased: Price £500 – please contact:

Ismene Clarke, T: +44 (0)208 224 0425; M: +44 (0)7905 771 494; E: ismene@imformed.com
---
Register now for