IMFORMED proud to present at PRE & ANFRE meetings
Refractory raw material supply availability is the chief concern among Europe's refractory producers as the situation in China, the primary source of key refractory minerals, continues to indicate future supply disruptions.
This was very much in evidence at two key meetings held recently in which IMFORMED was invited to present on the latest trends and developments – the 2018 Congress of the PRE, the European Refractories Producers Federation held in Paris 7-8 June, and the IX Congress of ANFRE, the National Association of Manufacturers of Refractory Materials and Related Services (Spain & Portugal), held in Oviedo 12-13 June.
Both conferences attracted high profile senior representatives of the European refractories industry keen to assess the latest news and options going forward to attempt to alleviate the squeeze on raw material supply and rising prices.
As guest speaker, Mike O'Driscoll, Director, IMFORMED, presented "Year of the Dog: is its bark worse that its bite?" – a review of the latest developments in Chinese refractory mineral supply.
Following the game changing events of 2017, he explained why Chinese refractory mineral supply will never be the same again. He also participated in the raw material panel discussions held at both meetings.
With the likelihood of the Chinese October-March winter industry shutdown becoming a regular event, O'Driscoll envisaged a new trend of mineral supply and trading undergoing a period of high intensity during the July-September period.
The Chinese situation has also given established mineral producers outside China a chance to recoup some market share, and some are already considering capacity expansions.
Meanwhile, mineral project developers have been given a boost to drive their projects forward to offer desperate consumers alternative sources of supply.
Year of the Dog: is its bark worse that its bite? – Chinese refractory mineral supply by Mike O'Driscoll.
Prospects in Paris
At the PRE Congress, other guest speakers for the raw materials panel included James Devlin, Managing Director, CMP Sales Europe and Leader Ltd, UK, Phil Edwards, Refractory Market Director, Imerys Aluminates, France, and José Ramon Luna, Global Marketing Manager Refractory & Ceramic Raw Materials, Elkem, Spain.
James Devlin highlighted China's war on pollution and its energy demand and use, with its ramifications influencing mineral supply in both the short and long terms.
Devlin postulated: "Termination of production in some parts of China, a radical reduction of capacity or exports of some products, and a government policy debate: should China continue in some sectors at all?".
José Ramon Luna, as well reviewing the advantages of high grade microsilicas, underlined the importance of recyclability in refractories in order to help enhance the use of recycled refractory materials.
Phil Edwards pointed out that the closure of many coal-fired tunnel kilns in China had had an impact on Chinese refractory brick production, with reduced availability, a shift to using more monolithics, and an improved position for the EU manufacturers.
Edwards also added that Imerys was focusing on improving yields at its South African andalusite operations in order to add volume production.
Action in Asturias
The ANFRE Congress programme in Oviedo provided a wider range of topics for presentation which included the steel and cement industries, silica fume, calcium aluminate cement, and refractory castables.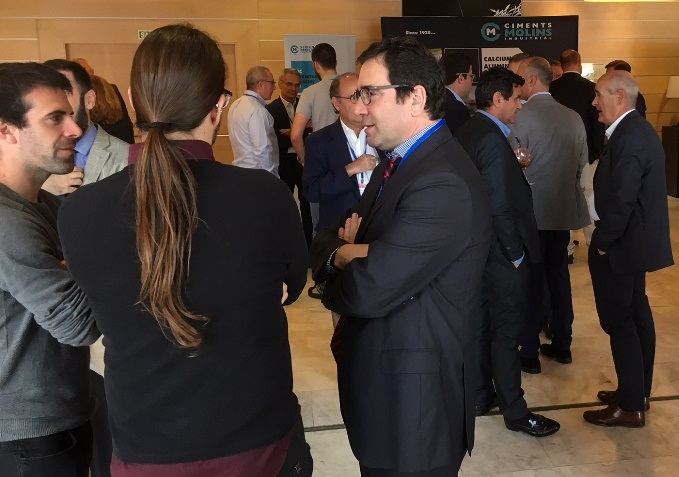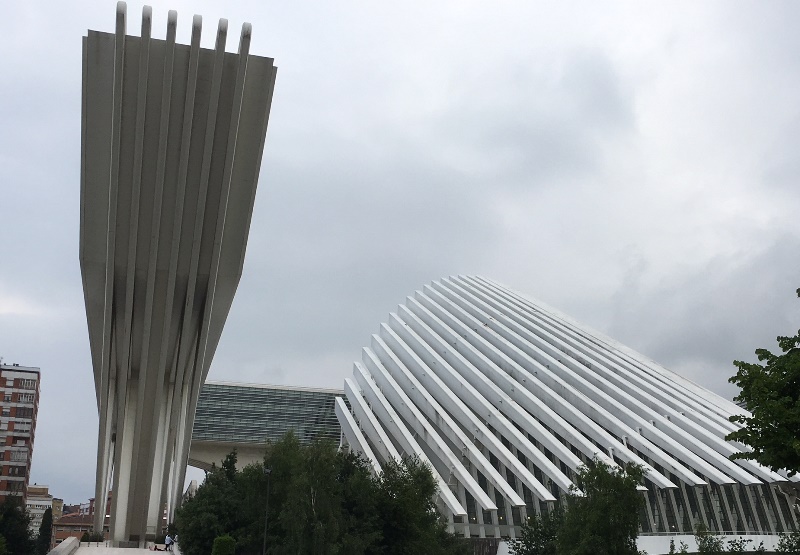 Delegates networking at the ANFRE Congress, Oviedo (left); the incredible and imposing architecture by Santiago Calatrava of the venue Hotel Ayre (right).
Of particular interest was the paper "Bauxstar 90: a new Bauxite produced in Spain" presented by Fernando Lopez, Managing Director, ARCIRESA.
ARCIRESA has just completed a first production of some 250 tonnes of high quality calcined bauxite using raw bauxite sourced from First Bauxite Corp.'s project at Bonasika, Guyana.
The material is typically 92.03% Al2O3, 0.45% Fe2O3, and 3.92% SiO2, with a bulk density of 3.20 g/cm3.
This first batch is for bulk samples for customers while First Bauxite continues to develop its Bonasika operation, expecting to bring on stream a new washing plant by mid-2019.
A higher grade bauxite is feasible – 96% Al2O3, 3.42 g/cm3 – which will be targeted as a replacement for brown fused alumina in certain applications.
ACIRESA is also looking to produce a sintered mullite product using the Guyana bauxite blended with locally sourced kaolin.
This refractory development could not have come at a better time for the refractories industry, and will no doubt spur other players into action – this is already happening in the magnesia sector and will be discussed at next week's MagForum 2018 in Hamburg.
 

Confirmed speakers

Which of your China operations or suppliers will not make it beyond 2020?
Johnny Browaeys, Director of International Operations, Greenment, China
Challenges of a mid-size refractory company facing recent events in China
James (Seung Seok) Choi, General Manager International Business, Wonjin Worldwide, South Korea
India in the face of the uncertain situation in refractory materials supply
Manan Shah, President, Orient Abrasives Ltd, India
China's refractories industry: status, key challenges, influencing factors, and demand outlook
Zhanmin Wang, VP Marketing & Sales Overseas, Sinosteel Luoyang Institute of Refractories Research Co., Ltd. (LIRR), China
Refractory raw material developments in China
Dr Zhou Ningsheng, Professor and Director, High Temperature Materials Institute, Henan University of Science and Technology, China
Status and outlook for dead burned and fused magnesia supply
Guangqi Han, Secretary General, Liaoning Provincial Industrial Special Resources Protection Office, China
Refractory mineral supply and price trends
Vincent Wong, Business Manager, Refractories Window, China
Global scene for non-metallurgical aluminas
Richard Flook, Managing Director, Mosman Resources, Australia
Trends and developments in refractory raw materials required for castables
Dr Yuan Wenjie, Professor, Wuhan University of Science & Technology, China
A review of mullite and spinel supply and demand
Li ZhengKun, President, Jiangsu Jingxin New Materials Co. Ltd, China
Chinese garnet to reshape the world as Indian supply challenged?
Raymond Ding, Managing Director, Sinogarnet-Wuxi Ding Long Minerals Co. Ltd, China

Register online

here

, or contact Ismene