Graphite users are closely monitoring the emergence of the new generation battery market as its market share grows.
The evolution of Li-ion batteries and their growing application in electric vehicles, utility storage facilities, and consumer-led electronic devices has led to this market to taking a major share of world flake graphite supply, and now vies for the second largest market for graphite.
Flake graphite is the feedstock used to produce spherical graphite, which is the battery grade graphite used to make Li-ion battery anodes.
The battery market share for graphite has grown from about 9% in 2012 to 19% in 2015, mostly at the expense of the refractory and metallurgical markets for graphite, which also consume flake graphite.
Growing battery sizes are also a contributing factor: in 2012 a 5.4Wh battery would require about 9g graphite, whereas now a 11.1Wh battery requires 19g.
Of the total natural graphite produced worldwide, about 650,000 tpa, just over half is flake graphite, the remainder being mostly of the amorphous variety.
According to Benchmark Mineral Intelligence, China's output of spherical graphite is tracking ahead of last year's output and could be heading towards 40,000 tonnes for 2015.
Total flake graphite feedstock required for this would equate to about 90-100,000 tonnes of medium flake graphite concentrate (-100 mesh, 94-95%C).
Some of the world's leading graphite players and experts will be discussing the future of graphite as a key battery raw material tomorrow, Friday 11 September, at the London stage of Benchmark Mineral Intelligence's Battery Raw Materials Supply Chain 20/20 World Tour.

The sponsored seminar, which is

FREE

, will take place at St James' Theatre, located near Buckingham Palace. It will discuss investment opportunities in the battery supply chain from mine to market including graphite, lithium and cobalt.

A networking lunch will be provided on arrival before an afternoon of presentations and discussion, followed by a drinks reception.

For details and to register, please click here.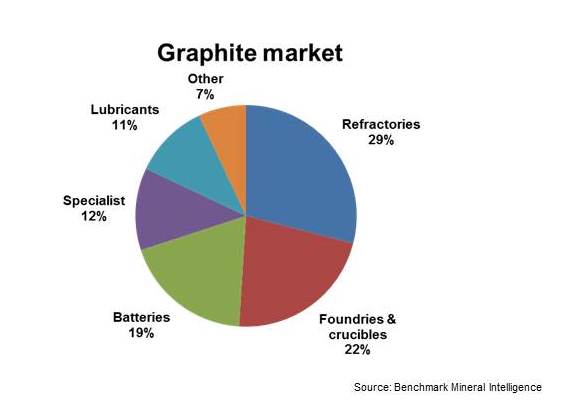 This rapid evolution of the battery graphite market has naturally raised concerns over future graphite supply availability from other major consumers, especially in the refractories market, where the same grade flake graphite is such a valuable component in a wide range of refractory products, in particular for magnesia-carbon bricks used in steel ladles.
Commercially developed graphite sources outside China, which dominates world flake graphite production (around 60%), are relatively limited, and there are few producers.
China has been experiencing issues with its graphite industry leading to threats of shortening supply. This, combined with growing demand for battery grade graphite in China and elsewhere, has generated a raft of graphite development projects outside China which are attracting interest from buyers and traders in refractory and other markets.
In July 2015, Valence Industries Ltd, a new producer currently ramping up production at Uley, South Australia, signed a major US$50m sales contract for three years with an "Asia-Pacific customer".
In August 2015, leading minerals trader ThyssenKrupp Metallurgical Products signed a 20,000 tpa refractory graphite offtake deal with Kibaran Resources Ltd, whose Epanko Graphite Project in Tanzania is expected on stream in 2017.
The next few years are expected to see more such deals come to fruition as graphite consumers work to secure future supplies of flake graphite.
Mike O'Driscoll, Director, IMFORMED, will be examining graphite and other mineral supply to the refractories market in his presentation "Minerals Matter: Refractory Raw Material Supply Trends & Developments" at 11.00 Thursday 17 September, at

UNITECR

2015, Vienna, where IMFORMED also has a stand, please drop by for chat.