Additional speakers | Sponsor news
With just over a week to IMFORMED's inaugural Oilfield Minerals & Markets Forum Dubai 2017, 15-17 January, at the Habtoor Grand Resort Dubai, we are delighted to announce some updates to the programme.
Barite session extended
Our barite session on Day 2 has been extended with the addition of the following presentations:
Barite from Pakistan
Dr. Muhammad Iqbal, Advisor to GMSA, Bolan Mining Enterprises, Pakistan
Broychim barite developments
Imane Moudnib, Marketing Manager, Broychim, Morocco
These join the other barite talks:
Indian barite supply and demand in Middle East & India
Rajmohan Reddy, Managing Director, IBC Ltd, India
Iran barite resources: geology, economy, and outlook
Dr Alireza Ganji, Industrial Minerals Specialist, Iran
Barite and minerals in Morocco
Ali Melouki, Director of Mines and Hydrocarbons, Ministry of Energy and Mines, Morocco
The extended barite session means that Abdul Seedat, Commercial Director, International Drilling Fluids and Engineering Services (IDEC) Ltd, UAE, will present his keynote "Oilfield drilling fluids outlook in the Middle East" on the morning of Day 1.
Guizhou Saboman to sponsor Welcome Reception
We have great pleasure in announcing Guizhou Saboman Imp. & Exp. Co. Ltd as the Welcome Reception sponsor of Oilfield Minerals & Markets Forum Dubai 2017.
Guizhou Saboman is engaged in mining, production, and marketing of barite products including API grade, chemical grade, paint grade, raw barite ore and all kinds of barite powder.
Sourced from its seven barite mines and resources in Guizhou, the company controls the quality of raw barite ore and offers high quality and excellent service.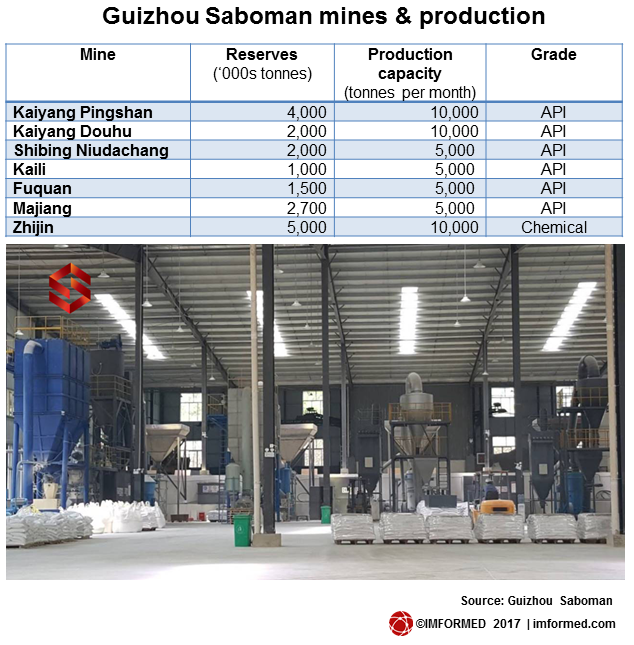 Trimex exports record barite shipment to Middle East
Leading Indian mineral processor and exporter, Trimex Industries Ltd, recently set a new barite loading record at Chennai Port.
On 16 December 2016, Trimex loaded 32,483 tonnes of barite by mobile harbour crane on to the vessel MV Maa Saleha Begum at JD-2, surpassing the previous highest loading of 30,200 tonnes of barite in a single day on 23 September 2008.
The cargo was destined for Abu Dhabi, UAE. Despite the recent oil industry depression, barite consumption in drilling fluids in the Middle East has been relatively healthy.
Trimex is part of Rescom Holdings, a sponsor of Oilfield Minerals & Markets Forum Dubai 2017, and one of the largest mineral and metal conglomerates in the GCC and Asia Pacific regions.
The group prospects, mines, sources, processes and delivers minerals and metals to the world's leading oil drilling, ceramic, glass, construction, energy and fertiliser industries.
Ecutec acquired by Netzsch
In November 2016, the Netzsch Business Unit Grinding & Dispersing, headquartered in Selb, Germany, acquired ECUTEC Barcelona SL.
ECUTEC, a leading supplier of production equipment and process solutions for the dry processing of minerals, is exhibiting at Oilfield Minerals & Markets Forum Dubai 2017.
The company's primary focus is ultrafine grinding and classification as well as special surface coatings of such products. Founded in Germany in 1996, ECUTEC is headquartered in Barcelona.
The Netzsch Business Unit Grinding & Dispersing is also active in the market for mineral applications with its Business Field Minerals & Mining. With the acquisition of ECUTEC, the company plans to intensify and expand its activities in this sector.
Joe Roettle, Global Sales Director, ECUTEC explained to IMFORMED about the benefits of the deal: "ECUTEC had a good past with M-I SWACO/Schlumberger who helped us to grow and initiated the successful entry into the oilfield market with oilfield minerals as well as ceramic proppant processing technologies.
"But the growth rate of ECUTEC and the declining oilfield market wasn't a good match and we were looking for an environment which can appreciate what ECUTEC has to offer and which allows ECUTEC to grow further. This we found with Netzsch as a company with an extremely good reputation in the market and a very wide technological and sales network all over the world.
ECUTEC can benefit from the Netzsch structure and technologies where for some of them we can apply for the mineral market. For example, Netzsch has wet processing technologies which ECUTEC can take to the industrial mineral market."