CRM reality check, sustainability & recycling | EIG 2022 Review
IMFORMED was honoured to speak on recycling industrial minerals at last week's 22nd Extractive Industry Geology Conference, hosted by the Camborne School of Mines at the University of Exeter.
Some 170 delegates from across the UK's minerals industry attended this well-established event enjoying the sunshine, a range of topical presentations, and primarily relishing the first opportunity for many to reconnect in person after two years or so.
Title Image Breakin' Rocks in the Hot Sun: in this case, the ball clay operations of Sibelco UK at its Preston Manor mine, near Newton Abbott, Devon, south-west UK, host to one of the EIG 2022 Field Trips – more pictures below.
Critical raw materials (CRM) and the UK's role in their future supply featured strongly in this year's programme, not least owing to the proximity to Cornwall's emerging lithium developments.
The Ansel Dunham Memorial Lecture was presented by Dr Karen Hanghøj, Director, British Geological Survey (BGS): "Critical Mineral Resources for the Energy Transition".
In a lively, good humoured, and impassioned talk, Hanghøj emphasised the importance of CRM and their imperative role in transition to a green economy, underlining the need for their sustainable and responsible sourcing in the future.
Central to her talk was highlighting the main barriers to increasing CRM development and production, which include a concerning disconnect in understanding between criticality and large scale investments.
This regrettably fosters political and public resistance to CRM development which is seen as a negative environmental impact. Poor understanding of timescales of extractive projects and complexity of environmental impact contribute to this issue.
Hanghøj urged that a significant shift in both public opinion and investor appetite is required, and the minerals industry must up its game to engender public awareness and an increasing transparency regarding sourcing of CRM, to enable relevant policy actions and successful development to come to fruition in good time.
With this in mind, Hanghøj announced the recent launch of the UK's first Critical Minerals Intelligence Centre (CMIC), aimed to help build a more resilient economy by collecting and analysing information on the supply of CRM.
Officially launched by UK Industry Minister Lee Rowley on 4 July, the CMIC will be hosted by the BGS at Keyworth, and provide policymakers with up-to-date data and analysis on supply, demand, and market dynamics. This data will then be used to develop evidence-based policies aimed at developing more robust critical mineral supply chains to the UK.
Work is already underway, and as its first major milestone, the CMIC has just published: Study on future UK demand and supply of lithium, nickel, cobalt, manganese and graphite for electric vehicle batteries.
Recycling the way forward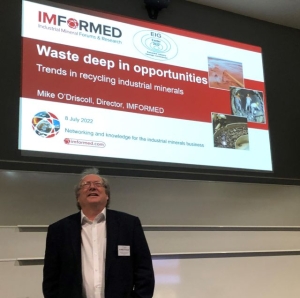 Sustainability and recycling were also key topics cropping up all over the programme, although the only paper specific to recycling was presented by Mike O'Driscoll, Director, IMFORMED "Waste Deep in Opportunities: Trends in Recycling Industrial Minerals".
In a new era of mineral exploration, sourcing, and development for industrial minerals, recycling will be of paramount importance.
As recent and ongoing issues and events prompt mineral consumers and traders to undergo a widespread mineral sourcing strategy rethink, an acceleration in mineral recycling is already emerging.
O'Driscoll highlighted the main drivers, latest trends and developments with examples, and concluded with a review of the challenges and opportunities in this evolving sector of the industrial supply chain.
AND SAVE THE DATE!!!