Key trends shaping the global industrial minerals industry
CO2 reduction | Transforming beyond trading | Covid-19 impact and economic outlook | Critical minerals | EV supply chain | Making profit from strategy | Processing developments
Yes, it was disappointing that yet again we could not meet up in Amsterdam for the IMFORMED Rendezvous 2021 (cross fingers and mark diaries for 24-26 April 2022!), but nevertheless it was gratifying to have leading players in the industry "gather" virtually for our online edition of Rendezvous 2021 last month.
On 14 April, a high profile panel of expert speakers presented and discussed leading trends and developments impacting the future of the industrial minerals market, covering: CO2 reduction, transforming beyond trading, Covid-19 impact and economic outlook, critical minerals, EV supply chain, making profit from strategy, and mineral processing developments.
"I like this kind of overview event which gives you a flavour of what's happening in the IM sector."
Håkan Pihl, Sustainability Director, Nordkalk OY, Finland

"This kind of setup is working surprisingly well. The cross-section of speakers is great: mine through process to market gives insights into the whole value chain. The breakout at the end of the day was fun and almost like meeting in the bar."
Andrew Tyler, Global Business Lead Perlite, Omya International AG, UK

"Excellent programme. Online platform works very well. I always find IMFORMED Forums very well organised and informative, whether in person or online."
Jenny Warburton, General Manager, China and Global Materials, HarbisonWalker International, USA

"Congratulations for organising a great event. I did enjoy the presentations and roundtable discussions"
Miguel Galindo, Managing Director, Strateg-On, Spain
Outlook influenced by "Rule of Six"
Not the infamous "Rule of Six" covid restriction imposed on UK citizens, but the six chief factors considered by Mike O'Driscoll, Director, IMFORMED as key to shaping the near to medium term future of the industrial minerals world.
Following a reappraisal of industrial mineral supply chain fundamentals, O'Driscoll outlined his "Rule of Six Influencing Factors":
Industrial mineral "Criticality" + "Essentiality"
China in change
Emergence of hi-tech growth markets
Accelerated recycling
Environment
Corporate & Government re-adjustment
Click here for free PDF download of Mike O'Driscoll's presentation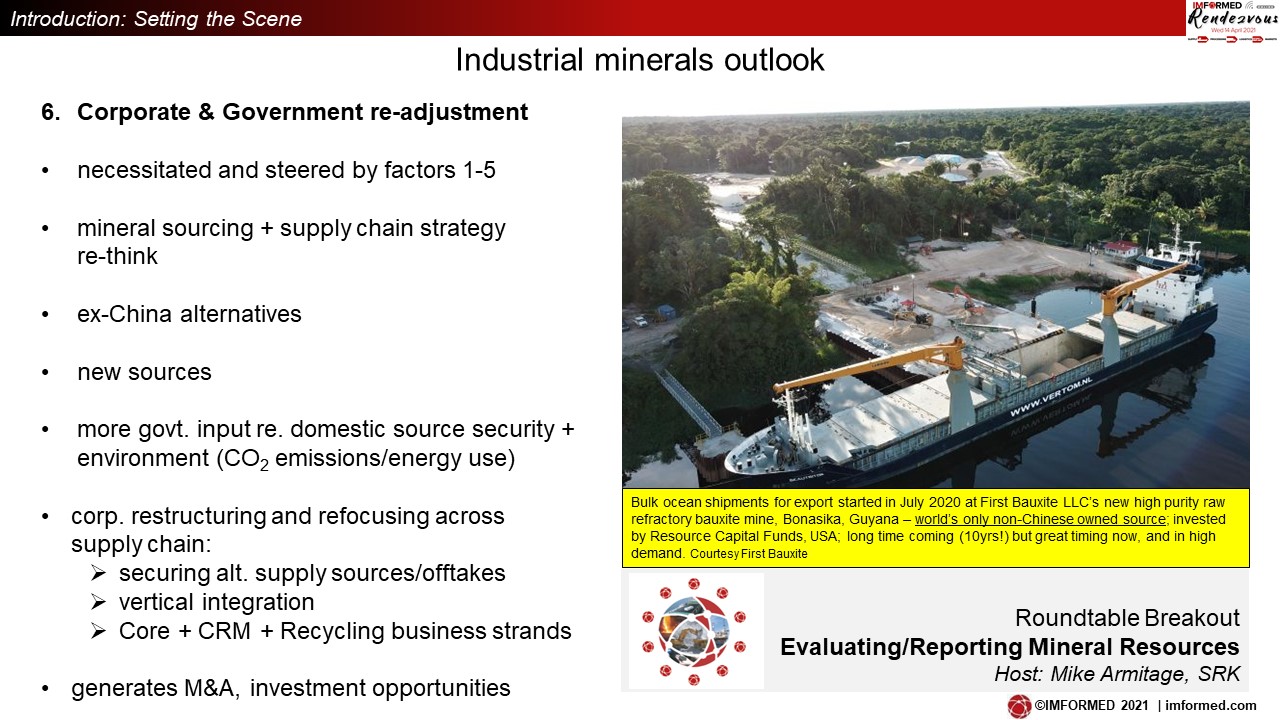 Port logistics trends
"Future trends & developments in port logistics for industrial minerals" by Pim Steenhuis, Commercial Manager Dry Bulk, Port of Amsterdam, the Netherlands, showed how the fourth port of Europe connected mineral trade with markets across the continent.
Amsterdam port transhipped some 100m tonnes in 2019, with dry bulk accounting for almost 25%.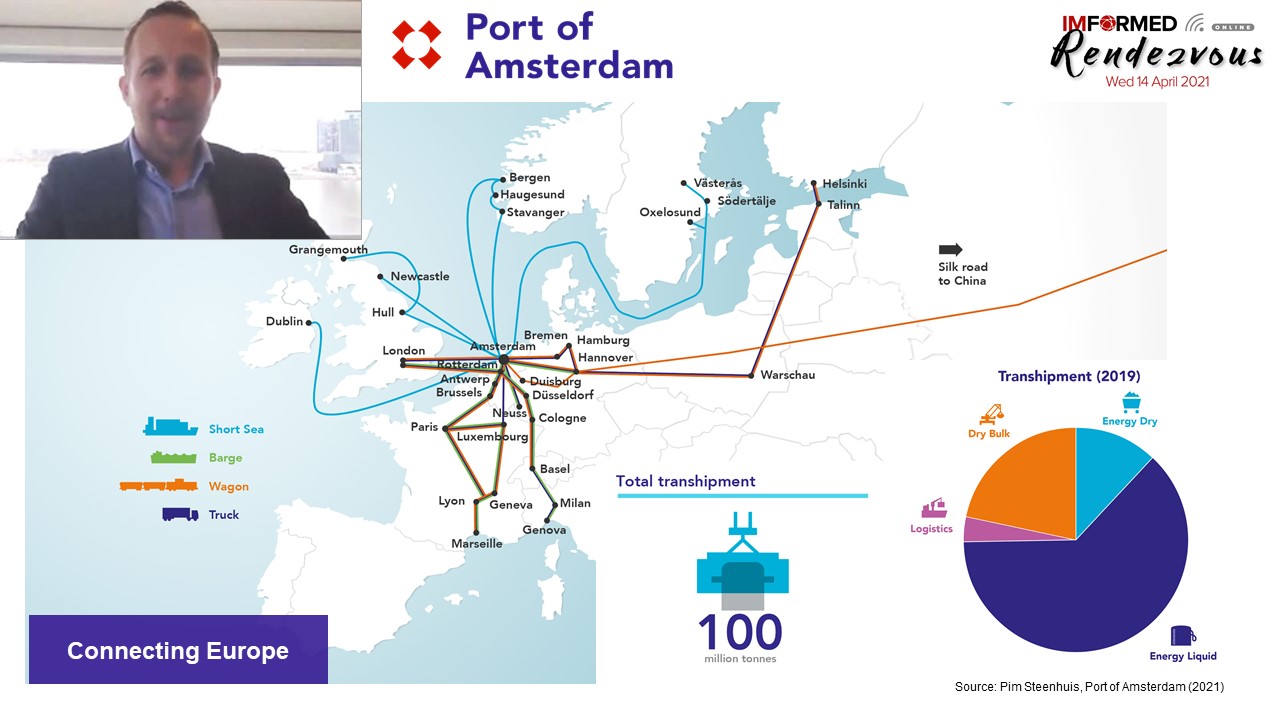 Leading industrial mineral trade includes talc, dolomite, calcium carbonate, fluorspar, zircon, phosphate, and rutile.
Steenhuis highlighted the strategies, threats and opportunities arising from the three main impacting factors of climate change, energy transition, and the pandemic.
CO2 reduction challenges & opportunities
"CO2 reduction challenges & opportunities: the perspective from the minerals sector" by Aurela Shtiza, Director Industrial Affairs & Raw Materials, IMA-Europe, Belgium, provided an excellent summary of where we are and what is needed.
Shtiza reviewed the context of the mineral sector, the framework of the Paris Agreement, and considered going from "Mission Impossible" to "Emission Possible" – the political context versus reality.
CO2 emission sources from the minerals industry were identified before outlining some solutions and ongoing projects meeting this challenge.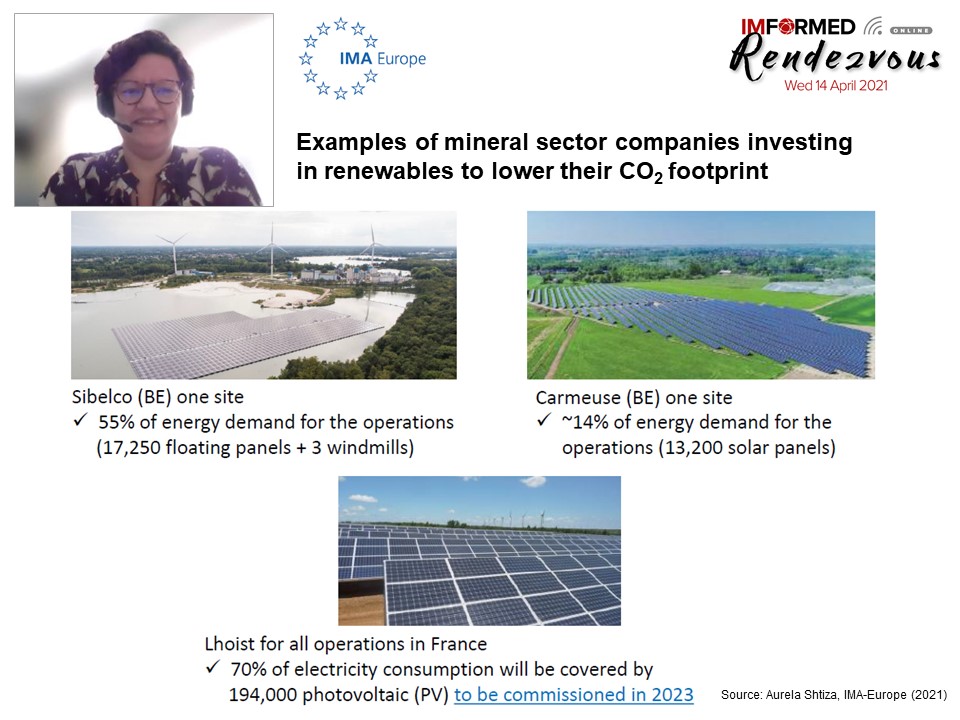 Shtiza concluded that while COVID has put our life on hold, CO2 policies/actions have been accelerated and the EU is leading by example, but other global regions have joined forces to address the CO2 challenge.
There is no golden bullet for CO2, rather, a matrix of innovative solutions is necessary to address the CO2 challenges towards sustainable and replicable results.
Mineral producers, mineral users, and policy makers are all contributing to the innovation challenges and addressing them via their own initiatives or via EU projects (such as LEILAC). Cross-sectoral innovation should play a role in the green transition.

Going beyond mineral trading
"Remaining valuable through dual transformation: managing to go beyond mineral trading" by Jan Weber, CEO, Possehl Erzkontor GmbH & Co. KG, Germany, served to neatly illustrate just how certain companies can, indeed must, adapt to the changing market environment.
Weber highlighted how mineral trading companies have been affected by direct sourcing, digitization, and sustainability.
Having been successful in mineral trading for more than 100 years, Weber explained why Possehl Erzkontor has to transform its role to remain successful in the future, and outlined the company's plan: Road#2024PLUS, described as "an ambidextrous (dual) strategy".
The strategy comprises a focus on two strands: Transformation A "Near to business" – Exploitation; and Transformation B "Far from business " – Exploration.
Transformation A is a repositioning of Possehl Erzkontor including verticalisation (reserves ownership is mentioned among others), diversification, and digitisation for raw material solutions, while Transformation B represents an altogether new venture in aiming at a "digital competence centre" for the industry (see chart below for details).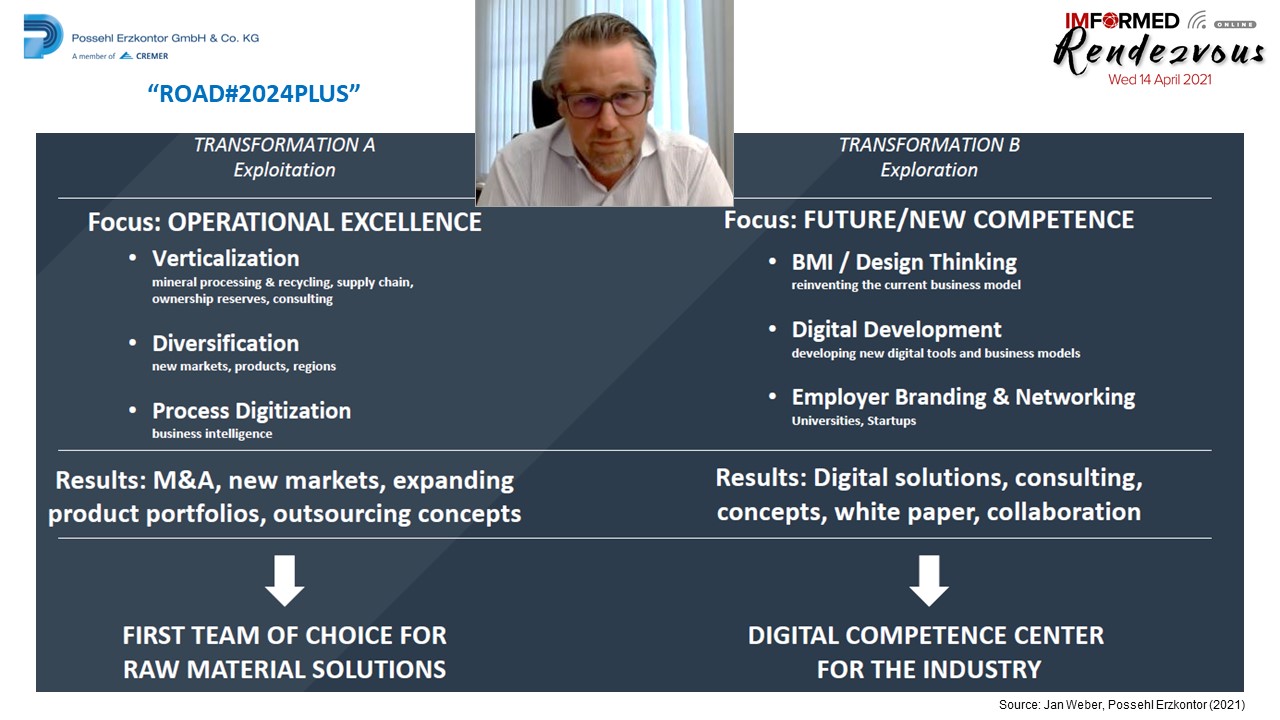 IMFORMED reported earlier on Possehl Erzkontor's progress on its transformation (see Mineral trader transformation: Possehl Erzkontor on mission to fully integrate by 2024), and on 29 April 2021 the company announced the opening of a new European Headquarters in Düsseldorf.
Weber told Rendezvous attendees to look out for another announcement soon regarding its new pursuit of solutions in digital competence.

Riding the next economic cycle
"How will strategic minerals ride the next economic cycle?" by Neal Brewster, Chief Economist, Roskill, UK, charted the impact of the pandemic on the global economy – the main driver for industrial mineral markets – with a forecast on what to expect next.
Brewster started with a macroeconomic forecasting 101 demonstrating the economic impact of injections, infections, vaccinations, and variants before showing how after an unprecedented dip in H1 2020 global industrial output has already recovered to pre-Covid-19 levels.
"Assuming the pandemic dissipates as vaccines are rolled out we expect a record recovery in global GDP this year." said Brewster.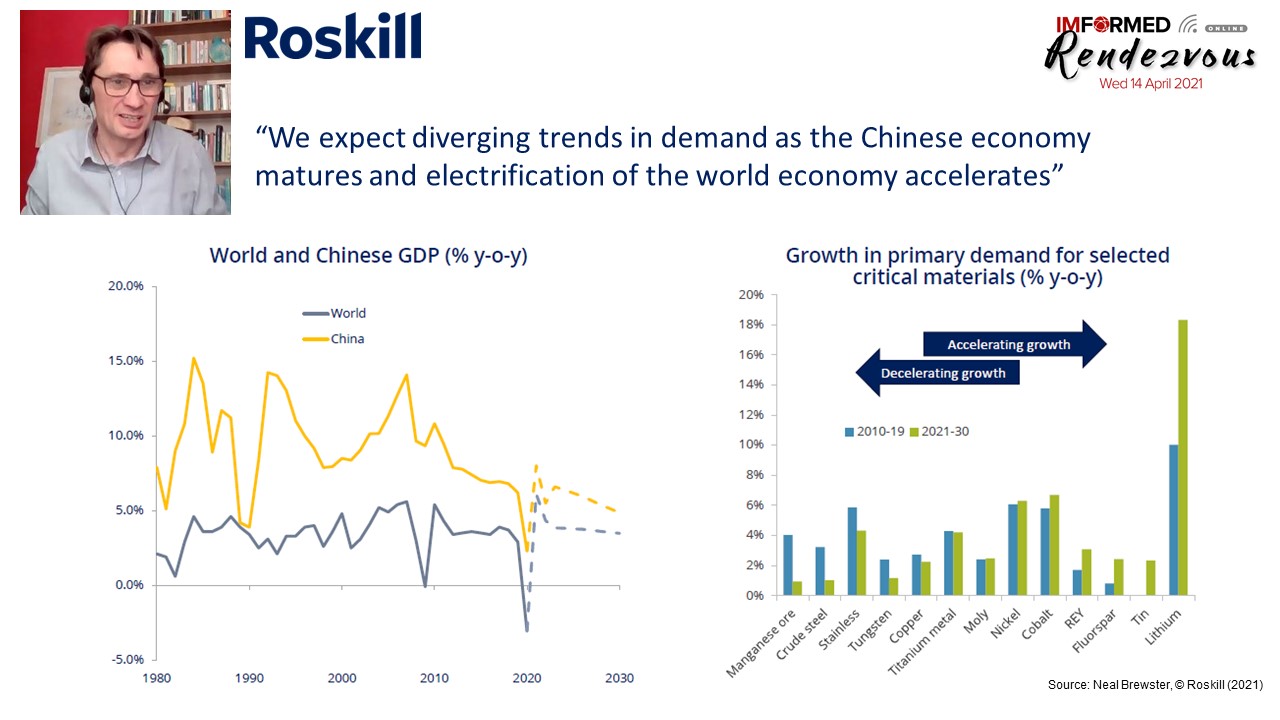 Specific sectors were examined, including battery raw materials which have led the recovery in critical materials prices.
Brewster concluded: "Events like pandemics typically result in short term economic blips but COVID-19 is accelerating changes in the world economy. Short term bottlenecks are likely and we are seeing competition for resources but we do not foresee this as leading to structural raw material shortages and most critical raw material prices have risen to levels sufficient to incentivise new supply."
US critical mineral policy
"The security of critical mineral supply chains: the US policy perspective" by Dr Steven Fortier, Director, National Minerals Information Center USGS, USA, offered a clear and concise review and update of where the USA is with its approach to critical minerals.
Led by the USGS, Fortier explained how methodology has progressed through multiple cycles of development since 2010, aimed at evaluating the mineral commodity supply risk of the US manufacturing sector.
The 2019 Federal Call to Action 4 is to develop and update the list of critical minerals, and assess below-ground and above-ground domestic critical mineral resources. A Critical Minerals Update (from 2018) is expected in 2022.
One of the USGS initiatives is the Earth Mapping Resources Initiative (Earth MRI), a partnership with 37 state geological surveys to modernise the USA's foundational data. In 2020, a first national map was compiled showing areas with potential to host 11 critical minerals (aluminium, cobalt, graphite, lithium, niobium, platinum group elements, rare earth elements, tantalum, tin, titanium, tungsten – see below).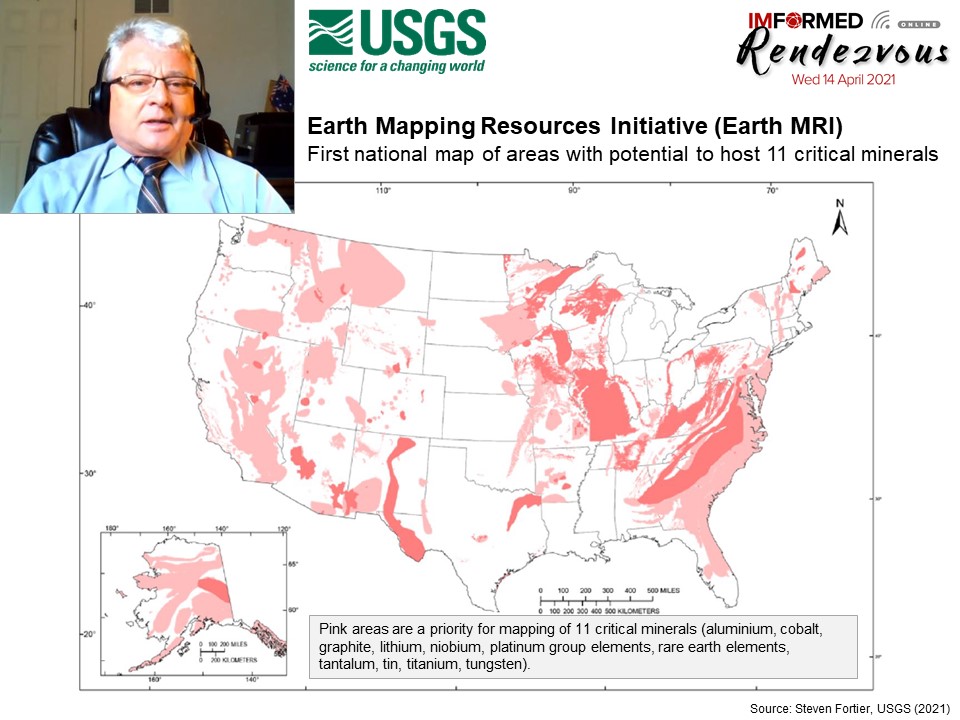 The most recent US call to action was President Biden's Executive Order EO 14017: America's Supply Chains, signed 24 February 2021.
Fortier described how this EO builds on prior actions, focuses attention on specific sector supply chain priorities (semiconductors, energy storage, critical minerals and strategic materials, pharmaceuticals), and provides important continuity on critical mineral supply chain issues.
"There isn't just one price for lithium"
"Lithium ion batteries & electric vehicles: Creating the lithium reference price for the energy storage revolution" by Simon Moores, Managing Director, Benchmark Mineral Intelligence, UK, brought attendees up to date with the outlook for the Li-ion battery (LIB) and EV market and its demand for minerals.
In a well-illustrated presentation, Moores demonstrated just how far the LIB market has evolved over the last 15 years or so, starting with the story of the LIB "through the lens of lithium carbonate prices", with demand for lithium rising from 32%, or 174,000 tonnes LCE (lithium carbonate equivalent), in 2015, to a forecast 67%, or 380,000 tonnes LCE, in 2021.
The rise of the EV battery megafactories was also underlined, with >US$65bn capital committed globally in 2020, with a total estimated world LIB cell capacity of 2,491.5 GWh serving an estimated 43m EVs by 2025 (note China with almost 73% LIB cell manufacturing capacity).
Moores then went on to explain the role and necessary requirement of expertise in collating and reporting trusted lithium prices in the EV revolution, emphasising that there "there isn't just one price for lithium."
Benchmark Minerals publishes six lithium carbonate (Li2CO3), four lithium hydroxide (LiOH) and one spodumene concentrate prices. Benchmark derives global average prices for both lithium carbonate and lithium hydroxide as well as a lithium chemical index, weighted by volumes traded on the market.
Making money with industrial minerals
"Transforming strategy into cash in the industrial mineral sector" by Miguel Galindo, Managing Director, Strateg-On, Spain, got straight to the heart of the industrial minerals business: how does a company convert its strategy into profit?
Galindo concisely and comprehensively examined the three-step process to success:
Identify your Sustainable Profit Pools
Build and Manage Pricing Strategically
Execution
In explaining transactions in the industrial minerals space, Galindo considered that there are a number of indexes or reference prices in the market (actually, very few), and yet, most transactions are negotiated individually between customers and suppliers.
He emphasised the importance of pricing capabilities for suppliers to maximize profit. "Price is the strongest lever on EBITDA and cash generation." said Galindo.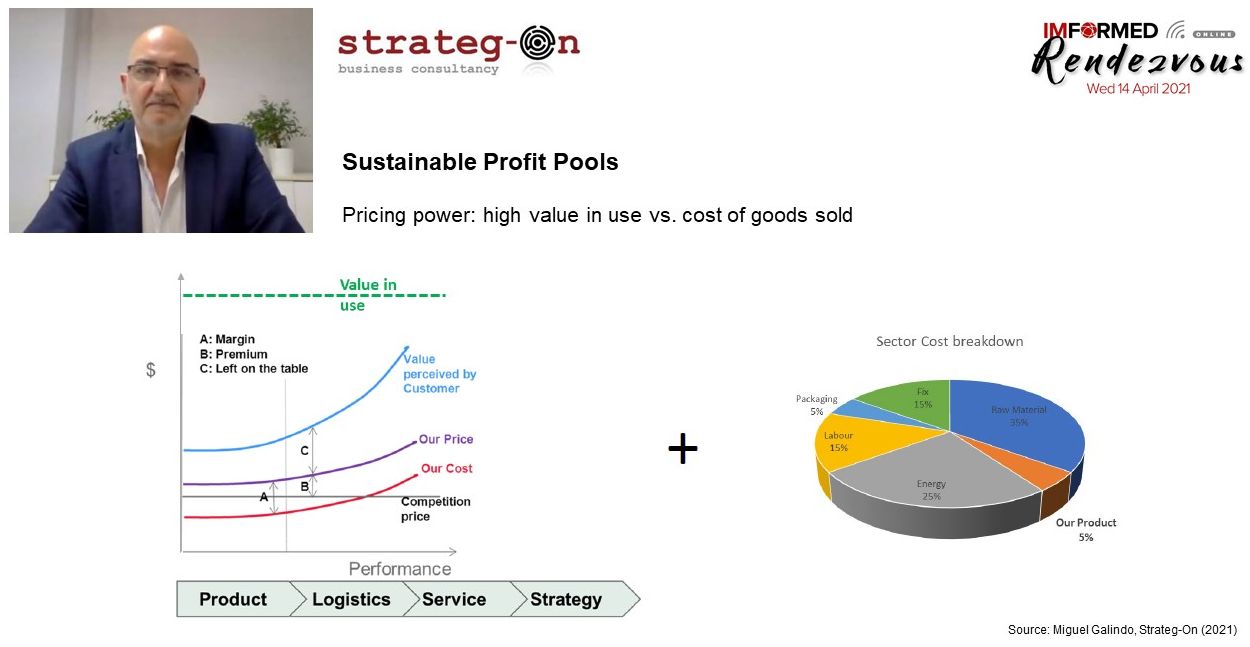 Galindo illustrated value creation from strategy using an example of Spanish burnt lime marketed to the ceramic frit industry, and left attendees with five key questions to meet in order to create value:
Are you selling in your Sustainable Profit Pool?
What is your pricing strategy?
How does your pricing strategy fit to your Corporate Strategy?
What are your pricing capabilities?
How do you assess "value"?
Mineral grinding innovation
"Improved performance of grinding systems by integration of NEA's latest DC/DCX Inflow Classifier Series" by Andreas Henssen, Product Manager Classifiers, Neuman & Esser Process Technology, Germany, introduced the latest developments in this field by leading processing technology supplier Neuman & Esser.
Henssen clearly explained the basics of mineral grinding and classification before focusing on the latest NEA Inflow Classifier Series, featuring the Deflector Classifier DC and DCX.
The equipment has capability for Superfine Inline Classification: a particle size top cut 8 μm-50 μm; capacity 500 kg/h – 50,000 kg/h; classifier power 15 kW – 300 kW; air flow 3,000 m³/h –60,000 m³/h; and diameter max. 3.000 mm.
Henssen demonstrated the classifier's performance with examples using ground calcium carbonate, black pigment, and in-line with an existing ball mill plant. In the latter, he demonstrated benefits including significantly reduced < 1 μm fraction, increase of throughput by 50%, and specific energy consumption decreased by 30%.
Energy conservation in processing
"Energy conservation in ultrafine industrial mineral processing: a comparison of process solutions" by Dietmar Alber, Business Development Director, Hosokawa Alpine AG, Germany, gave an insight into the importance of energy conservation in processing by comparing systems, and with demonstration of solutions using new Hosokawa Alpine technology.
Alber discussed various milling systems for GCC and their specific energy consumption, and then proceeded to compare the ALPINE Super Orion Ball Mill SO-SF with the ALPINE Agitated Ball Mill ATR, both working in closed circuit with High Efficient Ultrafine Classifiers and able to process ultrafine and superfine GCC fillers below D97 = 10 µm.
Alber then introduced the new ALPINE Calciplex Classifier ACP (a low energy-high capacity classifier, developed for having lowest differential pressure, but keep known performance, being the workhouse for GCC standard volume products, incorporation into a ball mill classifier loop system); and the new ALPINE Table Roller Mill AWM-F (very low energy consumption, a perfect top cut at 20 to 45 µm (ppm range); cost saving with no use of grinding aid; and small foot print and cost saving on steel structure and foundation).
Attention was also drawn to the growing market for breathable film (BF) applications, especially in Asia, expected to increase to 8.9m tpa in 2024.
The BF market demands specific grades of ultrafine GCC with a particle size D50 1.3 to 2.6 µm, a very strict top cut control, a steep PSD (ie. low fines level), and perfect coating (surface treatment), with lowest free stearic acid content.
A special "Thank You", and see you again in 2022!
Under these challenging conditions for home and business at this time, we are indebted to the support and participation of all of our partners, speakers, and delegates for making IMFORMED Rendezvous 2021 ONLINE a success, and ensuring a fruitful and convivial time was had by all.
We are grateful for all the completed feedback surveys and please continue to provide us with your thoughts and suggestions (please either email us direct or complete our brief survey click here).
We very much look forward to meeting you again at another of our Forums, and of course, hopefully in person as soon as possible.
Please note 2022 dates
IMFORMED Rendezvous 2022
24-26 April 2022
Gran Hotel Huis ter Dui (Noordwijk), Amsterdam
Registration, Sponsor & Exhibit enquiries: Ismene Clarke T: +44 (0)7905 771 494 ismene@imformed.com
Presentation & programme enquiries: Mike O'Driscoll T: +44 (0)7985 986255 mike@imformed.com
Missed attending the Forum? A full PDF set of presentations maybe purchased.

Please contact Ismene Clarke T: +44 (0)7905 771 494 ismene@imformed.com
---
Coming up…