IMFORMED interviewed for Interceram's Refractories Manual 2020
IMFORMED was delighted to have been interviewed for this year's Refractories Manual 2020, the annual Special Edition of Interceram.
Interceram – International Ceramic Review is a comprehensive source on science and technology in the areas of the ceramics and related technologies, and publishes each Autumn a special issue focused on refractory materials.
Interviewed on behalf of Interceram by experienced ceramics freelance writer Charlie Wallin, IMFORMED's Mike O'Driscoll was asked to comment on several key trends impacting the refractory raw materials sector.
"In this Refractories Special Edition of Interceram, we turned to industrial minerals and markets specialist Mike O'Driscoll of IMFORMED – Industrial Mineral Forums & Research, to sound him out on refractory materials matters – particularly as they apply to the European industry. We were interested to interview him to see what he had to say about critical minerals, the supply chain, potential changes in the future, and the role of recycling."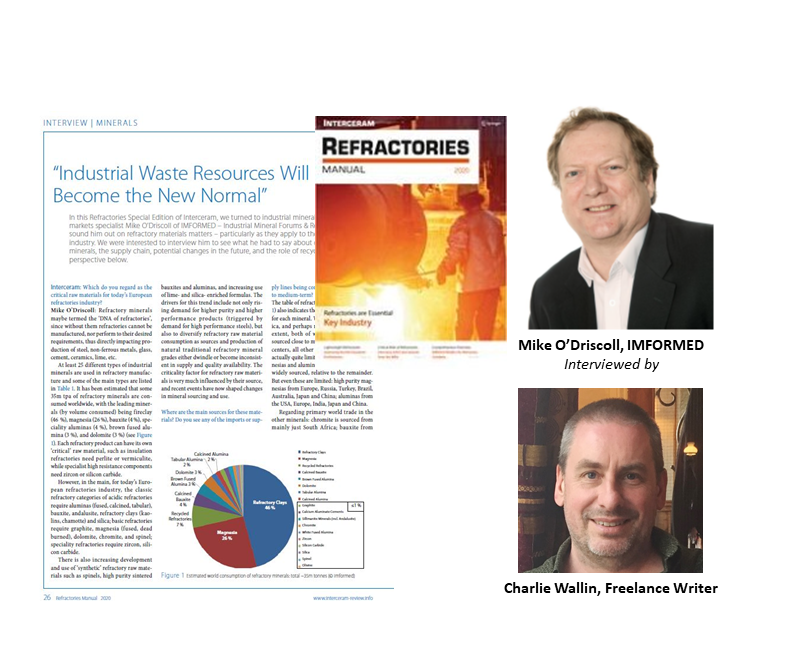 Q&A extracts in brief
Which do you regard as the critical raw materials for today's European refractories industry?
Each refractory product can have its own 'critical' raw material, such as insulation refractories need perlite or vermiculite, while specialist high resistance components need zircon or silicon carbide.
However, in the main, for today's European refractories industry, the classic refractory categories of acidic refractories require aluminas (fused, calcined, tabular), bauxite, andalusite, refractory clays (kaolins, chamotte) and silica; basic refractories require graphite, magnesia (fused, dead burned), dolomite, chromite, and spinel; speciality refractories require zircon, silicon carbide.
There is also increasing development and use of 'synthetic' refractory raw materials
The criticality factor for refractory raw materials is very much influenced by their source, and recent events have now shaped changes in mineral sourcing and use.
Where are the main sources for these materials?
With the exception of silica, and perhaps refractory clays to some extent, both of which can generally be sourced close to most refractory producing centres, all other refractory minerals are actually quite limited in their sources.
Magnesias and aluminas are probably the most widely sourced, relative to the remainder. But even these are limited: high purity magnesias from Europe, Russia, Turkey, Brazil, Australia, Japan and China; aluminas from the USA, Europe, India, Japan and China.
What stands out of course is just how prevalent China is in supplying refractory minerals to world markets. In fact, based on global exports, China dominates world refractory mineral supply in bauxite (almost 100%), magnesias (57%), natural graphite (60%), fused alumina (58%), silicon carbide (53%), and for fireclay is second (11%) after Ukraine (80%).
Do you see any of the imports or supply lines being compromised in the short to medium-term?
As any mineral consumer knows, having all your mineral supply in one source basket – for example China – might be rather risky (and it is!).
The last few years have witnessed a sea change in consumers' attitudes on this reliance on China. There were warning signs from 2000, during the SARS outbreak of 2003, the Beijing Olympics of 2008, and most recently and dramatically, the continuing anti-pollution drive from 2017; and now in 2020, the Covid-19 pandemic.
All these events, almost immediately at their time of occurrence, negatively impacted refractory mineral supply from China, and at a stroke forcefully reminded consumers how dependent they were on Chinese sources and thus sensitive to any supply disruption.
The upshot is essentially less availability of minerals from China, a big reduction in the number of mineral suppliers, and uncertain pricing.
Of course, the Covid-19 impact has massively slowed down Western manufacturing sectors, so mineral demand has declined thus easing the supply situation and mineral prices are plummeting – but, recovery will come.
There is much talk of an 'economic decoupling of China' from traditional supply chains by some developed countries and the next few years may see a major change in mineral sourcing options – consumers are seeking sources outside China.
With this latest stimulus, the start of the 2020s may well herald another surge in global mineral project development in order to lessen markets' reliance on China's mineral resources.
What is the status and outlook for recycling refractories?
Recycling refractories has received a boost from the above raw material supply situation. While not new, the sector has recently increased in size, and in attention to research and development.
Recycling refractories is still not that widespread, led mostly in Europe, but is fast gaining traction in China, India, and South Korea.
Advances in processing and above all, sorting technology, has already enabled a few companies in Europe to specialise in independent recycling of refractories – more will surely follow. The objective, which is slowly being realised, is to have recycled refractory minerals on the menu for refractory buyers side-by-side with primary raw materials, and at competitive prices.
Key to the evolving new mineral supply chain incorporating more recycling will be a drive to modify refractory product formulations to permit easier end of life recyclability. There will be increasing economic alliances between the waste sources (such as steel, cement and glass makers), the recyclers, and the refractory manufacturers, plus more investment in suitable processing and accurate sorting technology.
Industrial waste resources such as refractories will emerge as the new alternative 'mineral resource' and eventually become the 'new normal' supply chain option for mineral consumers.
Download the full 4-page article PDF with charts here
---
A NEW EDITION IS BEING PREPARED FOR PUBLICATION 2020 – NEW MINERALS ADDED

Alumina | Fused Alumina | Andalusite | Kyanite | Sillimanite | Bauxite | Chromite | Graphite | Dead Burned Magnesia | Fused Magnesia | Dolomite | Pyrophyllite | Silicon Carbide | Zircon

Is

your

company on the map?

Ensure your refractory mineral supply profile is visible with an advertisement. Spaces limited (see below).

Enquiries to Ismene Clarke ismene@imformed.com | T: +44 (0)7905 771 494