Bautek expands & enters refractory, abrasive, chemical markets
It is often said that timing is everything. And right now, the timing of bringing to market any new or alternative source of aluminosilicate minerals outside of China is most apposite.
Indeed, there are relatively few commercially developed world sources of high quality non-metallurgical bauxite, andalusite, kyanite, and refractory clay.
Title Picture: Brazilian bauxite beckons: Sunrise at TGM's crushing and sizing site at Barro Alto, Goiás, source of Bautek's products. Courtesy Bautek.
In Brazil, an emerging new bauxite player, Bautek Minerais Industriais Ltda, has made significant investments to launch itself as a new force for global non-metallurgical bauxite and refractory clay markets, and has partnered with M!NERALS from the Cofermin Group for downstream support on the marketing and distribution side (featured in our recent article M!NERALS now one of Europe's largest industrial mineral suppliers – Cofermin's evolution 2: Expanding beyond a Chinese minerals focus).
China's bauxite dominance: tide is turning
Supply of calcined non-metallurgical grade bauxite has been dominated by China for many years, in particular intensifying from the early 1990s at the expense of the few existing western sources.
Back in the day, low prices and the ready availability of large non-met. bauxite volumes facilitated by a growing network willing traders enabled Western consumers to overcome their (generally well-founded) fears and issues of inconsistent mine sourcing and qualities, price fluctuations, and the vagaries of the infamous former Chinese export licence system.
A further ramification was the switch by some Western refractory consumers from using established aluminosilicate materials, such as andalusite, to the low cost Chinese bauxite imports.
Fast forward 30 years or so, and while China remains a significant world non-met. bauxite supplier, that golden era of easy flowing cheap Chinese bauxite exports is very much on the wane, forcing traders and consumers to consider alternative options.
Although this has been a steady, if low profile, trend for the last decade, it has significantly strengthened from about 2017, fuelled by frequent problems with high quality primary ore availability, environmental controls, government reforms, rising and unpredictable prices, logistics, and most recently compounded by the impact of the Covid-19 pandemic. Indeed, most recently the situation has worsened with China's energy crisis and ongoing logistics challenges (see Refractory Mineral Maelstrom: The Heat is On).
Speaking in a webinar in July on industrial minerals organised by Brasil Mineral magazine, Bautek CEO Reinaldo Noronha commented: "Between 2012 and 2018, China was the world's leading producer of non-metallurgical bauxite for industrial purposes, and held 52% of the market. Between 2013 and 2018 this production fell from 60% to 44% of world demand."
Interest in bauxite alternatives to China has now heightened appreciably: enter Bautek.
Noronha told IMFORMED: "Bautek's project gladly got accelerated given the current market momentum. We invested a lot of effort and CAPEX to have our new calcination plant ready by 2022, we will have additional capacity of 150,000 tpa of calcined products."
Unique bauxite and clay from Goiás
Founded in 2016, Bautek is a mineral processing company active in the drying, calcination, sintering, grinding and sizing of minerals. Its philosophy is to create wealth in line with mineral sources, regulatory bodies, environment, and the satisfaction of its customers.
The company envisaged a role in meeting the growing demand for industrial minerals of high quality and differentiated products for the market.
To achieve this goal, Bautek has co-operated with its bauxite mining company, Terra Goyana Mineradora (TGM), in a vertical integration concept adding value to the unique sources of bauxite and clay found in Goiás state in central Brazil.
The name "BAUTEK" comes from bauxite + clay + technology.
Headquartered in Goiânia, Goiás, TGM was founded in 1985 and is one of the largest bauxite producers in Brazil, responsible for 5.5% of national production.
Bautek's bauxite source is a gibbsite deposit discovered in 1999 located in the municipalities of Barro Alto and Santa Rita do Novo Destino, in Goiás.
The property consists of three mining concessions owned by TGM, totalling 6.178 hectares, exploiting >200m tonnes reserves of proved "high grade and special grade" bauxite (>55% Al2O3, dry basis; 75-95% Al2O3, 1.5-7.5% Fe2O3, calcined).
TGM commenced mining at Barro Alto in 2013, and mines and processes approximately 1.5m tpa bauxite, and for 2021 it is expecting to produce about 1.7m tonnes. TGM's crushing and sizing plant at Barro Alto has a 200,000 tpm production capacity.
Of this about 85% is metallurgical grade for aluminium production and the remainder for non-met. industrial uses.
The latter is supplied to Bautek to process calcined bauxite (refractory, abrasive and welding grades); chamotte (50%; 60%; and 70% Al2O3), and chemical grade bauxite.
TGM also operates a bauxite mine at Poços de Caldas, Minas Gerais, hosting 18.5m tonnes (65-80% Al2O3, 6-15% Fe2O3, calcined).
Processing and added value from Bautek
Bautek started in 2016 by establishing a calcination and grinding plant at Poços de Caldas, Minas Gerais, followed in 2017 by a calcination plant at Prudente de Morais, Minas Gerais, and in 2018 by a milling plant in Barro Alto, Goiás (see chart and map).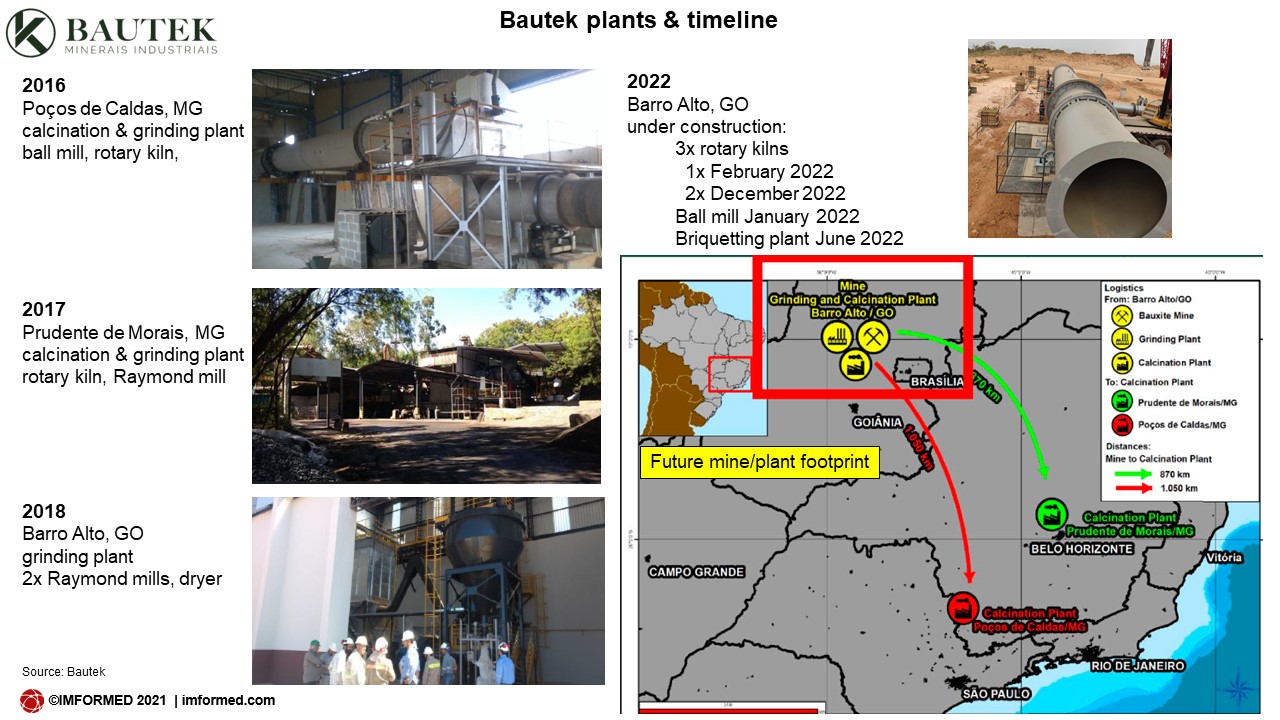 To date, Bautek has invested US$30m, most recently contributing to:
a dedicated fleet of 25 trucks to transport products from the plants to the nearest ports
the drying and milling plant at Barro Alto to produce chemical grade bauxite for water and wastewater treatment
a new laboratory in Goiás, for quality control and development of new products
3 new rotary kilns at Barro Alto for abrasive, refractory, and welding grades; the first 36,000 tpa rotary kiln is under construction and expected to double the company's kiln capacity by February 2022; 2 further kilns are planned for December 2022 with a combined capacity of 140,000 tpa.
new ball mill and briquetting plant at Barro Alto for 2022.
The new calcination plant close to the mine at Barro Alto will greatly help the current logistical challenges of transporting raw bauxite >1,000km to Bautek's existing calcination plants. In the future, the company hopes to utilise a rail route from Barro Alto to serve export markets.
The company is also developing a line of clay minerals for the agricultural market, assisted by the new laboratory in Goiás. For this product line, the company has a favourable location, since it is geographically within this consumer market.
Bautek points to a range of factors helping to drive forward a successful breakthrough into the market:
Sustainable mining process: dry processing of bauxite and clay avoiding water waster and the risks of dams; no waste generated, all products are marketed.
State of the art equipment for production/laboratory/R&D: essential to analyse and assure top quality products to the customers. The company is ISO 9001 certified.
Highly qualified team with more than 30 years of experience in the industrial minerals sector.
Sustainable logistics to local customers and ports with own fleet of trucks.
Working with experienced partners like M!NERALS (Cofermin Group) on the marketing and distribution side.
Overall, bauxite production for Bautek is expected to increase significantly over the next two years:
non-met. bauxite production by TGM at Barro Alto is expected to increase from 300,000 tonnes in 2021 to 600,000 tonnes in 2023
while calcined bauxite production by Bautek is expected to increase from 48,000 tonnes in 2021 to 176,000 tonnes in 2023 (see charts).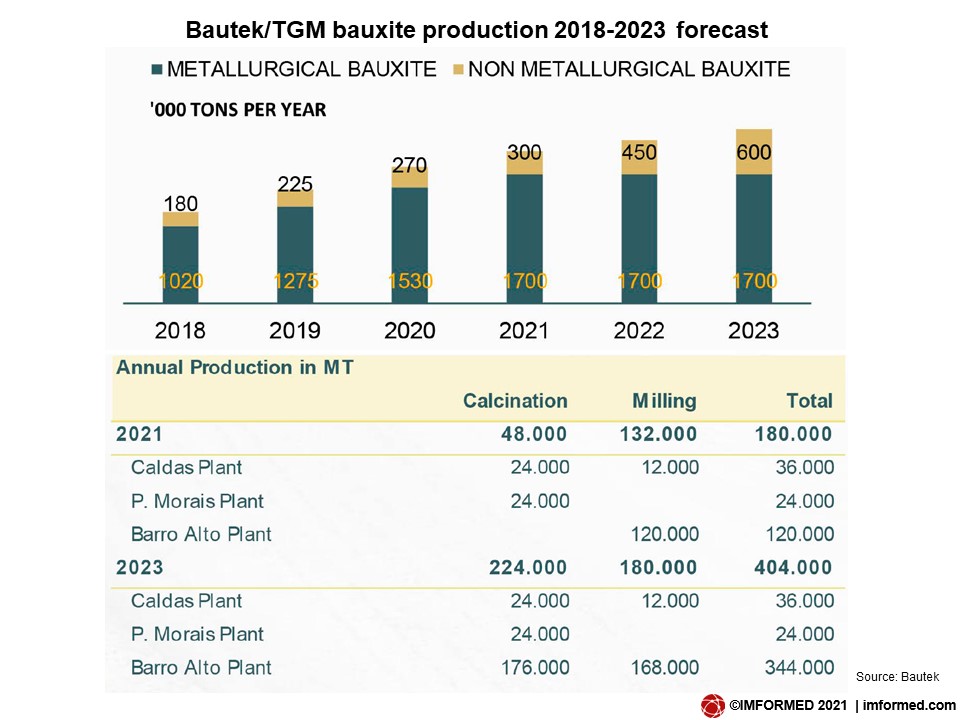 Bautek's products can supply a wide range of applications, for both domestic and export markets in:
Refractories
Abrasives
Chemical (for water and wastewater treatment)
Welding
Synthetic Slag and Powder Flux (steel)
Flame Retardants
Investment Casting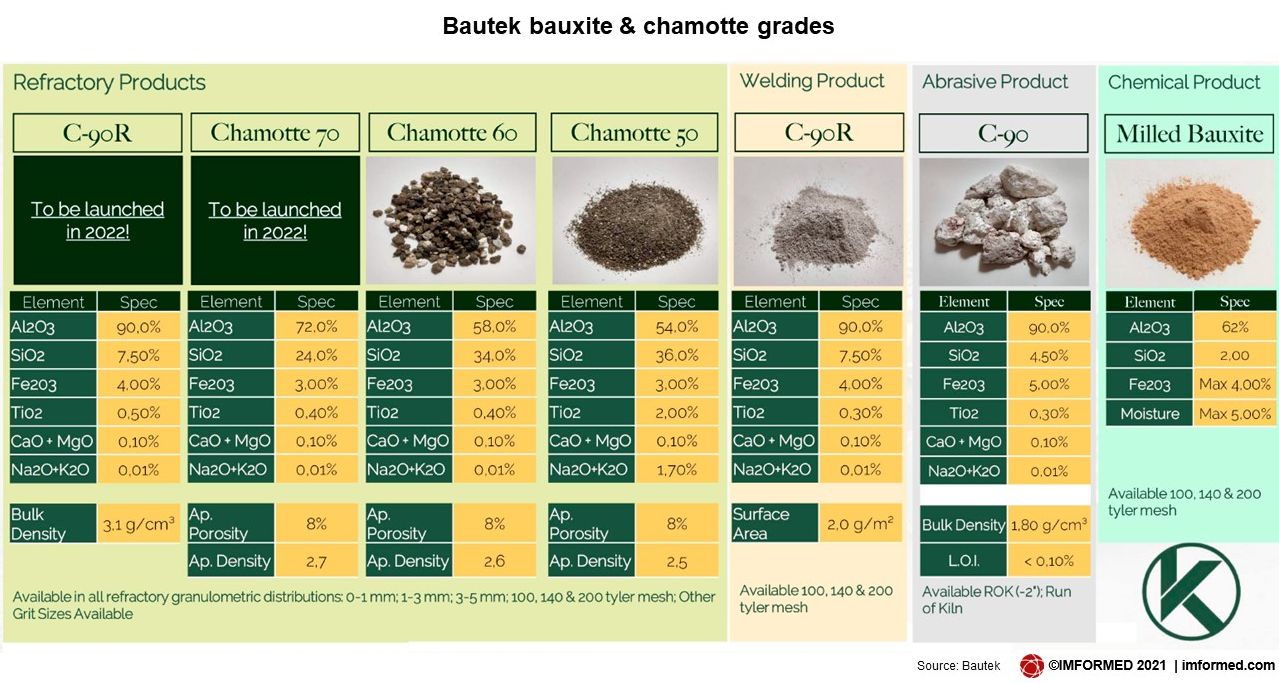 Going forward in co-operation with Cofermin
Bautek acknowledges that it is a newcomer to the international industrial minerals market, and has taken steps to bolster its standing on the world platform by working with the Cofermin Group, Germany, and specifically with its M!NERALS division.
"Cofermin has been key to introducing Bautek's products into highly demanding markets. The joint effort between companies has proved that this will be a long term and successful partnership." said Noronha.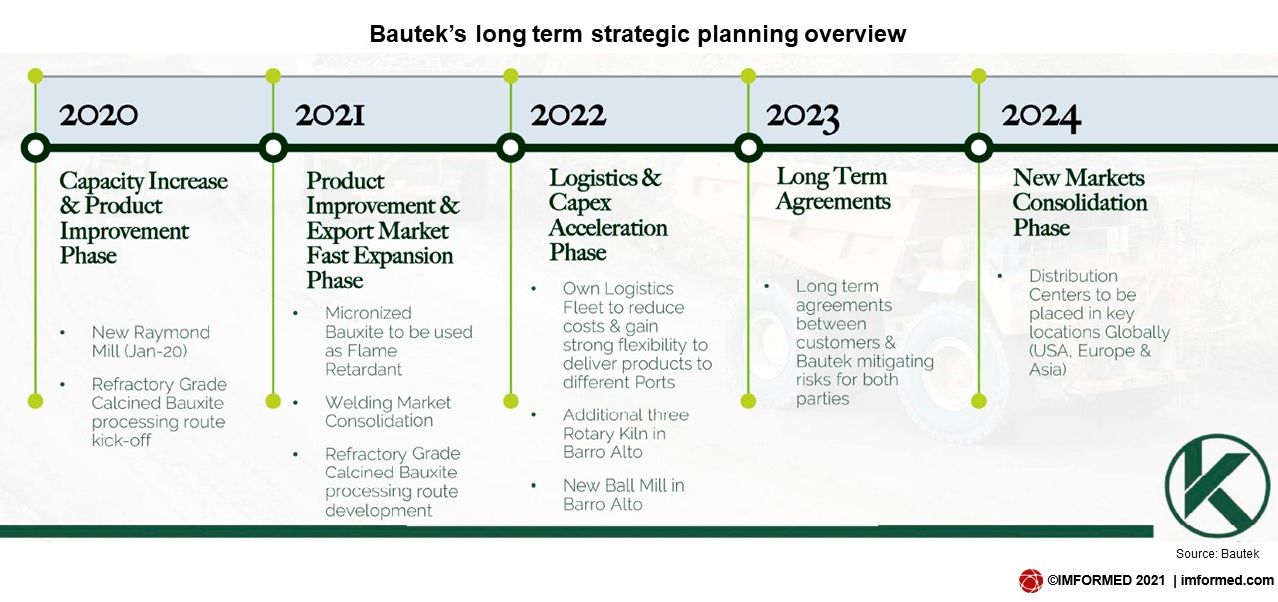 Going forward, Bautek plans to be a "One Stop Shop" for refractory materials offering a wide range of refractory minerals in several grades, such as chamotte, calcined bauxite, brown fused alumina, white fused alumina and calcium alumina cements.
For western bauxite and aluminosilicate consumers this news will be most welcome, and for some, perhaps cannot come fast enough.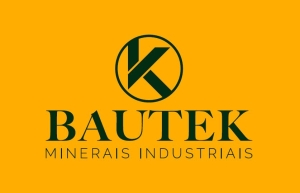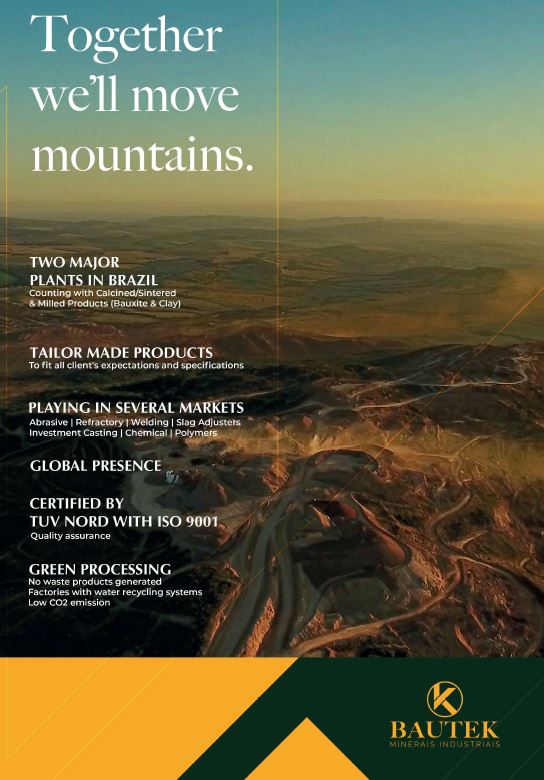 ---
If you enjoyed reading this article…

Like the idea of an objective, well-written and researched article about your company or products?

Perhaps you are pursuing new markets, launching new products and innovations, or just need some profile as you recharge or emerge onto the market?

Let IMFORMED's experience in writing and reach in markets assist your business going forward.

Please feel free to discuss ideas, options, needs.

Contact: Mike O'Driscoll, Director, IMFORMED
mike@imformed.com
T: +44 (0)1372 450 652; M: +44 (0)7985 986255