Logistics is one of the most important components of any industrial mineral operation or project development.
And yet it is the one aspect in industrial mineral project due diligence that is most often overlooked. It can make or break a project's route to successful fruition. Why is logistics so important to industrial minerals?
IMFORMED is holding Mineral Logistics Forum 2015, 23-24 April 2015, Rotterdam.
An expert panel will be discussing the latest trends and developments in industrial mineral supply logistics and handling, including the senior global purchasing managers of Magnesita Refratários SA and NSG Pilkington on the movement of refractory raw materials and glass making raw materials, respectively.
The challenge of supply source location
Firstly, perhaps the most obvious point is that industrial minerals in demand are rarely found where the market is located. Therefore, getting the material from mine to market should be one of the first items on the agenda.
The two charts below illustrate the diverse geographic spread of key industrial minerals which are in demand for markets in the USA and Europe.
The USA's import reliance on industrial minerals for major consumer markets is significant in terms of diversity and degree of dependence.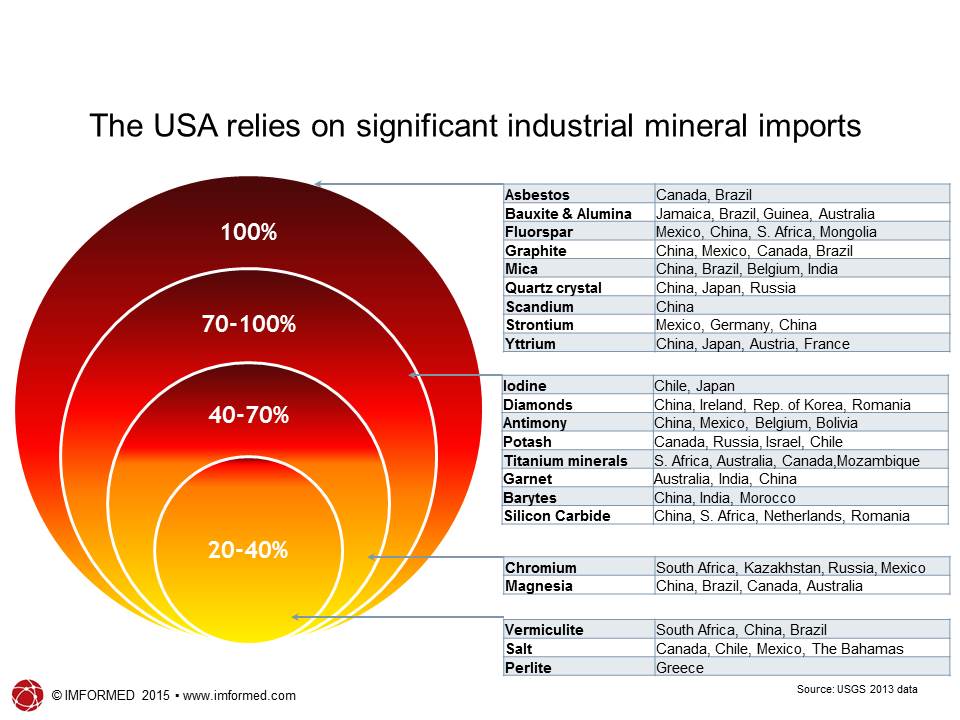 While Europe hosts resources of some important minerals (in bold in the chart below), it also relies on imports. The European Commission recently identified at least seven industrial minerals as being "critical" owing to their limited overseas supply sources and demand by EU industries (in red in the chart).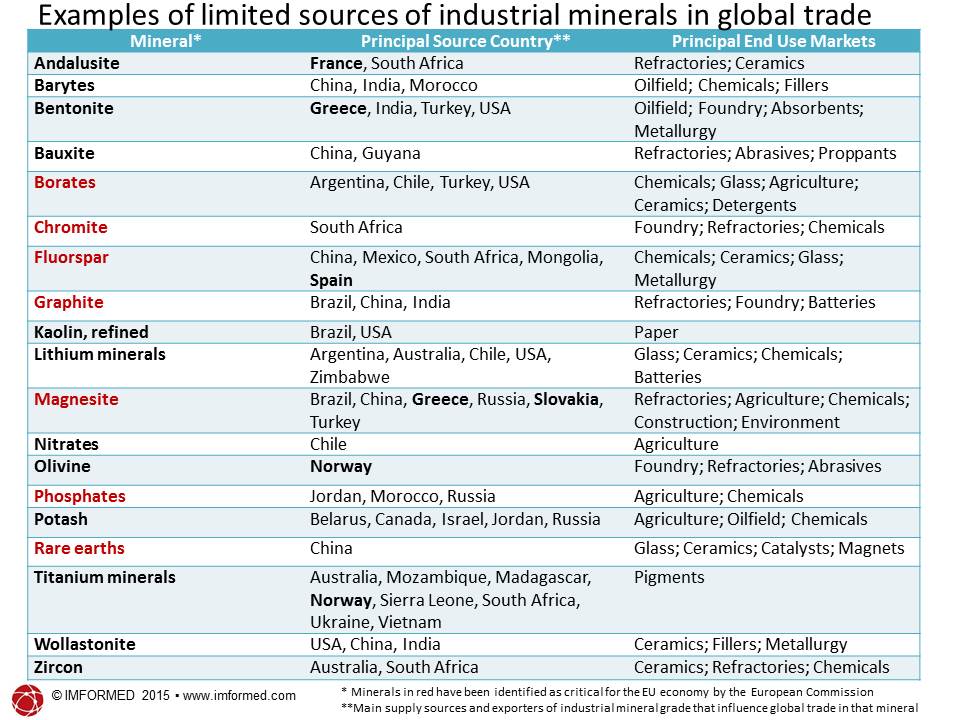 Modes of mine to market supply
Mine to market logistics embrace many stages and each mineral to market supply chain has its own particular characteristics, challenges, and solutions.
This means that there is no "one size fits all" concept to mineral logistics.
See the chart below for a schematic summary of the range of transport modes and handling that is involved.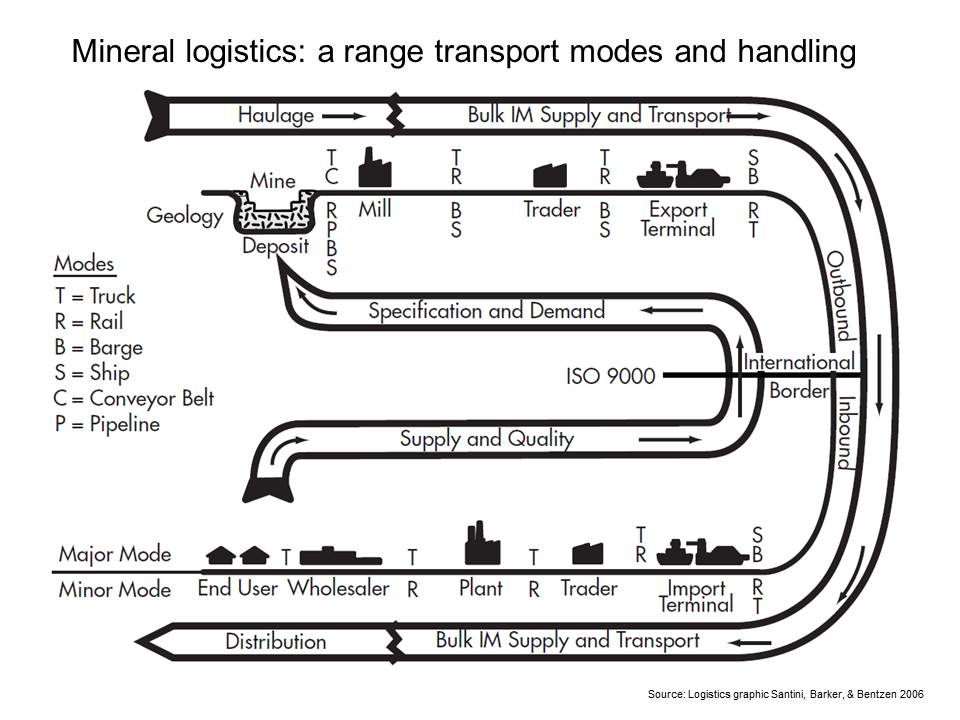 The pricing anatomy of industrial minerals is notoriously opaque. There are a variety of factors influencing the cost of a mineral grade, and each mineral will be subject to its own market dynamics.
But the upshot is that the cost component of supply chain logistics for industrial minerals is a vitally important one – it can account for up to 70% or more of the final delivered mineral price to the market.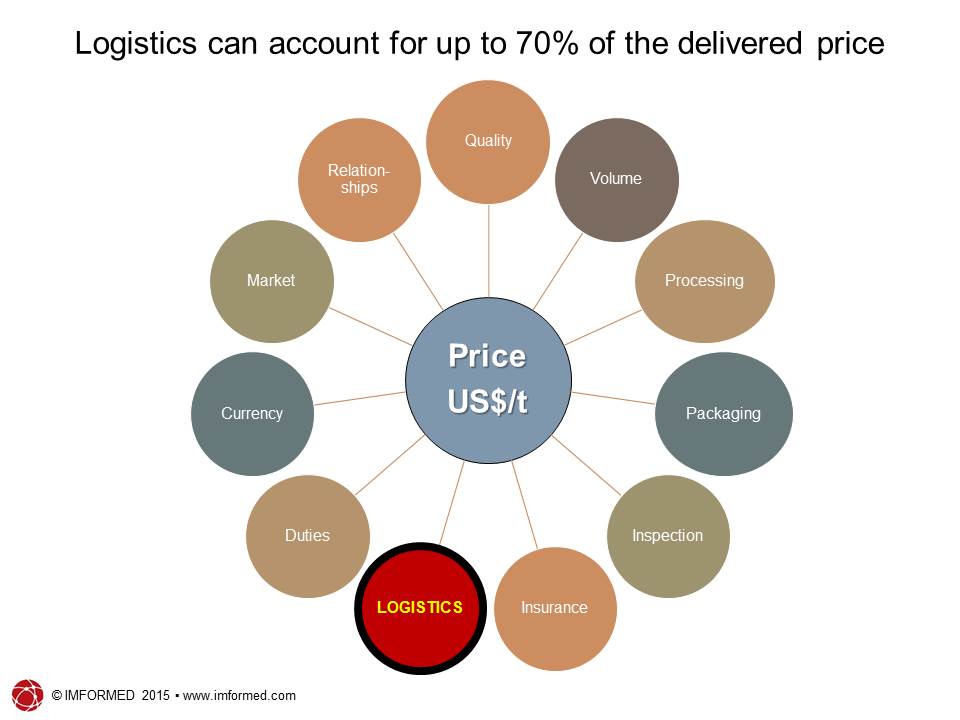 Logistics all thought out?
Your hired consultant on project evaluation has estimated an ex-mine price for your extracted raw material at $30/tonne – this is looking good, since market research shows the grade is selling $250-300/tonne delivered in the market.
Investors are wooed and customers are schmoozed. But hang on, what's this?
Your plant supervisor has reminded you that the road from mine to railhead, while relatively short, needs re-building if it is to take the truck loads envisaged by the planned mine output.
Also, truck-to-railcar handling and trans-loading equipment (and expertise) at the railhead amounts to a mere holding bay and rail siding platform – minimal to say the least.
Your analyst has just reported the cost of rail car usage and there is only one route available to the nearest port owned by one very aggressively priced rail-freight company.
There appear to be some attractive options to piggyback your smaller volume lots with larger volume commodities being shipped to Europe from the same port. But your hired mineral inspector has warned that unless a very good break-bulk system is employed along with other measures, portside and on board, your material is very likely to be contaminated and result in claims from your customers.
Your shipbroker has advised that owing to vessel congestion causing delays at your initially selected loading port, you might wish to consider the next nearest, but relatively traffic-free port some 55km along the coast.
At the European discharge port, it will be necessary to tranship your material to barge in order to reach customers inland. It will also be necessary to stockpile a certain amount at the port itself for unexpected customer demand and awaiting transhipment. There are a plethora of stevedoring and warehousing companies, but which ones are suited to your needs?
There is one customer which now wants your mineral but in a specific, and quite finely sized grain size. You do not have the necessary fine grinding equipment, nor have plans to invest in such. But to keep the customer, you need to find a suitable mineral processor located near the discharge port or along the post-port supply route, that can meet your customer's specifications.
All of a sudden, the price of your delivered mineral has shot up with these extra costs and added sophistication to your supply chain.
Clearly, it is paramount to be fully aware of your logistics requirements, and then secure the optimum logistics system for your material in terms of cost and efficiency.
But it's not just implications of added costs that can derail the success of industrial mineral project development. It will be the impact on your new or potential customers.
According to a 2012 survey conducted Supply & Demand Chain Executive magazine, 76% of supply chain, procurement, and sourcing executives said that supply disruption or delay was their most pressing concern.
Attending Mineral Supply Logistics Forum 2015 will enable invaluable networking and knowledge acquisition among those leading the field in industrial minerals supply logistics.
There are attractive Early Bird Rates and opportunities for Sponsorship and Exhibiting.
For more details please click here.
Mike O'Driscoll
Director, IMFORMED
T: +44 (0)1372 450 679
M: +44 (0)7985 986 255
E: mike@imformed.com
imformed.com