Kümaş joins Almatis within OYAK group | Vertical integration strategy rolls on as end users target supply security
After several years of speculation, and some close calls from leading competitors, one of the world's leading magnesite producers, Kümaş Manyezit Sanayi A.Ş. (Kümaş) of Turkey has been acquired by the country's leading steel producer Ereğli Demir ve Çelik Fabrikaları T.A.Ş. (Erdemir) for US$340m.
Title picture The main Saludere Ana Damar magnesite mine of Kümaş; one of 12 mining sites exploiting a 160m tonne magnesite resource; with insets of its three rotary kilns at Kütahya, and ladle furnace at Erdemir's Ereğli steel plant, a major consumer of refractories as Turkey's leading steel producer. Courtesy Dr Ian Wilson; Erdemir
The Share Transfer Agreement was signed on 4 January 2021 between Erdemir and Kümaş' owners Gözde Girişim Sermayesi Yatırım Ortaklığı A.Ş. (51%) and Yıldız Holding A.Ş. (49%), and will conclude after legal approvals.
Erdemir is part of the Mining Metallurgy Group of OYAK, Turkey's largest complementary occupational pension fund with assets worth around US$16bn, headquartered in Ankara.
OYAK has a wide ranging industrial and services portfolio, including its Chemicals Group which acquired world leading speciality alumina producer Almatis in 2015. Both Kümaş and Almatis supply the global refractories market with key raw materials.
The move reinforces the prevailing ownership trend affecting the shrinking group of refractory magnesia producers worldwide as they are subsumed into larger magnesia refractory end user groups (see chart).
Just over a year ago, leading magnesia producer QMAG was sold by Sibelco to major refractory producer Refratechnik, Germany (see Magnesia supply sector consolidates further).
In the case of Kümaş, a well-established integrated producer of magnesia and refractories, and fourth largest in the world (outside China), its buyer, Erdemir, is a major consumer of steel and cement refractories, with potential end user synergies for magnesia elsewhere in the OYAK group.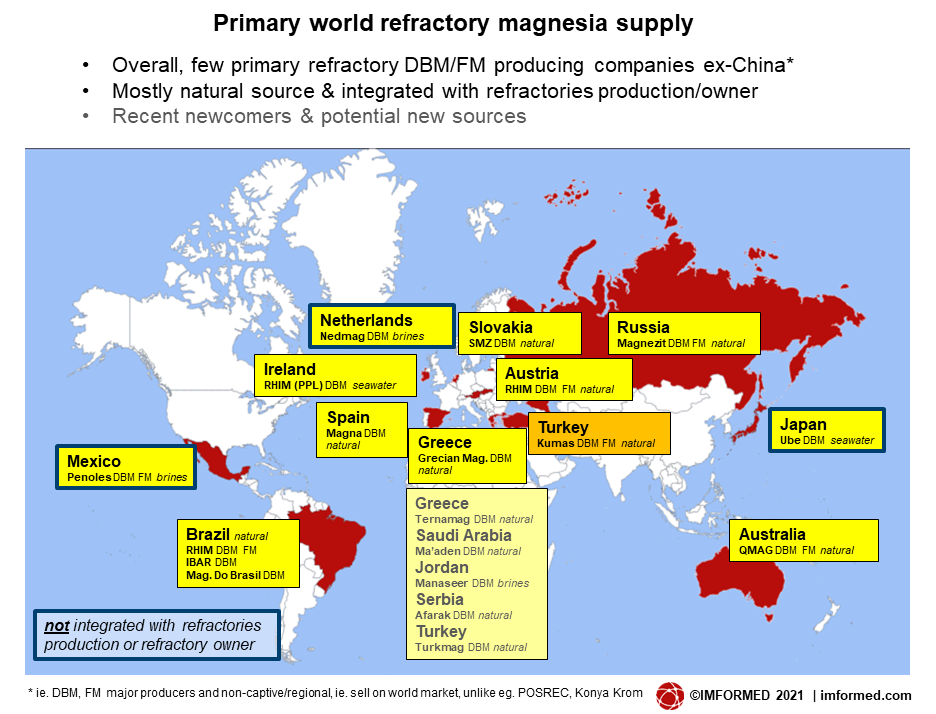 Stay in touch with the latest trends & developments in mineral recycling, including refractories, ceramics, critical minerals

Confirmed speakers include

Refractory recycling developments
Wilker Felipe Silva, Refractory Purchasing Manager, ArcelorMittal Brazil, Brazil
Requirements for implementing Circular Economy in the refractory waste management of a steel plant
Aintzane Soto, R&D Process Engineer, Sidenor, Spain
South Korea's refractory recycling status & key challenges to address
Joo Yongdon, CEO, Korea Material Co. Ltd, South Korea & Sangpil Raul Hwang, Industrial Minerals Trader, Sojitz Corp., Japan
ENSUREAL – Pedersen Process Revisited: Changing the colour of alumina production
Dr David Konlechner, Owner, KON Chemical Solutions e.U, Austria
Reclamation & repurposing tailings as a source of low-risk MgO supply for the construction market
J. Michael Sullivan President & CEO, BAIE Minerals Inc., Canada
"A strategic position" for Turkey as RHIM bid fades
In its 5 January 2021 statement, OYAK announced that the acquisition "…will achieve cost control and efficiency by ensuring vertical integration in its activities in the iron, steel, and cement industries."
There is no doubt of the synergistic benefits in merging Kümaş within OYAK (see below), but perhaps there was also an element of incentive in ensuring Kümaş remained under Turkish ownership. After all, most major magnesia operations, including integrated refractory producers, in Turkey are foreign-owned (see below).
OYAK would also have been aware that on 11 August 2020, Paris-based global industrial minerals giant Imerys signed an agreement for the acquisition of a 60% stake (with options to purchase the remainder), of the Haznedar Group, Turkey's high grade monolithic refractories and refractory brick manufacturer.
Haznedar is to be consolidated as Haznedar Durer Refractories in Imerys' High Temperature Solutions business area, led by major refractory subsidiary Calderys. Haznedar's refractory dolomite producing subsidiary, Vadar Dolomit, North Macedonia, was not included in the sale and remains independent.
And it was no secret that Vienna-headquartered RHI Magnesita (RHIM), global leader in magnesia and refractories, which already has a magnesia production facility in Turkey (MAS, Eskişehir) had been eyeing Kümaş for the last two and half years, with formalities in train as recently as May 2020.
On the Kümaş acquisition, OYAK General Manager and Erdemir Board Chairman Süleyman Savaş Erdem said: "By acquiring this valuable company, which is important for our country and national resources, we have taken our country to a strategic position in this area with the rich reserves and raw material advantages, and by creating opportunities for our local industrialists in terms of raw materials supply and with the export potential."
Yildiz Holding AS, Turkey's largest food manufacturer, acquired Kümaş in 2012, holding 49%, and its private equity unit, Gozde Girisim Sermayesi Yatirim Ortakligi AS, 51%.
In mid-2018, having completed a huge loan restructuring, Yildiz and Gozde began talks with several potential international buyers from Russia, India, Europe, and China, over the divestment of Kümaş, reportedly valued then at US$500m.
February 2019 saw an exclusivity agreement signed between Yildiz and RHIM on Kümaş' divestment.
This was followed in September 2019 by the signing of a non-binding letter of intent between the sellers of Kümaş and RHIM, permitting the latter to commence competition clearance and other regulatory filings in relation to the proposed acquisition.
In its 2019 Annual Report published April 2020, RHIM indicated a decision would be made by late Q2 2020, while formalities were apparently proceeding, such as clearance by the UK Competition & Markets Authority, full documents published in May 2020.
However, it became clear that the proposed buy by RHIM was not to be, since early November 2020 saw OYAK commence talks with Yildiz, citing that such an acquisition would be an important integration with its iron and steel and cement sector companies and help reduce costs.OYAK had also noted, "Kümaş is also a major exporter and of value for Turkey to earn foreign exchange."
This followed an announcement in August 2020 by OYAK on a major four year investment plan across its divisions, including Mining Metallurgy Group, focused on sustainable growth.
Want to know what's happening with refractory raw material supply? Find out and network with the key players at

Confirmed speakers

Refractory futures: the Circular Economy, climate change and its effect on refractory mineral markets
Dr Richard Flook, Managing Director, Mosman Resources, Australia
Andalusite supply outlook
Dirk Auge, Managing Partner, Cofermin Rohstoffe GmbH & Co. KG, Germany
Refractory bauxite trends
Ted Dickson, TAK Industrial Mineral Consultancy, UK
Update on First Bauxite's high grade bauxite supply from Guyana
John Karson, VP Sales and Marketing, First Bauxite LLC, USA
India's response to refractory raw material supply & demand
Sameer Nagpal, CEO, Dalmia-OCL, India
Graphite supply trends & outlook
George Miller, Analyst, Benchmark Mineral Intelligence, UK
Kümaş' new owner Erdemir – fully integrated & with mining pedigree
Established in 1961, Ordu Yardımlaşma Kurumu – OYAK, translated into the "Army Solidarity Organisation", operates in a wide range of industries, including mining metallurgy, cement concrete paper, automotive logistics, finance, services, chemistry, agriculture and animal husbandry and energy, and has operations in 23 countries across the world.
In 2019, OYAK Group's total revenues soared to US$6.6bn while its total assets climbed to US$16bn. With total exports amounting to US$4.9bn, OYAK Group had a 2.7% share of Turkey's total exports.
OYAK's Mining Metallurgy Group is already fully integrated with iron ore mines, iron ore pelletising plant, crude and finished steel plants, and owns two ports: Ereğli on the Black Sea and İskenderun on the Mediterranean. The addition of a primary integrated magnesia and refractory producer significantly reinforces the group's self-sufficiency.
The group produced 8.6m tonnes of crude steel in 2019, accounting for 26% of Turkey's total crude steel production, and sold 7.2m tonnes of flat finished products and 1m tonnes of long finished products.
In 2018, OYAK Mining Metallurgy Group ranked 4th among EU member states, 9th in Europe and 45th in the world in the crude steel production ranking.
Erdemir, the flagship company of the Mining Metallurgy Group, began operating in 1965 and celebrated its 55th year in 2020. Acquired by OYAK in 2006, it is the largest integrated flat steel producer in Turkey, based in Ereğli on the Black Sea coast, producing hot and cold rolled steel, tin, chromium and zinc coated flat steel. Erdemir has 4m tpa crude steel and 5m tpa final products production capacity.
İskenderun Demir ve Çelik A.Ş. (İsdemir) became part of Erdemir in 2002, and is the only integrated plant producing flat and long products in Turkey, with annual capacity of 5.8m tonnes of liquid steel, 3.5m tonnes flat products, 0.6m tonnes of wire rod, and 2.5m tonnes of billet.
Erdemir is also very much active in mining. Erdemir Madencilik San. ve Tic. A.Ş. (Erdemir Maden) began iron ore production in Divriği, in the Sivas region, in 1938, joining Erdemir in 2004.
Erdemir Maden is Turkey's largest iron ore extraction and production company, the source of 33% of Turkey's iron ore and supplying 12% of the country's iron ore requirements, producing 0.75m tpa lump iron ore and operating the country's sole iron ore pelletising plant (1.5m tpa).
The company also holds a total of eleven mineral-extraction licenses: 9 for iron ore, and one each for coal and manganese.
Synergies in steel, cement, chemicals, agriculture
The obvious synergy between Kümaş and OYAK is with its steel production by Erdemir and İsdemir, where magnesia-based refractories are consumed in a range of steelmaking applications, and magnesite and caustic calcined magnesia can be used as a slag conditioner. However, there may be other potential benefits with Kümaş on board.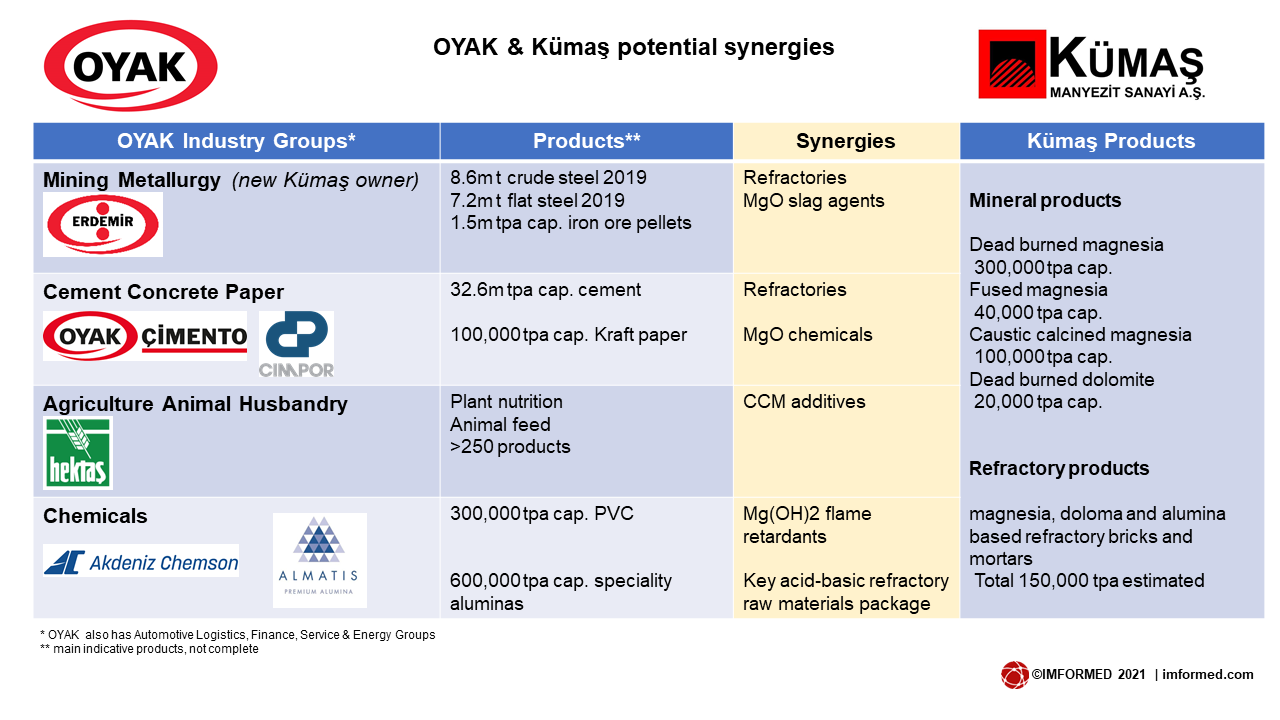 Turkey's steel industry is in relative good health, comprising 24 electric arc furnace plants (EAF), 7 induction furnace plants, and three basic oxygen plants. In 2019, Turkey's output was 33.7m tonnes representing a decrease of 9.6% from 2018, and was ranked 8th in world production.
However, the pandemic-impacted global steel industry of 2020 saw Turkey somewhat buck the trend with a swift recovery. Steel production for 2020 in Turkey is expected to exceed, if not match, 2019's performance.
According to the latest data from the Turkish Steel Producers Association, crude steel production in November 2020 stood at 3.2m tonnes, an increase of 11.6% compared to the same month of the previous year. In the January-November 2020 period, crude steel production increased by 4.9% to 32.4m tonnes.
There was also good news in steel demand. In November 2020, Turkish finished product consumption increased by 8.8% to 2.6m tonnes, and for the January-November 2020 period, finished product consumption increased by 15.5% over 2019, reaching 27m tonnes.
Currently the EU's second largest steel producer, it is thought that Turkey could surpass Germany by the end of 2020.
Elsewhere in the OYAK Group, magnesia and dolomite refractories manufactured by Kümaş could be supplied to the OYAK Cement Concrete Paper Group, with a combined 32.6m tpa cement production capacity from Turkish and overseas plants.
Over the last four years, the Group has expanded its cement capacity by 52%. In 2019 OYAK acquired the Portugal and Cape Verde operations of CIMPOR, one of the largest cement brands in Europe.
Continuing its investments abroad, OYAK aims to rank in the top five in the world in cement in the next five years. OYAK has identified Africa as its growth area and is getting ready for production in Cameroon while it begins production in the Ivory Coast.
In its efforts to contribute to the Circular Economy, Erdemir processes granulated blast furnace slag from the Ereğli plant as an alternative raw material in the production of additive-cement in OYAK Cement Concrete Paper Group companies (keep up with the latest trends in steel waste recycling at IMFORMED's Mineral Recycling Forum 2021 ONLINE, 9 February 2021 – full details here).
Concerning the paper market, Group company OYKA, has the only integrated paper plant of Turkey, manufacturing 100,000 tpa kraft paper and products made of kraft paper.
Although no longer a large market outlet for magnesia, it is used as a precursor for magnesium sulphite or hydroxide used an additive in bleaching in the Kraft pulp and papermaking process.
OYAK sees agriculture and animal husbandry as a strategic sector. OYAK Agriculture and Animal Husbandry Group company Hektaş Tic. Tas produces, sells and markets plant protection and plant nutrition products, and also sells and markets animal health products and feed additives. Caustic calcined magnesia is an important animal feed and fertiliser ingredient.
Regarding the chemicals sector, OYAK Chemical Group ranks among the world's largest manufacturers in the PVC sector, with an annual PVC polymer chemical admixture production capacity of 300,000 tpa. Magnesium hydroxide, derived from caustic calcined magnesia, is used as a flame retardant additive in PVC and other plastics.
And just a final and relevant note on OYAK's Chemical Group. In 2015, the world's largest speciality alumina producer, Almatis GmbH, was acquired by OYAK from Dubai International Capital.
Almatis produces some 600,000 tpa speciality aluminas from nine production facilities in the USA, Germany, the Netherlands, India, China, and Japan. The refractories market is a core sector for Almatis, consuming its range of calcined, tabular, and sintered aluminas, spinels, and alumina cements.
Thus, OYAK now possesses two world leaders in the production of the key acidic and basic raw materials required for refractory manufacture, alumina and magnesia, respectively. A powerful complementary supply package to the refractories market.
Kümaş top producer in Turkey's rich magnesia supply sector
Turkey hosts several areas rich in magnesite and dolomite deposits, and is the world's second largest producer of magnesite after China, ranked third in magnesia (CCM, DBM, FM) after China and Russia, and fourth in world magnesia exports (see charts).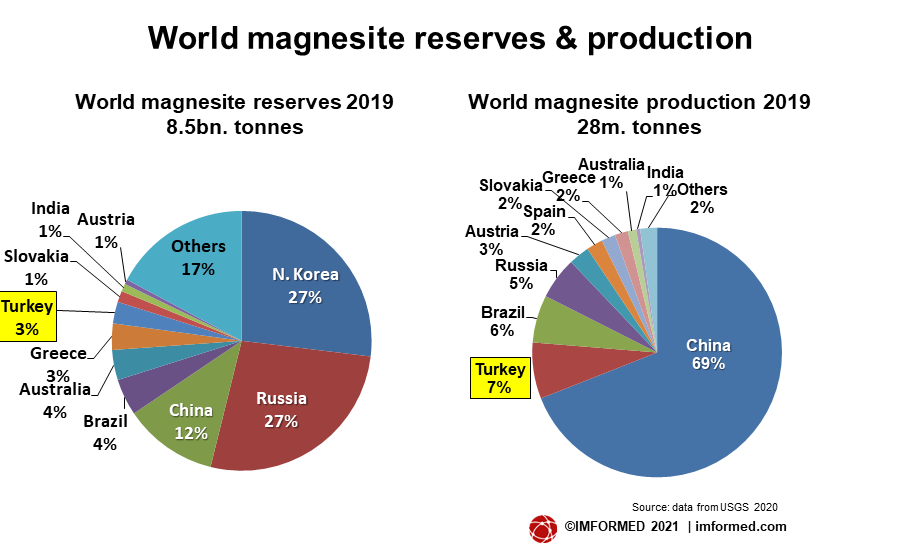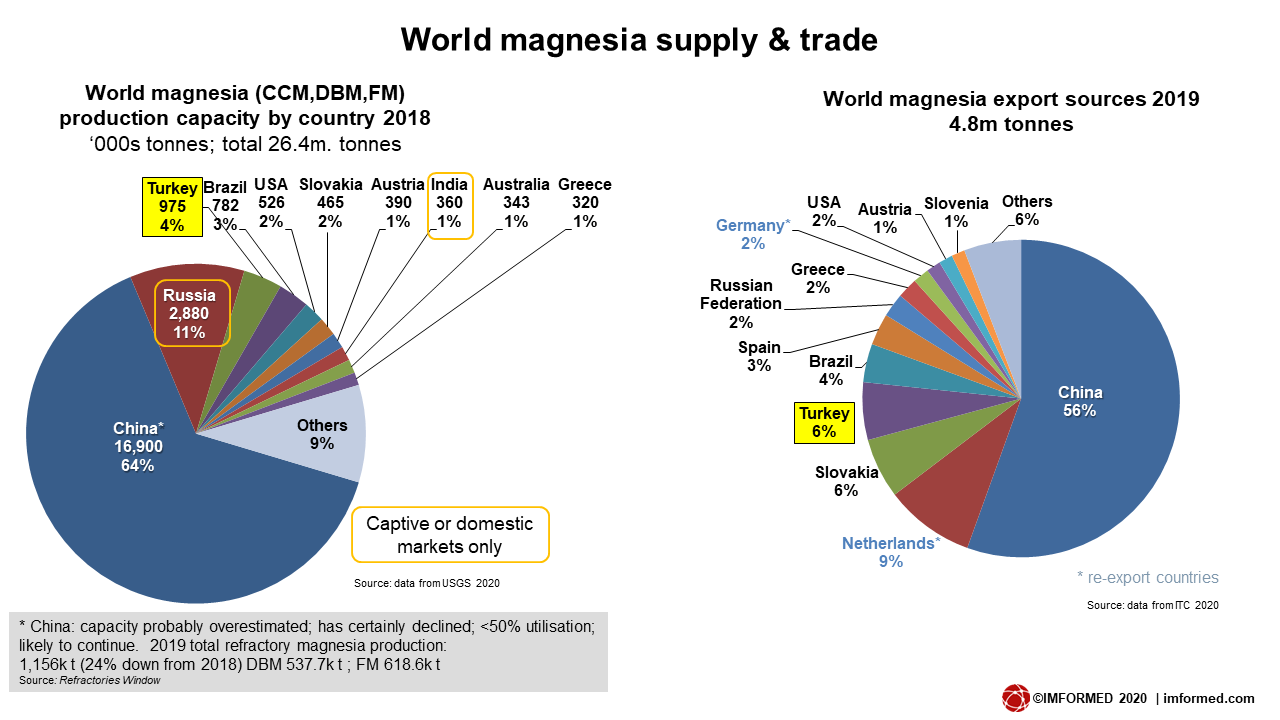 Kümaş has a 163m tonne total magnesite resource and claims to own nearly 20% of the world's high quality cryptocrystalline magnesite deposits, which are characterised by very fine grained magnesite crystals, typically 1-10 μm giving a high surface area and high reactivity, and >40% of total magnesite reserves in Turkey. Kümaş also has a 96m tonne dolomite resource.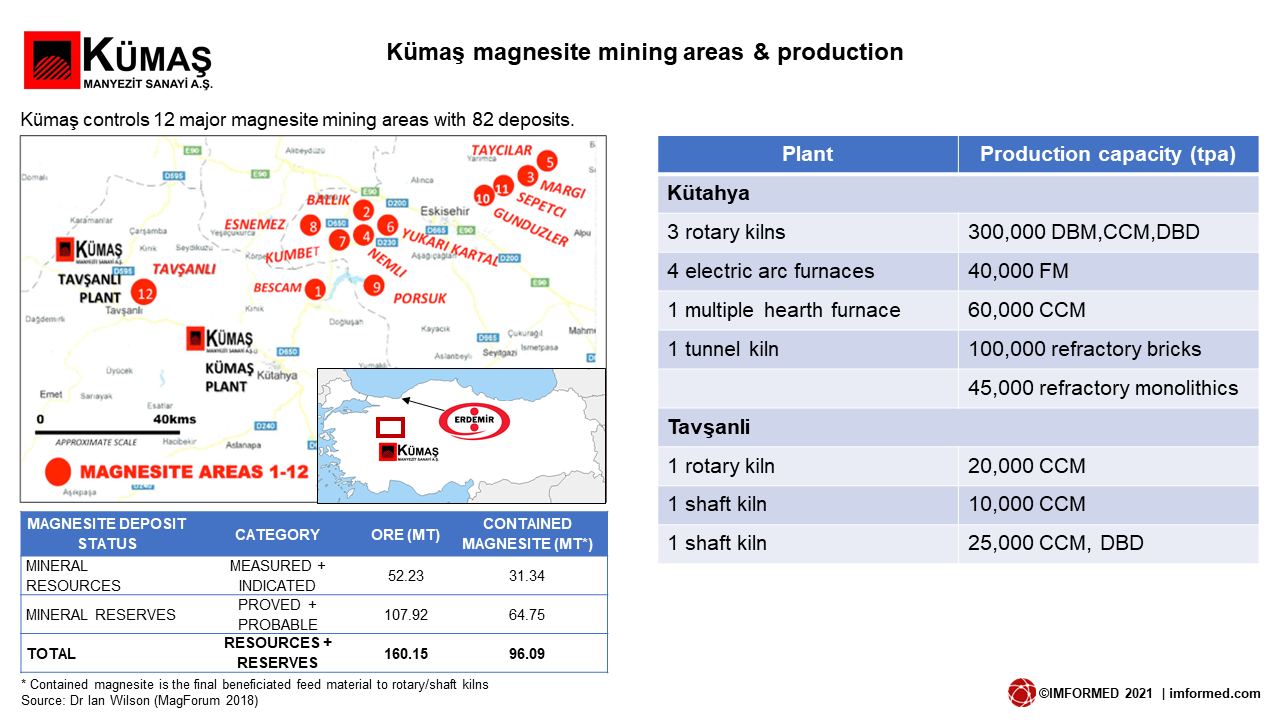 The company is Turkey's top producer, both in magnesia products and integrated refractory production, supplying the steel, cement, lime, glass, and non-ferrous metal industries. Non-refractory magnesia markets are also served (see chart for synergies with OYAK).
Founded in Kütahya in 1972, Kümaş was established to provide a domestic-owned source of magnesite. The OYAK buy maintains that objective. Kümaş was sold to Zeytinoğlu Holding in 1995 as part of its privatisation, and then was transferred to the Savings Deposit Insurance Fund (TMSF) in 2009, before joining Yildiz in 2012.
After Magnezit Group's Satka plant, SMZ's Jelsava plant, and RHIM's Brumado plant, Kümaş is the fourth largest DBM producer outside China.
Kümaş produces magnesia and refractory products in two facilities in Kütahya (see chart), and completed major upgrades in FM and CCM capacities in 2015 and 2017, respectively. According to OYAK, in 2020, Kümaş increased its sales by 14% year-on-year and exports to more than 50 countries with an annual processing capacity of approximately 1.2m tonnes magnesite ore.
The two other main magnesite producers in Turkey are Magnesit AŞ, Eskişehir, near Kümaş (260,000 tpa capacity DBM), and Konya Selçuklu Krom Magnezit Tuğla Sanayii AŞ, Konya (45,000 tpa capacity DBM); the former is owned by RHIM and the latter is an independent integrated refractories producer.
Elsewhere, Madkim Maden, Bursa supplies raw magnesite; Asmaş, Kütahya, is a leading monolithic refractory producer with captive DBM production (40,000 tpa capacity) owned by US-based Minteq; Akdeniz Mineral Kaynakları AŞ, Eskişehir, produces CCM (36,000 tpa capacity) and is majority owned (89.6%) by Grecian Magnesite SA, Athens.
Turkmag Madencilik Sanayi ve Ticaret AŞ., a subsidiary of Cihan Group, has a 100,000 tpa capacity DBM plant. RHIM was to acquire the operation in 2014 but later abandoned proceedings.
The surest way to acquire the latest developments and outlook trends in global magnesia supply and demand
Supply strategies in change | Steel market outlook hopeful
Perhaps the acquisition of Kümaş by Erdemir is not that surprising. The last few years, and 2020 in particular, have certainly pointed towards primary mineral consumers increasing vertical integration and preserving security of key raw material supply, and in general, re-assessing sourcing options (see New era of mineral exploration, sourcing & development dawns).
Add to that the threat of increasing foreign ownership of mineral resources and the whole "critical" or "strategic" mineral supply over-reliant on limited key sources, with magnesia from China a case in point, then it starts to make sense.
Another leading independent magnesia producer, QMAG in Australia, was acquired by refractories major Refratechnik, Germany, in April 2020 (see Magnesia supply sector consolidates further). This now leaves just a handful of small to medium size natural DBM, and three synthetic DBM producers independent.
Indeed, Erdemir will be alert to that fact that Kümaş, as one of the world's leading high quality magnesia suppliers outside China, will be a potential alternative supplier to consumers wary of relying too much on Chinese magnesia supply.
Since November 2020, the Chinese magnesia supply sector, mostly concentrated in Liaoning province, has been subject to another extended period of disruption, not expected to ease until perhaps April 2021 (see Refractory minerals from China: shutdowns & shipping spark price surge).
Changes afoot in China – find out the latest in Chinese refractory minerals supply and markets at
On the upside for Kümaş and other refractory mineral suppliers, the outlook for steel refractories may not be too bad.
Erdemir officials told IMFORMED: "After the effects of the pandemic eased in May 2020, there was a stronger recovery than expected in Turkish domestic consumption and steel demand. Steel demand is highly correlated with GDP growth, and the IMF has forecast Turkey's GDP growth as 5% for 2021."
"Considering the potential improvement in local steel supply-demand dynamics, and recovery in hot-rolled coil prices, it is expected that the recovery will continue in the first and second quarters of 2021. However visibility is low after the first half."
---
 Let's keep in contact & conversation! Book Now!
CONFIRMED SPEAKERS | EARLY BIRD RATES