Field Trip & Reception Sponsor                                                                       Exhibitors
Supporting Partners
IMFORMED is delighted to announce
Mineral Recycling Forum 2018, Radisson Blu, Cologne, 14-16 March 2018
As the minerals industry strives towards sustainable development, the recycling of waste products to generate "Secondary Raw Materials" (SRM) has emerged as an important source of industrial minerals for a range of consuming markets.
Developments in sourcing, processing, and quality control, as well as rising primary raw material prices, have enabled the economic recycling of minerals contained in certain industrial waste products.
Mineral Recycling Forum 2018 brings together an expert panel to discuss the latest trends and developments in SRM sourcing, supply, processing, quality control, logistics, and crucially, their market applications.
Mineral Recycling Forum 2018  will be of interest to all those active in the sourcing, processing, distribution and use of SRM, and especially established industrial mineral suppliers and buyers keen to assess the outlook for competitive and substitute materials.
Delegates on Mineral Recycling Forum 2017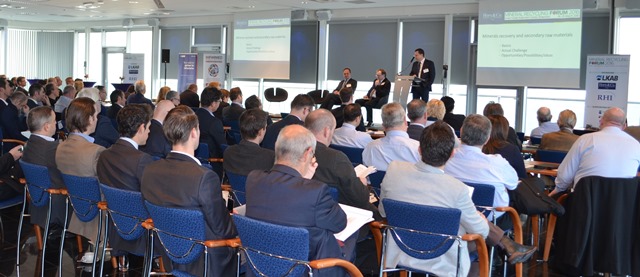 "Superb programme, good range of topics, excellent venue. Topical, informative, and an excellent
networking opportunity."
Michael Stovin, Commercial Director, Francis Flower, UK

"Very well organised, good agenda, nice place, good scheduling."
Carole Denizet, France Purchasing Manager, Calderys, France

"Good range of speakers, wide selection of topics with valuable information, lovely venue; simple
and easy registration; great flow over the two days."
Liam Stephenson, By-products Manager Procurement, British Steel, UK
Scope
The advancement of recycling technology has generated a new source of minerals from Secondary Raw Materials.
Mineral Recycling Forum 2018 will provide an invaluable opportunity to take the pulse of this evolving sector through expert presentations from leading players, informative discussion, and all-important networking with those active in the business.
Supply/demand outlook

Market drivers

Industry initiatives

Processing developments

Quality control innovations

Secondary Raw Materials
Refractories
Steel slag
Aluminium salt slag
Li-ion batteries
Silica fume
Fly ash
Glass