Field Trip:   Tuesday 30 May

IMFORMED is delighted to be able to offer delegates an exclusive opportunity to visit the operations of Nuova Cives Srl at Vidracco.
The Field Trip starts and ends at the conference hotel – Grand Hotel Dino, Baveno – and takes place the day before the conference, ie. Tuesday 30 May; the bus will return in time for the evening Welcome Reception that day.
The conference is on Wednesday and Thursday 31 May & 1 June.
FIELD TRIP SPACES ARE LIMITED:

when registering for the conference online please be sure to tick the Field Trip box; you can also contact Ismene to ensure your attendance on the Field Trip: ismene@imformed.com | T: +44 (0)7905 771 494

Please wear clothing and footwear as befits a working industrial site visit.
Provisional Itinerary
To be confirmed*
07.45 Assemble Grand Hotel Dino lobby
08.00 Depart Baveno
09.30 Arrive Nuova Cives, Vidracco
09.45 Brief welcome & introduction
10.00 Mine & Plant tour
12.00 Lunch
14.30 Depart for Baveno
16.00 Arrive Grand Hotel Dino, Baveno
(18:00 Welcome Reception)
* subject to change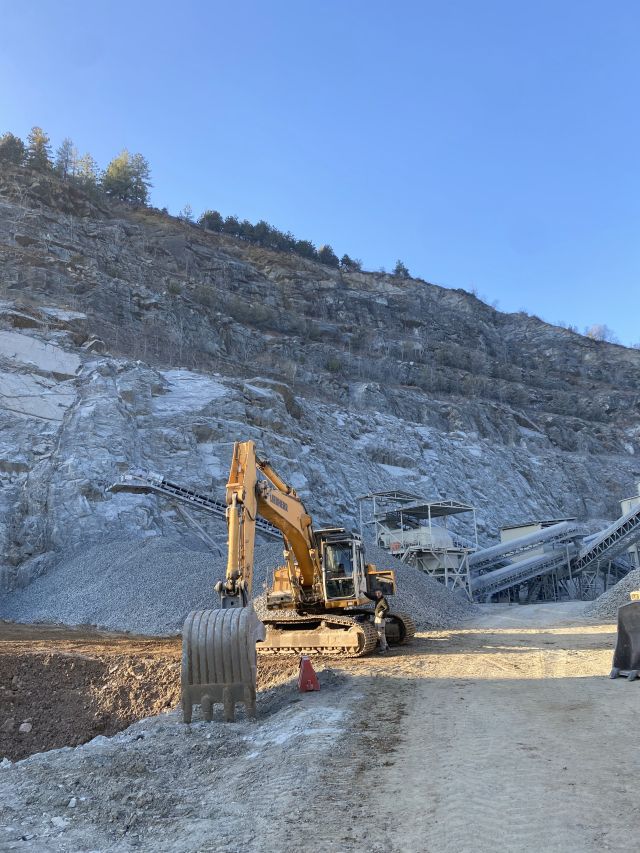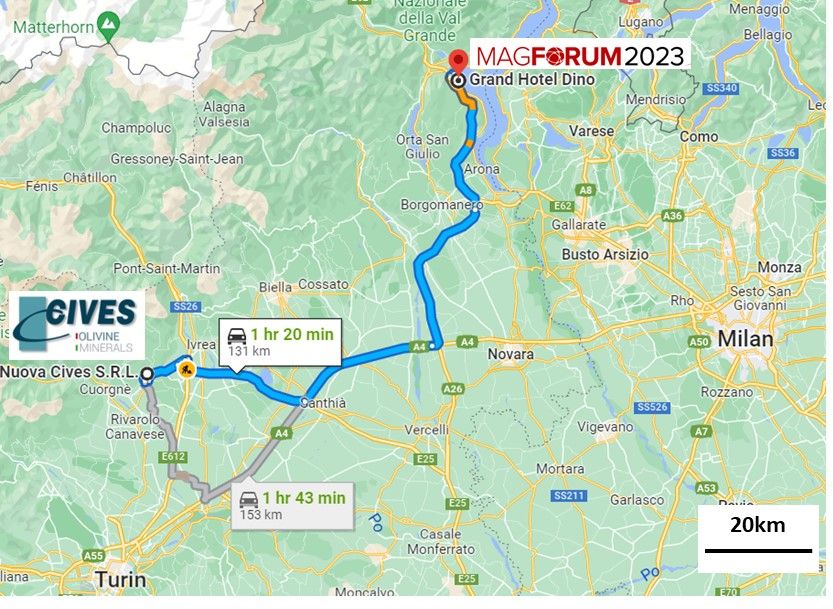 There are very few commercially developed olivine sources worldwide, and in Europe the main producers are located in Norway, Italy, Turkey, Greece, and Spain (dunite).
Leading olivine producer Nuova Cives is located at Vidracco, a municipality in the Metropolitan City of Turin, in the Italian region of Piedmont, located about 40km north of Turin (and about 132km south-west of the MagForum 2023 venue at Baveno).
The company is family owned and has been active for >60 years in exploitation, processing and trading a wide range of olivine products.
The olivine is extracted by drilling and blasting from deposits in Piedmont with different mineralogical compositions and different chemical and physical characteristics. Magnesite is also hosted within Nuova Cives' concessions.
"Bric Carlevà" Mine: mining concession covers 125 hectares and exploitable resource of >300m tonnes
"Finero" Mine: >150 hectares and reserves of >250m tonnes olivine
The plant in Vidracco conducts primary and secondary crushing, separation of waste materials, enrichment, tertiary and quaternary crushing, screening, and classification.
An article published in Ingegneria dell'Ambiente (Environmental Engineering) in 2020 indicated that some 5m cubic metres of olivine is mined each year. The production capacity of the primary plant was reported at 300-350 tph, while the production capacity of the plant of selection and final grinding was 100-150 tph.
Although total plant capacity has been estimated at 600,000 tpa olivine, actual production in 2020 was reported as around 250-300,000 tpa olivine, ranging from aggregates, sands to micronized sizes.
Markets served by Nuova Cives include:
steel mills companies (EBT/OBT filler, ingot casting)
iron & steel industry
foundries
refractories
waterproofing membranes
industrial sandblasting
fluid bed furnaces
filtration and water clarification
ceramics
paints and mastics
abrasive products
industrial floors
blocking sand