Field Trip:   Veendam Friday 10 June

IMFORMED is delighted to be able to offer delegates an exclusive opportunity to visit the magnesia operations of Nedmag BV at Veendam.
The Field Trip starts and ends at the conference hotel – Grand Hotel Huis ter Duin, Noordwijk – and takes place the day after the conference, ie. Friday 10 June 2022. The conference is on Wednesday and Thursday 8 & 9 June.
FIELD TRIP SPACES ARE LIMITED:

when registering for the conference online please be sure to tick the Field Trip box; you can also contact Ismene to ensure your attendance on the Field Trip: ismene@imformed.com | T: +44 (0)7905 771 494

While safety gear will be provided, please wear clothing and footwear as befits a working industrial site visit.
Itinerary*
07.45 Assemble Grand Hotel Huis ter Duin lobby
08.00 Depart Noordwijk
10.45 Arrive Nedmag, Veendam
11.00 Presentation by Bert Jan Bruning, Managing Director, Nedmag
12.00 Plant tour
13.00 Lunch
14.00 Return to Noordwijk (via short stop at Schiphol Airport**)
17.00 Arrive Noordwijk
* subject to change ** we cannot guarantee precise arrival time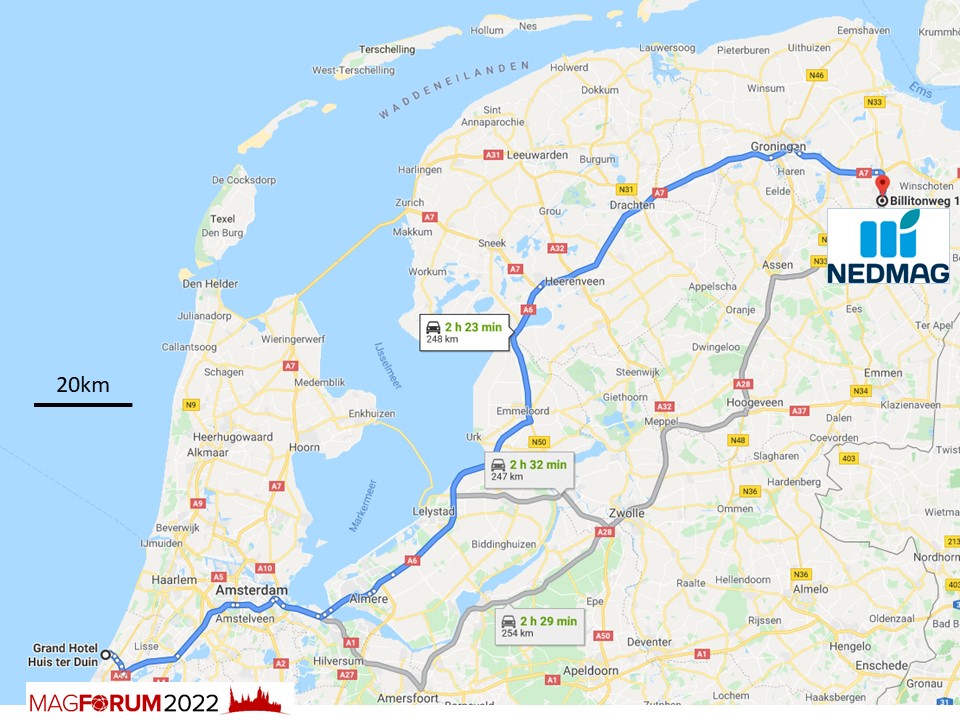 At Veendam, in north-east Netherlands, Nedmag BV operates a unique magnesia operation. Magnesia is sourced by solution mining the magnesium chloride salt deposits of bischofite and carnallite hosted by the Zechstein basin some 2km below the North Sea.
The mineral-rich salt deposit was discovered in 1979, and magnesia production commenced in 1981.
From this rich source, Nedmag produces a suite of products including dead burned magnesia (DBM), caustic calcined magnesia (CCM), magnesium chloride, magnesium hydroxide, and calcium chloride. Production capacity in 2018 was 175,000 tpa DBM and 80,000 MgCl2.
In early 2016, the company approved a €122m investment programme for 2016-2025 to develop new processes, products, and start a new salt extraction site (location development in 2020; drilling and development wells in 2022).