Attending Companies
Companies attending the Forum to date:
ABx Group
ACH SVS LLC
AD Process Strategies Sarl
Additive Solutions
Alkeemia Deutschland GmbH
Alkeemia SpA
Alufluor
Alufluoride
AMS Minerals
Anupam Rasayan India Ltd
Arena Fluor Materials LLC
Ashok Shinh Consulting Ltd
Asia Steel & Metals Ltd
Bal-Co SpA
Bayalag Jonsh LLC
Bfluor Chemicals (Pty) Ltd
Britannia Refined Metals
Carl Spaeter
Chemours
Chemprimo Fluorine International
Chuluut International LLC
Delta Minerals Ltd
Derivados del Fluor
EuroChem
Ferromine GmbH
Fluoraccum (Beijing) Materials & Minerals
Fluorchemie Dohna GmbH
Fluorine Korea
Fluorit Teplice s.r.o.
Fluorsid
FluorOne Trading LLC
Fluorspar Ventures Ltd
Foosung Co. Ltd
Glencore International AG
Gujarat Fluorochemicals Ltd
Honeywell
Innov'X
Kherlen Energo LLC
Khukh Tur LLC
Koura Global
Lanxess Deutschland GmbH
Lincoln Electric Co.
Luoyamg Fengrui Fluorine Industry Co. Ltd
Maharashtra Minerals Corp. Ltd
Masan High-Tech Materials
Mazel Resources Pty Ltd
Minersa Group
Mining One
Mongolian Fluorspar Association
Mongolian Minerals
Mongolczechmetall LLC
Morita Chemical Industries Co. Ltd
Morita Materials GmbH
Navin Fluorine International Ltd
New Fluorite LLC
NTE Company (Pty) Ltd
Param International Pvt Ltd
Perfect Associates Ltd
Possehl Erzkontor
Project Blue
Rio Tinto
S&P Global Commodity Insights
Sachtleben Bergbau GmbH & Co. KG
Sadmin Impex
Sako Fluorite LLC
Savas Metalurji AS
Scheruhn Industrie Mineralien
Seaforth Mineral and Ore
Sepfluor Ltd
Shanghai Zhengkaiyuan Industrial Co. Ltd
Sojitz Corp.
Solvay
SRF Ltd
Steel Services Sarl
Sumitomo Corp.
Tamer Mining
Tanfac Industries Ltd
Tavin Ekh LLC
Traxys Europe SA
Traxys North America LLC
Tushigt Eel LLC
Vergenoeg Mining Co.
XENOPS Chemicals GmbH & Co. KG
Yixin Mining Co. Ltd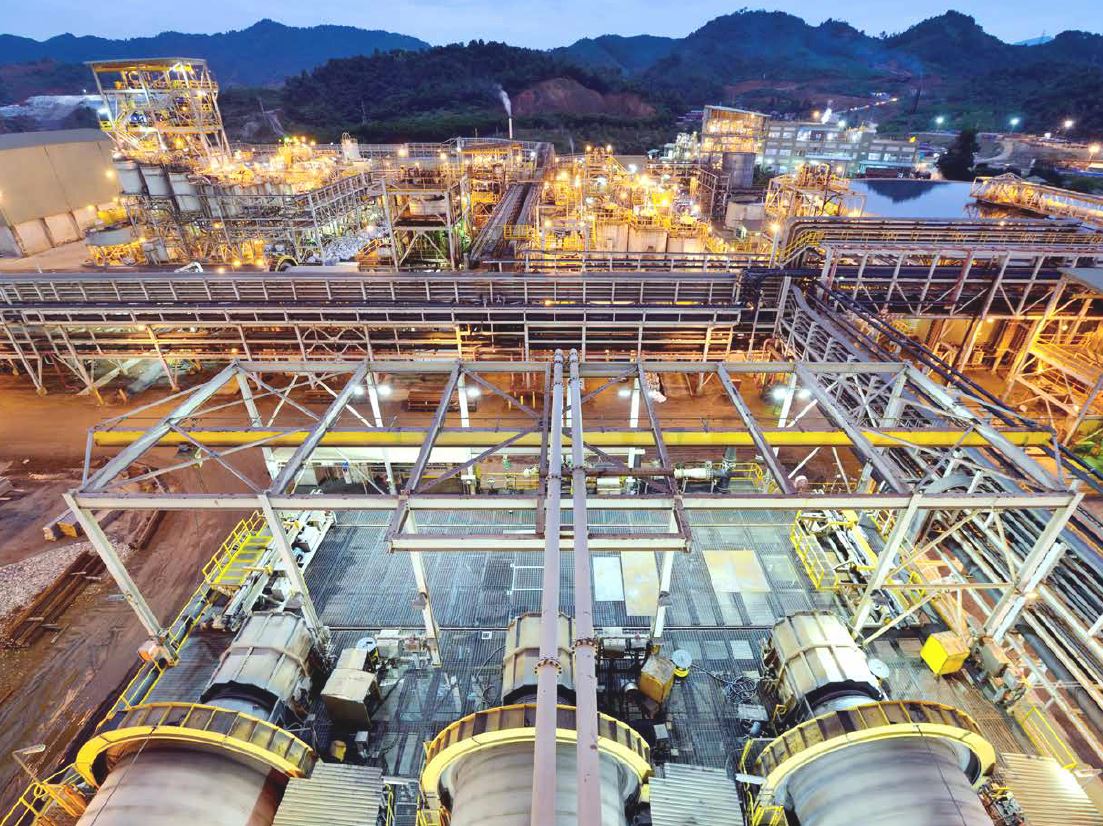 Part of the plant complex at Masan High-Tech Materials' facility at Nui Phao, Vietnam which will be hosting a Field Trip as part of Fluorine Forum 2022 on Friday 14 October. Courtesy Masan High-Tech Materials.