Field Trip Thursday 15 September – Haimag
Detailed itinerary to be advised | Trip takes place day after Forum, will take at least a full day, starting early, returning late to Dalian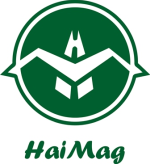 On 1 February 2020, Haicheng Magnesite & Refractory General Plant changed its name to Haicheng Magnesite Group Co. Ltd – shortened to "Haimag" (in the past the group was also referred to as "Haimei").
Haimag is located in the heart of China's primary magnesia production centred around Pailou Town, Haicheng City, Liaoning province.
Group Profile
Haimag is a large state-owned enterprise with more than 70 years of production history, which integrates magnesite mining and production of magnesia refractories.
Operations comprise four areas: Magnesite Mine, High Purity Plant, Jinjiapu Plant and Xiafangshen Plant (including the family residential area and the office area), covering a total area of 6.25m sq. metres.
Haimag's unique magnesite resource has proven reserves of 590m tonnes, accounting for 20% of the country's total reserves. Among them, high quality magnesite ore with MgO≧46% accounts for more than 40% of Haimag's total reserves. As a large open pit mine, its designed capacity is up to 1.5m tpa magnesite.
The total production capacity of Haimag is up to 2m tpa of all products. Main products include fused magnesite, high purity dead burned magnesite, middle grade dead burned magnesite, ordinary magnesia, caustic calcined magnesite powder, high quality magnesite powder.
During 2020, Haimag started up a new flash kiln facility with an annual output of 200,000 tonnes of "high activity magnesia" which will be part of the visit.