IMFORMED welcomes European Minerals Day 2015!
The 2015 European Minerals Day is officially launched today in Rumelange, Luxembourg, at the Cimalux cement facility.
The event will take place under the Luxembourg EU Presidency, welcoming Mr François Bausch, Minister of Sustainable Development and Infrastructures, to inaugurate alongside the European Commission and a Member of European Parliament, the pan-European mineral site open days taking place on 25-27 September, and address the challenges and opportunities for Europe's industrial minerals sector in a circular and competitive economy.
European Minerals Day (EMD; for those industrial mineral geeks among us, yes, this is also the acronym for electrolytic manganese dioxide, used in batteries) is a biennial initiative by the European industrial minerals sector and its related representative organisations, such as IMA-Europe and Cembureau, to provide an opportunity for the European public to explore the world of minerals.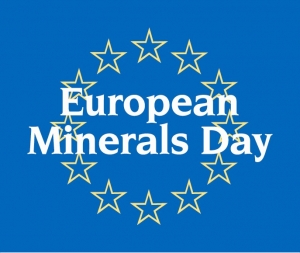 Over one weekend, quarries and plants across Europe (and further afield) open their doors to schools, students, families, neighbours and all those interested to discover more about an industry that affects every aspect of our lives.
EMD 2015 open day sites include: Imerys AGS, Clérac, France; Omya, Soure, Portugal; Sibelco , Siershahn, Germany; Imerys Rio Capim Caulim, Barcarena, Brazil. For more information on participating sites: EMD 2015 Events.
The first EMD in 2007 welcomed more than 30,000 visitors in over 100 sites in 17 European countries. EMD 2013, engaged children and adults at 113 sites in more than 170 events in 20 European countries and 11 events in the rest of the world.
From 30 November to 3 December 2015, the 2015 European Minerals Day will be presented and illustrated during a special exhibition to be held in the European Parliament in Brussels.
Industrial minerals matter!
Without industrial minerals, most of mankind's material achievements and products, involving the simplest to the most sophisticated manufacturing methods, would not be possible.
Just take a look at our "House of Minerals" below – did you know that all those everyday objects rely on industrial minerals for their existence?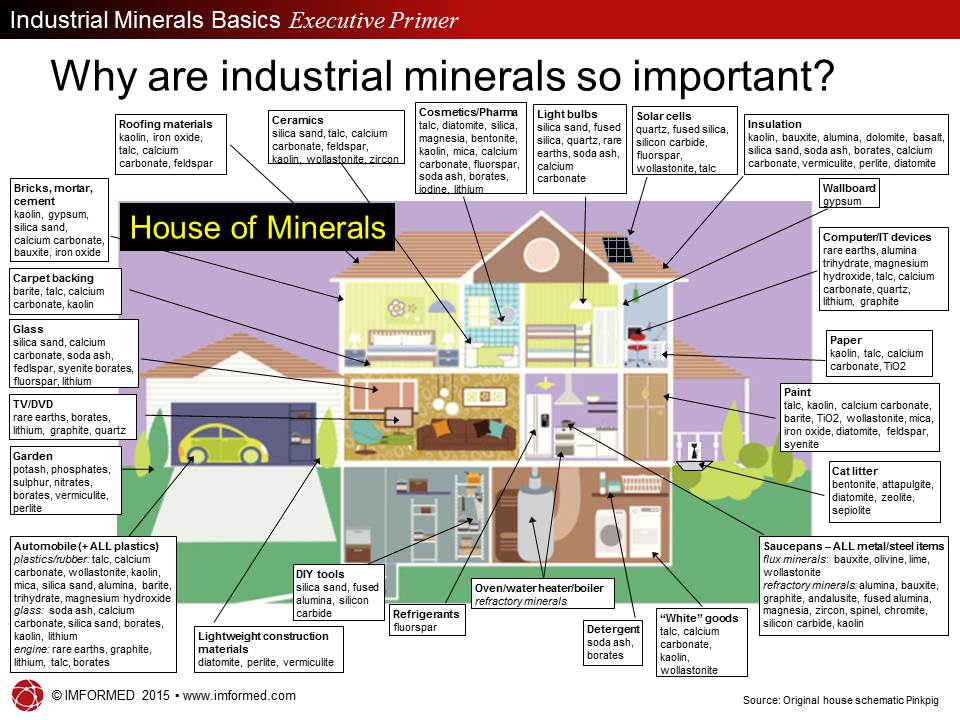 Significant takeaways from this include:
The range of different minerals required
The fact that more than one mineral is required to make certain products
The fact that the same mineral can be used to make a whole range of different products
Another way of illustrating the diversity of the industrial minerals world and our reliance on sustainable mineral development, is by checking out IMFORMED's recently published Mineral Market Matrix® Wall Chart – an at a glance guide to which minerals are used in which markets.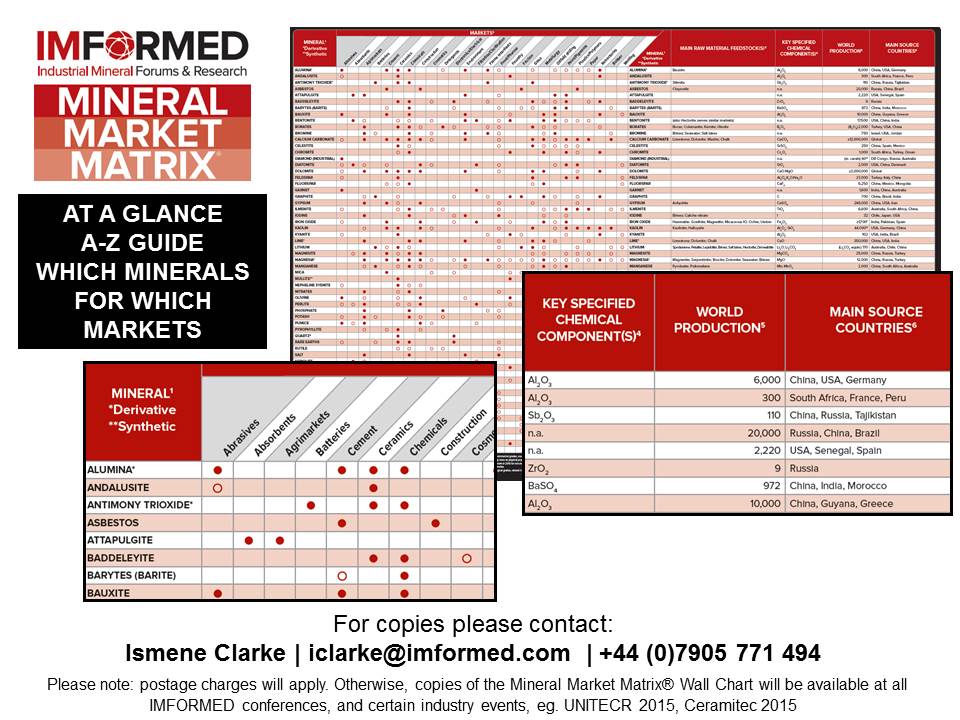 An overview of the mineral market spectrum, using information researched for our Mineral Market Matrix®, is illustrated in the below "Kaleidoscope" highlighting the number of main minerals used in each market.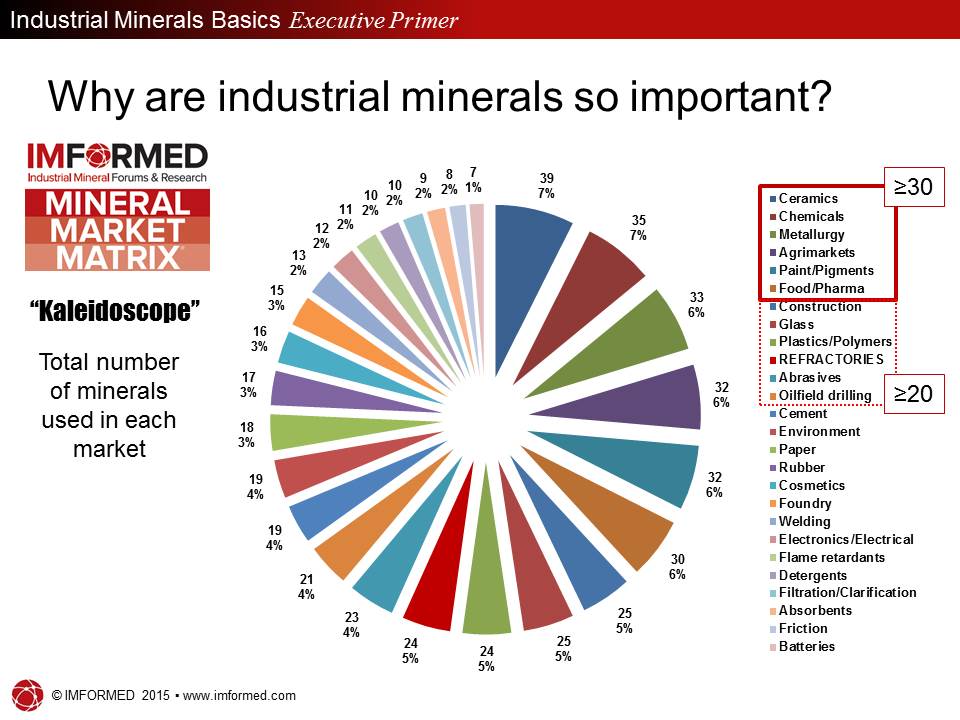 For a concise overview presentation for a quick but informed assessment of key elements of the industrial minerals business go to Industrial Minerals Basics: Executive Primer. Getting started, or just need a quick refresher, all the essentials are here.
Save the dates!!