Manaseer to pursue calcium carbonate fillers market
Ecutec Barcelona SL is to construct a major ground calcium carbonate (GCC) plant for the Manaseer Group in Jordan, as Joe Roettle, Global Sales Manager, provides IMFORMED with a positive outlook for the industrial minerals market.
Developed Crushers Co., part of the diversified Manaseer Group in Jordan, has chosen Ecutec to build a 350,000 tpa GCC plant to supply the region's filler markets.
The US$30m investment represents a significant move by Manaseer to enter the GCC filler market. The group owns and operates two calcium carbonate mines in Jordan which will supply raw material to the new plant.
The plant, located in Qatrana, about 145km south of Amman, will be equipped with primary and secondary crushers, a granules processing stage, a 2MW ball mill with multiple classifying systems, several lines for surface treatment, truck loading stations, big bag filling stations as well as fully automated packing lines and palletisers.
GCC grades produced are to include coated and uncoated fillers ranging in size from d50 0.6-15 microns. The primary target markets are to be paint and polymers.
Construction has already commenced and the plant is scheduled to be operational in autumn 2016.
The Manaseer Group has grown to include 16 companies and 3 subsidiaries, active in steel from scrap, cement, concrete, food, chemicals, agriculture, oil and gas.
Limestone in Jordan
Most of Jordan's high quality limestone deposits are located in the central part of Jordan, south of Amman (from Siwaqa to Jurf Ed-Darawish), with other deposits located east and north east of Amman.
The most important of Jordan's limestone deposits are the Wadi Es-Sir Limestone and Al-Hisa Phosphorite Formations.
In the Qatrana area, where Manaseer's GCC plant is to be built, pure limestone exposed on the surface belongs to the Al Hisa Phosphorite Formation (Bahiyya Member) of the Upper Cretaceous (Campanian-Maestrichtian). The thickness of limestone beds range from a few metres up to 40 metres.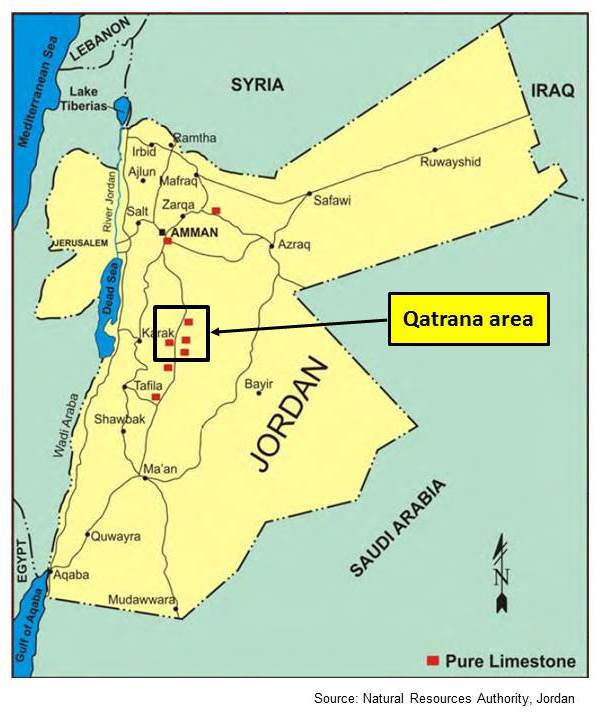 Manaseer clearly feels that there is room for another major producer of GCC in the country, and its new plant will equal the production capacity of the country's leading producer.
There are two well established producers already in the country: Jordan Minerals Est. and Jordan Carbonate Co.
Jordan Minerals Est., which operates three limestone mines, has a 350,000 tpa GCC plant in Amman producing <2 micron to granular sizes.
Jordan Carbonate produces about 500,000 tpa raw material feeding its 250,000 tpa GCC plant in Amman, producing 5-300 micron natural and treated grades.
In 2008, Al-Ahlia Mining Co., then a private Jordanian concern, emerged to start producing from its mine at Al-Hasa, operating a 120,000 tpa GCC plant which came on stream in 2010. The operation is now owned by Omya, and Ecutec supplied the plant, including pre-crushing, a 630kW ball mill, 5 different types of classifier, coating system and packaging.
According to the US Geological Survey's latest data, Jordan produced 623,000 tonnes of calcium carbonate and almost 2m tonnes of limestone in 2012.
The country's leading industrial minerals, whose output is well above GCC, are bromine, gypsum, phosphate, potash, and salt.
There are also at least two GCC producers in Saudi Arabia, the region's main market for GCC fillers: Saudi Carbonate Co. Ltd (SCC), with a 200,000 tpa plant at Riyadh producing GCC and precipitated calcium carbonate (SCC names both Jordan Carbonate and Omya among its partners); and Saudi Marble Co., at Jeddah, with a 80,000 tpa plant.
GCC market growth
In recent years the Middle East region has developed to become a significant producer of plastics. The Saudi plastics industry has grown some 5-7% in the last year and the country is aiming to be included in the top 10 exporters of plastics worldwide. Plastics accounts for the country's largest non-oil export.
Two of the key plastics consuming GCC fillers are polyethylene (PE) used in packaging, and polypropylene (PP), used in automobiles and other manufactured products.
Saudi Arabia is the largest consumer of PE in the region, seeing demand grow annually by 5.2% since 2008, and expected to grow at 6.2% per annum to 2018. PP demand is expected to grow at 7% per annum.
Perhaps with the existing limited select group of GCC producers in the region, Manaseer has sensed an opportunity for a new, independent alternative supplier to the region. However, Manaseer is also focusing its sights on markets beyond the Arabian Peninsula, and intends to target India's growing filler markets in paint and plastics.
Ecutec and the industry outlook – "picking up"
Engineering and Consulting for Ultra-fine TEChnology, or Ecutec, was founded in 1996 in Germany and moved to Barcelona, Spain in 1999.
The company's initial focus was in developing processing technology for the production of ultra-fine fillers, and GCC represents a significant market for Ecutec.
"This is our bread and butter business. Most of our systems built are for GCC." Joe Roettle, Global Sales Manager, told IMFORMED.
Ecutec supplies complete plants, which go from pre-crushing through grinding, classifying, coating to final packaging.
Systems have been delivered to Ionian Kalk, Greece (ball mill with several different classifiers); Ahlia Mining, Jordan (ball mill, 5 different types of classifier, coating system and packaging); Sibelco, Chile (pre-crushing to final packaging with all in between, including a ball mill with an Alpha classifier).
"We are right now building a plant in Saudi Arabia with pre-crushing, granulate system, pendular roller mill, 1MW ball mill, several classifiers, coating system, and packaging." said Roettle.
Other customers include those which provide their own pre-crushing and the final packaging, while Ecutec supplies ball mill classifying systems followed by coating systems.
Such an example includes Calcit d.o.o., Croatia, supplied with a ball mill with two of Ecutec's biggest Alpha classifiers for the production of very high quantities of fillers in the range of d98 6 – 15 micron GCC.
Roettle added: "Ecutec is now building GCC plants with ball mills and classifier and coating systems in Spain, Saudi Arabia, Jordan, Russia, and Pakistan, with projects in the pipeline in Mexico, Italy, Canada, Kenya, and Brazil."
When asked about the industry outlook in general, Roettle responded: "I have the feeling the mineral market is actually picking up. And now I am talking not only GCC, but also other minerals as silica, brucite, barite, and kaolin. I see activities in all parts of the world, even in areas where there is a severe crisis, like in Brazil. The projects are more special and very defined, and not just new systems for more capacity.  The companies, especially the global operating companies, are using the slow time for improvements on their systems.
This means that I can see the light at the end of the tunnel, since companies are preparing for the market to pick up again. But there are still areas in the world where they build new systems to feed the growing industries in these areas, such as Pakistan, Africa, and some parts of Asia.
Russia is also an interesting market since it focuses now more on domestic products rather than imports. They are trying to build systems to produce everything in Russia."
Ecutec is exhibiting at IMFORMED's