As we enter the Chinese Year of the Ox, reports from China, so influential in global mineral supply and benchmark pricing, suggest change may well be in the air yet again for the magnesia supply sector, as well as potential disruption to supply from government controls and planned reforms.
It appears that plant shutdowns and the ongoing shipping issues of soaring prices and limited availability will continue to dog mineral supply for some months to come (see Refractory minerals from China: shutdowns & shipping spark price surge).
News from China can be notoriously conflicting and confusing, and what is announced as planned by authorities may often not come to fruition for some time, if at all.
However, what is clear, is that the authorities in Liaoning province, China's primary centre of magnesite and magnesia production, have been and continue to be very active in two main areas:
Plant closures: implementation of a range of mine and plant closures, temporary and permanent, based on official government inspections.
Reforms: plans to unleash a range of reforms essentially integrating, modernising, and developing the magnesia supply sector in stages from 2021 to 2030.
See below for review
Coming Next Week!

Sponsor: Imerys Refractories, Abrasives & Construction 

Refractory futures: the Circular Economy, climate change & its effect on refractory mineral markets
Dr Richard Flook, Managing Director, Mosman Resources, Australia
Latest supply trends for Chinese refractory minerals
Vincent Wong, Market Analyst, Refractories Window, China
India's response to refractory raw material supply & demand
Sameer Nagpal, CEO, Dalmia-OCL, India
Overview of dolomite activities within RHI Magnesita
Thomas Frömmer, Senior VP Mining, RHI Magnesita, Austria
Magnesia review
Mike O'Driscoll, Director, IMFORMED, UK
A Year in Transition: 2021 Global Refractories Outlook
Carol Jackson, President, World Refractories Association & CEO, HarbisonWalker International, USA
Evolution of raw material selection for refractory applications
Phil Edwards, Refractory Market Director, & Chris Parr, VP Science & Technology, Imerys Refractories, Abrasives and Construction, France
Refractory bauxite trends
Ted Dickson, TAK Industrial Mineral Consultancy, UK
Update on First Bauxite's high grade bauxite supply from Guyana
John Karson, VP Sales and Marketing, First Bauxite LLC, USA
Andalusite supply outlook
Dirk Auge, Sales Manager, Cofermin Rohstoffe GmbH & Co. KG, Germany
The graphite supply chain: a strategic review
George Miller, Analyst, Benchmark Mineral Intelligence, UK
Speciality grade chromite: the trends & impacts from mainstream ferrochrome demand
Dr Nils Backeberg, Manager Steel Alloys, Roskill, UK
ROUNDTABLE BREAKOUT Informal Networking: Magnesia | Refractories Market | Aluminosilicates | Graphite/Chromite
Continuing closures
In the final quarter of 2020, Liaoning province carried out a widespread environmental inspection of magnesite companies in the province.
The main inspection areas included Haicheng City, Dashiqiao City, Xiuyan County, Dongzhou District, Fengcheng City, Kuandian County, Liaoyang County, and Tieling County.
Part of this crackdown included a much reported "Hundred-Day Tackling" of the industry by the Dashiqiao Municipal Government.
Some 537 companies in the Dashiqiao area were inspected, with the upshot that 116 companies were ordered to suspend production for rectification.
Likewise in Haicheng, following its inspections, starting from 1 January 2021, the Haicheng Municipal Government decided to suspend production and remediation of 95 magnesia calcination plants and 63 ore screening companies.
Calciners for light and heavy burned magnesia, mid-range magnesia and high purity magnesia were closed, but apparently not fused magnesia furnaces.
The new provincial government policies are essentially demanding producers to upgrade their facilities before being allowed to return to production.
It is thought that most magnesia producers are not willing to make the necessary upgrades, which are costly and time consuming. Instead they are planning to "ride it out" and bet on the local economic impact of the shutdown being so severe that the government will eventually back down on the policy. Let's see.
Read Mike O'Driscoll's article in latest issue of Iron&Steel Today

Refractory magnesia supply shake up
Corporate moves & changes in China re-shape future supply trends
Integration and other reforms by 2025
From most accounts it now seems that the integration of magnesite mining enterprises will become the main goal of reform in Liaoning for 2021.
In summary, as well as a severe crack down on unlicensed mining, cross-border mining, destructive mining, and unsafe mining, all new open-pit mines will be strictly prohibited.
Any new magnesite mines must meet the "integration conditions", which include a minimum mining rate of 300,000 tpa, and before the end of 2025, must meet the requirements for "green mine construction".
By 2025, the Liaoning government wants the top five mining companies to account for >80% of the province's total mining volume. Each county (city) of Haicheng, Xiuyan, Dashiqiao, and Liaoyang is to have no more than two mining enterprise groups.
Other proposed measures include: improving safety and pollution levels; development of industrial clusters of modern magnesia producers (see below); new product development; and in an effort to resolve supply overcapacity, prohibition of any increase in magnesia production capacity without authorised planning.
MagForum 2022 Amsterdam will take place 13-15 June 2022, with Nedmag Field Trip 16 June.
Magnesia industry cluster creation in Pailou
On 22 February, the Anshan Magnesite Industry Transformation and Upgrading Pilot Zone was officially established in Pailou Town, Haicheng City, incorporating a new "test and development zone" to promote high quality industrial development.
Haicheng Magnesite Industry Service Co. Ltd is to be responsible for infrastructure construction, investment and financing, and operational management of the pilot zone.
The total planned area of the pilot zone is 22 sq. km, comprising the Magnesium Industrial Park of 10 sq. km and 27 companies, and the Daijia Industrial Park, 12 sq. km and 67 companies.
Haicheng City has also planned a 4.18m sq. metre expansion zone in the Daijia Industrial Park, setting up areas for magnesia capacity reduction replacement (eg. construction of centralised clean energy centres), magnesia building materials (eg. fireproof boards), magnesia chemicals (eg. fertiliser products), and magnesium alloys.
A key driver for successful development of the Haicheng pilot zone is it being seen as an important step for Anshan to achieve its high quality development goals of China's 14th Five-Year Plan 2021-2025 (drafted during the 5th Plenum of the 19th Central Committee held in October 2020).
Dynamite mining ban & magnesia prices
January 2021 saw a total ban on magnesite mining, although sale of magnesite ore was permitted.
However, on 3 February, the Haicheng government decided to release a limited amount of explosives, 400 tonnes was reported, for just 28 mining companies in Haicheng for just one month.
That one-month suspension of the explosives ban for mining has now ended, and the ban was reinstated from early March.
Although there are reports that magnesite ore inventories maybe sufficient for 2-3 months, there is a fear that prices might start to rise soon.
Immediately following the Chinese Spring Festival (11-26 February 2021), prices had dropped owing to little demand and trading activity during the holiday.
Early March 2021 ex-works prices were reported as: 90% MgO CCM US$230/t; 92% MgO DBM US$200-230/tonne; 95% DBM US$385-415/tonne; 97% DBM US$460-520/tonne; 96% FM US$430-475/tonne; 97% FM US$520-555/tonne; 98% FM US$615-645/tonne.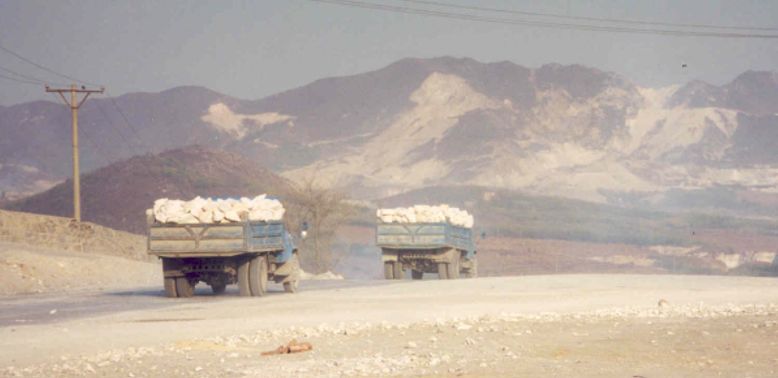 Truck overloading to be curtailed
On 1 March, Dashiqiao City held a meeting on regulating cargo loading and transportation and fulfilling safety production responsibilities.
So-called "hundred-ton King trucks" used in Liaoning's magnesite mining industry have been involved in illegal overloading and safety hazards, which bring a serious threat to stable production and safety.
The Municipal Transportation Bureau and Traffic Management Brigade of the Municipal Public Security Bureau signed a "Commitment on Regulating Cargo Loading and Transportation and Fulfilling Production Safety Responsibilities" with several leading freight companies to implement measures to curtail this practice. This may create a pinch-point in ore supply.
Wrap-up
These planned reforms signal a major shake-up to the Chinese magnesia supply sector which is likely to influence export volumes and availability in general for both Chinese and western consumers.
It also underlines the smart strategic thinking by large volume refractory magnesia consumers in the West, such as Erdemir (acquisition of Kümas), Refratechnik (acquisition of QMAG), RHI Magnesita (investment in Brazil capacity), to secure their magnesia raw material supplies from sources outside China.
On a general note for the outlook of Chinese refractory minerals supply, 2021 is the first year of China's 14th Five-Year Plan (2021-2025), where across the country resource conservation and environmental protection must meet the demands specified by the 5th Plenary Session of the 19th Central Committee of the Communist Party of China (drafted last October).
These include a mission to curb development of high energy-consuming and high-polluting industry projects. Thus such mineral sectors as fused alumina, fused magnesia, and silicon carbide are likely to face rising electricity prices and production costs as measures are implemented.
---
Coming up in 2021
Don't miss out on acquiring the latest market knowledge
CONFIRMED SPEAKERS | EARLY BIRD RATES