Following some 18 months of uncertainty and delay, South Africa's remaining independent andalusite producer and world no.2, Andalusite Resources (Pty) Ltd (AR), is finally seeing light at the end of the tunnel.
Having successfully warded off acquisition attempts by Imerys in 2017 (see Imerys appeal dismissed: Andalusite Resources merger prohibition stands) AR became mired in debt and financial distress in mid-2019.
This resulted in AR being put under Business Rescue and supervision of an interim business rescue practitioner.
The company initially ceased trading when it was placed in Business Rescue on 27 June 2019, but recommenced operations in August 2019, when a new contract miner, Tokata Metals Pty Ltd was appointed.
A new investor and owner has now been approved by AR's creditors, shareholders and management to steer the company through its Business Rescue Plan, ie. facilitating rehabilitation of AR.
In an announcement on 14 January 2021, through AR's longstanding agents Cofermin Group, Germany, the new owner of AR was revealed as ARM Andalusite (Pty) Ltd, a private company led by Schalk Burger, a well-established South African business man, who, together with other investors, has other active and long standing interests in the mining industry.
ARM is a wholly-owned subsidiary of Nikkel Trading 392 (Pty) Ltd (and in turn both entities appear to form part of the Schalk Burger (SA) Group). Pretoria-based Nikkel Trading 392, was established in January 2018 with the exclusive purpose to hold shareholding in various entities related to the mining industry.
ARM won the bidding process which started in July 2019, subsequently delayed by the pandemic, and was contested by one other party, Afrimat Ltd, a leading iron ore, industrial minerals, and construction materials producer in South Africa. ARM's offer amounted to ZAR121.4m (US$8.1m), and Afrimat's was ZAR100.0m(US$6.7m).
The next stage will see ARM comply with the conditions of the acquisition set by the Business Rescue Practitioner and Government authorities (Competition Commission and the Dept. of Mineral Resources). This is expected to take around 10-12 months, after which the company will emerge from Business Rescue and be transferred to its new owner.
Find out the latest on andalusite supply and demand

Dirk Auge, Sales Manager, Cofermin Rohstoffe GmbH & Co. KG, Germany is presenting

Andalusite Supply Outlook at

Global trends in refractory mineral supply & demand

Confirmed speakers on: Global Outlook | India | China | Magnesia | Bauxite | Dolomite | Chromite | Graphite


Full Details Here

–

EARLY BIRD RATE ONLY UNTIL 1 FEBRUARY 2021 – BOOK NOW

!


LET'S KEEP IN CONTACT & CONVERSATION


Register Online

Here

, or
Contact: Ismene ismene@imformed.com | T: +44 (0)7905 771 494
Going forward AR is expected to be financially stronger and independent, and can now focus on improvements in mining and processing facilities which had been placed on hold.
Cofermin said: "We are in full support of these coming steps, changes and restructurings, as we are now beginning to see more certainty and clarity on the horizon for the Maroeloesfontein mine, its customers, employees and business partners."
AR was established in 2001 to exploit the Maroeloesfontein andalusite deposit in the Northam/Thabazimbi region of Limpopo province, an important mining area in South Africa with neighbouring platinum, chrome and iron ore mines.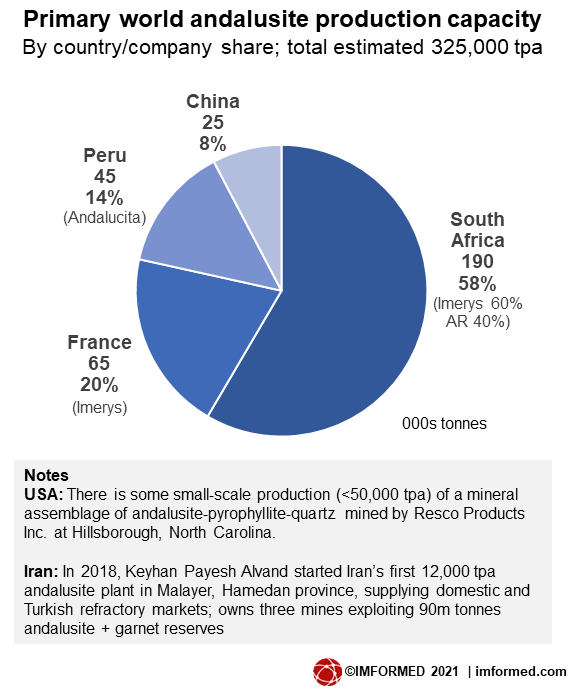 AR's 75,000 tpa capacity andalusite operation, hosting >50 years of andalusite reserves, is situated close to Imerys' Rhino Mine at Thabazimbi (Imerys has other South African andalusite operations, a mine at Glomel, France, and as yet undeveloped reserves in Peru).
AR is a leading supplier of andalusite mostly to the refractories industry, and one of only three primary andalusite producers which together account for >90% of world production. Total world andalusite production capacity is estimated at around 325,000 tpa (see chart).
AR is the second largest producer, after Imerys, with approximately 23% of the world andalusite market. The third primary producer is Andalucita SA, at Paita, Peru.
Elsewhere, China's leading producer Xinjiang Xinrong Yilong Andalusite Co. (formerly of Imerys until 2018) increased production in 2020 to 30,000 tpa and in December 2020 postponed as much as possible its seasonal winter closure of mining owing to increased demand as China's refractory markets recover (see Refractory minerals from China: shutdowns & shipping spark price surge).
China has limited sources of andalusite, mainly concentrated in central Xinjiang province in the far west of China, exploited by just two producers. China imports about 30,000 tonnes andalusite, mostly from South Africa, but also from France and Peru.
Latest trends & developments in refractory recycling discussed at

Refractory recycling developments
Wilker Felipe Silva, Refractory Purchasing Manager, ArcelorMittal Brazil, Brazil
Requirements for implementing Circular Economy in the refractory waste management of a steel plant
Aintzane Soto, R&D Process Engineer, Sidenor, Spain
South Korea's refractory recycling status & key challenges to address
Joo Yongdon, CEO, Korea Material Co. Ltd, South Korea & Sangpil Raul Hwang, Industrial Minerals Trader, Sojitz Corp., Japan

Attendees already include: ALFRAN | Almatis | Calderys | DEREF | Imerys | HarbisonWalker | Hydro Aluminium | JSW Steel | Mineralen Kollee | Possehl | PRCO America | Quarzwerke | REF Minerals | Refratechnik | RHI Magnesita | Sibelco | Saint-Gobain | Sojitz | TRB | TRL Krosaki | Vesuvius