Announcing IMFORMED 2020 Forums – Mark your Diaries
Mineral Recycling | Global Outlook | Magnesia | Oilfield | Fluorine | China Refractories
IMFORMED is delighted to announce an exciting portfolio of high profile conferences for 2020, providing the global industrial minerals business with topical and informative speaker presentations combined with invaluable networking opportunities to develop your business.
OPPORTUNITIES FOR SPEAKERS | SPONSORS | EXHIBITORS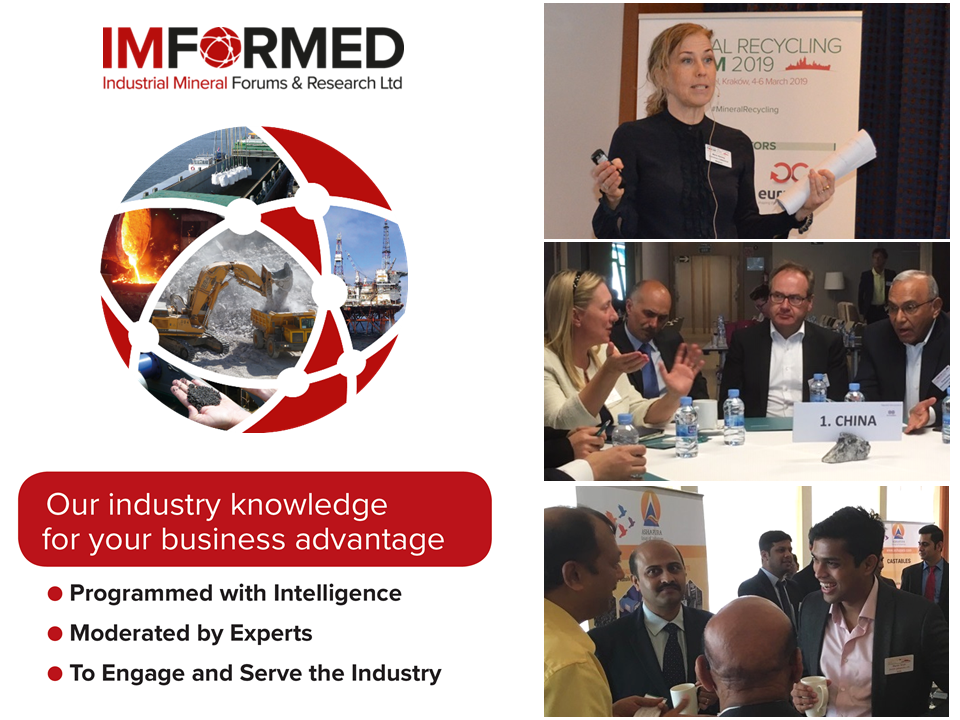 The recycling of waste products to generate "Secondary Raw Materials" (SRM) has emerged as an important source of industrial minerals for a range of consuming markets.

Increased recycling of all products, and sensitivity on over-reliance of declining and limited natural mineral resources, have all placed mineral recycling firmly in the spotlight. Tomorrow's "mining" will in large part be utilisation of today's industrial waste.

This year our location is the historic city of Aachen, also home to some of Europe's leading recycling and mineral technological learning and research centres.

This Forum covers the supply chain from waste sourcing, processing, to end use markets. Of interest to all those active in the sourcing, processing, quality control, distribution and use of SRM, and especially established industrial mineral suppliers and buyers keen to assess the outlook for competitive and substitute materials.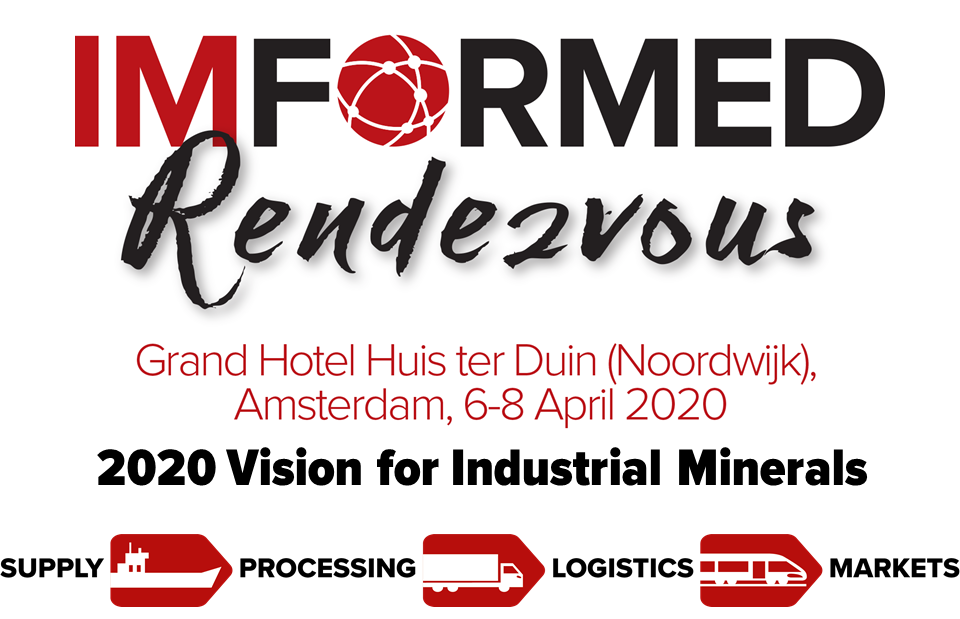 The IMFORMED Rendezvous is the must-attend premier event both for established players seeking new horizons and newcomers evaluating the industrial minerals space.

2020 Vision on Future & Fundamentals: a high calibre, overview and outlook platform across the industrial minerals business, the Rendezvous is for all those wishing to get a handle on where the industrial minerals market is heading and understanding its basic principles.

The industrial minerals supply chain from mine to market examined:

Insight and discussion on where industrial minerals markets and innovations are heading
Spotlight on primary and growth market sectors
Understanding industry fundamentals: resources, processing, logistics, and markets

The only conference you'll need to attend if you're in the magnesia business. For those active in the development, supply, processing, logistics, & market application of magnesium minerals.

MagForum 2020 will bring together a panel of leading experts to examine and discuss the latest trends and developments in the magnesia minerals market.

This year's venue is Noordwijk (20mins from Schiphol Airport): rugged dunes, magnificent woodlands, flower fields and eye catching sandy beaches. The historic seaside resort and fishing village near Amsterdam is captivating.

FIELD TRIP: We are also delighted to offer delegates the exclusive opportunity to visit the magnesia operations of Nedmag at Veendam during Wednesday 27 May 2020.

A topical programme of expert speakers covering the key issues and outlook insights for the supply and demand of industrial minerals used in the oilfield market.

In its sixth year, this unique Forum consistently brings together under one roof the major players across the global supply chain of oilfield minerals, from mineral producers, processors, and traders to logisticians, financiers, and end use consumers.

Covering all the key issues and topics influencing global oilfield mineral supply and demand, including sourcing, mining, processing, specifications, logistics and end use applications from drilling fluid technology, stimulation to well cementing.

The world's largest source of refractory raw materials is undergoing continual change prompted by a range of factors impacting resource utilisation, ownership, production, availability, and pricing.

This Forum provides an invaluable networking and knowledge acquisition opportunity on the latest issues, trends, developments and outlook for China's refractory minerals and their market demand domestically and worldwide.

Whether supplying, processing, trading, shipping or buying and using Chinese refractory minerals, this Forum will be a vital hub for your business.

FIELD TRIP: delegates will be invited to join an exclusive tour of Liaoning's leading magnesite operations.

The only conference you'll need to attend if you're in the fluorine raw materials business, bringing together a panel of leading experts and the global fluorspar community to examine and discuss the latest trends and developments in fluorine minerals supply and market demand.

Essential to all those active or with an interest in the fluorine mineral supply chain, from developing and mining sources, through logistics and processing, to end use applications.

FIELD TRIP: Vietnam has emerged as one of the new forces in fluorspar supply thanks to Masan Resources' development of the Nui Phao polymetallic project. Delegates will have the opportunity to visit the operation first hand on Thursday 15 October 2020.

This year's venue is one of Asia's jewels: the city of Hanoi, with the conference hotel located in the Old Quarter, boasting breath-taking views of West Lake, Truc Bach Lake and the Red River.
---
SPEAKERS | SPONSORS | EXHIBITORS
CONTACT US NOW
Registration, Exhibits, Sponsors: Ismene Clarke ismene@imformed.com +44 (0)7905 771 494

Presentations, Programme: Mike O'Driscoll mike@imformed.com +44 (0)7985 986 255

For past Forum programmes, attendees, pictures, and feedback go to Past Forums.

We look forward to meeting you in 2020!